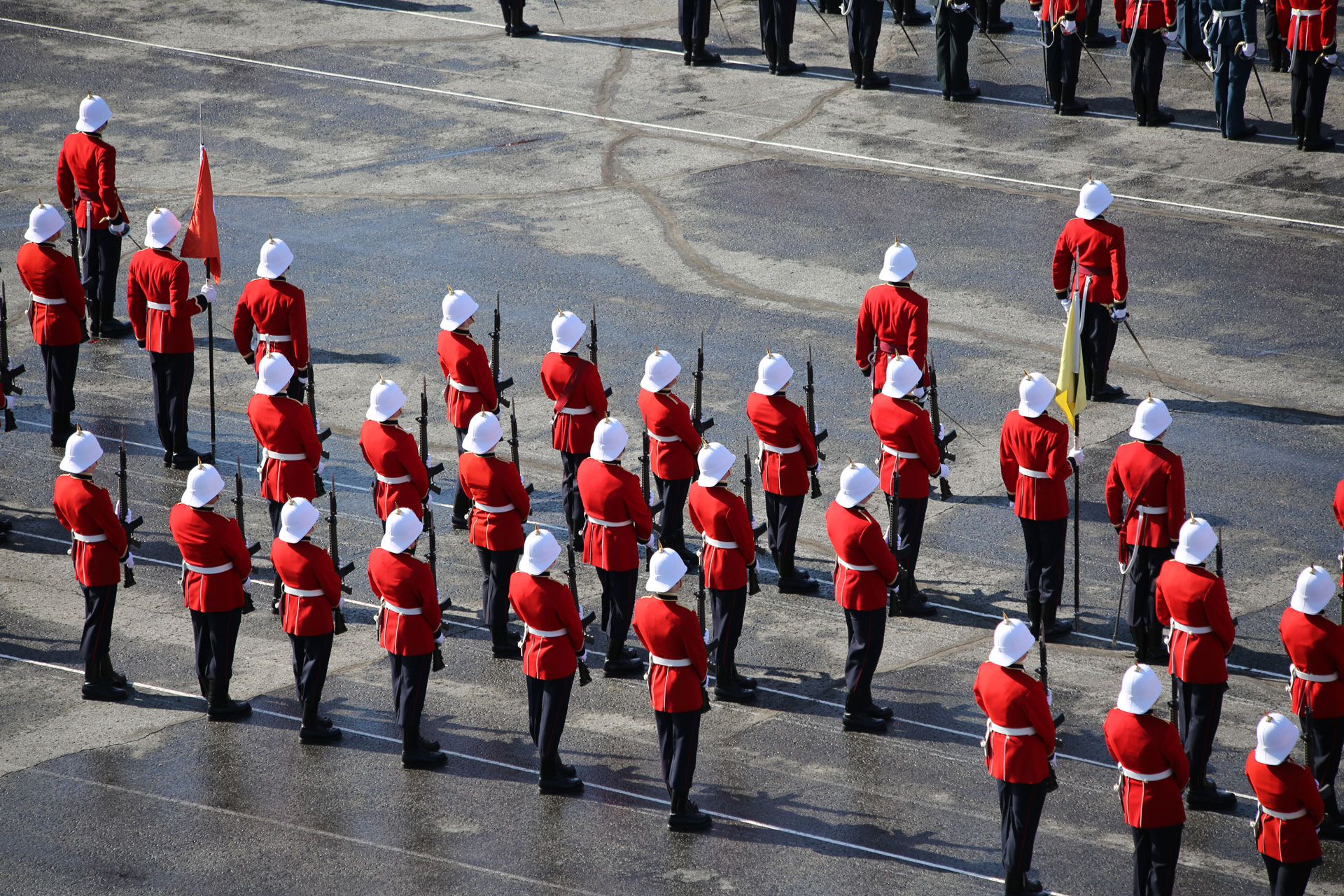 (W) Basketball Team Ends 128 Game Losing Streak!
34- year-old mother of two – played a starring role
By MIKE KOREEN, WHIG-STANDARD SPORTS REPORTER
Some screamed. Some cried. Some just jumped for joy.
Members of the Royal Military College women's basketball team had every right to celebrate long and hard last night after the Paladins broke a 128-game losing streak to record their first regular season win in school history.
RMC beat the York Lions 64-61 in Ontario University Athletics play last night in Toronto, notching its first win in the fourth-last game of its sixth season of play.
"I just started yelling at the top of my lungs [when the buzzer sounded]," said RMC forward Sharlene Harding, a 34- year-old mother of two who returned to school to complete her master's degree in war studies this season and played a starring role last night.
"The whole gym just exploded. The men's team was yelling, parents were yelling. People were jumping, hugging and crying. It was crazy."
Harding, a former Queen's Golden Gael, was an assistant coach with RMC for the past five years before returning this season to play. She had 25 points and 12 rebounds in the historic win.
RMC, 0-18 on the season heading into play last night, led by 11 points at halftime but had their edge whittled to one in the fourth quarter.
"It was a really long [fourth quarter]," said Harding, who has a five-year- old son named Kingston -her parents were born in Kingston, Jamaica -and a two-year-old daughter named Saba.
"It was very stressful the whole time but we all just said, 'Calm down.' At the end, I was just in a bit of awe. I couldn't believe it … this is the best win ever."
Harding and coach Brad Schur both have been with the program since it began in 2003.
"There were fountains all over the place, there were a lot of tears," Schur, a Perth native, said.
"The biggest thing for me was just seeing how happy the players were. They were like kids in a candy store."
The Paladins planned to go out for a team dinner last night before travelling by bus to Sudbury this morning for a game tonight against the Voyageurs.
"Life is good," Schur said. "I never had any doubt [the Paladins eventually would win], especially the way we've been playing this year. It was just a matter of time."
____________________________________________________________________________________
Life in a Japanese Game Show
Article by Patricia Howes, RMC Fencing Coach
I made a joke with my team the other day, when I was psyching them up for our big OUA East competition. I told them that being a coach at RMC is like being a contestant in one of those crazy Japanese game shows. You know, dodging giant boulders, running through walls, avoiding water obstacles, falling in the mud and sprinting on a treadmill that keeps going faster and faster and faster…..I think everyone got the picture.
The day-to-day life of a coach is to plan the work, well in advance, and then work the plan, all leading to the end of the season. Of course the plan still has to be flexible to deal with day to day changes, but at RMC it is not good enough to have Plan A and then Plan B, in reality you also need C, D, E, F, G ……..The point is all the obstacles and challenges we face here is part of what makes us who we are and determines how well we are able to adapt to our environment.
Likewise, the same applies for the officer cadet, the ability to read and react, adapt and overcome, be resilient and tenacious, and to find your inner determination to face challenges with an open mind that really makes or breaks the officer cadet. These qualities are not developed in the same way at other universities and therefore this gives our student-athletes a competitive edge.
It is one thing however to recognize that the RMC experience challenges everyone to dig deep, however it is another to truly embrace it, and not become discouraged and frustrated over time. This is where true decision-making comes into play. This is the point in the year, in the season, where you have to actively make a decision to succeed in spite of all the obstacles and view them as challenges instead of deterrents toward success. It is so easy to see the mountain and not the path.
So at this time of year when the February blues hit, the stress of another academic year, the pressure of military roles and responsibilities mounts, and the intensity to score the next point, win the next game or qualify for the next level seems too overwhelming; just think about those crazy Japanese game shows. Picture yourself dodging the giant boulders, running through the closed door, jumping over the water obstacle (so what if you fall in the mud) and sprint your heart out on the treadmill to the finish line. It is about keeping things in perspective and making the decision to be successful in spite of all the obstacles and challenges in your way.
I agree with Adidas—impossible is temporary!
____________________________________________________________________________________
RMC men's rugby team heads to British Columbia
KINGSTON, On. — The Royal Military College of Canada men's rugby team heads to British Columbia for reading week. On Tuesday February 17th RMC will face off with the University of British Columbia at 2:30 pm before taking on the University of Victoria at 1 pm on Saturday.
The Paladins are coming off their second consecutive playoff appearance in the Ontario University Athletic Association, in just the 4th year of the rebirth of the program after a five year hiatus. RMC head coach Sean McDonaugh (Montreal QC) sees nothing but positives from the coming games on the West coast.
"This is the culmination of a four year cycle that sees us heading out to BC to play the top university teams in the country. We expect nothing but the best from the Thunderbirds and Vikings and will judge ourselves appropriately from these two matches."
RMC last result was a 35-5 victory over University of Ottawa in the annual Remembrance Day game. Senior Gavin Whynot (Windsor NS) has big expectations from the coming tour.
"We have two huge matches with West Point and Annapolis each spring that see us at a bit of a disadvantage; those fixtures are in the middle of their spring season while we are usually in the middle of a snow storm in Kingston. We are counting on this tour to put us on the front foot when we play the Americans."
RMC boast a squad made up of players from coast to coast. Including a number of BC natives Thomas Braidwood (Whistler), George Duthie (Victoria), Riley Moss (Victoria), Chris Pratt (Victoria), Justin Sim (Abbottsford), Ben Strocel (Victoria) and Peter Summers (Victoria).
For freshman Chris Pratt (Velox RFC) this will be an exciting home coming, "I worked incredibly hard to gain entrance to RMC, overcoming numerous setbacks, to be able to play for the red and white in my home town and in front of my mom and dad will be really special"
For more information Please contact:
Guy Dube
Guy.dube@rmc.ca
613-541-6000 (6258)
____________________________________________________________________________________
RMC to Host International Judo Tournament
II Amanda Bray
On Feb 21st fighters from across Canada and the U.S. will descend upon the KMCSC Field House for a full day of competition and fun. Last year there were over 650 competitors with the numbers growing for this coming year. It will be one exciting day for Kingston.
Also in the news, the RMC Judo Club is still running classes to boost self defence and fitness Wednesday nights from 1930-2130 and Friday nights from 1830-2030. Everyone is invited to attend these classes and get involved in the fastest growing martial art in the world. Any questions about classes or the tournament can be forwarded to s25051@rmc.ca or Amanda.Bray@rmc.ca.