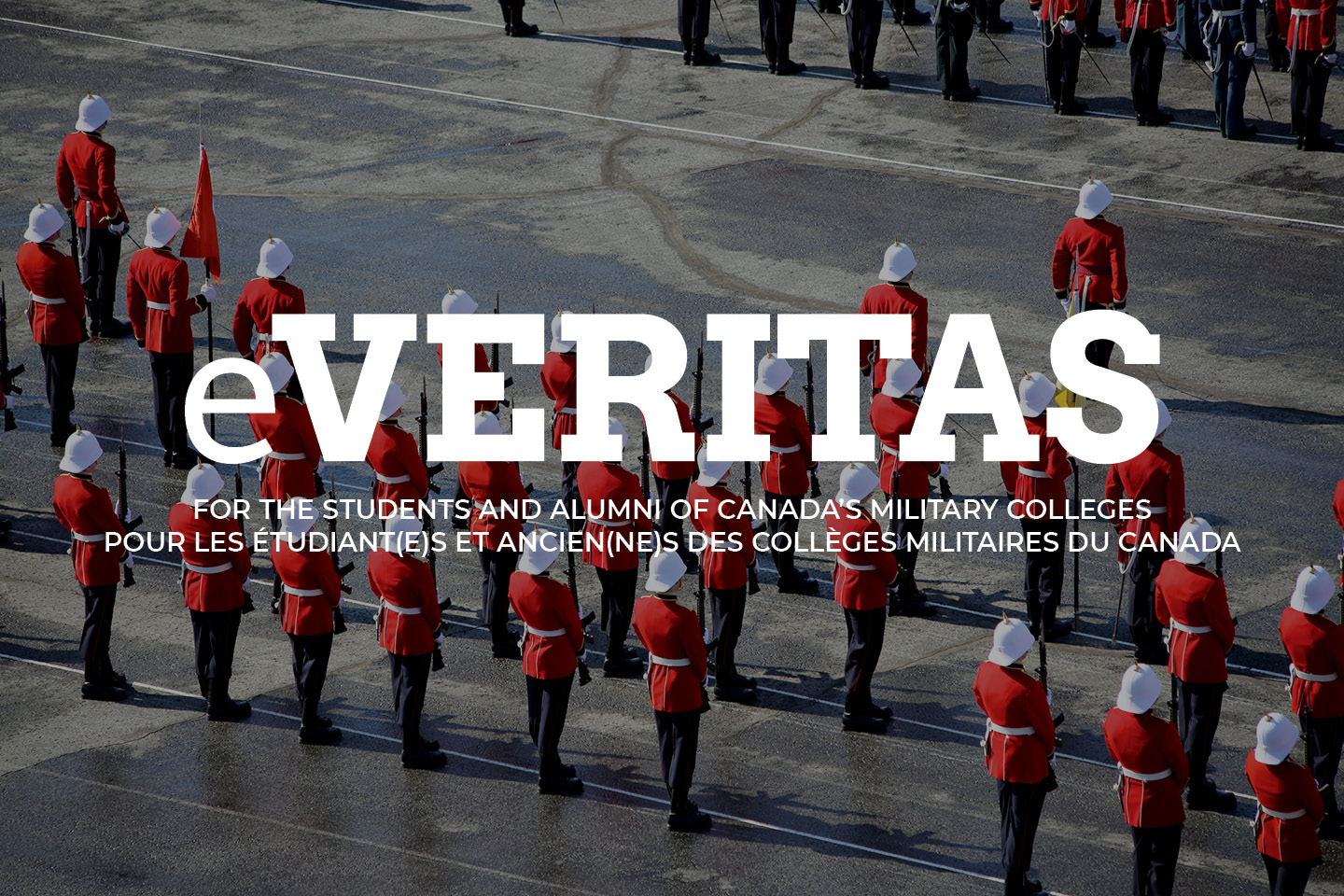 eVeritas Update #2
From the Implementation Team of the Royal Military Colleges Club of Canada
For the Strategic Review Report "The Road Ahead"
Current Status
This is a quick update on progress being made by the Implementation Team addressing the recommendations outlined in "The Road Ahead", the report based on the year-long Strategic Review of the RMCCC conducted last year under the direction of the General Council of the Club.
Work Teams
The project is progressing, with 3 working teams having been created, as follows:
Major Category – #Recommendations
Organizational Structure & Governance – 7
Programmes & Services – 11
Communications – 10
Triage
All 28 recommendations have now been analyzed, and a "triage" has been done to prioritize the work, as defined by the following:
Tier 1 – Recommendations which are "Early Wins", i.e. which can be implemented quickly with minimal resources.
Tier 2 – Recommendations which are more difficult to implement, but can be implemented within the current year.
Tier 3 – Recommendations which will need to be implemented in the coming years, based on complexities, or more significant resources.
Progress on Implementation of the Recommendations
Implementation Plans for Tier 1 Recommendations have now been approved by the Executive Committee of the Club.
In the coming months, under the leadership of our new Executive Director Bryan Bailey, you will begin to see a number of new initiatives, including:
1 – Cadet Wing Liaison Position in the Club – A 4th year Cadet Wing position will be created to act as a liaison between the Wing and the Club. This cadet will be a member of the Executive Committee of the Club during the graduation year, providing feedback to the Wing about the Club's involvements to encourage interest, and providing information to the Club about Cadet needs/interests/expectations which will make the Club more responsive to the needs of our younger members. The selected cadet will also be the Class Secretary after graduation, keeping the class informed of Club activities and events, and coordinating class participation in 5 year reunions.
2 – Business Networking and Career Transition Programme – The Executive Director will connect with leaders of organizations like Treble Victor, Canada Company, True Patriot Love, and LinkedIn Groups like "Hire Canadian Military", "Royal Military College of Canada" etc., as well as the appropriate offices of Veterans Affairs and DND. The bridge between the Club and these organizations will be a 2 way street, exploring ways in which each can give as well as receive services from the other, for the overall benefit of our members. A big focus will be on maximizing the existing services through more effective communication, rather than trying to create and resource competing services.
3 – Increased Support for Club Branches and Classes – The Executive Director will also provide more support to the Branches and Classes. For Branches, this will include such activities as helping the branches to create a model branch charter/constitution template (based on existing best practices) which can be adapted to individual branch needs, and engaging with Branch Executives in quarterly conference calls to exchange ideas on services, events, availability of top speakers, fund raising activities, etc. For Classes, this will include better two way communication to make the Club more responsive to the needs of its members of all ages, and to provide more support to the classes regarding such major activities as Reunion Weekends.
One of the major enablers of these initiatives will be improved communications vehicles (web-site and social media) about which more will be reported in the coming months.
Submitted by 9143 Bruce McAlpine
Implementation Team Leader
Bruce.McAlpine@fulcrumsearchscience.com
416.847.4989 OR 866.409.4990
Mise à jour eVeritas #2
De l'équipe de mise en œuvre du Club des Collèges militaires royaux du Canada
Pour le Rapport d'évaluation stratégique "The Road Ahead"
État de la situation
Il s'agit d'une mise à jour rapide sur les progrès qui ont été réalisés par l'équipe de mise en œuvre en rapport aux recommandations que contenait "The Road Ahead", un rapport basé sur l'évaluation stratégique d'un an effectuée par le CCMRC sous la direction du Conseil général du Club.
Équipes de travail
Le projet progresse et les trois équipes de travail suivantes ont été formées:
Catégories principales    – Nombre de recommandations
Structure organisationnelle & gouvernance  –  7

Programmes & Services  –  11

Communications –  10

Triage
Les 28 recommandations ont maintenant été analysées et triées afin d'établir des priorités, tel que présenté ci-dessous:
Niveau 1 – Recommandations qui peuvent être mises en œuvre rapidement et avec un minimum de ressources.
Niveau 2 – Recommandations qui sont plus complexes à appliquer, mais qui peuvent être mises en œuvre dans l'année en cours.
Niveau 3 – Recommandations qui devront être mises en œuvre dans les années à venir en raison de leur complexité ou des ressources qu'elles requièrent.
Progrès dans l'application des recommandations
Les plans de mise en œuvre pour les recommandations de Niveau 1 ont été approuvés par le Comité exécutif du Club.
Dans les mois à venir, sous la direction de notre nouveau Directeur exécutif Bryan Bailey, vous constaterez un certain nombre de nouvelles initiatives, dont:
1 – Poste de liaison de l'escadre des élèves-officiers – Un poste d'élève-officier de 4e année sera créé pour servir de liaison entre l'escadre et le Club. Cet élève-officier, qui sera membre du Comité exécutif pendant son année de promotion, offrira de la rétroaction aux élèves-officiers sur l'implication du Club pour accroitre leur intérêt pour celui-ci et fournira de l'information au Club à propos des besoins/intérêts/attentes des élèves-officiers afin que nous puissions mieux répondre aux besoins de nos jeunes membres. L'élève-officier sélectionné deviendra aussi le Secrétaire de classe suite à sa promotion et aura pour tâche d'informer la classe des activités et événements organisés par le Club ainsi que coordonner la participation de la classe aux réunions de 5 ans.
2 – Programme de réseautage d'affaires et de transition de carrière – Le Directeur exécutif entrera en contact avec les dirigeants d'organisations telles que Treble Victor, Canada Company, True Patriot Love, les groupes LinkedIn comme "Hire Canadian Military", "Royal Military College of Canada" etc., ainsi que les personnes appropriées au sein d'Anciens Combattants Canada et du MDN. Le pont entre ces organismes et le Club sera un boulevard bidirectionnel qui explorera les avenues par lesquelles les uns et les autres pourront à la fois offrir et recevoir des services, et ce au bénéfice général de nos membres. L'accent sera mis sur la maximisation des services existants à travers une meilleure communication plutôt que la création et l'entretien de services concurrents.
3 – Soutien accru des Classes et des Chapitres du Club – Le Directeur exécutif fournira aussi plus de soutien aux Chapitres et aux Classes. Pour les Chapitres, ça inclut fournir de l'aide pour créer un modèle de charte ou de constitution (basé sur les meilleures pratiques existantes) qui pourra être adaptée aux besoins individuels des Chapitres, prendre part à des conférences téléphoniques trimestrielles avec l'exécutif des Chapitres pour échanger sur les services, les événements, la disponibilité des conférenciers, les activités de financement, etc. Pour les Classes, ça signifie de meilleures communications bidirectionnelles afin que le Club soit davantage à l'écoute des besoins de ses membres de tous âges et qu'il puisse fournir plus de soutien aux Classes pour des activités importantes telles que la Fin de semaine des retrouvailles.
L'une des principales mesures qui sera prise en ce sens a trait à l'amélioration des moyens de communication (site Internet et média sociaux), dont nous vous tiendrons informés dans les mois à venir.
Soumis par 9143 Bruce McAlpine
Chef de l'équipe de mise en œuvre
Bruce.McAlpine@fulcrumsearchscience.com
416.847.4989 OU 866.409.4990