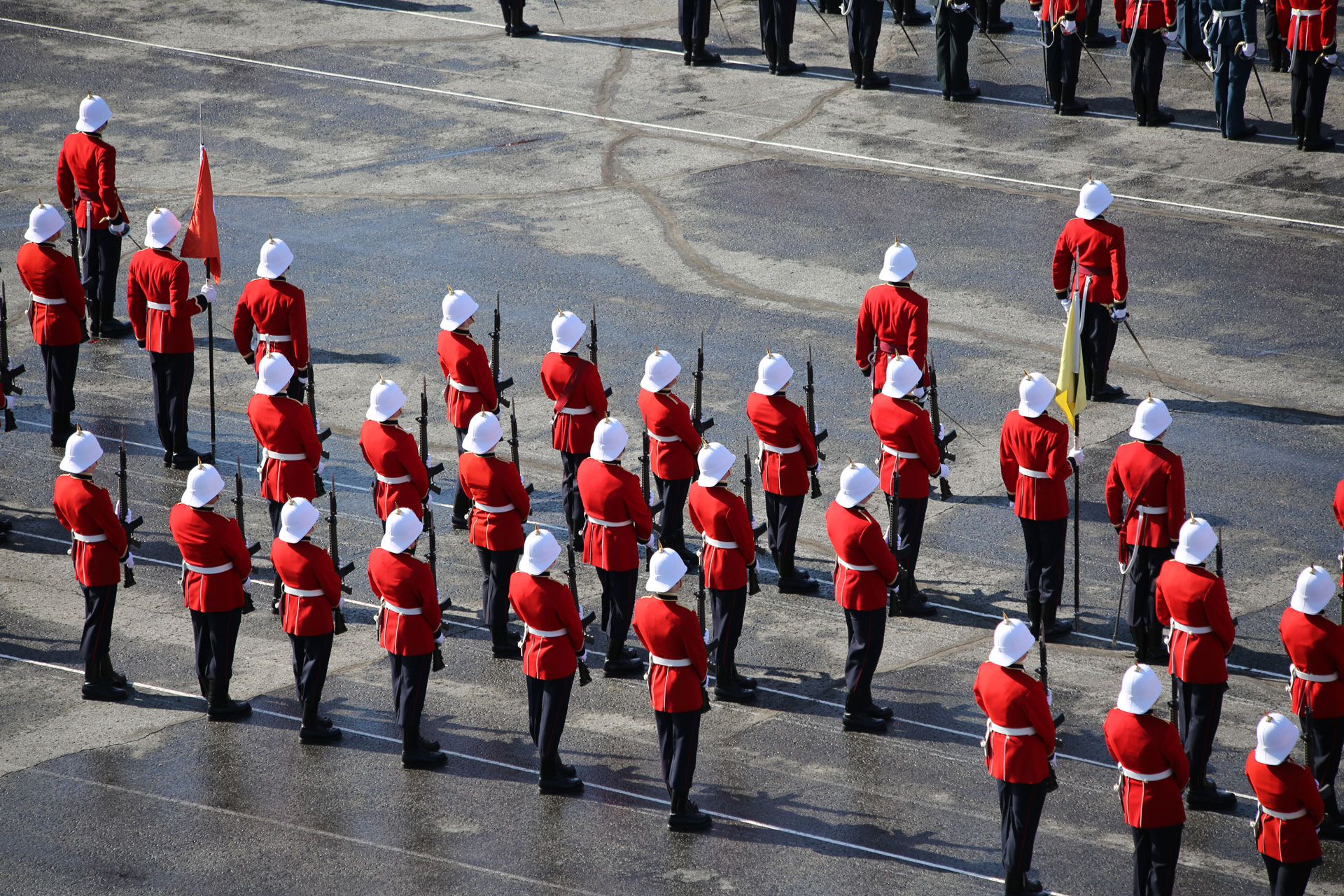 First Year cadets overcome the 2008 Obstacle Course
The Obstacle Course marks the end of the First Year Orientation Period and the new cadets' entry into the RMC Cadet Wing. Every cadet is challenged physically and mentally, and  a great deal of stamina is needed to successfully complete the Obstacle Course. The Course transcends the individual, and First Years must rely on their fellow Flight mates to overcome the various Obstacles: the course cannot be completed alone. An exercise in individual endurance and team cohesion, this challenge marks an important milestone in a cadet's evolution within RMC.
Click on the following images to see videos of the First Years in action:
___________________________________________________________
———-12h00. Les 1re années viennent tout juste de terminer un dîner léger. Ils ne veulent pas trop manger, parce qu'ils vont bientôt prendre part au défi le plus demandant physiquement de tout POPA. Ils sont présentement dans leurs chambres et préparent tout leur équipement pour la course à obstable. Ils enfilent donc leurs ceintures pour grimper le mur et scellent leurs bottes pour que l'eau n'y entre pas. Nous, les 2e, 3e et 4e années, on se prépare pour leur donner un discours motivationnel, le même que nous avons reçu lorsque nous étions en 1re année. Nous les rejoignons à l'étage et les motivons pour qu'ils soient vraiment prêts à affronter ce qui s'en vient.
———–14h00. Tous les escadrons se rassemblent sur le terrain de parade. Nous brandissont fièrement le drapeau d'escadron et courons de gauche à droite pour démontrer notre fierté d'escadron. Vient maintenant le discours de l'élève-officier en charge de l'escadre, puis du DÉlof. La tension est palpable. Pow! Le signal de départ est donné. On part tous à la course et les 1re années débutent avec le premier obstacle : transport de sac de sable dans un labyrinthe. Puis, on court vers le mur! En équipe, ils doivent franchir un mur de 12 pieds de haut et personne ne doit rester en arrière. C'est probablement l'obstacle qui demande le plus de préparation et de cohésion entre les 1re années. Ensuite, transport de civières avec masque à gaz; barres de suspension avec transport de gallons d'eau; traverse de corde raide sur une distance de 30 pieds; transport de poteaux de téléphones dans un parcours avec obstacles; ramper sous un filet de camouflage, inondés par les boyaux de pompiers; transport du pompier avec deux C7, escalade d'une bute vaseuse en tirant un traîneau chargé à bloc; parcours à obstacle sous un tank Sherman; traversée maritime dans les eaux glaciales de Navy Bay; ramper tête submergée dans une marée boueuse; redressements assis avec bios de bois; escalade dans un filet de 25 peids… Ouf! Les 1re années sont vidées, et nous n'avons plus de voix à force de les encourager à gorge déployée.
Nous grelottons tous sur le terrain de parade en attendant le discours du Délof et du Commandant. Finalement, les membres de la Vielle Brigade remettent la pièce commémorative du Collège personnalisée à chaque 1re année. Félicitations et bienvenue dans l'escadre!!!
Par: 24924 Élof Bernier-Brideau
___________________________________________________________
THE ROYAL MILITARY COLLEGE OF CANADA CLASS OF 2012 STEPPED TO THE PLATE, ON "REUNION WEEKEND" AND LIKE CLASSES BEFORE THEM FOR THE PAST 130 YEARS OR SO PROVED TO THEIR SENIORS, PARENTS & FRIENDS THAT THEY DESERVED TO WEAR THE TRUTH, DUTY, VALOUR CAP BADGE.
LAST FRIDAY, THEY GOT DOWN AND DIRTY.
IT'S A TRADITION AT RMC…A RITE OF PASSAGE….THE OBSTACLE COURSE COMPETITION.
MORE THAN 260 FIRST YEAR OFFICER CADETS COMPETED IN MORE THAN A DOZEN EVENTS, AND IT GETS DOWNRIGHT MESSY.
THE OBSTACLE COURSE SIGNIFIES FIRST YEARS FINISHING THEIR TIME AS RECRUITS.
IN PRE-OBSTACLE COURSE INTERVIEWS FOUR EX CADETS HAD THIS TO SAY:
BRIGADIER-GENERAL TOM LAWSON: "THEY'RE ACTUALLY GOING TO JOIN THE WING AND FRIDAY AFTERNOON BRINGS THEM TOGETHER FOR ONE OF THE MOST SIGNIFICANT CHALLENGES THEY'RE EVERY GOING TO HAVE AT THE COLLEGE
AND THAT IS THE OBSTACLE RACE AND IS THE CHEERING THAT YOU'RE HEARING YOU'RE HEARING GOING ON RIGHT NOW.
THE REST OF THE WEEKEND IS DEDICATED TO THE EX-CADETS COMING BACK TO SEE HOW THE OLD PLACE LOOKS AND THEN CONGRATULATING THE FIRST YEARS ON JOINING THE WING."
EX-CADET PHIL SMITH SAYS HIS TIME AT RMC BEGAN WITH FEAR AND ENDED WITH EXHILARATION.
BUT THE STRONG FRIENDSHIPS HAVE LASTED AND IT'S FUN TO TALK OVER OLD TIMES.
PHIL SMITH:
"AND WE GO OVER OLD EXPERIENCES AND TALK ABOUT OLD PROFESSORS AND OLD ESCAPADES WE HAD HERE.
PUTTING CATS INTO THE GYM WHEN THE DOG SHOW WAS HELD THERE, THAT KIND OF THING."
EX-CADET DAVID BARNES REMEMBERS PLAYING RUGBY FOR RMC.
DAVID BARNES:
"I WAS PLEASED WHEN RUGBY WAS PUT BACK ON THE SPORTS AGENDA, CURRICULUM FOR RMC.
BUT 5 YEARS OF RUGBY AND GETTING TO PLAY EVERYWHERE FROM SANDHURST TO WEST POINT AND OUT TO SIMON FRASER WAS JUST AN EXPERIENCE I WOULDN'T HAVE GOT AT A REGULAR UNIVERSITY".
ON REUNION WEEKEND FIRST YEAR CADETS RECEIVE THEIR RMC INSIGNIA…A CAP BADGE.
THERE IS ALSO A CEREMONY AT THE MEMORIAL ARCH TO HONOUR THE "OLD BRIGADE"….EX CADETS WHO ENTERED RMC 50 YEARS AGO OR MORE.
FOR THIS EX-CADET, RETURNING TO RMC HAS SPECIAL MEANING.
DENNIS APEDAILE:
"I STARTED MY FAMILY LATE AND MY SON IS A FIRST YEAR CADET THIS YEAR.
SO I WILL BE ABLE TO GIVE HIM HIS MEDAL AFTER THE OBSTACLE COURSE THIS AFTERNOON AND I WILL BADGE HIM ON PARADE TOMORROW.
NORMALLY IT IS THE GRANDFATHERS THAT DO THIS IF THEY HAVE SEVERAL GENERATIONS."
RMC IS STEEPED IN TRADITION, AND THE OBSTACLE COURSE MAY BE WHAT HELPS BOND CADETS TOGETHER FOR LIFE.
CHRIS HARVEY, CKWS NEWSWATCH, KINGSTON.