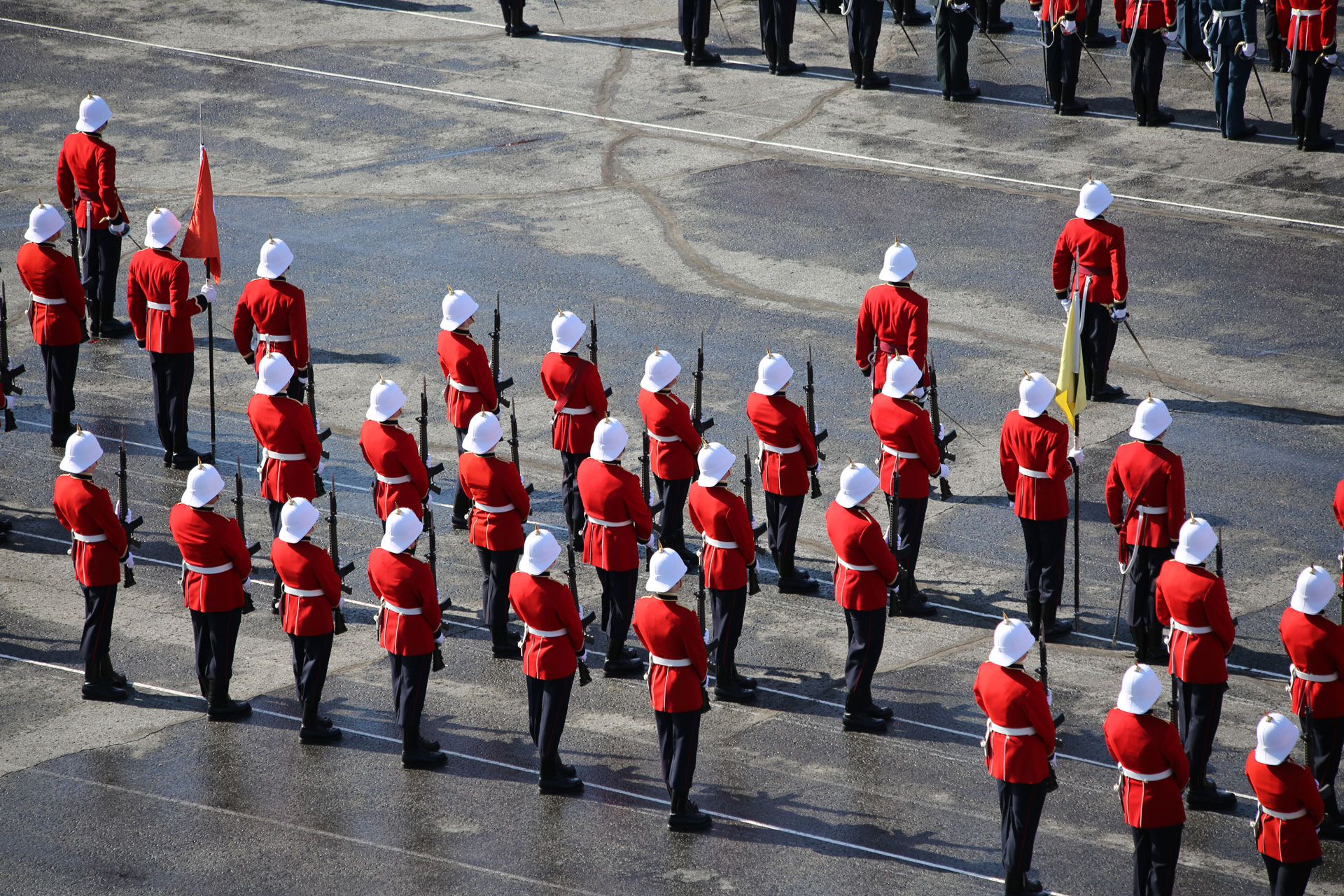 CISM – RMC Fencing High Performance Camp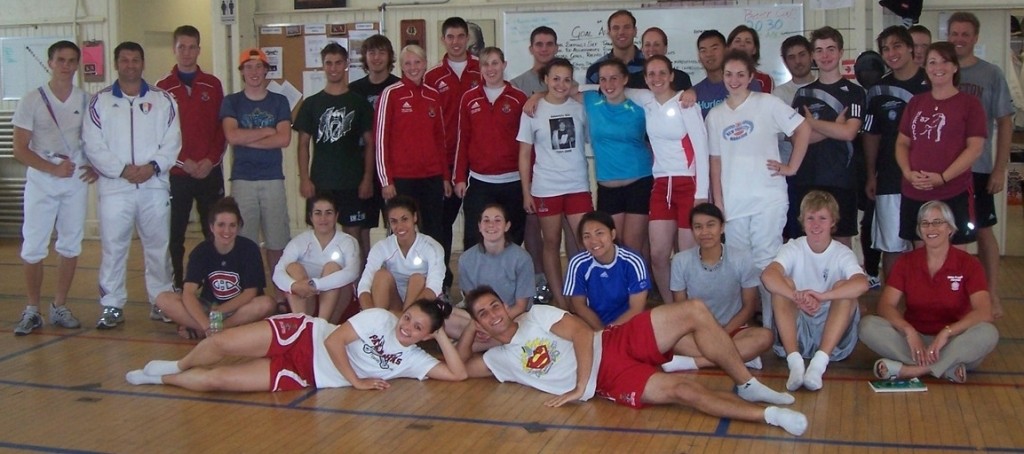 All participants and staff celebrate the successful completion of High Performance Camp.
During the week of 24-28 August, the Royal Military College of Canada (RMCC) and CFB Kingston hosted a unique training event. The CISM – RMC Fencing High Performance Camp brought together 37 athletes from the RMC varsity team, the (Conseil international du sport militaire) CISM Fencing program and elite youth fencers from Ontario, Quebec and the United States.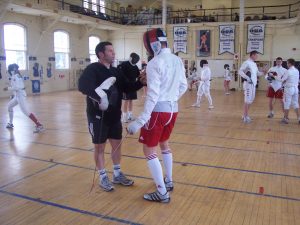 Fencing Master Patricia Howes, RMC Varsity and CISM Program Head Coach, and Fencing Master David Howes, Cutting Edge Youth Fencing Club Head Coach, RMC Varsity Assistant Coach and CISM co-coach, have delivered this high level training camp for six years. Every year a guest coach is invited to round out the coaching staff and this year we were fortunate to have Maître Marc Bascle, Fencing Master for the French Army bring his outstanding skills and experience to the camp. Maître Bascle was accompanied to Canada by members of his family, who were able to enjoy many of Kingston's highlights, including the famous Fort Henry Guard Sunset Ceremony at the UNESCO World Heritage Site Fort Henry. We were especially privileged to enjoy a visit by our Patron, Brigadier-General Hilary Jaeger, who took time out from her pre-deployment training at the Peace Support Training Centre (PSTC) to observe the training and to share lunch with and speak to the athletes.
Athletes of all three fencing disciplines-foil, épée and sabre-engaged in running and aerobic conditioning, core strength training, sport psychology and nutrition; and of course, fencing. Fundamentals such as footwork, timing and distance and basic attacking and defensive tactics were refreshed and reinforced. Athletes were treated to personal lessons from the three coaches along with group lessons in tactics, directed bouting and even a mini-tournament. The five days of the camp were packed with activity and, although exhausting, flew by.
The participants of this camp will be applying their newly honed skills very soon. The fencing season for RMC and Youth Circuit fencers gets underway in September and fencers from all three groups will meet again at the Canadian National Team Selection Circuit Event in Saskatoon 18-20 September. Next up for the CISM program will be a training camp in February, in preparation for the next World Military Fencing Championship being held in Venezuela in April 2010.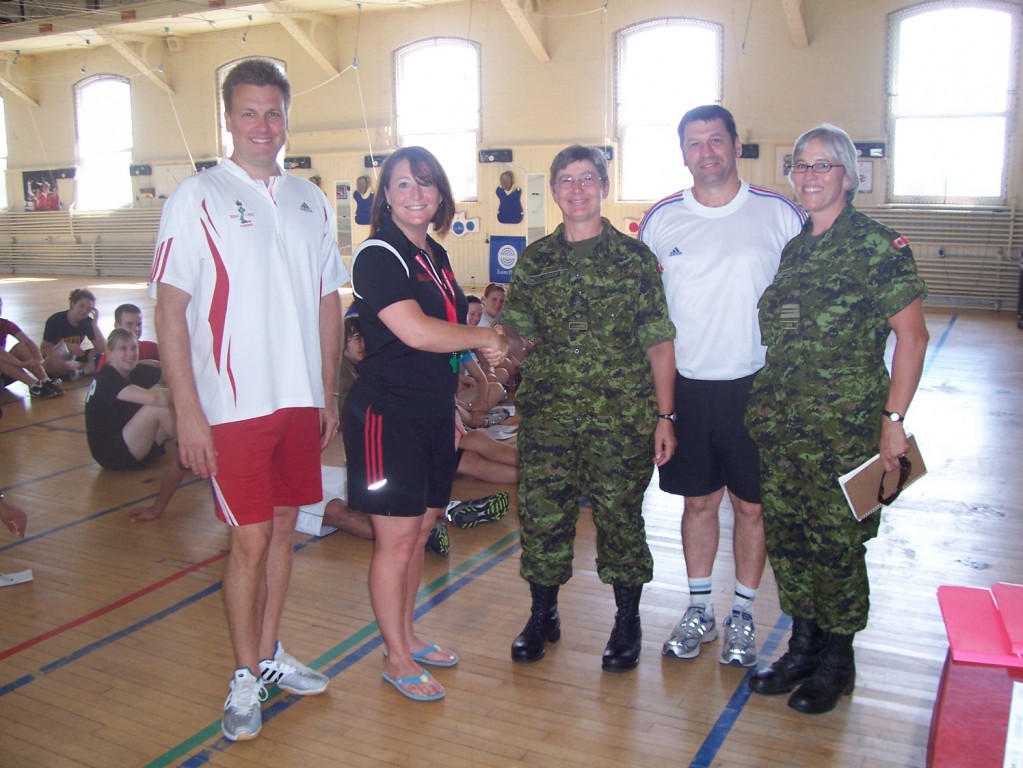 Co-Coaches David Howes (left) and Patti Howes and CISM Fencing Manager 15566 Major Helga Grodzinski (RMC 1986) (right) welcome Guest Coach Maître Marc Bascle from France and CISM Fencing Patron Brigadier-General Hilary Jaeger to the camp.
____________________________________________________________________
RMC Varsity Women's Soccer Team's Hardwork Pays Off in Victory
Pictured are the RMC (W) Soccer team who has been hard at work under the supervision of coach Chad Beaulieu.
Photo above (Left) are  five team members who were viewed on a TSN/Kraft promotion at RMC two weeks ago.
(Right) The RMC team are seen practicing drills before their first exhibition game of the upcoming season.
Effort, determination combined with a high level of team-work leading to a 5-0 win.
The OUA season gets underway when RMC visits Ottawa on the weekend of  12 / 13 September.
Photos and Caption By 25275 Julia Anderson
Rugby (M) – first 2009 OUA League Game at RMC – Wed, 9 Sep – Navy Bay Field – against Queen's University