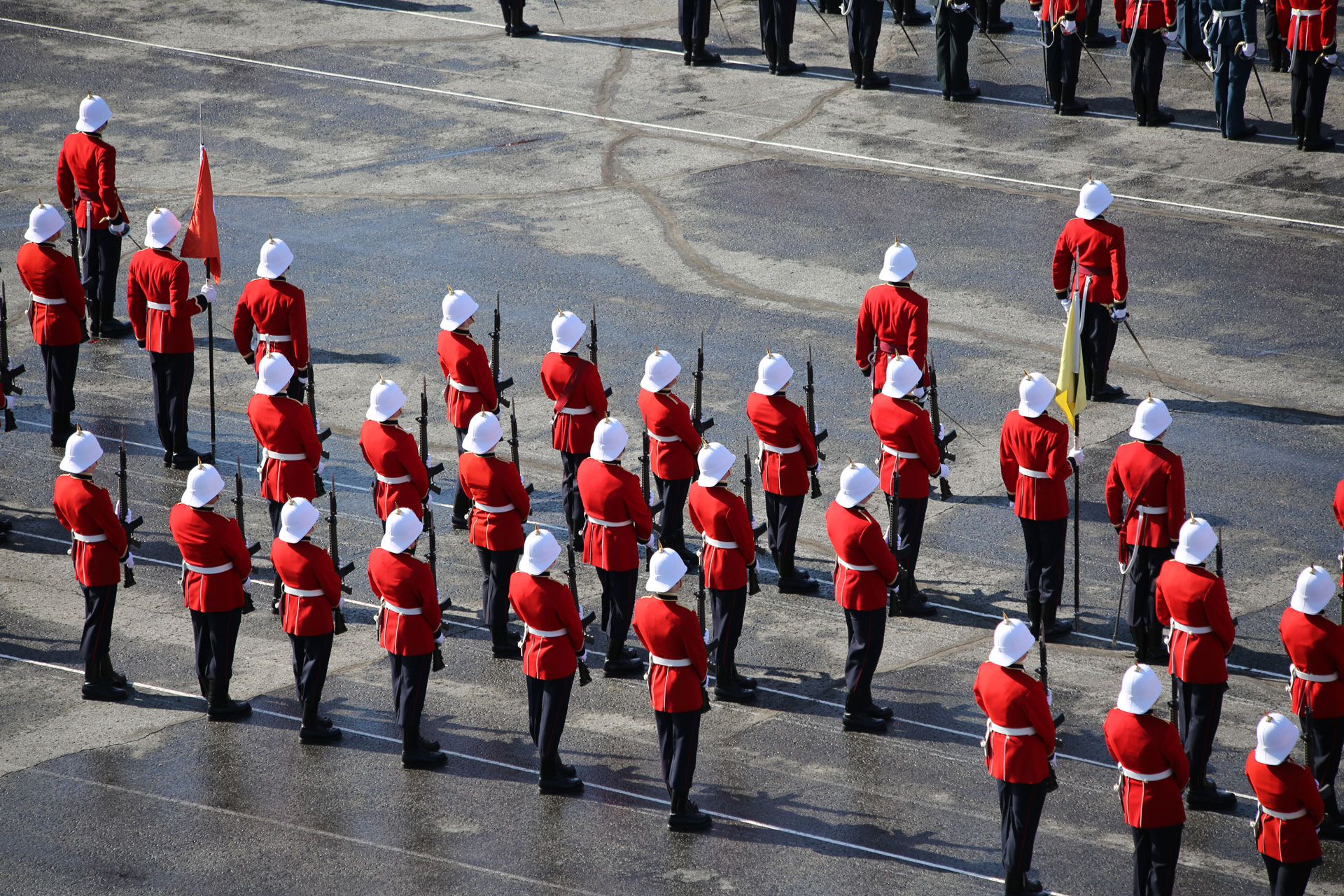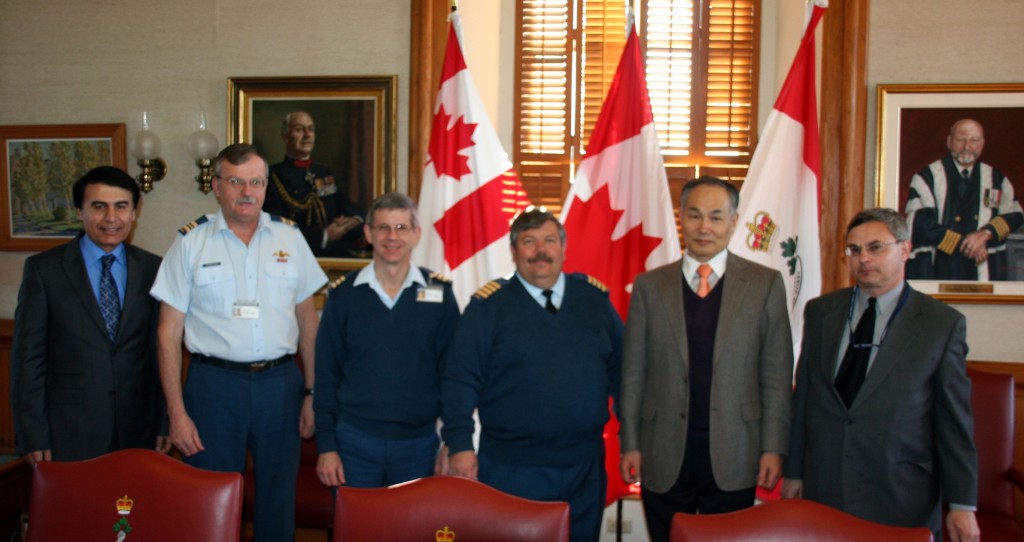 Caption:  left to right: Dr. Houchang Hassan-Yari, Maj. Stouffer, LCol. Paziuk, Col. Lewis, Vice-Admiral (Ret.) Fumio Ota , Dr. Sokolsky. Photo by: OCdt Dan Flemming

RMCC Hosts Japan National Defense AcademyDirector
On March 28, 2011, the Royal Military College of Canada has hosted the Vice-Admiral (Ret.) Fumio Ota, Director of the International Exchange Program, National Graduate Institute for Policy Studies, Professor Partnership, at the Japan National Defense Academy. On this occasion Dr. Ota gave a presentation on the NDA and its various programs. He invited the college to send its students to spend a session at the Academy which in turn will send a student in fall 2011 to RMCC.
For his part, LCol Larry Paziuk, Special Assistant (mil.) to the RMCC Principal, presented the academic and military activities of our students. Dr. Ota has been welcomed by the RMCC Acting-Commandant Col. William Lewis, Dr Joel Sokolsky, Principal, Major Ray Stouffer, Registrar, and Professor Houchang Hassan-Yari, Special Assistant to the Principal for national and international liaison.
Professors Tom Racey, Dean of Science, and Phil Bates, Dean of Engineering, had also explained the various programs offered in their respective Faculties. Finally, Mr Ross Mackenzie, RMCC Curator, presented the history of the College to our guest.
_______________________________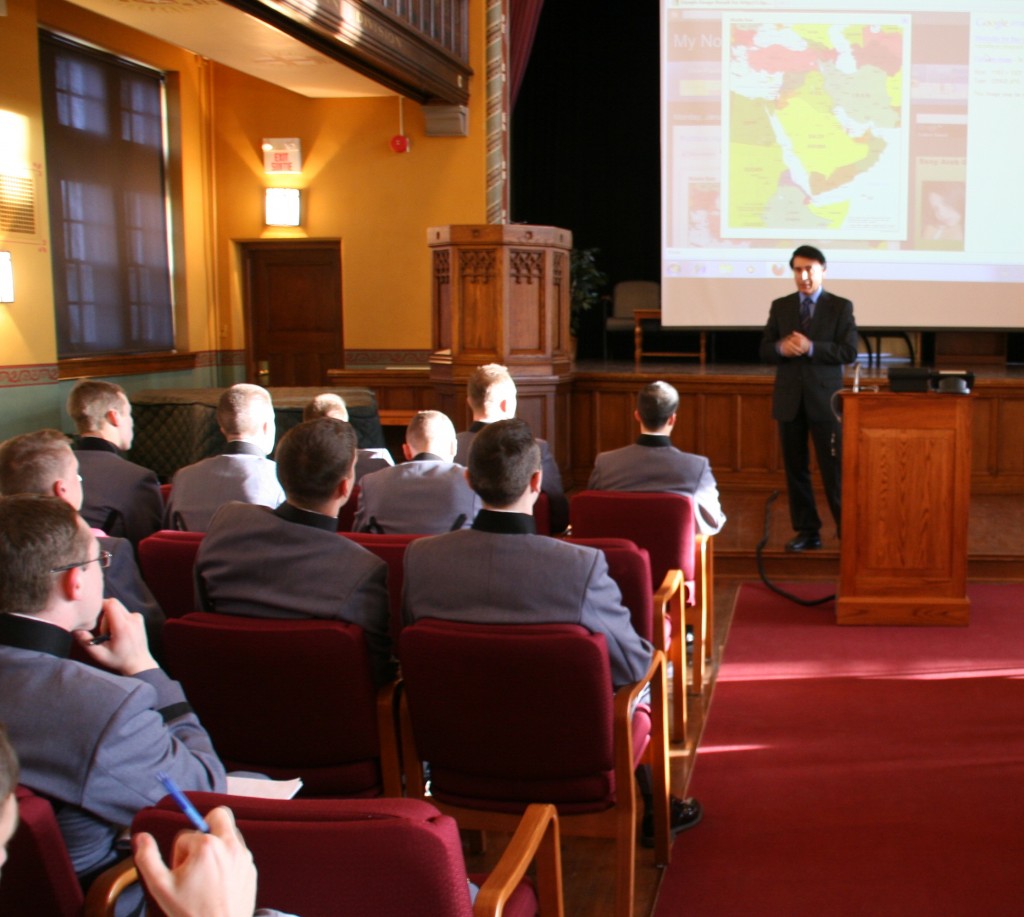 West Point Domestic Affairs Forum Visits RMCC
Article by: 13261 LCol Larry Paziuk – Photo: OCdt Curtis Matlock

Royal Military College of Canada once again played host to a number of West Point cadets this past week. Visiting from West Point were 18 cadets who are members of the Domestic Affairs Forum which is an extra-curricular club that study political governance at various levels. The club was conducting a visit to Canada arranged by the Canadian Consulate in New York to study Canadian politics. The cadets spent most of Monday and Tuesday visiting Ottawa and receiving briefings from senior Canadian military Commanders and diplomats.
The West Point Cadets arrived at RMC late Tuesday afternoon and were given a historical tour of RMCC by Ross McKenzie, followed by a highly informative lecture by the Principal, Dr Sokolsky, on the role the Canadian Forces has played in the 20th Century. Afterwards, under the capable direction of #24975 OCdt Long who was appointed RMCC cadet in-charge for the visit, the West Point cadets were paired up with an RMC host for the evening, provided space in the College dorms to be bed-down for the night, and given free time to enjoy the local Canadian culture at the College and in the city of Kingston.
The next morning, the West Point cadets were treated to a very topical discussion of Canadian involvement in the Middle East by our own faculty expert, Dr Houchang Hassan-Yari. Dr Hassan-Yari even turned down a requested interview with the BBC in order to be with the West Point cadets.
The West Point cadets left shortly thereafter for their return to West Point. Although this visit by West Point was short in duration, the West Point cadets left RMCC with a much greater understanding of Canada's role in world affairs and thoroughly enjoyed the cultural exchange and a chance to get to know their northern neighbours a little better.
_______________________________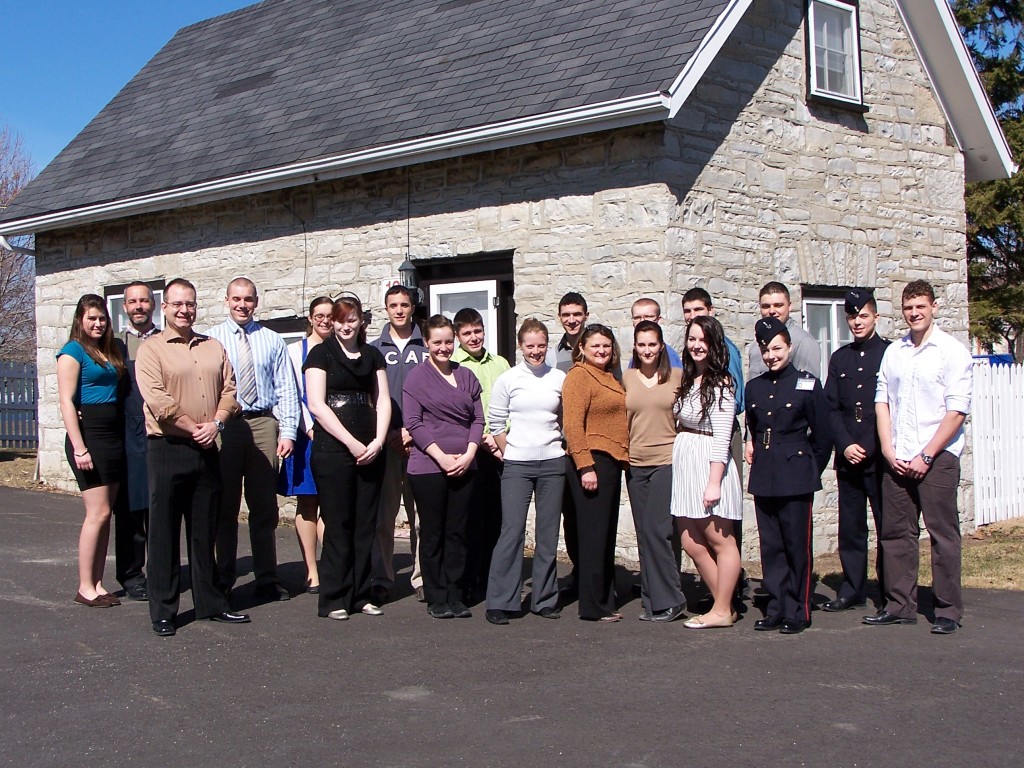 For the best part of two years, at least one Sunday a month about 35 cadets would visit the House of Commandant – Bill & Brenda Truelove a.k.a."B&B" and enjoy a brunch. These visits included much more than a group of empty stomachs getting a free meal.
We spoke to many of the cadets over these two years and everyone of them had nothing but high praise for the opportunity to they had during these visits. Below pretty well sums up the consistent feedback that we received about having brunch with "B&B"
A lot to say by a coffee cup
"Knock, knock, knock!" I snapped awake to the sound of a door opening, not realizing that I had been moved in my sleep to what appeared to be a small table. As I gazed around, I realized that I was surrounded by many of my friends, most of them still asleep. Across what appeared to be a kitchen, my owners busied themselves with preparing eggs, pancakes, and other breakfast staples. A man with a beard hurried towards the door and began to greet his guests. "There's coffee in the kitchen, make yourselves at home. Also, feel free to be nosy and check out the basement." He shook their hands with a smile and returned to his task of arranging sausages within a pan.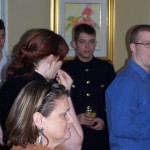 With that, a young man wearing a suit of blue adorned with strange silver buttons approached me. He abruptly lifted me off the table and began to pour a hot liquid into my interior! I recognized the smell and taste as that of coffee and relaxed as my friends were also drawn from slumber into use. The young man carried me into another room, adorned with paintings and pictures, and placed me upon a table. He was hurriedly surrounded by his peers, most of whom were dressed less flamboyantly than he in skirts and ties.
From the contents of the conversation that developed, I quickly deduced that the cadet was a first year at RMC, and that his companions were also from that strange place. The bearded man rejoined us and eagerly entered the discussion. The topics ranged from future personal plans to tales of a mysterious CDH and its evil new trays, and then they shifted from English classes to a series of training anecdotes. I was struck by the ease with which they consorted, as all barriers of age and rank were cast aside.
The delicious meal, which I had seen my owners laboriously constructing, was finally served and I was quickly abandoned on a coffee table. The entire room sprang to its feet and dove for victuals, unaware that the table was too laden with provisions for anyone to be left out. After the hot and decidedly aromatic meal was finished, I was carried back towards the kitchen and placed upon a counter. An unseen hand plunged me into the balmy waters of a vast metal tub, the coffee was scrubbed from me and I was just as quickly dried. As the cupboard doors closed upon my short and wondrous day, I witnessed the cadets leaving: their bellies were full, their appetites for food and conversation were sated, and they departed with a smile and a handshake from the bearded man.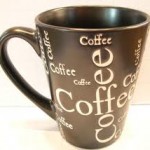 Sincerely, a coffee cup.
I would like to thank Commodore Truelove, his wife Brenda, and the entire Truelove family for their generosity, their friendship, and their scrumptious cooking. I know that though they will soon depart for wild and unknown parts, they will be sorely missed by all here at RMC.
25775  NCdt II Tim Ingram
I was no stranger to the routine when I arrived at the Commandant's residence on Sunday, April 3, and even though this was my third visit, it proved to be no less memorable than the two that had come before. As I confidently pressed the button of the worn metal doorbell and waited to be let in, I could almost relive the moment of overwhelming trepidation that had made my hand nearly shake on my first visit in first year. When I had first been welcomed into the oldest building on campus this time last year, I was more than a little uncertain about how I felt about being in the Commandant's house, and even more uncertain about what to expect from him and his family.
But this Sunday, with two visits under my belt, I was content to accept Bailey's bubbly and affectionate greeting and follow his daughter's direction to the coffee. The nervousness had vanished, and I was able to be truly awed by the spirit of hospitality that infused that house. At this, what would be the last Commandant's Brunch to be hosted by Commodore William Truelove and his family, I was glad to take the chance to discover everything that was left to be discovered and do my best to stop there from being any leftovers for the hosts to deal with.
This visit, having already explored every nook and cranny of the Commandant's office, the "bowling alley" and the dungeon, I turned my attention to four years worth of Royal Roads year books. Placed surreptitiously on a table against the wall of the living room, I made it my goal to explore what was once our sister school through the pages of the Commodore's old year books. Divided into squadrons based on elements, the four Royal Roads squadrons consisted of one Navy, one Army, and one Air Force squadron, along with a squadron of UTP cadets. The cadets of Royal Roads from 1981-85 shared many of the same traditions we do, and through pictures of cadets dressed in Scarlets on parade, covered in mud during an obstacle course or wearing nothing but togas made of issued bed sheets for a skylark, it was easy to see the shared legacy between the two military colleges.
Once my curiosity and my hunger had both been satisfied, I was finally able say goodbye to the Commandant, and to Bailey, and drag myself back to my room to tackle my second last essay of the year. A tradition that I hope will be continued by our next Commandant, the Commandant's Brunch was, as always, a good way to recharge, relax, and take a break from the stress of day to day RMC life.
25892 NCdt (II) Meghan Thompson
_______________________________
FENCING UPDATE:
Ex-cadet fencer Brendan Kilburn joined CISM Fencing teammates Cpl Hughes Boisvert-Simard and Cpl Jean Lelion to capture a 2nd place silver medal at the European CISM Epee Championships last week in Amsterdam. The Canadian men's epee team were successful in beating the British, the Swedes, 2 Dutch teams and the Hungarians. Their only loss was to the Polish team who were undefeated and claimed the gold. Women's Epee, comprised of ex-cadets Capt Sarah McRae, 2Lt Jackie Power and 2Lt Carolyn Hincke(who replace Capt Marilyne Lafortune with less than 24 hours notice) finished 2nd as well, losing to a combined Dutch and Swedish team.
On the local level at Senior Provincial Championships IV year OUA Allstar OCdt Nicky Sapera once again fenced extremely well finishing 6th in the province in women's foil, followed by an 11th place by S(Lt) Chantel Helwer (nee Lemay) Sapera then captained her women's foil team to a Bronze medal at the Senior Ontario Championships. Top women's epee result came from OCdt Laura Smith who finished 17th. In women's sabre S(Lt) Helwer was a double silver medalist losing only to USA fencer Alyson Doyle in the individual, and captained her Cutting Edge Team which included Pte Kate Porter and Regi fencer Celeste Suart to a second silver.
In men's action top result came from Varsity men's captain IV OCdt Marcus D'entremont Wapen who finished 9th overall, while ex-cadet 2Lt Michael Dubois-Boudazza was 12th followed by IV year men's foil captain Eric Castellani in 14th place. The OCdts did an excellent job of hosting the event which drew over 300 fencers from across the province from universities and clubs across the provincie. This is the second year in a row that RMC Fencing has hosting the Senior Ontario Provincial Championships.
Kingston Fencer Finishes 6th at World Championships
17 year old Kerr Hutchinson from RMC's Cutting Edge Fencing program came up just short of a medal at the 2011 Cadet (Under-17) World Championships in Jordan today.
Fencing in his first ever competition outside North America, Hutchinson proved with this result that he is among the very best epeeists in the world in his age group. After winning 4 of 6 bouts in his first round pool, he found himself ranked 20th overall. In the direct elimination rounds, he came back from a 14-12 deficit to defeat Zoa De Wijn of The Netherlands 15-14 to advance to the top 32. His next opponent was 8th ranked Raymond Schorr of the US, who he eliminated by a score of 15-12.
In his next match in the top 16 against 9th ranked Konstantin Nemtryev of Russia, he overcame a 6-1 first period deficit to win 15-12. His final match of the day came in the quarterfinals against #1 ranked Gabriele Cimini of Italy. Hutchinson put up a good fight, but fell 15-9 to the Italian who would go on to win the bronze.
The final result for Hutchinson was 6th place, the best Canadian result to date. He was also the only fencer from outside Europe to crack the top 8.
Teammate Natasha Grodzinski, who was also making her World Championships debut, competed in the cadet women's sabre event, finishing 45th overall.
_______________________________