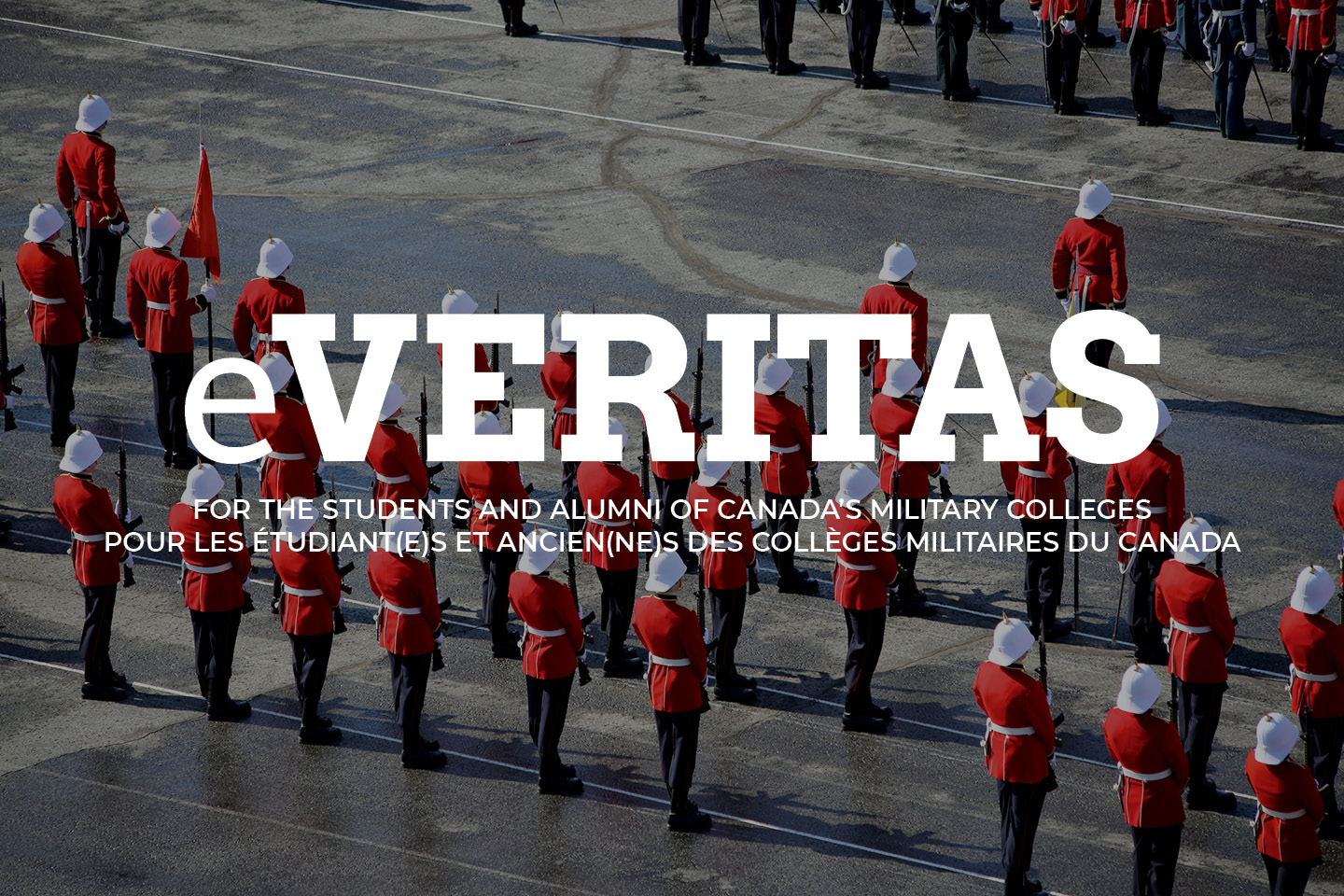 2nd Years Get Detailed Briefing on Afghanistan Operations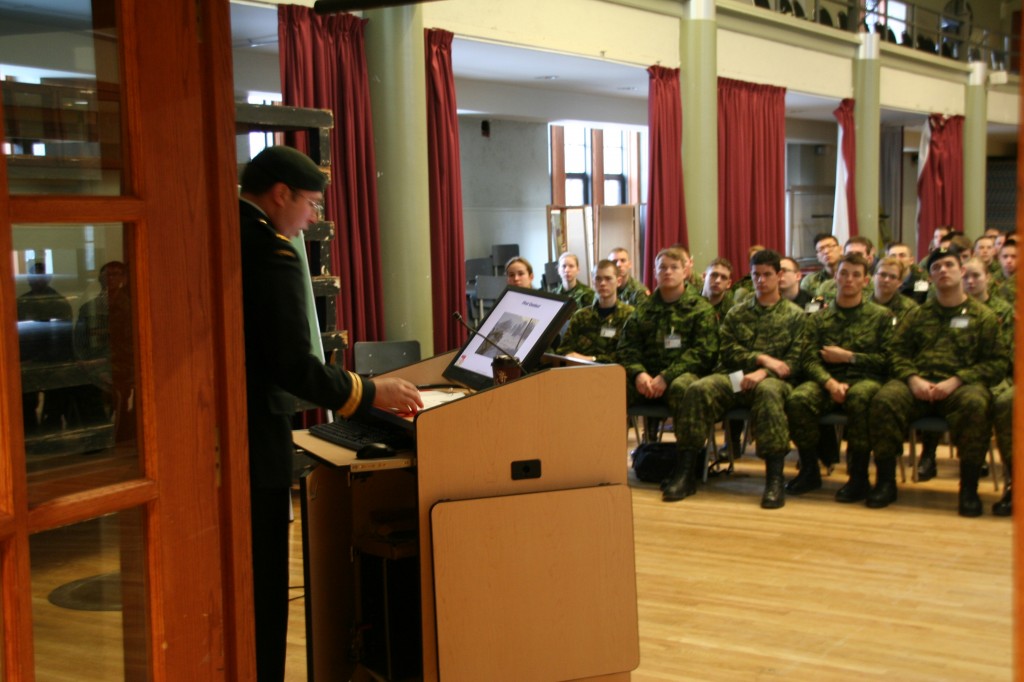 Article and Photos by 25366 NCdt (IV) Mike Shewfelt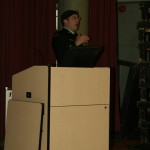 As part of their weekly Professional Military Training (PMT), the Second Year class spent Wednesday morning listening to a briefing from Capt Mike MacKillop (photo left), a professor in RMC's Applied Military Science Department. Capt MacKillop was the OC of Recce Platoon in Afghanistan for TF 3.09 in 2009 and 2010, and he told his story to the Second Year class. From the first firefight he and his men were engaged in, which came only 3 hours into the tour, to the tour's end, Capt MacKillop filled in the details of what it is like to command troops in combat.
He drew many important lessons from his time in Afghanistan, as well. As the Second Year class are the future leaders of the Canadian Forces, Capt MacKillop told them, "You're training works. It all works. We found that out 3 hours into our tour, and we came through that engagement without a scratch because we were lucky and because every man knew what he was supposed to do." Equally important, he said, is credibility. "Your ability to lead is all about your credibility, and that comes down to two things: where you have been and what you have done."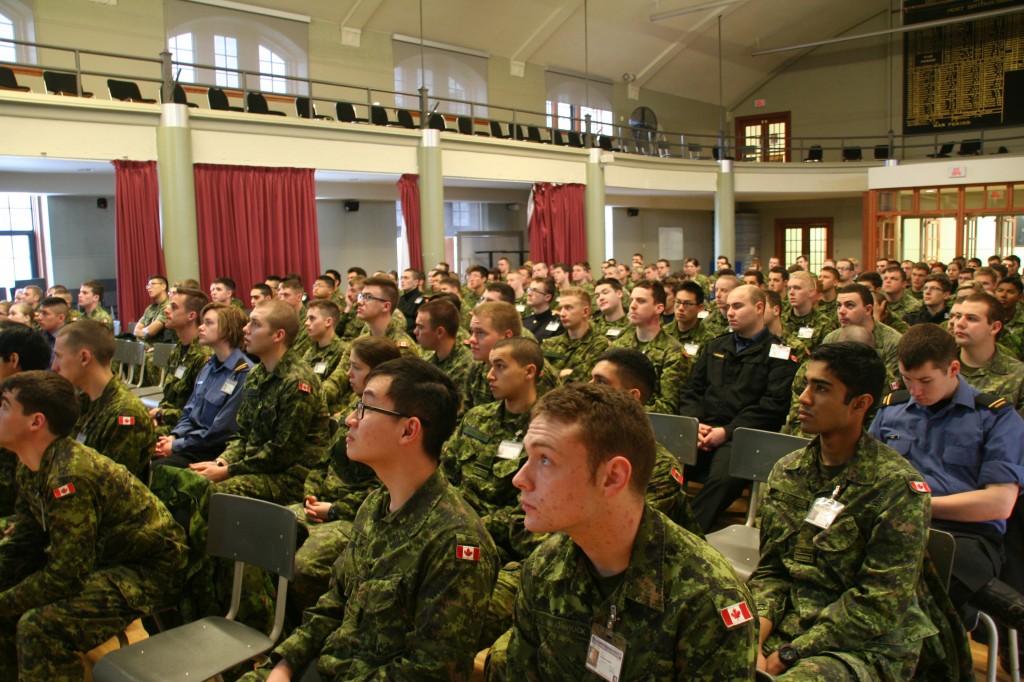 ______________
Feb 29 Relinquishment Ceremony
Article and Photos by 25366 NCdt (IV) Mike Shewfelt
Whenever cadets leave the College to further their careers in the Canadian Forces, it is always cause for ceremony. This is true whether the cadets in question are graduating or moving to the ranks. RMC Commandant BGen Eric Tremblay presided over a ceremony on Wednesday, 29 Feb 2012, in which four officer cadets relinquished their status as cadets to further their careers as non-commissioned members. 25022 OCdt Young Kim, 25417 OCdt Nicholas Mastalerz, 25592 OCdt George Davis, and 25910 OCdt Lindsay Cross will be posted to various training establishments throughout Canada. BGen Tremblay wished them well when he said, "You will always be ex-Cadets."
______________
Sandhurst Training Kicks Into High Gear
Article by 25720 OCdt (III) Cindy LaVine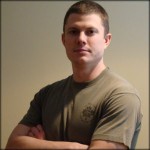 With only seven weeks until the 2012 Sandhurst competition, the team's training regime is moving to yet another level. Over Reading week, while the team was taking a much needed break, the Sandhurst support and training staff, specifically Stephane Robert (photo left), worked tirelessly to develop a new physical training program. 26270 OCdt (I) Adrian Thow, a first year on the team, confirms that "the fitness staff's dedication to the team thus far has been impeccable". The new strengthening program has been created to supplement the already rigorous training schedule followed by the Sandhurst team. While the current regime requires a large time commitment of two practices a day as well as most weekends, the team must now commit an extra three practices a week to individual training sessions. OCdt Thow continues to explain that "everyday we are put through workouts pushing us mentally and physically where we reach our breaking point… and then the staff makes us go further. Our staff is well organized and works on each of us individually, so that in the end, we become stronger as a team". The demanding and diverse training schedules that the team follow will ensure that the group is well rounded in every aspect of physical fitness and ready for the competition in April.
As of February 27th, the team also welcomed a new member to the Sandhurst support staff. Penny Nelson, a massage therapist at Elements Spa in Kingston (photo below), has been contracted to work with the team during the present season. Her expertise and skills are proving to be instrumental in improving the team's recovery time, flexibility and overall physical health. While her contract has just begun, she has already dedicated much of her time in the previous months to developing individualized programs for each team member to promote optimal performance. Most importantly, 25935 OCdt (II) Jeremy Jobin explains that "her presence and treatments will hopefully reduce the number of training related injuries". While the physical component to Sandhurst is paramount, Penny's ability to promote mental health has been equally impressive. Her ability to teach many of the team members proper relaxation and calming techniques has proved instrumental to the team's performance. 24992 OCdt (IV) Eric Robb, a 4th year cadet on the team, says that "taking the time to consciously train your mind is a unique skill. The ability to relax and control your body under severe physical strain in adverse conditions and circumstances allows the mind to rid itself of the internal 'panic' button and react to situations with clarity and calmness". Therefore, the support and care that Penny is providing to the team will go a long way towards increasing the likelihood of success in the upcoming competition.
One Shot!
______________
Men's Rugby Team Competes in University Rugby 7s National Championship
RMC's Men's Rugby Team headed to Victoria, British Columbia this past weekend to play in the University Rugby 7's National Championship. Look for more details in the next e-Veritas.
 ______________
RMC Soldiers On with 4th Annual Bike-a-thon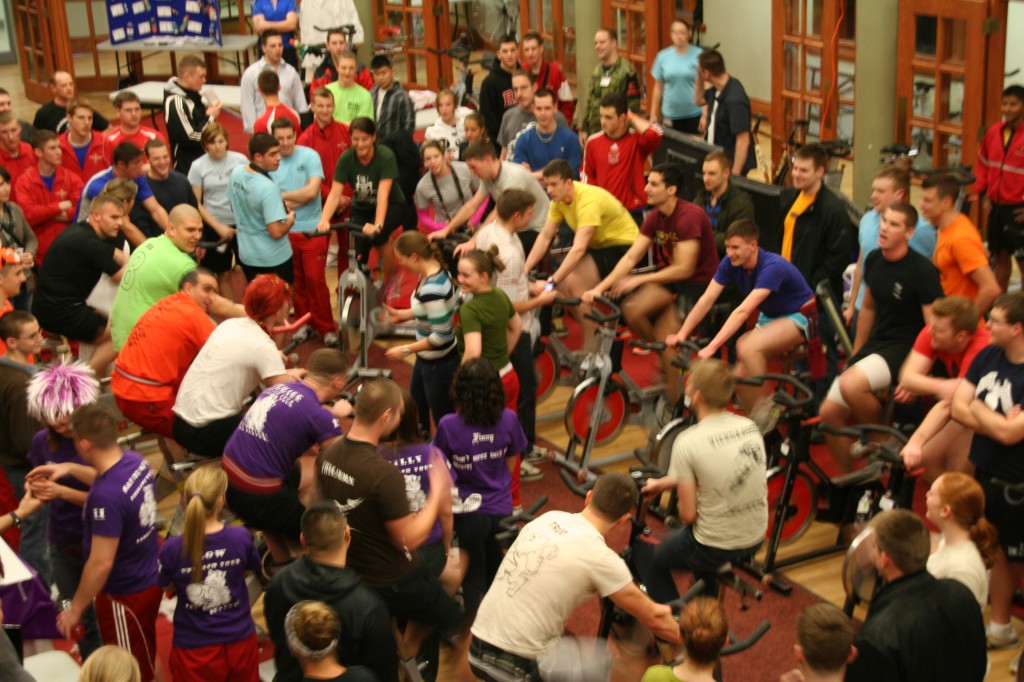 Article by 25594 OCdt (III) Marina Lowthian
Photos by 25366 NCdt (IV) Mike Shewfelt
They came with their running shorts; they came with their water bottles; they came with their XBox`s, their TVs, and their Nintendos; but most importantly, they came with their spirit and determination!
This year's 2012 RMC Bike-a-thon for Soldier On brought out the warrior spirit in RMC cadets this weekend. From 18h30 Friday March 2nd to 19h00 Saturday March 3rd in the New Gym, cadets put their will to the test as they pedaled away on their stationary bikes, vying to cover the most distance and beat all other squadrons and teams there.
The Bike-a-thon officially kicked off at 18h30 with the CSL race, in which all of the Cadet Squadron Leaders faced off against one another in a 15min sprint for the most distance.
After an address from Soldier On representative, MWO Southall, and some final set up, the 24 hour Bike-a-thon began! With squadron members cheering on their cyclists and pump up music from the DJ, the air was filled with high energy.
This year, the 2012 RMC Bike-a-thon expanded its participation parameters. The competition was opened up to Training Wing staff, Academic Wing staff, Varsity and Club teams, and CMR St. Jean. CMR showed a massive amount of participation, having a large and motivated team and covering the second most overall distance! As well, not only did the competition feature squadron and 24 hour solo riders, but a new addition of duo teams was created! Therefore, doubles teams were able to come out and split the 24 hours between them.
Cyclists pedaled through the night with no fear. Even a 6 hour power outage through the dead of the night did not stop them! Finally, 19h00 on Saturday rolled around and the hype began again. During the final minutes of the competition, participants sprinted faster than ever, team members cheered louder than ever, and energy levels reached higher than ever! The hour hit and all bikes were stopped. Members were given a chance to wind down as results were calculated. What a long and arduous haul!
Out of the brave cadets who took on the 24-hour Challenge, the victors emerged in an agreed tie, a first in Bike-a-thon history. Both M0982 OCdt (III) Paul Hansen, from Otter Sqn, and 25573 OCdt (III) David Neppel rode their hearts out, 'crossing' the finish line with 506 km.
It was 'Team Kildonald' that took the first Doubles Challenge, with 25593 OCdt (III) Robert Kilpatrick and 25336 Ocdt (IV) Rebecca McDonald combining for 654.62 km.
The total team winner (decided by the team with the highest total on their team bike, plus the 24-hour rider with the most distance) was 5 Sqn, with a total of 1,615 km!
Finally, the team deemed to have the 'most spirit' was 3 Sqn, with a great cheerleading turnout in the final half hour. Yah!
However, the most important part of this event was the donation to Soldier On. The Bike-a-thon was proud to present MWO Southall with a cheque of $6000.84! 25663 OCdt  (III) Dmitri Sapeguin presented a further surprise from the Talent Show committee: All the money they had raised from the RMC Talent Show was donated to Soldier On- a total of $2664.
Congratulations to all who participated and donated to Soldier On. The money raised and efforts attained could not have been achieved without the hard work of everyone involved. See you next year!
Ed:
$$$$$$$$$ were still coming in at press time on Sunday – latest total raised is now $6,190.84.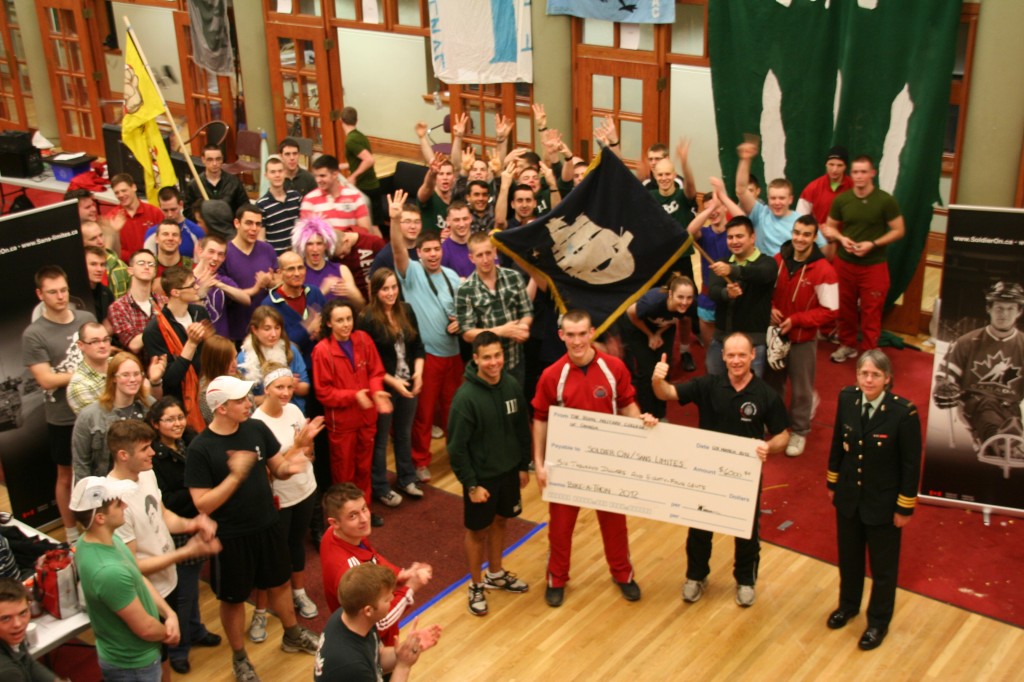 More photos of the action: