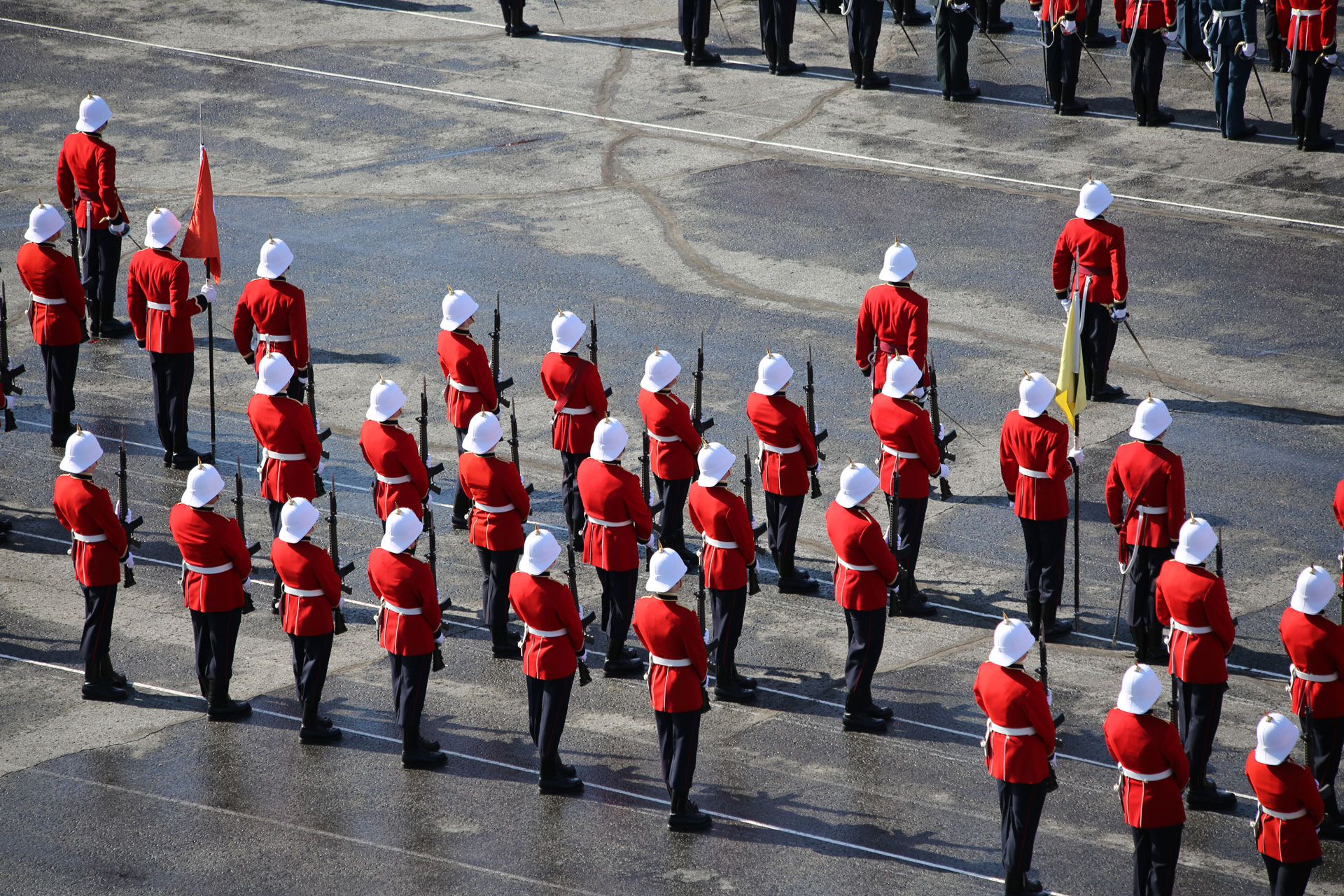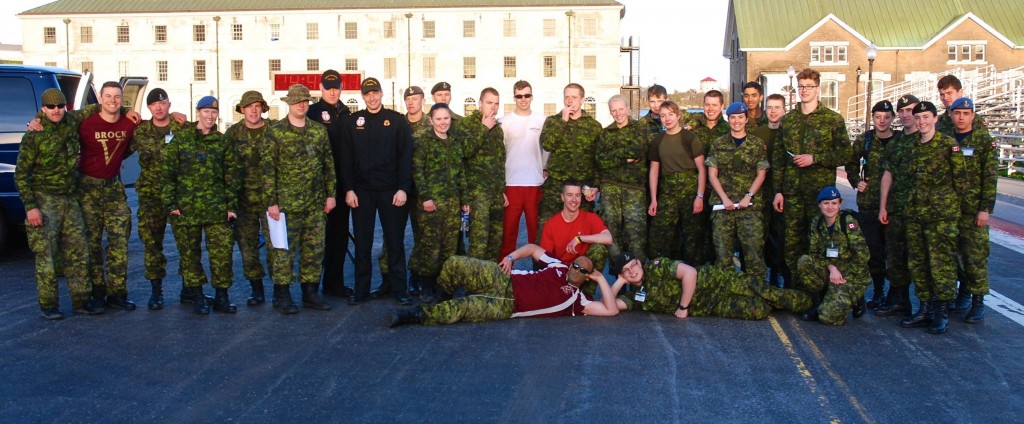 Click, click for better viewing
The Long Road to a Great Challenge
OCdt Ragetli 25360 wrote the article and with help from OCdt Langevin 26057 and OCdt Peetsma 25726 for the translation.
This past Saturday saw a contingent of OCdts from the Royal Military College of Canada on a trial run for the up and coming Petawawa Ironman. In the case of some OCdts, final exams had only been finished for a mere two hours, when OCdt Everitt (25708), one of the many support staff who volunteered for the event, signalled for the race to begin.
This Mini Iron Man was the culmination of the training this group of volunteers had undergone over the better part of the past semester. The race consisted of a 10.5 kilometre rucksack run along highway 2, a 1.5 kilometre canoe portage, 8 kilometres of canoeing in the wind and waves of Lake Ontario and finally a 2 km rucksack run to the finish line on the RMC parade square.
In an effort to give the team a bit of a taste of what is still to come on this long road to such a worthy challenge, the organizers of this Mini Ironman decided the distances hoping to slowly but surely bring the team up to the level required for the CF race (32 km ruckmarch, 4 km portage, 8 km canoe and 1.5 km ruckmarch to the finish) in Petawawa, ON. this coming September. The purpose was to bring together the many elements of the training required in preparation for the Petawawa Ironman—something which both participants and support crew and organizers alike felt had been more than achieved.
Despite the significant distances, rough waters and it being the first full trial run for the team of OCdts, the average time for completion was very respectable at approximately a 3:30 hour run time with the top run time of 2:55 hours. These results give an early indication that the top twenty run-times of the twenty-five participating OCdts at the Petawawa Ironman Competition this fall stand the chance at being very respectable.
This highly motivated group of OCdts ruthlessly attempting to live up to the first principle of leadership in the Canadian Forces, that of "seeking professional development and pursuing self improvement" were supported by a significant number of OCdts as well as military staff from RMC who volunteered to help with the event and cheered them on along the way.
Overall, the race was a huge success and with the continued personal training of the OCdts over the summer, the team should be in a good position to enter into the Petawawa Ironman Challenge this coming fall.
OCdt Mahon 25902 was the event photographer; Capt Jodi-Jane Longley22525  took the photo of the DCdts alongside OCdt Ragetli:
La longue route vers un grand défi
Samedi dernier, un groupe d'élofs du Collège militaire royal du Canada s'est soumis à une course préparatoire pour la course <<Ironman>> à Petawawa qui approche à grands pas. Certains d'entre eux avaient fini leurs examens seulement quelques heures avant que l'élof Everitt (25708), un des nombreux employés de soutien qui s'était porté volontaire pour l'événement, ne signale le début de la course.
Cet événement marquait le point culminant de la formation que ce groupe de volontaires a entreprise durant le semestre dernier. L'épreuve consistait en une course de 10.5 km, un portage de 1.5 km, 8 km en canot dans le vent et les vagues du lac Ontario, et enfin un sprint de 2 km jusqu'à la ligne d'arrivée sur le terrain de parade du collège, le tout en portant des bottes et un sac à dos de 40 livres.
Avec le but de donner un avant-goût de la compétition, les organisateurs de la course ont déterminé les distances en espérant que, peu à peu, ils pourront préparer l'équipe pour ce qui l'attend à la compétition (consistent d'un marche de 32 km, un portage de canot de 4 km, un canot de 8 km et un marche finale de 1.5 km) à Petawawa, Ontario, en septembre. Le but était de rassembler les nombreux éléments de la formation requise en vue de la compétition à Petawawa; un but que les participants et les membres de l'équipe de soutien croient qu'ils ont atteint.
Malgré la distance significative, les eaux agitées du lac et le fait que c'était la première fois que l'équipe d'élofs participait à une telle épreuve, la durée moyenne de complétion a été très respectable à environ 3h30, le meilleur temps étant de 2h55. Ces résultats indiquent que les vingt meilleurs résultats du groupe de vingt-cinq élofs participant à la compétition cet automne à Petawawa courent la chance d'être très respectables.
Ce groupe d'élofs très motivés essayant sans répit de suivre le premier principe de leadership des Forces canadiennes, à savoir «acquérir la compétence professionnelle et continuer de se perfectionner», était soutenu par un nombre important d'élofs et de membres du personnel militaire du CMR qui s'étaient portés volontaires pour aider à la tenue de l'évènement et qui les ont encouragés le long du parcours.
En somme, la course a été un grand succès et avec la poursuite de leur entraînement individuel par les élofs au cours de l'été, l'équipe devrait être en bonne position pour participer à la compétition cet automne.
__________________________________
EPT Sandwiched Between Exams & Drill Fest
By: 26173 OCdt (I) Emily Morgan
The cadets have just completed their first week of Environmental Phase Training (EPT), a period designed to prepare them for their summer training. EPT involves daily morning PT as well as classes on course-specific skills.
The first years preparing to leave for St-Jean in a few weeks for Basic Military Officer Qualification (BMOQ) have been learning basic navigation, SMESC and battle procedures, as well as radio procedures. Those preparing for Common Army Phase (CAP) have been reviewing those skills, and have also been brushing up on their weapons handling.
Between PT and classes, the 21 cadets on graduation parade from each squadron and the graduating fourth years have been out on the parade square practicing.
To finish off the first week of BMOQ EPT, the first years participated in an all day exercise at CFB Kingston. Here are some photos from the day:
CADETS RAPPEL:  – video
"WE DON'T DO THIS AS A RULE BUT IT'S ONE OF THE THINGS I'D LIKE TO TAKE MY TROOPS OUT TO DO KIND OF AS AN EXTRA CURRICULAR ACTIVITY. SO I'LL BE ABLE TO HAVE THAT LEADERSHIP ROLE OF THE REPEL MASTER AND THAT QUALIFICATION TO BRING THEM OUT AND HAVE SOME FUN."
25002 OCdt (IV) SARAH BEARE
Photos by OCdt Dan Fleming
__________________________________
Sr. Staff & Students  from Nigerian Defence College Pays a Visit to RMCC
Special visitors to the college
Photos by 24487 OCdt Dan Fleming
On 5 May, Senior Staff and Students from the Nigerian Defence College visited the Royal Military College of Canada. The visit consisted of a College briefing, tour provided by Ex-Cadet 5256 Gwyn Griffith, and luncheon hosted by Commodore Bill Truelove at the Senior Staff Mess.
Nigeria Army Recruitment 2011 Short Service Commission (SSC)