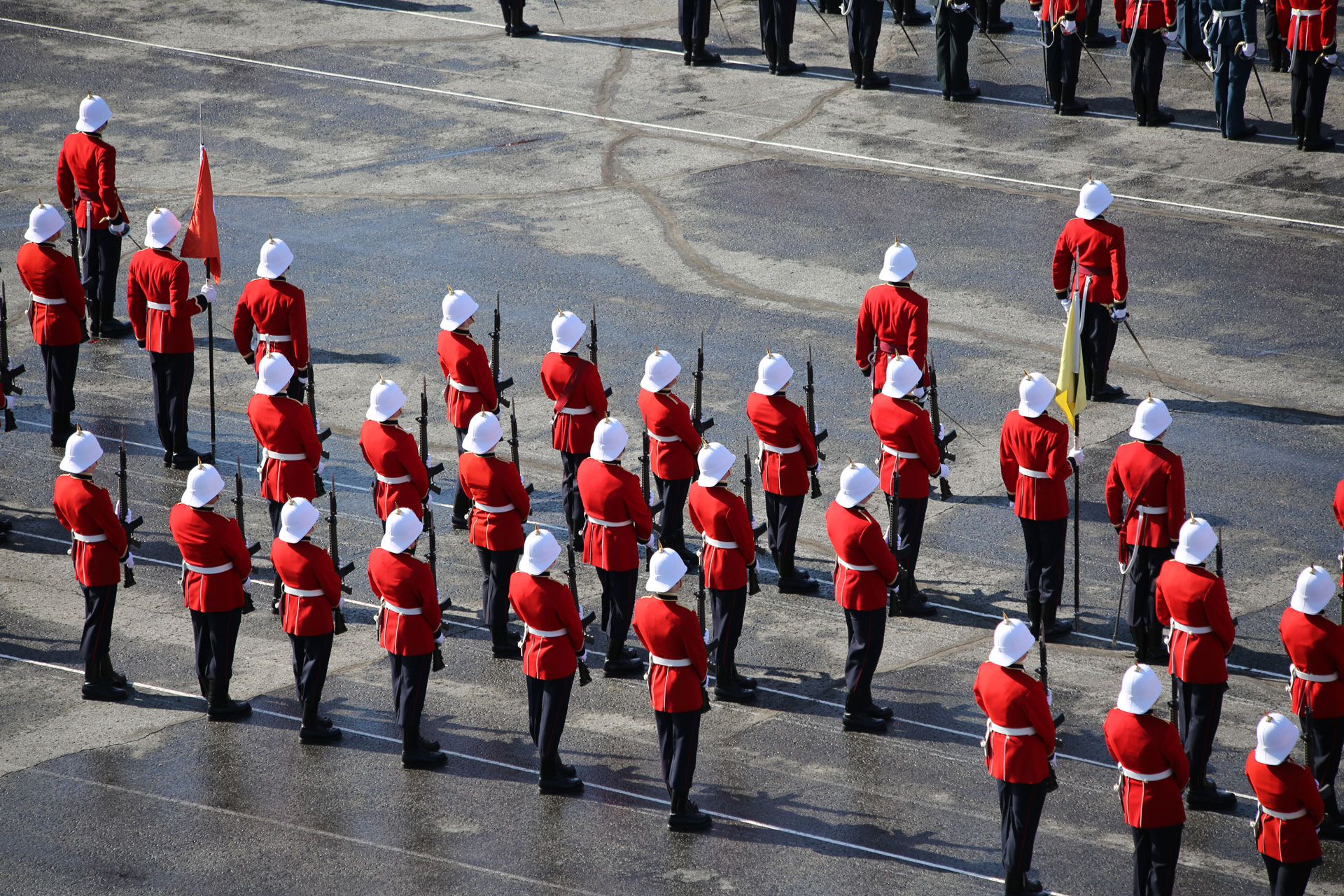 Convocation & Sunset Ceremony – Thursday 19 May;
Graduation Parade & Graduation Ball Friday 20 May
Details Here
______________________________________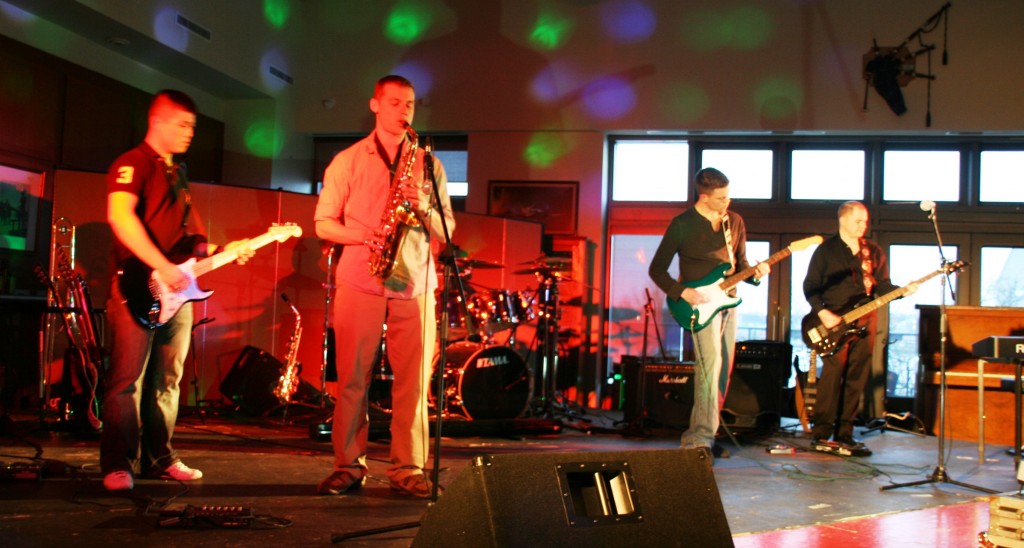 2011 Cadet Wing Talent Show
The RMC Cadet Wing Talent Show took place last week. A number of talented Cadets – all years – from across "The Wing" demonstrated their diverse range of talent on a stage in the Cadet Mess, Yeo Hall.
Despite the packed schedule over the past months, many spectators – staff and cadets alike came out to lend their support and enjoy the musical talent which did not disappoint.
Photos by OCdt Dan Fleming
______________________________________
Gash Photos
Photos by 25795 Lisa Choi and 25881 Anthony Matlock
Each year from each squadron took their gash photos this past Wednesday. These informal group shots are intended for the RMC Yearbook. The following is a sample.
______________________________________
RMC Outdoors Club Represented at Annual Eco-Endurance Challenge (E2C)
Article by 24897 John McSheffrey
IV McSheffrey and IV Long prior to departure at noon on Saturday.

On Friday, April 29 IV McSheffrey and IV 24975 Long travelled to Halifax, Nova Scotia to participate in the annual Eco-Endurance Challenge (E2C) organized as a fundraiser for Halifax Regional Search and Rescue. This was the third time that the pair has participated in the E2C, and this year's course was one of the most challenging yet. The competition took place near Upper Tantalon, NS in a one hundred square kilometer area that included pine forests, swamps, lakes, rivers, and logging clear cut.  Scattered over the course were sixty controls; small orange markers with unique stamps. The object was to travel to as many of these control points as possible in twenty four hours using map and compass.
Left: IV McSheffrey takes a bearing before going around a lake.
Right: IV Long navigates one of the river crossings just before dusk.
The two man RMC team covered about forty kilometers over the challenge to finish sixth out of twelve teams in the armed forces category. The competition offered several challenges including three river crossings, snow, and rain as the temperature varied twenty degrees from day to night. It was a great experience which provided excellent training value for developing orienteering skills in demanding conditions.
Although this was the last time that this particular team will be able to represent RMC at this event, both look forward to doing more adventure racing in the future. Hopefully more cadets will take advantage of this great opportunity next year.
_____________________________________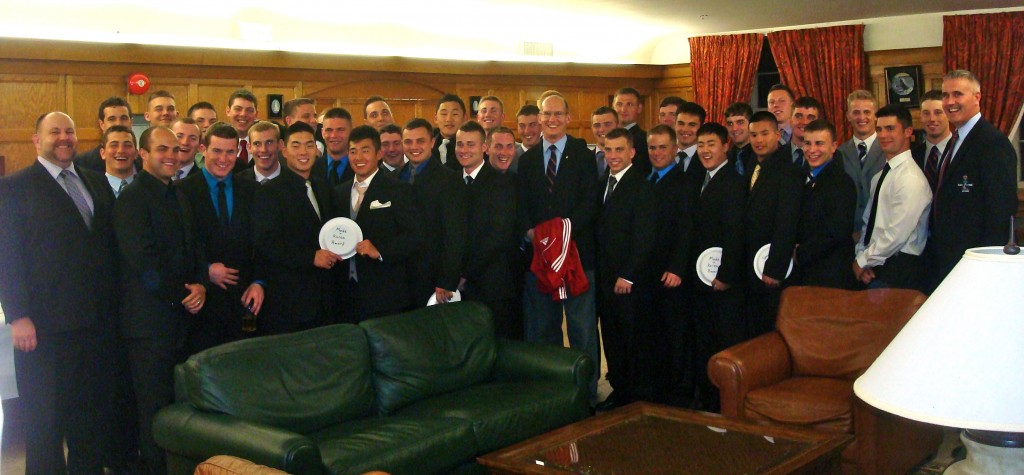 Former RRMC Rugby Team Captain – 16598 Scott Stevenson Guest Speaker @ Year End Bash

The 2011 edition of the Men's rugby team banquet occurred this past Saturday with their guest of honour 16598 Mr. Scott Stevenson – (Photo centre, front row with red jacket on his arm) . Mr. Stevenson graduated from Royal Roads Military College with a Bachelor of Arts in Military and Strategic Studies in 1988. A four year member of the rugby team; two year team captain –  Scott went on to serve as an infantry officer before joining the public service in 1999. Currently working in DND as the Assistant Deputy Minister of Infrastructure and Environment
Mr Stevenson spoke eloquently on leadership and rugby, highlighting to the team the importance of knowing ones self, those around you and the necessity to pick the ball up and go forward when the time comes. His message was well received and timely as the team and college says goodbye too two of its best, Steve Juillet and David Yoon. Steve was the recipient of the Phil Cowie Memorial Award and will be heading off to CFB Borden to complete his Military Police training. David, who though only joined the team in his graduating year was counted on to play significant minutes for the 1st XV at hooker will head off to CFB Gagetown where he will complete his armour training before he hopes to join the Royal Canadian Dragoons.
The team now turns its attention to summer training and second language courses before the start of training camp Monday August 22nd.