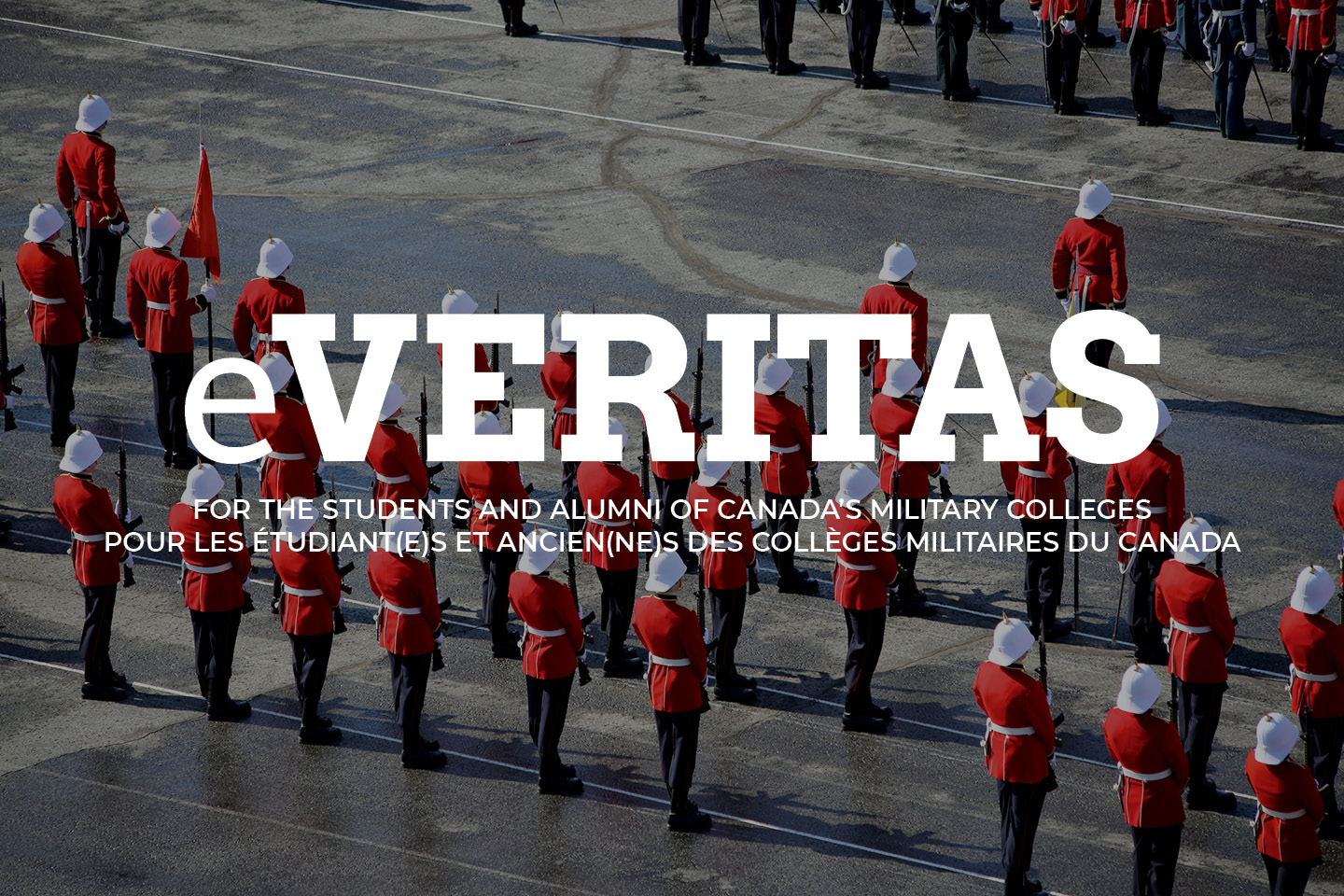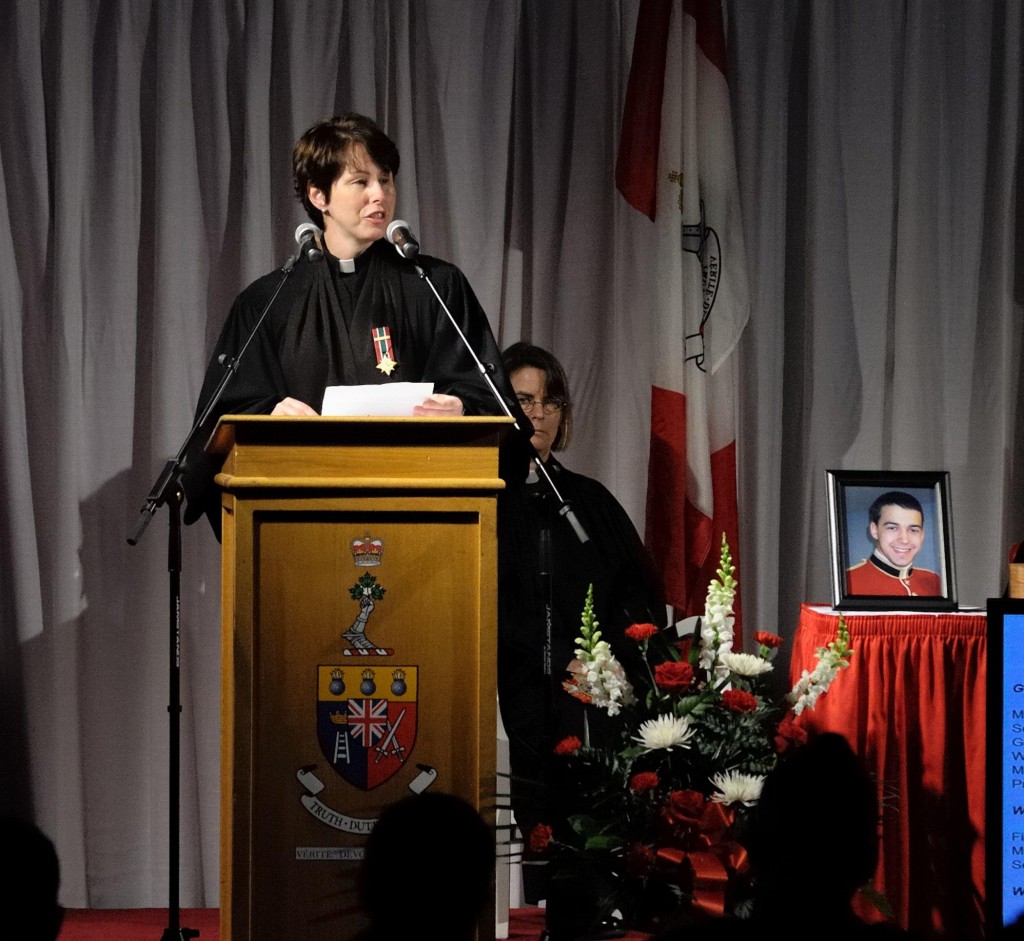 A private memorial service to commemorate the life of Officer Cadet Mathieu LeClair was held for family, friends and members of the RMC and military community on March 18th at the Kingston Military Community Sports Centre field house. The service included prayers, words of remembrance, songs sung by the RMC Choir and music performed by the RMC band – including an original composition written by Band Master MWO Chris Embree called "The Memory of his Smile."  (Photo by: Brad Lowe)
  ________________________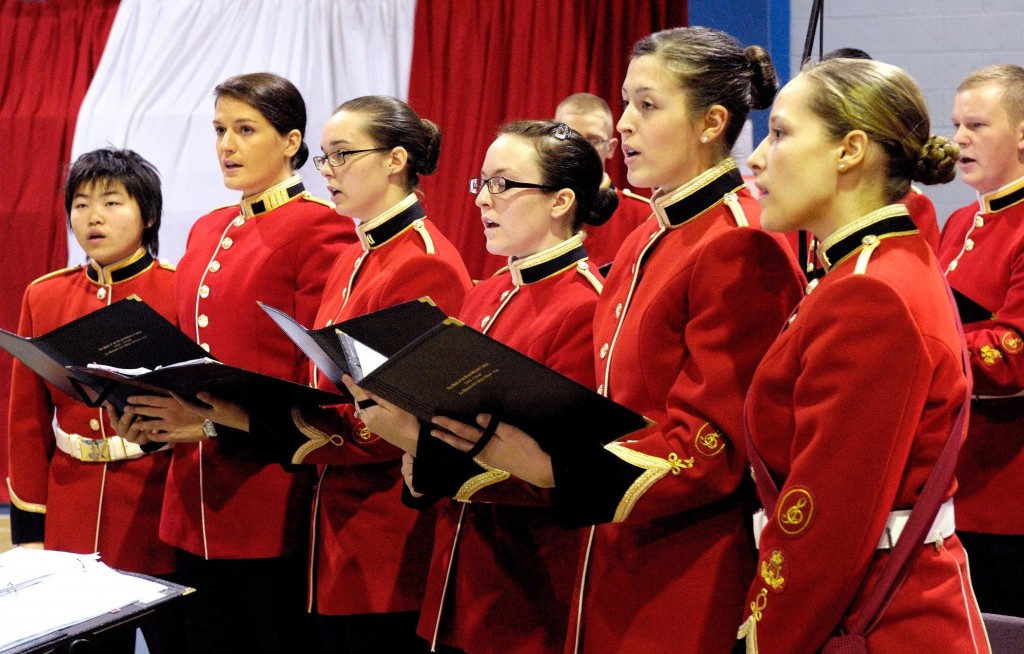 Over 70 performers from Royal Military College cadets took to the stage for the college's annual Concert in Scarlets, this past Saturday, March 17. at the Kingston Gospel Temple. The show featured brass and reeds, stage band, pipes and drums, highland dancers and choir performing modern, traditional, military and highland music, in a United Way benefit.
There was a good turnout from both the RMC and Kingston communities at large. All proceeds went to the United Way.
  _________________________________
CWC Parade Focuses on Future Special Events With "CWC Sing-a-long"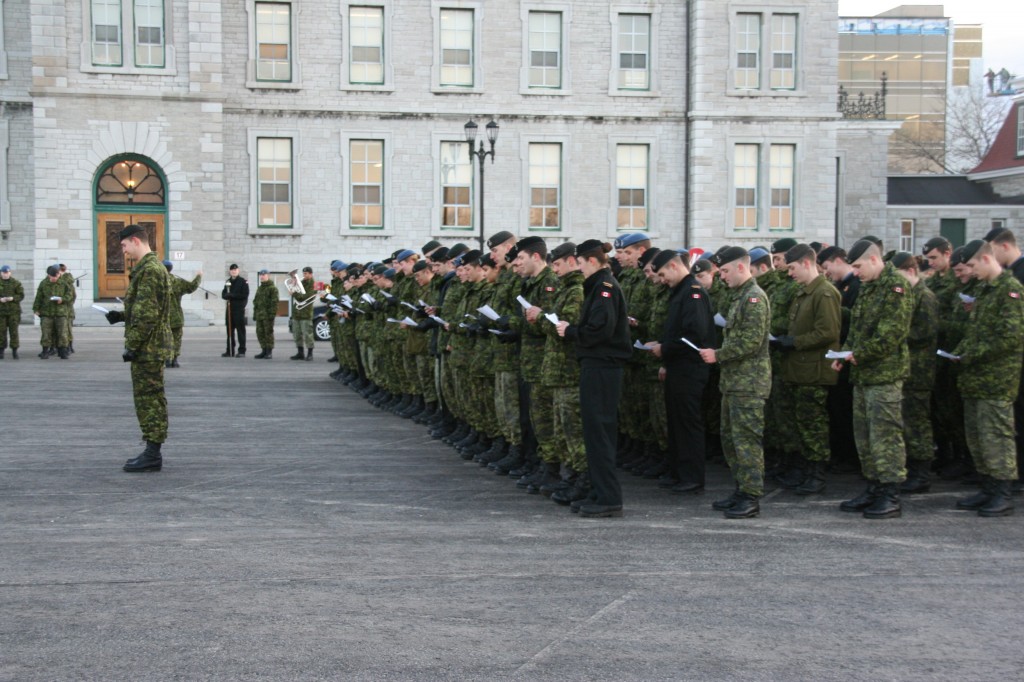 Article and Photos by 25366 NCdt (IV) Mike Shewfelt
CWC Parades are a common occurance at RMC. Whether it is to congratulate members of the College on a job well done, or to encourage the Wing to greater efforts, the CWC usually finds some reason to have the Cadet Wing formed up on the Parade Square on a Wednesday morning. This week's parade, though, marked a first in recent years at the college. CWC 25447 OCdt (IV) Martin De Souza did congratulate the Women's Varsity Volleyball team on their recent successful season (they made the play offs), but the focus of the parade was on preparing for future special events. "Precision," the RMC Regimental March, has lyrics (this came as a surprise to many officer cadets), and it has been decided that the College will, when the occasion calls for it, sing a long to "Precision." This CWC Parade was a practise session, and for a first run through of the lyrics, which few cadets had ever seen before let alone tried to put to music, those present on the Parade Square put forth a respectable presentation of their Regimental March.
Lyrics to "Precision"
Heads up and swing along;
Hearts light and a ringing song;
Life's but a march and it's easy if your spirit's willing,
Laugh at the ruts and the dust from comrades' milling.
Step up and march away;
Keep on smiling all the day;
Shoulder your rifle and hitch your pack up tight,
Take the right of the line and fight.
We are the Gentleman Cadets of RMC,
We have sworn to love and serve Her Majesty,
And we'll defend this land of liberty,
And strive to keep our Empire's unity.
To Canada, our home, we proudly state,
We'll keep her honour clean and bright,
For Canada and for our Empire great,
We'll march, we'll shout, we'll fight.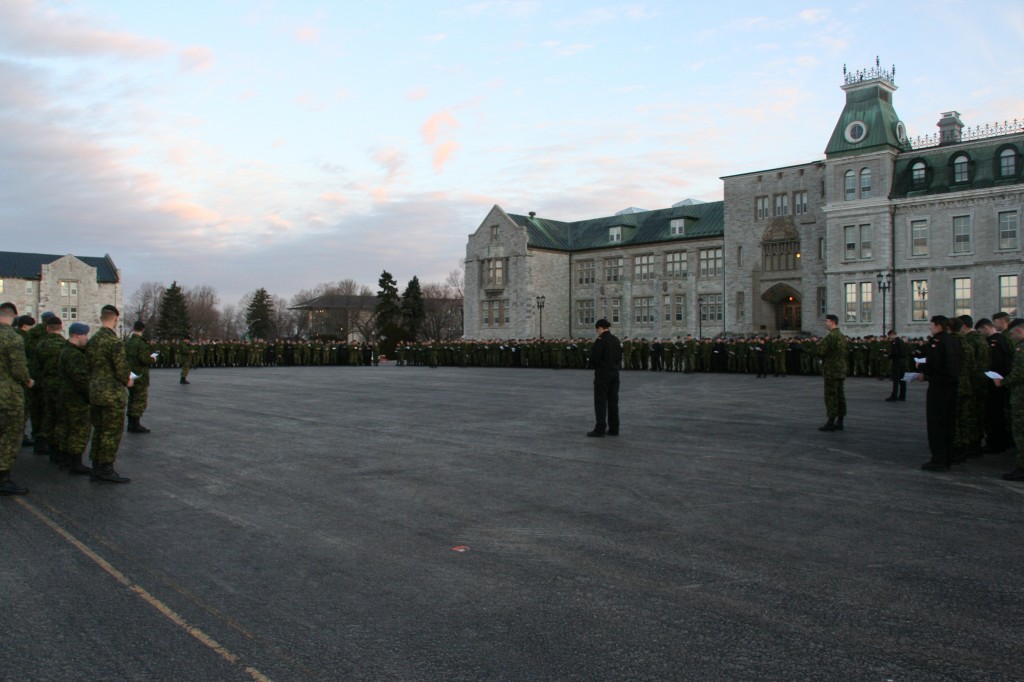 _________________________________
Women's Rugby Up to the Challenge in Nova Scotia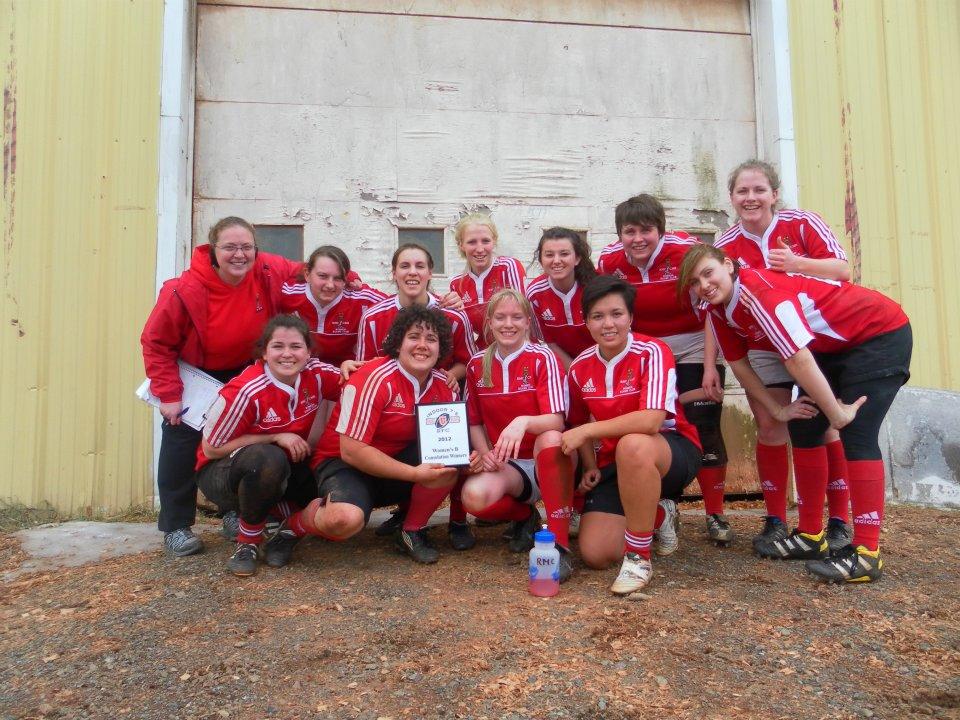 Article by Yelhsa Reihtuolc
After months of hard practice in the field house at the gym, the RMC Women's Rugby Club travelled to Truro, Nova Scotia recently for a sevens rugby tournament. Rugby is generally played with fifteen players, for 25 minute halves but in sevens rugby, only 7 players play in quick, rough, seven minute halves. The game is much faster than fifteens, and points are merely awarded based on the number of tries (times the team touches the ball down on the opposite line).
RMC  played their first game against the Brandon (Manitoba) Barbarians at 23:20 on Friday after travelling for many long hours. After a tough battle against the three time championship winning team, the Red & White were unsuccessful, losing seven tries to one (Clouthier) and moving into the Consolation Pool.
The second game was against Windsor and it ended in a 3-3 tie (Clouthier x2, Jensen) in regulation time. This sat-up a  "sudden death" overtime, which is characteristic of a tie in the tournament. Teams are reduced by one player and the winner is whoever scores first. The girls had already fought hard for our 3 tries with players such as Amy Clements sweeping opposing girls off their feet with all the grace of a two ton truck. Sarah Berry played extremely well, getting involved in rucks and popping the ball off the ground like a seasoned player. Clouthier completed her hat-trick winning the game which qualified RMC for the semi-finals.  The scheduled opposition did not have enough players to play the match, so they were required to forfeit, moving the cadets from Kingston into the consolation final.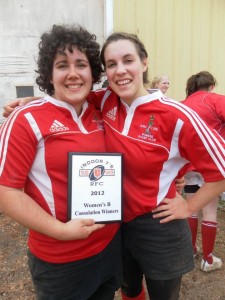 The final match was a nail biter. Played against the home team Truro, it was quite intimidating with the entire crowd supporting their local girls.  Liz Schuler won most lineouts with her amazingly deft and long arms, feeding the ball down the line so that the team could execute some impressive runs. Katie  Bruce was occupied sprinting across the entire pitch to take out any ambitious Truro girls. With a three try lead, (Clouthier, Fibich, and Reymes), Ash Clouthier unintentionally broke a rule of the tournament (not to kick above the lights on the ceiling) by kicking from her own score line a ball which swerved around a speaker only to explode a light in a rain of glass. While the organizers removed all the shattered glass, both teams were afforded a 7 minute break (quite a big deal for a 14 minute game).
Following this stoppage of play, Truro was awarded a penalty which led to their first try, and then they quickly scored their second, making the score 3-2 in favour of RMC. Defense was crucial at that moment as the Kingston ladies fought to defend their slim lead. Megan Couto orchestrated the defence in a masterful way, ensuring that overlap did not occur and girls were constantly facing the enemy. The home team was unable to mount any more offense and the game ended, with RMC women's rugby winning with a try lead.
All in all, this trip was an amazing team building experience, not to mention an important win for Women's Rugby at the college. It demonstrated to the lady cadets the full extent of their capabilities and their incredible growth as players. Bringing "home"  a winning plaque to place in the RMC trophy case at KMCSC is rewarding too!.
The rugby ladies would like to extend a very special thank you to 1st battalion Nova Scotia Highlanders (North) for their hospitality, the use of their armoury and for coming out to cheer RMC on at each of their matches. The hospitality of ex-cadet 24986 2Lt Vivian Nguyen and her pancake making abilities were greatly appreciated. As well, the team members would like to extend a special thanks to her roommates 24887 2Lt Felix Kesserwan and 24748 2Lt Vincent Laframboise for allowing 13 girls to stay in their home. The fan club we had from Toronto called the Bohicas also deserve our thanks as they not only cheered us during our matches but sang us "Give me a Beer" during our final match.
The players would also like to recognize the effort and time that 22428  Major Kristin Topping volunteers to the Women's Rugby Club. This tournament would never have happened if it wasn't for her commitment. Her dedication and coaching skills were paramount to the success at this tournament.
The drivers Katie Bruce, and Coach Topping also require a special big thank-you on their patience and perseverance during the 14 hour drive, constant restroom stops, inconsistent sing-a-longs and overall good humour.
Finally, all the lady cadets on the team  should be recognized for their success in Truro and for their dedication and determination as a team representing RMC:
25906 OCdt (II) Alannah Fibich-Beaudoin
25898 OCdt (III) Rachel Hilbig
25185 OCdt (IV) Ashley Clouthier
25776 NCdt (III) Katelyn Jensen
26044 OCdt (II) Ophelia Reymes
25981 OCdt (II) Megan Couto
25461 OCdt (IV) Liz Schuler
25288 OCdt (IV) Katie Bruce
25323 OCdt (III) Kate Haddon
26231 NCdt (I) Sarah Berry
25831 NCdt (III) Amy Clements