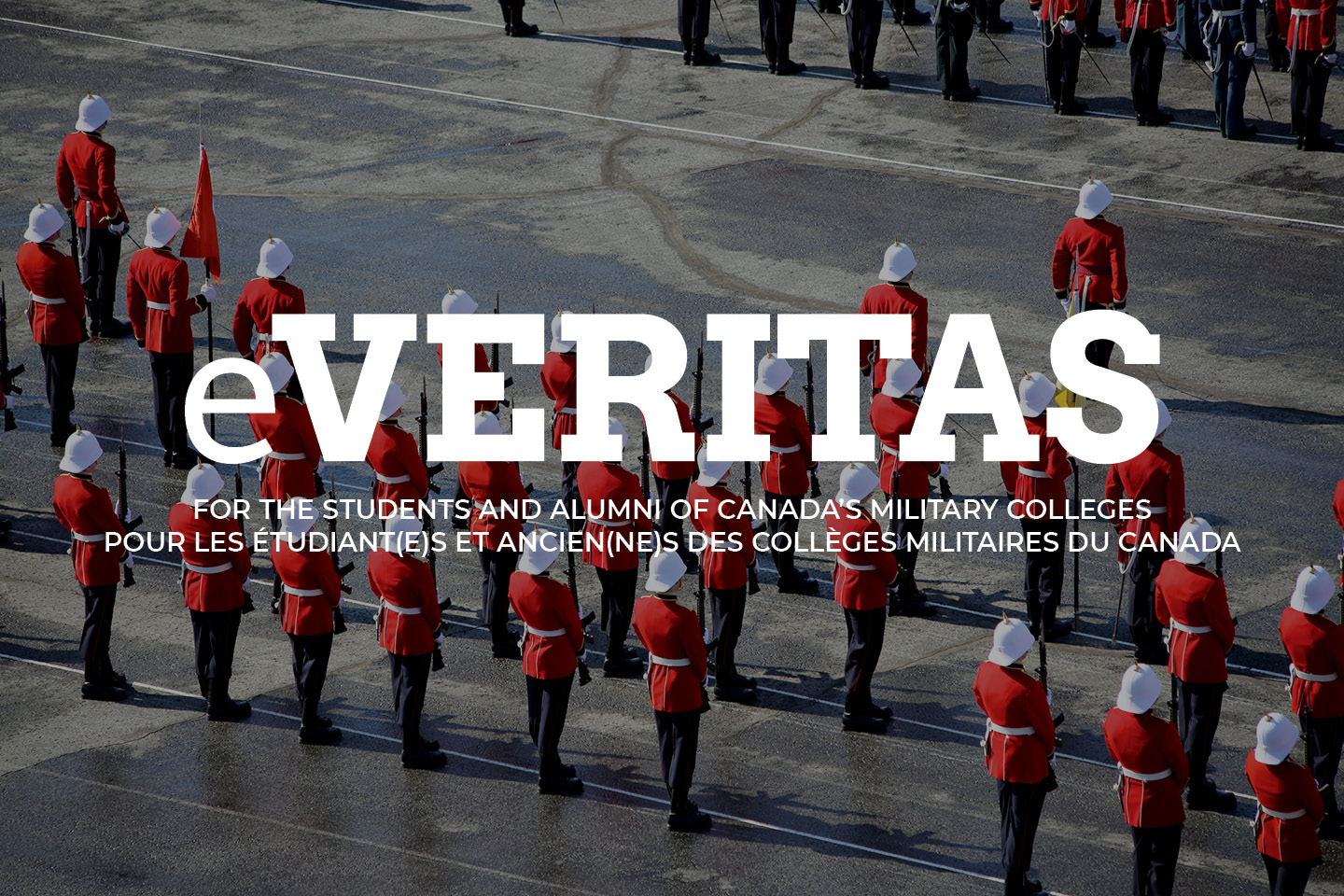 Journée d'entraînement militaire au CMRC
25936 Élof (IV) Sarah Labrecque, Esc 4
Le dimanche de la fin de semaine des métiers, le 23 mars, l'escadre des élofs a participé à une journée d'entraînement militaire. La classe de 2014 était responsable de la planification et l'exécution des activités militaires pour les 1e, 2e  et 3e années. Les 1e années ont passé la journée à pratiquer leur exercice avec le fusil C7. Ces mouvements sont essentiels à maîtriser en tant que membre des Forces armées canadiennes. Les élèves officiers de la classe de 2017 auront ainsi une plus grande facilité dans la portion de l'exercice avec le fusil C7 lors de leur entraînement militaire cet été en maîtrisant ces compétences maintenant.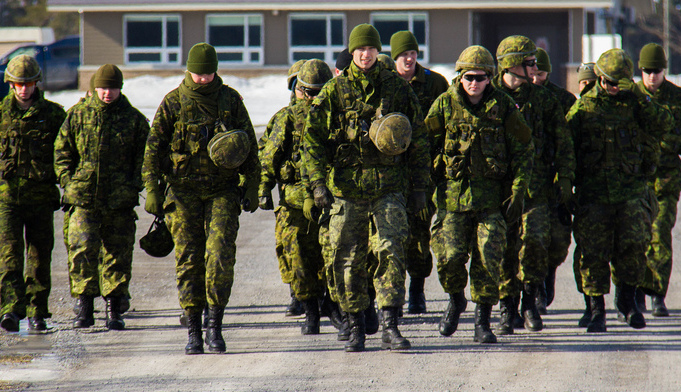 L'entraînement militaire des 2e années consistait en un défi commando entre chaque escadrille. Le défi était composé de trois épreuves: un défi de chargement et déchargement de provisions, une mission tactique, ainsi qu'un exercice de premiers soins. Le défi de chargement et déchargement de provisions a remplacé la course à obstacle qui devait avoir lieu mais qui a été annulée en raison de la tombée de neige. Chaque exercice était évalué selon les aspects de performance et de leadership. La mission tactique ainsi que l'exercice de premiers soins se sont déroulés sur la base militaire de Kingston. Les 2e années ont pu se rafraîchir sur les aptitudes qu'ils ont appris durant leur qualification militaire de base des officiers, tel la navigation, la rédaction d'ordres tactiques ainsi que les premiers soins.
Les 3e années ont mené un exercice de champ de tir du fusil C7. Cet exercice leur a permis de rafraîchir leurs habiletés de tir avec le fusil C7. Cela a aussi permis à une grande partie de la classe de 2015 à se pratiquer avant leur entraînement militaire cet été où ces aptitudes seront nécessaires.
RMCC Training Day
25936 OCdt (IV) Sarah Labrecque, 4 Sqn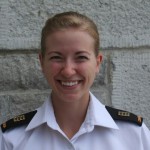 On March 23rd, the Sunday of MOC weekend at RMCC, the Cadet Wing took part in a Training Day. The class of 2014 was responsible for the planning and execution of the military activities for the 1st, 2nd, and 3rd years. The First years spent the day practicing rifle drill on the parade square. As members of the Canadian Armed Forces, these skills are essential, and learning them during first year will allow the class of 2017 to handle the C7 drill portion of BMOQ with more ease this coming summer.
The Second year class took part in a Commando Challenge, with each flight competing against each other. The challenge was composed of three different tasks: an exercise of loading and unloading supplies, a tactical mission, and a mass casualty evacuation mission. Originally, the challenge included an obstacle course, but this event was replaced with the supplies exercise due to the Spring snowfall. Each task was evaluated on both a performance aspect and a leadership aspect. The CFB Kingston training area provided an ideal setting for both the tactical mission and the first aid mission, and allowed the Second year class to review skills they learned during BMOQ such as navigation, executing tactical missions, as well as first aid.
The Third year class took part in a C7 range at CFB Kingston. This exercise allowed them to remain current on their C7 handling skills. It also allowed a majority of the Third year class to practise these skills before using them this upcoming summer on course.
***
4th year army mess dinner
25936 OCdt (IV) Sarah Labrecque, 4 Sqn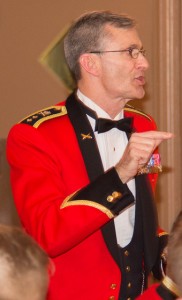 As the excitement built during the past few weeks after the RCAF and RCN 4th Year Mess Dinners took place, it was finally the Canadian Army's turn this week. Although in the middle of working on thesis projects and other end of term assignments, the 4th Year Army cadets attended their Mess Dinner displaying a great deal of enthusiasm. The head table certainly fueled the liveliness of the evening, and was graced by MGen Ferron, Commander of the 1st Canadian Division, the guest of honour. Joining MGen Ferron at the head table were BGen Meinzinger, the Commandant of RMCC, Col Chagnon, the CFB Kingston Base Commander, Col Walker, the Commandant of the Canadian Army Command and Staff College, LCol Lemyre, the RMCC DCdts, and Maj Newhook, the RMCC Chaplain. Throughout the evening, there was an abundance of mess dinner traditions. Highlights from the evening included LCol Lemyre dancing with OCdt Panza while Col Chagnon sang Frère Jacques with two OCdts. The meal was delicious, and at its conclusion, all those in attendance were treated to a dynamic and profound speech by the guest of honour, MGen Ferron. He emphasized the value and meaning of the CA as a team; a team that works together and depends on one another, regardless of trades or units. RMCC's Stage Band provided entertainment throughout the evening and played an essential part in the toasts and marches. On behalf of all Army 4th year cadets, I wish to give a sincere thanks to all those who took part in the planning and execution of this highly enjoyable evening.
***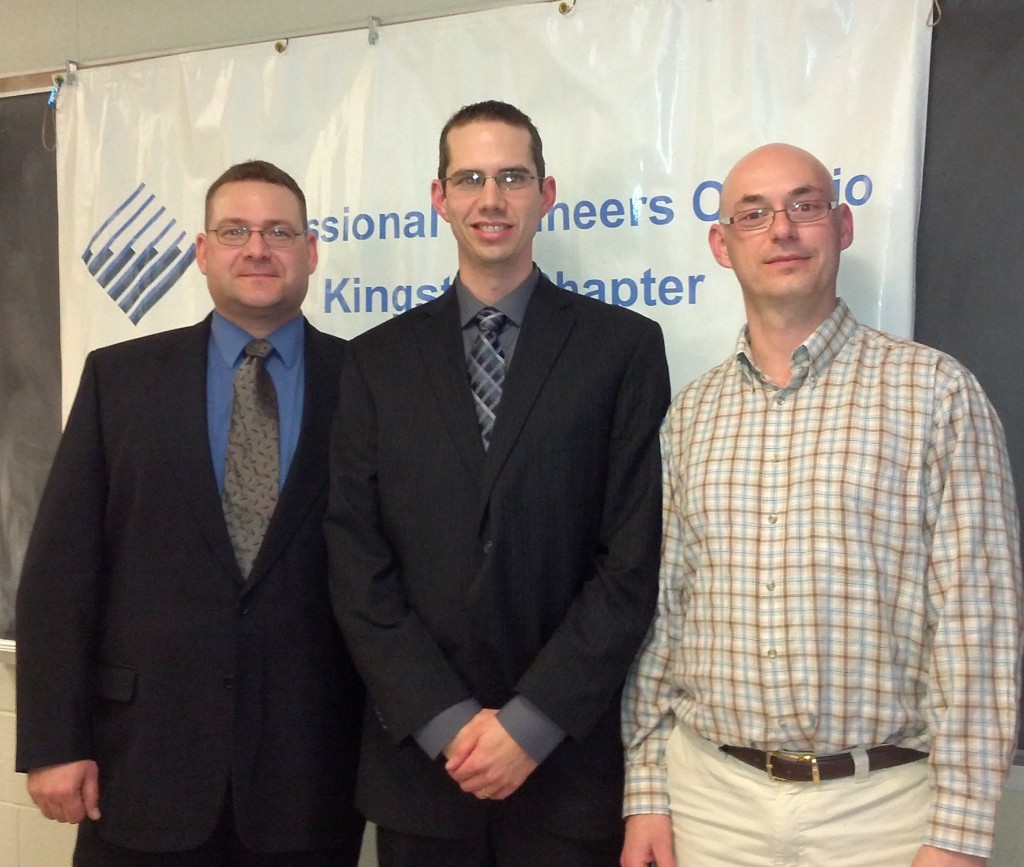 Last evening (26/3/14), the Kingston Chapter of Professional Engineers Ontario held its annual Engineering Student Papers Competition, where six teams – five from Queen's and one from RMCC – presented work they had done as part of their Engineering programs. I am delighted to announce that the RMC team took top prize. James Bayes and Raymond Bailey presented their work on their fourth year project entitled, "Tracking a Moving Target from a Moving Platform using Model Predictive Control." Both are UTPNCM students in the Electrical Engineering program. Their supervisor, Dr Sidney Givigi, was also on hand. Well done, gentlemen!
Hier soir (26/3/14), le chapitre de Kingston de Professional Engineers Ontario a tenu son concours annuel pour les étudiants en génie, dans lequel six équipes – cinq de l'Université Queen's et un du CMRC – ont présenté un travail qu'ils ont accompli dans le cadre de leur programmes de génie. Je suis ravi d'annoncer que l'équipe du CMR a remporté le premier prix. James Bayes et Raymond Bailey ont présenté leur travail sur leur projet de quatrième année, intitulé " Suivi de cible à partir d'une plateforme mobile en utilisant le contrôle par prédiction de modèle". Les deux sont étudiants PFUMR dans le programme de génie électrique. Leur superviseur, Sidney Givigi, était également sur place. Bravo, messieurs!
***
Brandonite pursues studies, volleyball, and service at RMC
"The fact that I can improve myself in a number of fields, while contributing to my country really appeals to me."
OCdt Jordan Larocque – Article
***