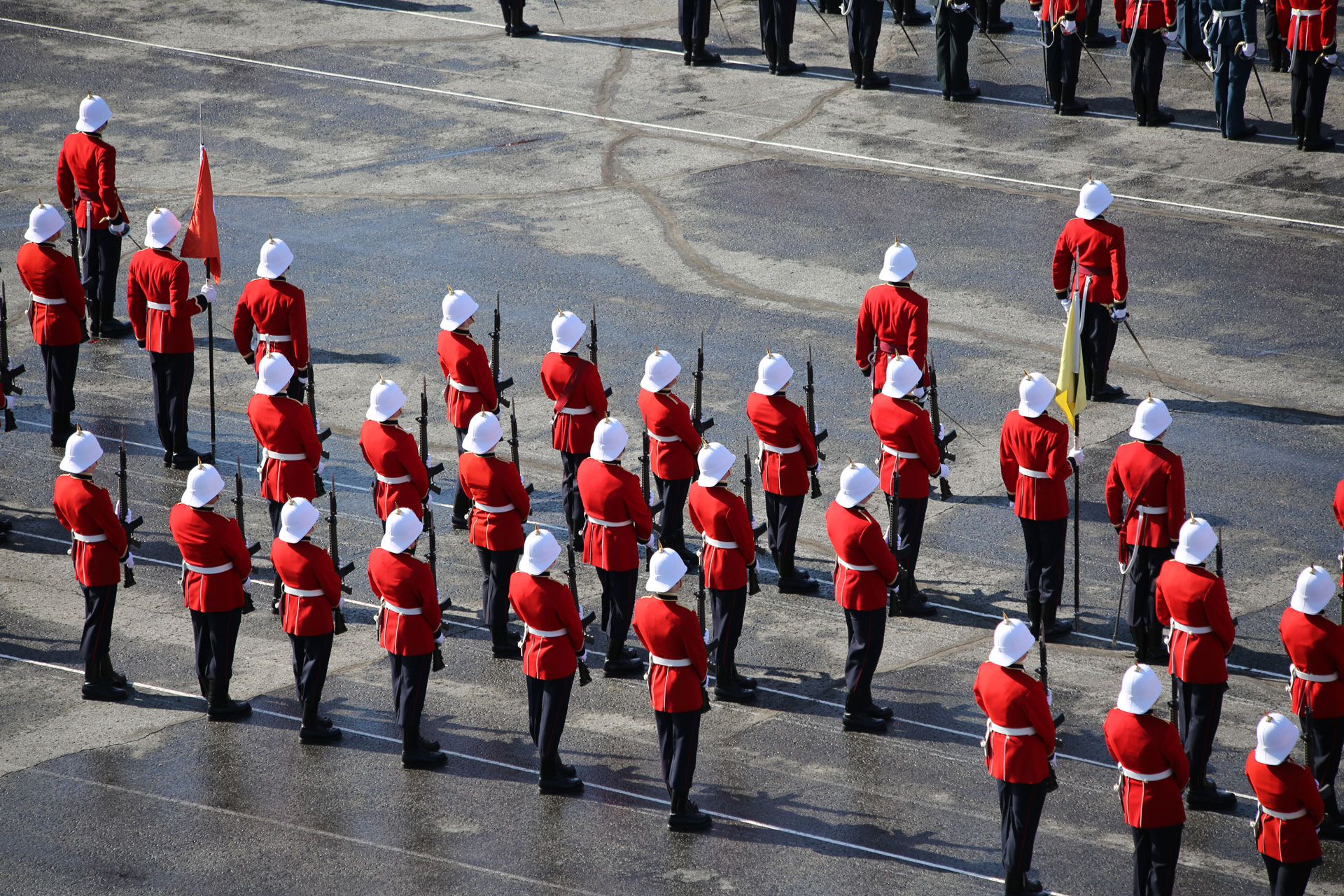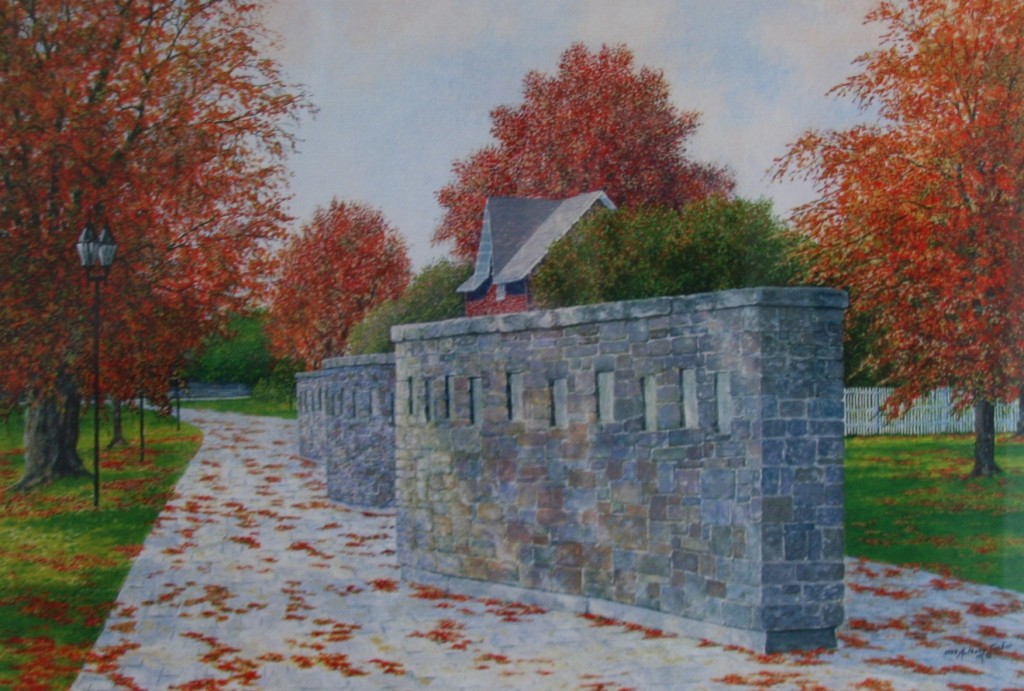 Painting available for sale in the Club Gift Shop at Panet House

In 2009, the Wall of Honour truly became part of the fabric of RMC as the RWE Sunday parade route was adjusted to encompass the Wall in perpetuity. After Saturday lunch on RWE 2011, the College will again induct three honorees to the RMCC Wall of Honour. New plaques, giving brief descriptions, will name #85 William J. Stewart, #2364 Air Commodore Leonard J. Birchall CM OBE DFC O.Ont CD and #2791 Lt. Col. (Hon.) Jean P.W. Ostiguy OC CD LLD(Hon.), bringing to eleven to date the ex-cadets cited to the Wall of Honour.
#85 William Stewart, a lifelong scholar, became the first Chief Hydrographic Surveyor of Canada. He charted many of Canada's major lakes and rivers, and as an international boundary expert and Head Commissioner of the International Waterways Commission, he assisted in determining the boundary between Canada and the United States, as well as international boundaries in Europe under the 1919 Treaty of Versailles following WWI.
85 William J. Stewart
1863 – 1925
William was born in Ottawa and graduated from Collegiate School, later Lisgar Collegiate, in 1880 with first class honours. He graduated from RMC in 1883 as top of his class with the Governor General's Gold medal. Six years later, he was appointed Canada's first Hydrographic Surveyor, and in 1904, having obtained his Master's Papers (Inland Waters) in Kingston, he was appointed Chief Hydrographic Surveyor of Canada's Hydrographic Service.
For the remainder of his life, Stewart worked in this position, charting Canada's inland and coastal waters. Between 1885 and 1925 when he died, he is credited with preparing approximately 170 navigation charts of Canada, either as the actual draftsman, or in their planning and production as the chief administrative officer of the Canadian Hydrographic Service. He is responsible for the surveys of such waterways as Georgian Bay, Burrard Inlet, Lac St Clair, Lake Erie and Lake Huron, Lake Winnipeg, Parry Sound, and Lake Superior.
In 1907, William Stewart was appointed to the International Waterways Commission of which he became Head Commissioner, and assisted in the determination of the boundary between the United States and Canada. He was named Consulting Engineer to the Prime Minister and the Department of External Affairs in 1912, consulting on International Joint Commission issues relating to Canada and the United States. At the request of the British Government, he assisted in the layout in Europe of the new international boundaries as determined by the 1919 Treaty of Versailles.
Upon his death at 62, William Stewart was, within the International Astronomical Union, an executive member of the Oceanography section of the National Committee of Canada; as well as a member of the International Union of Geodesy and Geophysics; the Engineering Institute of Canada; the American Society of Civil Engineers; the Institution of Civil Engineers, London, England; the Geographic Board of Canada; and the Royal Astronomical Society of Canada.
85 William J. Stewart
1863 – 1925
William est né à Ottawa et en 1880 il a reçu son diplôme avec très grande distinction du Collegiate School, devenu plus tard Lisgar Collegiate. En 1883, il a terminé premier de sa promotion au RMC et a reçu la Médaille d'or du gouverneur général. Six ans plus tard, il a été nommé le premier hydrographe du Canada, et en 1904, après l'obtention à Kingston de son brevet de capitaine (eaux intérieures), il a été nommé  hydrographe-chef au Service hydrographique du Canada.
Durant le reste de sa vie, Stewart a travaillé à cette tâche, cartographiant les eaux intérieures et côtières du Canada. Entre 1885 et 1925, année de son décès, on lui reconnaît la préparation d'environ 170 cartes de navigation du Canada, soit de sa propre main ou par leur planification et production comme chef du Service hydrographique du Canada. Il est responsable des levés de cours d'eau tels que la baie Georgienne, Burrard Inlet, le lac Sainte-Claire, le lac Érié et le lac Huron, le lac Winnipeg, Parry Sound, et le lac Supérieur.
En 1907, William Stewart a été nommé à la Commission internationale des cours d'eau dont il est devenu le commissaire-chef, et il a aidé à la détermination de la frontière entre les États-Unis et le Canada. En 1912, il a été nommé ingénieur-conseil  auprès du premier ministre et du ministère des Affaires extérieures, expertisant les questions de la Commission conjointe internationale reliées au Canada et aux États-Unis. À la demande du gouvernement britannique, il a aidé à la mise en place en Europe des nouvelles frontières internationales déterminées par le traité de Versailles de 1919.
À sa mort à l'âge de 62 ans, William Stewart était, au sein de l'Union astronomique internationale, membre exécutif de la section d'océanographie du comité national du Canada; et aussi membre de l'Union Géodésique et Géophysique Internationale, de l'Institut canadien des ingénieurs, de l'American Society of Civil Engineers, de l'Institution of Civil Engineers de Londres, de la Commission de géographie du Canada, et de la Société royale d'astronomie du Canada.
#2364 Leonard Birchall, "the Savior of Ceylon", warned of the planned invasion by the Japanese fleet of Ceylon and the British Navy's Eastern fleet, when he spotted the Japanese steaming towards Ceylon. His plane was shot down in the encounter, and he became the defender of POW's in Japanese prison camps until the end of WWII. After the War trials, he served as Commandant of RMC from 1963 to '67 when he retired from service to become an executive of York University, 1967 to '82.
2364 Air Commodore Leonard Joseph Birchall
CM, OBE, DFC, O.Ont, CD
1915-2004
Born in St. Catharines, Ontario, an alumnus of St. Catharines Collegiate, Birchall graduated from RMC in 1937 and joined the Royal Canadian Corps of Signals.  He transferred to the RCAF to train as a pilot and, at the outbreak of war, Flying Officer Birchall flew convoy and antisubmarine patrols off Nova Scotia with No. 5 Squadron.  In early 1942, after a brief posting in the Shetland Islands with 413 Squadron, he transferred with the Squadron to Ceylon.
While patrolling south of Ceylon, Squadron Leader Birchall's crew spotted a large Japanese fleet, including five aircraft carriers, steaming to attack the Royal Navy's Eastern Fleet based in Ceylon.  Birchall was able to warn the fleet before he was shot down.  Three of his crew were killed in the crash.  He, and the remaining 5 crew members, spent the rest of the war in four successive Japanese concentration camps.  When Churchill heard the story, he dubbed Birchall "The Saviour of Ceylon."
In the concentration camps, where prisoners were treated as slave labour, Birchall, as senior Allied officer, continually put his life at risk in defense of the prisoners.  He kept secret diaries, which were buried and dug up after the war, and used in evidence at Japanese war crimes trials.  He was liberated by American troops at the war's end.
Following service on the Canadian attaché staff to Washington and the Canadian NATO delegation to Paris, Birchall was Commandant of the Royal Military College from 1963 until his retirement in 1967, after which he became Honorary Colonel of the College, and Vice-Patron of the RMC Club.  He retired rather than being associated with the unification of the Canadian Forces.  He served as Honorary Colonel of 400 Tactical Sqn. and 413 Sqn.  From 1967 to 1982 he was CEO/CAO of the Faculty of Administrative Studies at York University.  He died in Kingston in 2004 at the age of 89.
Birchall was awarded the OBE for his extraordinary bravery in Japanese concentration camps, the DFC for detecting the Japanese attack on Ceylon, the American Legion of Merit, the Vimy Award, and the OC.  The Leonard Birchall Sports pavilion at RMC is named in his honour, and his plaque is on the RMC Wall of Honour.
Plaque inscription:             Aviator, Saviour of Ceylon, Protector of POWs, University Administrator, Humanitarian
2364 Commodore de l'Air Leonard Joseph Birchall
CM, OBE, DFC, O.Ont, CD
1915-2004
Né à St.Catharines, Ontario, diplômé de St. Catharines Collegiate, Birchall a terminé ses études au RMC en 1937 et s'est joint au Corps royal canadien des transmissions. Il a transféré au Corps d'aviation royal canadien pour devenir pilote et, au déclenchement de la guerre, le lieutenant d'aviation Birchall a participé, au sein de la 5ième escadrille, à des patrouilles aériennes pour protéger les convois contre les sous-marins au large de la Nouvelle-Écosse. Au début de 1942, après une brève assignation dans les îles Shetland avec l'escadrille 413, toute l'escadrille a été transférée au Ceylan.
Durant une patrouille au sud du Ceylan, l'équipage du chef d'escadrille Birchall a découvert une grande flotte japonaise, incluant cinq porte-avions, en route pour attaquer la flotte de l'Est de la Royal Navy basée au Ceylan. Birchall a réussi à avertir la flotte avant d'être abattu. Trois de ses membres d'équipage ont été tués dans l'écrasement de son avion. Lui et les cinq membres d'équipage survivants ont passé le reste de la guerre dans quatre camps de concentration japonais successifs. Quand Churchill a entendu le récit, il a surnommé Birchall le «sauveteur du Ceylan».
Dans les camps de concentration, où les prisonniers étaient traités comme des travailleurs esclaves, Birchall, en tant qu'officier allié supérieur, a continuellement risqué sa vie pour la défense des prisonniers. Il gardait des journaux secrets, qui ont été enterrés et récupérés après la guerre, pour être utilisés comme preuves aux procès de crimes de guerre japonais. Il a été libéré par les troupes américaines à la fin de la guerre.
Après son service à l'état-major de l'attaché militaire canadien à Washington et de la délégation canadienne auprès de l'OTAN à Paris, Birchall a été  commandant du Royal Military College of Canada de 1963 jusqu'à sa retraite en 1967, après quoi il est devenu colonel honoraire du Collège et vice-président d'honneur du Club des CMR. Il a pris sa retraite plutôt que d'être associé à l'unification des Forces canadiennes. Il a servi comme colonel honoraire de la 400ième escadrille tactique et de la 413ième escadrille. De 1967 à 1982 il a été directeur général et chef de l'administration de la faculté d'études administratives à l'Université York. Il est décédé à Kingston en 2004 à l'âge de 89 ans.
Birchall a reçu l'OBE pour sa bravoure extraordinaire dans les camps de concentration japonais, la DFC pour avoir découvert l'attaque japonaise sur le Ceylan, l' American Legion of Merit, le Prix Vimy et l'Ordre du Canada. Le pavillon des sports Leonard-Birchall au CMR du Canada est nommé en son honneur et sa plaque est sur le Mur d'honneur du CMR.
Citation sur plaque:          Aviateur, sauveteur du Ceylan, protecteur des prisonniers de guerre, administrateur d'université, humaniste
#2791 Jean Ostiguy entered RMC with the Last War Class in 1939, and graduated in 1942 with a Special War Certificate to join the 4th Princess Louise Dragoon Guards for the Italian Campaign. Wounded in Italy, he was honourably discharged in 1945 in the rank of Captain. He went on to become a leading banker, financier and businessman in Montreal and Canada, a philanthropist, and volunteer in many enterprises throughout his life.
2791 Honorary Lieutenant-Colonel Jean P.W. Ostiguy
OC, CD, LLD (Hon.)
1922 –
Jean Ostiguy attended Collège Jean-de-Brébeuf and École des hautes études commerciales in Montreal and entered RMC in 1940, with the Last War Class. He graduated with a Special War Certificate in 1942, qualifying him for a commission. He joined the 4th Princess Louise Dragoon Guards, one of Canada's oldest regiments, as it mobilized for the Italian Campaign in both a reconnaisance and infantry role. He served with it until wounded near Monte Cassino, Italy in 1944. He left the Armed Forces in 1945 with the rank of Captain.
Jean entered the financial industry with Casgrain & Cie Ltée. In 1956, he became founding partner and president of Morgan, Ostiguy & Hudon Ltd., Investment Brokers, which in 1972 merged to become Crang and Ostiguy. In 1977, Jean merged Crang & Ostiguy into Greenshields. In 1982 he was responsible for orchestrating the merger of Greenshields with Richardson of Canada and was named its honorary president.
In 1966, Jean became president of the Investment Dealers Association of Canada. He sat on many Canadian boards, including Ford Canada, Kerr Addison Mines, General Accident, Procor, Ciba-Geigy Canada, Minnova, Montreal Stock Exchange and Sintra. He was on the executive committee of the Board of CIBC for more than two decades.
Jean contributed his time and organizational skills to many charitable organizations such as Centraide and Hôpital Jean-Talon – where at the request of then Premier Jean Lesage, he restructured the management of the hospital. He also led fundraising campaigns for the Canadian Council of Christians and Jews in Montreal. He also served on several non-profit boards: Canadian Mental Health Association, Montreal Chamber of Commerce, Royal Victoria Hospital, Montreal Symphony Orchestra, Lester B. Pearson College, Montreal Fine Arts Museum, National Museums of Canada, and Royal Military Colleges Club of Canada of which he was President (1967-68). He served as Honorary Lieutenant-Colonel of the Régiment de Maisonneuve from 1988 to 1994.
As a philanthropist, Jean has been a member of the Canadian Committee of the Maison des étudiants canadiens in Paris since 1955 and President from 1964 to 2001. He devoted more than 45 years of his life to ensuring Canadian students could benefit from affordable living while pursuing their education in Paris. His determination and perseverance were instrumental in ensuring the continued operation of the Maison des étudiants canadiens. During many years when expenses exceeded revenues, he solicited governments, corporations and private individuals to donate funds to stabilize and streamline the operation and expand space.
Jean is an Officer of the Order of Canada, and also holds the Order of Malta, the Order of St. Lazare, the Queen's Jubilee Medal, the Star of Italy, the Defense Medal, the War Medal 1939-1945, the Canadian Centennial Medal and the Canadian Volunteer Service Medal. Other honours awarded Jean include the Legion of Honour, Officer of the Ordre des Palmes académiques of France and the Eleanor Roosevelt Humanities Award. He was awarded an Honorary Doctor of Laws (1978) by RMC and, since then, has flown the RMC flag outside his house in Montreal.
Plaque Inscription: Soldier, businessman, volunteer, philanthropist
2791 Lieutenant-colonel honoraire Jean P.W. Ostiguy
OC, CD, LLD (hon.)
1922 –
Jean Ostiguy a fréquenté le Collège Jean-de-Brébeuf et l'École des hautes études commerciales à Montréal; il est entré au RMC en 1940 avec la dernière promotion de la guerre. Il a reçu un certificat spécial de guerre en 1942, ce qui le qualifiait pour un brevet d'officier. Il s'est joint au 4th Princess Louise Dragoon Guards, un des plus vieux régiments du Canada, au moment où il était mobilisé pour la campagne d'Italie tant dans un rôle de reconnaissance que d'infanterie. Il a servi avec cette unité jusqu'à ce qu'il soit blessé près du Monte Cassino en Italie en 1944. Il a quitté les forces armées en 1945  avec le grade de capitaine.
Jean a fait ses premières armes en finance chez Casgrain & Cie Ltée. En 1956, il est devenu partenaire fondateur et président de Morgan, Ostiguy & Hudon Ltée, maison de courtage en placements, qui en 1972 a fusionné pour devenir Crang et Ostiguy. En 1977, Jean a fusionné Crang & Ostiguy avec Greenshields. En 1982 il a été le chef d'orchestre de la fusion de Greenshields avec Richardson of Canada et a été nommé son président honoraire.
En 1966, Jean est devenu président de l'Association canadienne des courtiers en valeurs mobilières. Il a siégé à de nombreux conseils canadiens, y compris Ford Canada, Kerr Addison Mines, General Accident, Procor, Ciba-Geigy Canada, Minnova, la Bourse de Montréal et Sintra. Il a été membre du comité exécutif du conseil d'administration de la Banque CIBC durant plus de deux décennies.
Jean a mis son temps et ses compétences organisationnelles au profit de plusieurs organismes charitables tels que Centraide et l'Hôpital Jean-Talon – où à la demande du premier ministre du temps Jean Lesage, il a réorganisé la gestion de l'hôpital. Il a aussi dirigé des campagnes de levée de fonds pour le Conseil canadien des chrétiens et des juifs du Canada à Montréal. Il a également siégé aux conseils d'administration de plusieurs organismes à but non lucratif: Association canadienne pour la santé mentale, Chambre de commerce de Montréal, Hôpital Royal Victoria, Orchestre symphonique de Montréal, Collège Lester B. Pearson, Musée des beaux-arts de Montréal, Musées nationaux du Canada et Club des Collèges militaires royaux du Canada dont il a été le président (1967-68). Il a servi comme lieutenant-colonel honoraire du Régiment de Maisonneuve de 1988 à 1994.
Jean fut un grand philanthrope. Il a été membre du comité au Canada de la Maison des étudiants canadiens à Paris depuis 1955 et président de 1964 à 2001. Il a consacré plus de 45 ans de sa vie à s'assurer que les étudiants canadiens aient des conditions de vie à prix abordable durant leurs études à Paris. Sa détermination et sa persévérance ont  assuré la pérennité de la Maison des étudiants canadiens. Durant bien des années, quand les dépenses excédaient les revenus, il a sollicité auprès des gouvernements, des sociétés et des particuliers des dons pour stabiliser, rationaliser et agrandir la Maison.
Jean est officier de l'Ordre du Canada, et détient aussi l'Ordre de Malte, l'Ordre de Saint-Lazare, la Médaille du jubilé de la Reine, l'Étoile d'Italie, la Médaille de la défense, la Médaille de la guerre de 1939-1945, la Médaille du centenaire du Canada et la Médaille canadienne des Volontaires. Jean a aussi reçu ces autres distinctions honorifiques: l'Ordre de la Légion d'honneur, officier de l'Ordre des Palmes académiques de France, le prix Eleanor-Roosevelt (catégorie lettres et sciences humaines). En 1978, le CMR du Canada lui a décerné un doctorat honorifique en droit et depuis ce temps, le drapeau du CMR flotte à l'extérieur de sa résidence à Montréal.
Inscription sur plaque: Soldat, homme d'affaires, bénévole, philanthrope