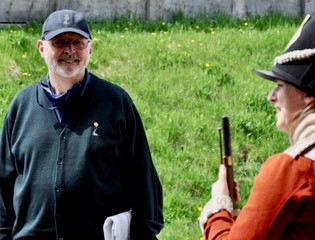 It seems like only yesterday that we, the members of the Old Brigade, welcomed you to RMC and RMCSJ as new Preparatory or First Year Cadets.  We met many of you for the first time soaking wet, exhausted but exhilarated after your Obstacle Course, or more formally shortly after that on your Badging Parade.  Since then, we have felt growing pride to see you pull together as a class, bound by the unique bond of friendship and shared experiences that Old Brigade members still feel 50, 60 or even 70 years later. We have watched you rise to every challenge in academics, leadership, sports, and bilingualism – a much more rigorous program than normal universities demand – and work as a team to succeed.
This year, all of us – students and alumni from RMC, RMCSJ and Royal Roads – shared a time of deep sorrow.  Thinking back, many from the Old Brigade also remember classmates taken far too soon.  Nothing can change that.  Our best hope is to live our lives and serve our country in a way that honours their memory.  Let that be your next challenge.  Listen to and learn from everyone you meet – superiors, colleagues and especially those you have the privilege to lead.  Treat all those around you with dignity and respect.  Never stop learning.  Never stop trying to do your best.
BRAVO ZULU! Well done!  Best wishes for the future.  We will always be cheering for you.
TDV *** VDV
Don Bell, 7964
B.Eng. (Mech) 1969
Adjutant, Old Brigade *** Adjudant, Vieille brigade
---
À tous les diplômés 2022 du CMRC et du CMRSJ
Il semble que ce n'est qu'hier que nous, les membres de la Vieille brigade, vous avons accueilli au CMRC et au CMRSJ en tant que nouveaux cadets en préparatoire ou de première année. La première fois que nous vous avons rencontré beaucoup d'entre vous étaient trempés, épuisés mais exaltés après votre course à obstacles, ou plus officiellement après le défilé de la présentation des insignes. Depuis lors, nous avons ressenti une grande fierté de vous voir croître en tant que classe, liés par le lien unique d'amitié et par des expériences partagées semblables à ce que les membres de la Vieille brigade ressentent encore 50, 60 ou même 70 ans plus tard. Nous vous avons vu relever tous les défis en matière d'enseignement, de leadership, de sport et de bilinguisme — un programme beaucoup plus rigoureux que ne l'exigent les universités civiles — et travailler en équipe pour réussir.
Cette année, nous tous, étudiants et Anciens du CMRC, du CMRSJ et de Royal Roads, partageons un moment de profonde tristesse. En y repensant, de nombreux membres de la Vieille brigade se souviennent également de leurs camarades de classe décédés bien trop tôt. Rien ne peut changer cela. Notre plus grand espoir est de vivre nos vies et de servir notre pays d'une manière qui honore leurs mémoires. Considérez cela comme votre prochain défi. Écoutez et apprenez de tous ceux que vous côtoierez : supérieurs, collègues et surtout ceux que vous aurez le privilège de diriger. Traitez tous ceux qui vous entourent avec dignité et respect. Ne cessez jamais d'apprendre. Essayer constamment de faire de votre mieux.
BRAVO ZOULOU! Travail bien fait! Meilleurs vœux pour l'avenir. Nous vous encouragerons toujours.
VDV
Don Bell, 7964
B.Génie. (Méc) 1969
Adjudant, Vieille brigade