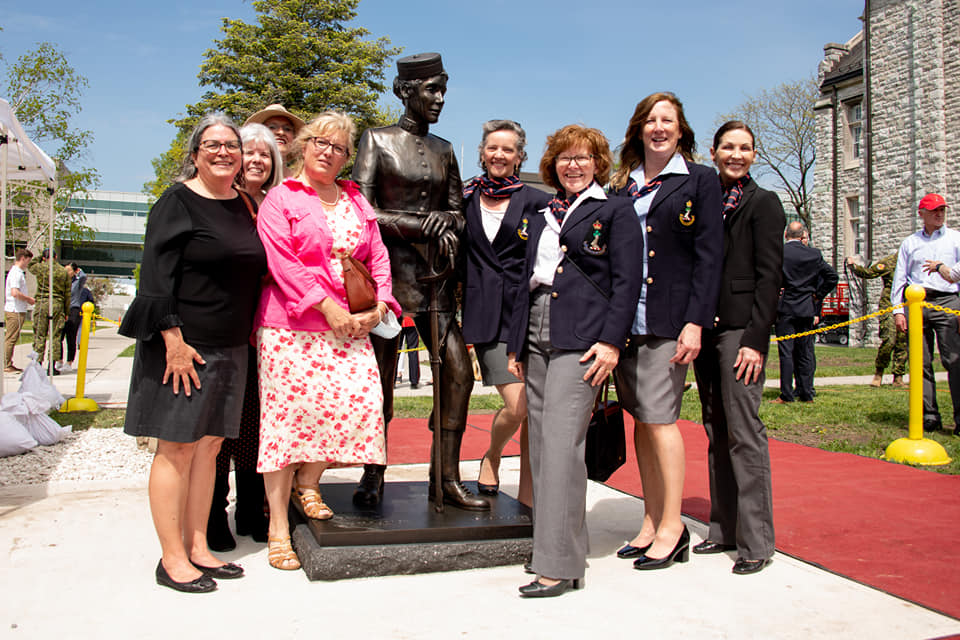 It was a beautiful sun filled day on Friday 20 May to officially unveil the Classes of 1981 and 1984 Female Cadet Statue on the grounds of RMC beside Brucie in front of a large crowd of staff, VIP's and other members of the College community.
In 1999, at their 18th reunion, 12523 LCol (ret'd) Louis Cyr (Class of 1981 Secretary) was speaking with a female ex cadet and jokingly spoke about how Brucie (installed in 1976) needed a counterpart.  "That memory stuck with me," LCol Cyr said. " I remember that reunion when Louis mentioned to a few of us the idea of a female cadet statute.  In 2019 when the Class of 1981 asked for the Class of 1984's support of this project the response was overwhelmingly in favour" 14484 Jackie Pothier, Class of 1984 mentioned. Louis remembered how his "class were seniors when 1984 arrived as recruits at RMC, bringing with it one of the most significant culture changes to the College since inception. For the first time women were completely integrated into the Cadet wing.  It was an era of incredible change for all of us."
In 2016 the Class of 1981 at their 35th reunion decided that having a female cadet statue at RMC was needed and that would be their Old Brigade entry gift.  The Class of 1981 and 1984 began discussions with 18777 BGen Sébastien Bouchard (Commandant of RMC 2017-2021) in 2016 and two years after those initials discussions a Female Cadet Statue Working Group was struck.
In 2017/18 the working group was established and included various departments and stakeholders from the College that included representation from the Academic, Training, and Cadet Wing along with representation from both classes and the RMC Foundation and Club.  Both classes formed a committee which would take charge of the design, production, and delivery of this statue to originally be presented to the College on the 150th anniversary and the Old Brigade entry of the Class of 1981 in 2026.  Thanks to the success of the working group the statue was completed years in advance of the original deadline and presented during RMC Grad festivities last Friday.
In late 2019, after a proposal process, the Classes selected Rosemary Breault-Landry a talented artist from Gatineau to make the Female Cadet Statute.  In preparation, Ms. Breault-Landry visited RMC in late November and met with female Officer/Naval Cadets to ensure that the design was a realistic and accurate depiction of the dress and stature of the Cadets.
13068 BGen (Ret'd) Peter Atkinson, Class of 1981 spoke to the importance of the statue stating " this bronze statue would commemorate and honour the service and sacrifice of women who went to RMC and served in the Canadian Armed Forces." 14458 BGen (Ret'd) Dr. Harry Kowal, Principal of RMC, and member of the Class of 1984 said " this statue represents diversity for RMC that started in 1980 upon the arrival of 32 very brave female cadets.  They paved the way for others to follow".
Commodore Kurtz, Commandant of RMC, officially accepted the gift of the Female Cadet Statue in front of many dignitaries including the CDS 16538 Gen Wayne Eyre, RRMC RMC Class of 1988 by saying she was " so pleased to be able to make this event an important part of (Grad) celebrations this week.  It is with great pleasure that I graciously accept this gift."
We would be remiss to not acknowledge the important role that 12523 Louis Cyr played in ensuring the installation of the new statue went off without a hitch.  Louis spent countless hours at RMC measuring, cutting concrete, working with various contractors, and putting his engineering degree to good use.  Once an engineer always an engineer right Louis?
Below is a video prepared by the Athena Network on behalf of the RMC Alumni Association.