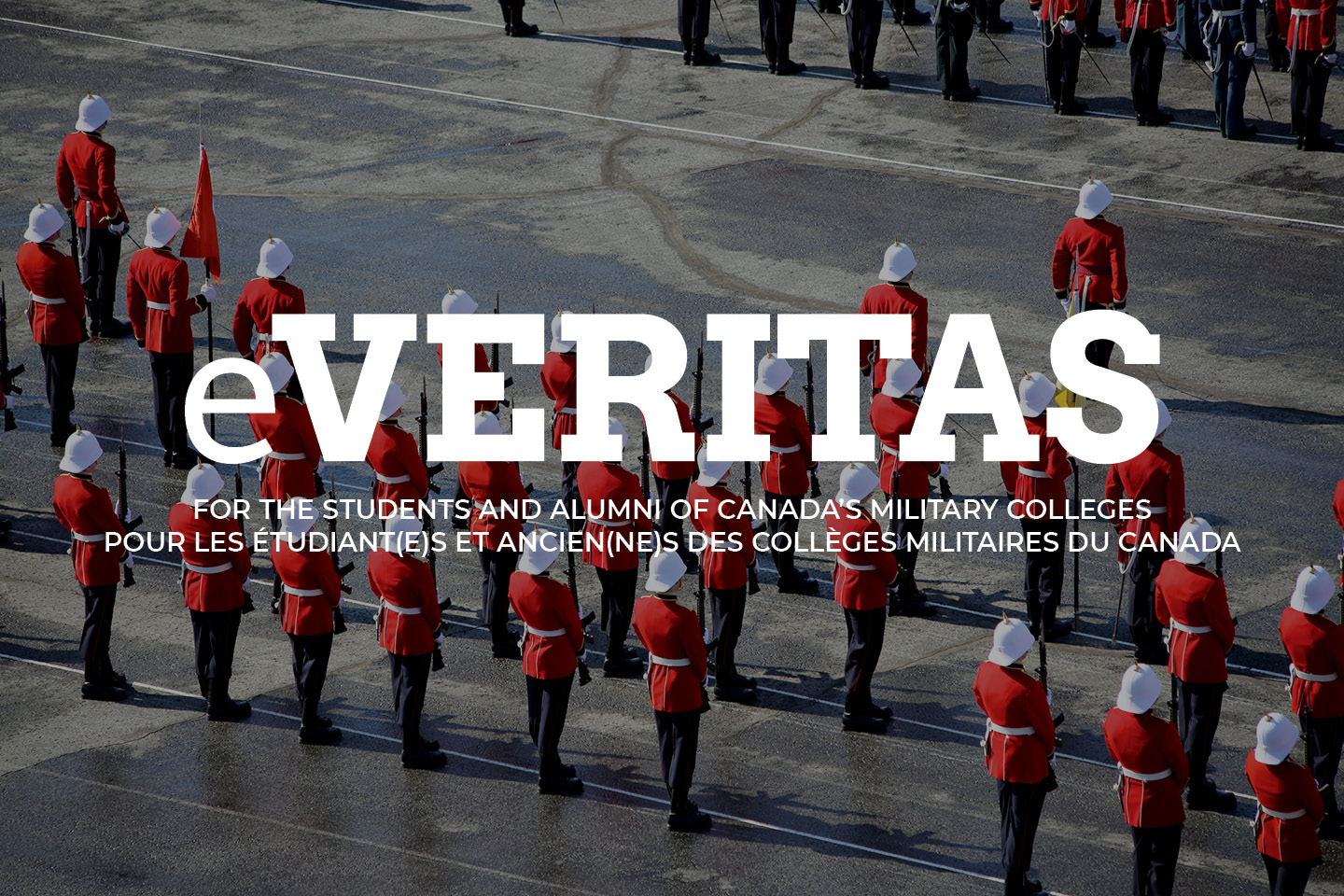 "Easily the greatest challenge right now facing PE and all of our programs is access to facilities and equipment. With the emphasis on fitness in the CF and the growth of CFB Kingston and RMC it has made it challenging at times for everyone to gain access to what they require for their training. The way we see it is this is a good challenge to have! It means CF members are being active!"
Darren Cates, RMC Director of Athletics talks to e-Veritas about the PE / varsity sports / IMs and the Receation Clubs.
By: WJO
Q What were your expectations on arrival at RMC?
A Wow, that seems like so long ago! When I arrived in June 2004, I knew RMC had fantastic facilities and tremendous support from senior leadership of the college. My expectation was that the college was looking to build on what already existed in the Athletic Department. I knew it was going to be hard work, but with all the advantages we have I really saw them as opportunities. I was also excited as I expected to learn a lot about the CF and that I would get to play a key role in training Officers.
Q Looking back over the past four years: What are your more positive memories – things that you are most proud of etc.
A There are so many positives that come to mind. I will never forget when Patricia Howes called me in 2005 when we won the Women's Fencing Championship. Last year when the Women's Soccer Team qualified for the playoffs and beat Queen's in the first round. Seeing our first rugby game in the fall of 2005 after re-introducing the team to the college. All of these are particular highlights.
Away from the playing field, I am very proud of the improvements we have made in facilities and equipment for all of our programs. Finally we have developed a phenomenal staff that are dedicated and committed to the mission of RMC and care greatly about the OCdts and the institution.
Q What are (if any) your biggest disappointments?
A Clearly the fact that a hockey game was not part of West Point Weekend (I-81 Exchange) in 2006 and 2007. Also, the fact that not all of our varsity programs have reached the level of competitiveness that we would like to see. Overall though I am very fortunate for the positive memories far outweigh the disappointments!
Q In regards to the PE program & testing: What are the biggest challenges? For the past school year – What was the rate of pass / failure for I, II, III, & IV years? What is the process for failures by year?
A Easily the greatest challenge right now facing PE and all of our programs is access to facilities and equipment. With the emphasis on fitness in the CF and the growth of CFB Kingston and RMC it has made it challenging at times for everyone to gain access to what they require for their training. The way we see it is this is a good challenge to have! It means CF members are being active!
Overall, the OCdts had a solid year from a fitness standpoint. Of all the PPT's that were administered, 89.1% resulted in a passing grade. Only 10.9% were failures. This is still too high in our opinion so with the support of the college changes were made to the Supplementary Training Program (SPT). This resulted in only twenty OCdts not successfully completing a PPT in the 2007/08 academic year.
Starting this year, PPT will take place in the morning from 5:30 to 7:00 a.m. and SPT will for the most part not be available for III and IV year OCdts. I expect the number of failures to continue to decrease.
Q IMs List the highlights of this program. What are the short-falls – if any?
A The intramural program is in great shape. The OCdts are playing two nights per week and the competitiveness of IM's has increased significantly in the past couple of years. IM's not only help OCdts maintain physical fitness but also provide a large number with leadership opportunities as team captains and administrators. Playing as squadrons is also valuable as it develops cohesion and team spirit. Finally, IM's allow cadets to have some fun and relieve stress.
I have noticed that as the competitiveness of IM's has increased that the level of officiating has not increased at the same pace. We have been trying to better prepare the referees but we still have more work to do in this area.
Q Recreation Clubs / teams: How many Recreation Clubs at RMC? How many Rec teams? Outline the pros & cons of this program.
A Currently we have twenty-four active Recreational Clubs at RMC. These range from astronomy and art to yachting and windsurfing. The full list of clubs can be found at http://www.rmc.ca/athletics/rec/exec_e.html Over 600 OCdts participate in the Rec program and the clubs offer many great activities and host some fantastic events. This adds tremendously to college life and allows the OCdts to pursue their favourite activities and to try some new things. The only challenge with Rec Clubs is that since it is a voluntary activity, OCdts do not have a lot of spare time and are therefore limited with how much they can participate.
Q Varsity: Only a few of teams over the past few years have proven to be truly competitive in the OUA. For the teams that have not shown much, if any true competitiveness at the university level consistently over the past five years, are there any plans to change the structure of varsity teams at RMC? For example, is there any thought or talk of dropping teams?
A I honestly believe we're getting there. Some of our teams are tremendously successful. Our fencing teams are the best in the province, hockey made the playoffs four out of the past six years and set a school record for wins and points this past season. Rugby and Women's Soccer both made the playoffs last year. Tae Kwon Do continues to produce fantastic results and Running showed some positive early results. Obviously some of our teams have not gained as many wins as we would like to see. It is important to note that although the win-loss record might not show it these teams have really improved the past few years and other teams do not take playing RMC for granted.
People also need to be careful about how they define success. Success is not just a win-loss record. A varsity program provides a great deal to those who participate as well as the College in general. I truly believe that our varsity athletes get more of an opportunity to develop mentally, emotionally and physically than anyone else at the college. Imagine the commitment, dedication and perseverance it takes to practice every day and compete almost every weekend.
In regards to reviewing the structure or the possibility of "dropping" teams, we are developing an evaluation tool to review all of the varsity programs in the spring of 2009. This comprehensive review will look at everything that defines success – academics, PPT scores, bar positions, community relations and, of course, competitive success. There will be no untouchable programs in this review and if we are in a sport and it is not achieving what we want from the varsity program, then we will make the necessary changes.
Q How did the recruiting of student-athletes work out this year?
A For September 2008, 39 recruited student-athletes received ROTP / RETP offers from RMC. 36 of these accepted their offer (92.3% acceptance rate) In August, all 36 recruited athletes reported to RMC for "recruit camp" and all 36 are still here.
This was our best recruiting year in the past five years.
Q (W) rugby has been approved as a Recreation team sport. Do you see any scenario that they could become a varsity team? If yes, how?
A I know there are many people excited over Women's Rugby being approved as a Recreation Club and people such as Capt Kristin Topping, OCdt Nicole Bach and OCdt Laura Locklin have worked very hard to get it to this point.
I think the key thing right now is to start slow and see how many women we have at RMC that are interested in and play rugby. As you know, about 22% of our OCdts are female so we do not have large numbers from which to draw. We already have Tae Kwon Do, Fencing, Soccer, Volleyball, Basketball and Running at the varsity level for women. We have to be careful not to over extend ourselves. This is not to say that it couldn't become a varsity program but it did take the men's program 2-3 years to build and return to varsity status so let's wait and see how the women's club progresses.
Q You must be proud of the Birchall Pavilion project – when can we expect to see it operational?
A I am really excited about the Birchall Pavilion. It will be a tremendous addition to campus and will benefit the OCdts and the RMC community for years to come. All of the credit goes to Steve France and Al Roberts who were really the driving force behind this project becoming a reality and to people such as Major Julia-Atherly Blight, Byron McConnell, and Dominic O'Neill who have kept it moving along. I have been told the pavilion will be ready for use in time for August 2009. I can't wait!
Q Are there any further big ticket facility projects in the wind? Artificial turf for one of the fields?
A We are always looking to improve the facilities for our programs and we work closely with people from all over CFB Kingston to get this work done. Many of our current projects are smaller in scale, for example scoreboards on the Navy Bay fields, team rooms in the KMCSC, additional outdoor lighting, and in-ground sprinklers.
Under BGen Lawson's direction we are working with the Director of Physical Plant to look at the feasibility of an artificial turf field. This would be a tremendous addition to RMC but the question remains, can we do it?
Wrap-up – If there is an area that we have not covered and you would like to mention / elaborate on – you have the last word.
Darren Cates – Thanks for the opportunity Bill. E-veritas is a great method for communicating with ex-cadets and supporters of RMC. We try our best to stay in touch with as many ex-cadets as possible and we would like to get more involved. Everyone in the Athletic Department enjoys talking with ex-cadets, hearing their stories and answering their questions. Ex-cadets play an important role and their input and involvement is always welcome in our programs. If anyone wants to stay up to date on our varsity teams, I encourage you to send an email to Guy.Dube@rmc.ca and ask to be added to the "Varsity Round-up" a weekly publication from September to March that highlights that week's activities in RMC varsity athletics. I also invite all of you to attend one of our varsity or Rec Club events in Kingston or in another city. Visible support from ex-cadets at our events means a lot to our student-athletes and coaches.