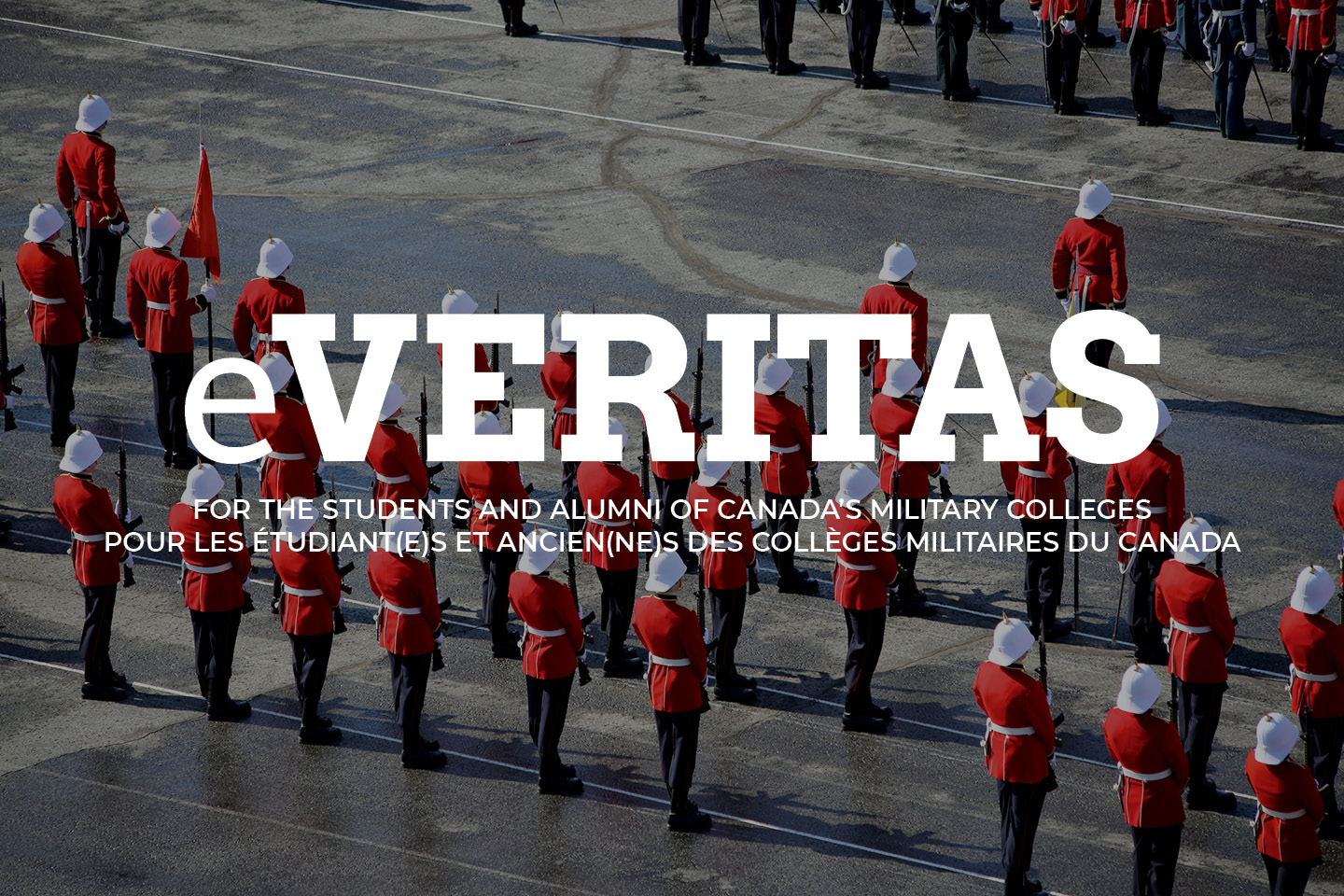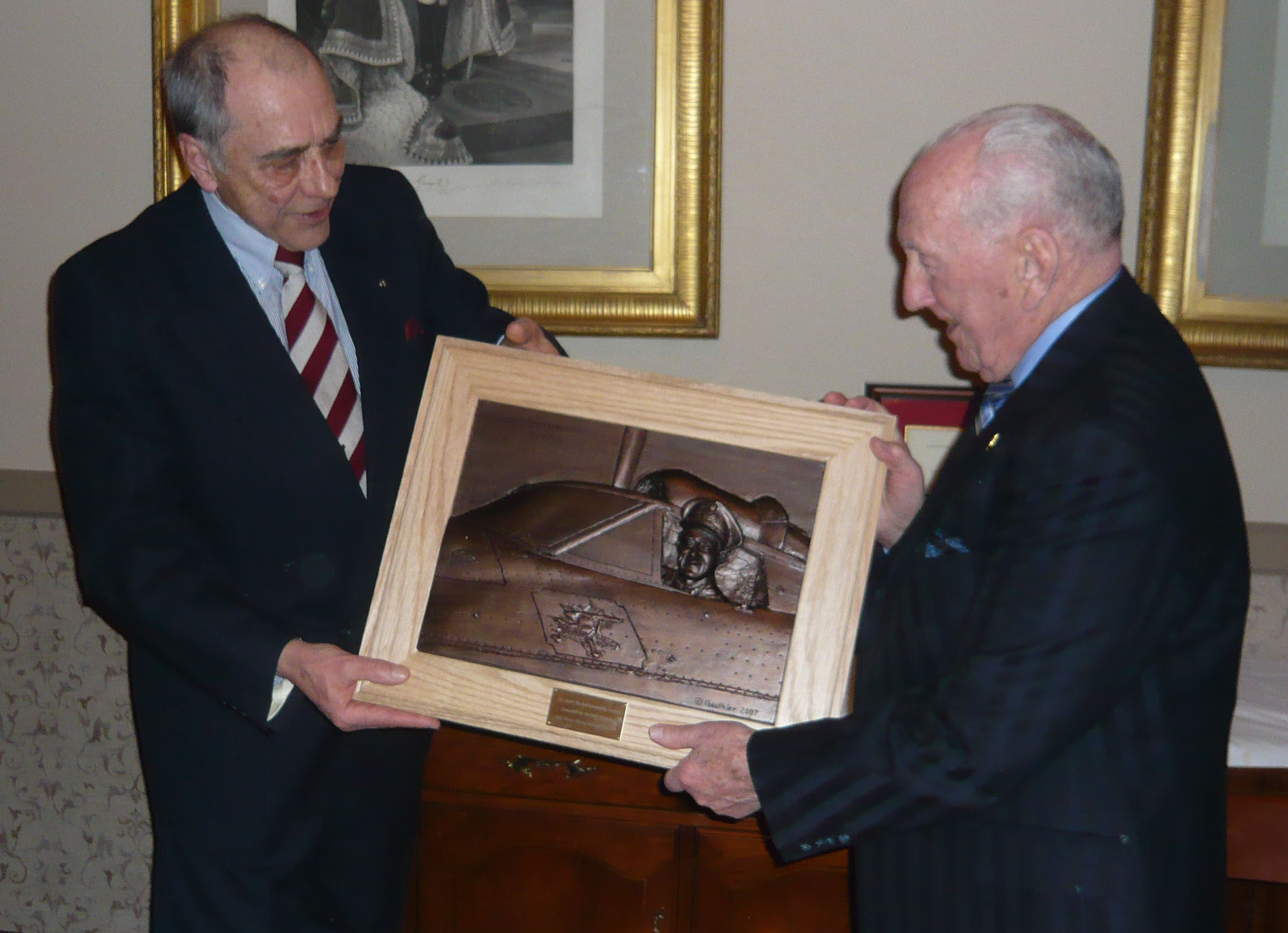 Pictured (right) is S109 Major Danny McLeod, the 2007 recipient of the Air Commodre Birchall Leadership. Presenting the Award is the artist, Colonel (ret'd) Andre Gauthier who cast the bas-relief bronze. The presentation took place during a special dinner at RMC last week. Those in attendance included: RMC Commandant, 12192 BGen Tom Lawson (RMC '79); Mrs Kathleen Birchall, widow of the Air Commodre; Mrs Sheila McLeod, wife of Major McLeod; two children of the Air Commodore, Charles & Sharon and their spouses. A number of executive members from both the RMC Club and the Foundation rounded out the list of attendees.
The Birchall Leadership Award
The Birchall Leadership Award is presented by the Royal Military Colleges Club of Canada to honour the memory of 2364 Air Commodore Leonard J. Birchall CM, OBE, DFC, OO, CD [1915-2004], the "Saviour of Ceylon". This extraordinary leader, a distinguished RMC ex-cadet, RCAF career officer, former commandant of RMC, honourary colonel of 413 Squadron and until his death on September 10, 2004, the Vice-Patron of the RMC Club, exemplified a unique leadership quality which this award celebrates, and that is the ability to stand up in the face of difficulty or adversity to promote the welfare and safety of those under his command.
The recipient of the Birchall Leadership Award will be recognized in his or her community as having demonstrated some aspect of Leonard Birchall's extraordinary leadership qualities and is preferred to have had some military connection.
On April 4, 1942 then Squadron Leader Birchall was piloting a Catalina flying boat over the Indian Ocean when he sighted and reported an advancing Japanese fleet intent on attacking Ceylon. The Allied Forces response to Birchall's call successfully blunted the force of the attack. However, Birchall's Catalina and its crew of eight were shot down and he, along with 5 survivors spent the remaining years as Japanese prisoners of war. It was as a senior officer among the POW's that Birchall's true leadership skills came to the forefront as he confronted his captors, often risking his own life, in order to preserve the morale, dignity and safety of lower ranked prisoners of war.
In the post war period, Air Commodore Birchall mentored and shared his thoughts on leadership with many persons in and out of uniform. He taught us the importance of:
Integrity (which gave the confidence and courage for others to follow);
Responsibility (to not blame others but to shoulder criticism when required); and
Moral Courage (to rely on one's sense of right and wrong).
The Birchall Leadership Award seeks to carry on this tradition of leadership by honouring its recipients in the name of one of Canada's finest leaders.

Prix de leadership Birchall
Le prix de leadership Birchall est présenté par le Club des Collèges militaires royaux du Canada afin de commémorer 2364 Air Commodore Leonard J. Birchall CM, OBE, DFC, OO, CD [1915-2004], le « sauveur du Ceylan ». Ce leader extraordinaire, un illustre Ancien du RMC, un officier de carrière dans le CARC, un ancien commandant du RMC, le Colonel honoraire de l'escadron 413 et jusqu'à son décès, le 10 septembre 2004, le Vice-président d'honneur du Club des CMR, est la personnification des qualités de leadership que ce prix commémore telle que la capacité d'affronter l'adversité ou de surmonter les obstacles afin d'assurer le bien-être et la sécurité de ses subordonnés.
Le récipiendaire du prix de leadership Birchall sera reconnu dans sa communauté comme ayant reflété en partie les qualités extraordinaires de leadership de Leonard Birchall et ayant développé si possible quelques affinités avec la communauté militaire.
Le 4 avril 1942, le Commandant d'escadron Birchall pilotait un hydravion Catalina patrouillant l'océan Indien lorsqu'il aperçut et signala la présence de la flotte japonaise qui était sur le point d'attaquer Ceylan. La réaction des Forces alliées à l'alerte de Birchall a émoussé avec succès la force de l'attaque. Toutefois, le Catalina de Birchall fut descendu avec les huit membres de son équipage, lui ainsi que les cinq autres survivants furent prisonniers des Japonais pour le reste de la guerre. Ce fut en tant qu'officier supérieur parmi les prisonniers de guerre que les talents de leadership de Birchall ont ressorti lorsqu'il confrontait ses ravisseurs, souvent au risque de sa propre vie, afin de préserver le moral, la dignité et la sécurité des prisonniers de guerre subalternes.
Après la guerre, le Commodore de l'Air Birchall exprima et dissémina ses idées sur le leadership au delà de son entourage civil et militaire. Il nous a enseigné l'importance des qualités suivantes : Intégrité (qui donne l'exemple de confiance et de courage à suivre);
Responsabilité (ne pas blâmer les autres mais accepter les critiques pertinentes); et
Courage moral (être fidèle à son sens du bien et du mal).
Le prix de leadership Birchall vise à sauvegarder cette tradition de leadership en honorant ses récipiendaires au nom de l'un des meilleurs leaders du Canada.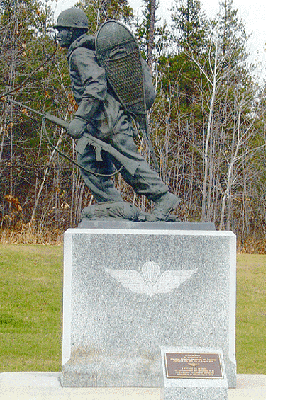 COLONEL ANDRÉ D. GAUTHIER, OMM, CD, NDC, B.COMM (CF RET'D)
SCULPTOR, the artist who cast the bas-relief bronze presented to "The Major".
In 1989, Colonel André Gauthier completed a 37-year career in the Canadian Armed Forces and became a fulltime sculptor. Born in 1935 in Ottawa, he was educated in Montreal and the University of Ottawa. While attending university on the Regular Officer Training Plan, he volunteered to serve as a troop commander with the Regiment de Hull – a reserve armoured regiment. He was commissioned in the Canadian Provost Corps in May 1958. Early assignments included a year as an Infantry platoon commander in the First Battalion, Queen's Own Rifles of Canada (Summer '58 to Summer '59) followed by a year (Summer '59 to Summer '60) as 2IC of No 1 Provost Platoon in Calgary, Alta. In summer 1960, he was posted for a year as 2IC of the Kingston Provost Detachment. In 1961, Lt Gauthier became the Camp Provost Marshal at Base Valcartier, Que. The following year (1962), he was promoted Captain and posted to Germany where he first served in a Military Police staff appointment before assuming command of No 4 Provost Platoon.
On his return to Canada in the summer of 1965, he was posted as an instructor at the Canadian Forces School of Intelligence and Security and served a year training foreign national officer cadets (Zambians, Tanzanians and Malaysians) in Infantry Phase I Officer Training. He was then selected to attend the Canadian Army Staff College in Kingston, Ont (Sep '66 to June '67) and was promoted to Major on completion of that course. His next assignment was as Staff Officer Personnel Plans at Mobile Command Headquarters in St. Hubert, Que. Next, he became Executive Assistant to the Deputy Commander of that Command and was briefly double-hatted as the Command Secretary. In 1969, he became the Senior Staff Officer Security (responsible for military police, security and counter intelligence in the Army).
In 1970, he was promoted to Lieutenant Colonel and appointed to head the Regional Civil Emergency Operations Section of Mobile Command covering the Province of Quebec. Two weeks after assuming those responsibilities, the FLQ terrorist October Crisis occurred and fully involved he and his staff for the four months duration. In 1973, he was posted to Collège militaire royal de Saint-Jean as Vice-Commandant and Director of Cadets. Concurrent to that CMR appointment, LCol Gauthier was given a priority (four-month) assignment by the CDS to participate as a Commissioner of Enquiry in a commission set up by the Solicitor General of Canada (the Ducros Commission) looking into a series of escapes from Federal penitentiaries in Quebec. In 1975, he moved to Ottawa to undertake a year of language training learning Serbo-Croate. This course was followed by his promotion to Colonel and his assignment as the Canadian Forces Attaché to Yugoslavia and Greece in 1976-78. Upon his return to Canada, he became the Director of Security at National Defence Headquarters. In 1980/81, he attended the National Defence College in Kingston, Ont and was subsequently posted to Winnipeg, Man as the Chief of Staff for Headquarters Prairie Militia Area.
Over the period 1983-86, he served a three-year tour as the Military Advisor to the Canadian Delegation to the conventional arms control negotiations (MBFR Talks) between NATO and the Warsaw Pact in Vienna, Austria and, in his last three years of his military career, he was the Commandant of the unit administering Canada's National Defence Headquarters in Ottawa. In November 1989, Colonel Gauthier was awarded the Order of Military Merit by the Governor General of Canada.
Art has always formed an important part of André Gauthier's life. In addition to his main studies, he received formal art training in oil painting, charcoal, and water Colours during his early schooling. He went on to specialize in sculpture, which became his main form of artistic expression. He performs all steps in the process starting with the actual creation in clay or wax, the making of transition moulds, the casting of prototypes on which final details may be added and the making of production moulds for multiple casts. Copies of his works are usually cast in a durable epoxy plastic and finished with a bronze-like patina. For real bronze casting, however, the artist sends an epoxy, plasticine or wax model to a foundry where the "lost wax" method of casting is utilized.
While Colonel Gauthier is not limited in the range of his subject interests, the sculptures most frequently created until his retirement from the Forces were connected with the Profession of Arms. This was a consequence of the very limited free time available to make sculptures while he was still a serving officer and also the large demand for his military works.
Colonel Gauthier developed a collection of sculptures across the wide range of operational specialties in the Canadian Army, Navy and Air Force. Copies of his works can be found in military or private collections across Canada, in the USA, and several countries in the rest of the World. These smaller works (varying between 6″ and 24″ high) are most commonly ordered by an individual for his own collection or as a personal gift to his unit on relinquishing command; others are ordered by units or organizations for use as Regimental Centre-pieces, as departing gifts to retiring members or to important personages. On several occasions, military units have presented such sculptures to cities with which they have had a long association. Copies of his works have also been presented to a member of the British Royal Family, to the Governor General of Canada, two Canadian Prime Ministers, Canadian Cabinet Ministers and dozens of visiting foreign dignitaries. Copies of five of his works are included in the permanent art collection of the Canadian War Museum (Ottawa, Canada).
Non-military subjects completed by the artist include, for example, a large bronze bas-relief marking the Centennial of the St. John's Ambulance Society of Canada, an additional copy of this work for the boardroom of the Canadian firm Bombardier-Worthington, and a number of portrait busts. While in Vienna, the artist also created a life-size statue of his daughter, Madeleine. In 1990, he was one of 20 Canadian sculptors invited to compete for an equestrian statue for Parliament Hill to honour in 1992 the 40th year of Her Majesty The Queen's reign. In 1996, the Artist added a number of wildlife animal sculptures to his collection of works.
In 1988, Colonel Gauthier completed a major military monument marking the 20th anniversary of the Canadian Airborne Regiment. This 8 foot high bronze titled "INTO ACTION" depicts a paratrooper in Winter combat gear rising from the drop zone as he heads into action. Until 2007, that monument stood at the entrance to Canadian Forces Base Petawawa, but it was then relocated next to a WWII Dakota aircraft near the base's Airborne Forces Museum. Two commissions arose in 1989 to mark the 75th anniversary of two famous Canadian infantry regiments: the Princess Patricia's Canadian Light Infantry Regiment (PPCLI or "Patricias") and the Royal 22e Régiment (R 22e R or "Van Doos" French Canadian regiment). For the PPCLI, Colonel Gauthier created a small statue titled "ANTI TANK PATROL" 1989 in a Limited Edition of which 25 were presented to various VIPs in Canada and abroad. For the R 22e R, the artist designed a monument featuring a 6′ X 9′ bronze 'haut-relief' titled "JE ME SOUVIENS" 1989. The memorial is located at Place Georges V in Quebec City.
From 1990 to 1994, André Gauthier participated by invitation in six National competitions for major monuments (including the Queen's Statue for Parliament Hill and the Peacekeeping Monument competitions) and continued to create new works. In August 1991, he completed a 1/4-scale statue of a WWI Officer commissioned by the Conference of Defence Associations' institute for a new annual award known as the "VIMY AWARD". A smaller version of that statue is presented annually to a prominent Canadian selected because of an outstanding contribution to the Nation's defense and security.
In January 1994, the sculptor won a competition to create a 10'6″ high bronze figure of a World War I soldier for a monument that was unveiled by Prime Minister Jean Chrétien on 21 April 1995 at the entrance to Canadian Forces Base Valcartier (30 kms West of Quebec City). That monument commemorates the origin of Base Valcartier formed in 1914 as the assembly, training and embarkation base for all Canadian Army volunteers sent to the European battlefields in that war. Prime Minister Chrétien was presented a copy of the Maquette of this statue by the Commander of 5e Groupe-brigade mécanisé du Canada.
In July 1994, the sculptor won a new competition for a Royal Canadian Naval Association Naval Memorial at Burlington, Ont. This project involved sculpting a 6'4″ high statue of a WWII Canadian sailor in the position of Attention and at the Salute. This bronze statue stands on a black granite base bearing the names of RCN and Canadian Merchant Marine ships sunk during WWII; in addition, the Memorial has a granite wall bearing the names of all RCN ships and Canadian Merchant Marine vessels which saw service in WWII. The Sailor is thus seen to be saluting his lost shipmates. This Monument was unveiled on 14 May 1995 by the Lieutenant Governor of the Province of Ontario.
In 1999 and early-2000, he completed two projects marking the Year 2000 centennial of major battles of the Boer War in South Africa involving two Canadian regiments:
a small statuette commemorating the Royal Canadian Regiment's action at Paardeberg, and
a three-figure bronze sculptural grouping commissioned by the Royal Canadian Dragoons to commemorate the battle of Leliefontein. These three figures are of the RCD members who won the Victoria Cross in that battle.
In early-2000, the sculptor was commissioned to create a 6'4″ high bronze statue for a monument honouring the WWII Canadian Women's Army Corps. The monument is located in front of the Kitchener (Ont) Armoury and was unveiled on 5 May 2001. In late fall of 2000, he was one of nine Canadian sculptors invited to compete for a commission to create bronze adornments for the Tomb of the Unknown Soldier. He finished in the top three competitors but did not win this particular competition. Nevertheless, in the spring of 2001, he was commissioned by the Royal Canadian Legion to create a small work of art on the theme of the Unknown Soldier and fifty copies were presented by the Legion to senior Legion, military and public servants involved in the Tomb of the Unknown Soldier project. That year, he was also involved in a competition for a bronze artwork destined for the Juno Beach Centre at Courseulles-sur-Mer (FRANCE).
In 2002, he completed a commission by the Honorary Colonel of The Royal Canadian Regiment for a new Work designated the Leadership Award; in addition, he completed a commission by the Conference of Defence Associations Institute for a statuette honouring Canada's best known WWII war correspondent, Ross Munro. The "MUNRO AWARD" is presented annually to a member of the Canadian news media who has provided exceptional coverage of Canadian defence and security issues.
In 2003, he was commissioned by the father of MCpl Mark Isfeld – a Canadian Sapper killed while clearing a minefield in Bosnia–to create a small bas-relief depicting the presentation of small knitted dolls to Bosnian children. This Work hangs in the Courtenay BC high school named after this soldier and a smaller version of this Work is presented annually to the school's top student. Another commission was received from the Conference of Defence Associations Institute for a small bas-relief, which the Institute presented to the Royal Canadian Legion's National Secretariat in Ottawa. That Work, titled "OF SUCH AS THESE" shows a number of Canadian World War II fighting men and women as an example of outstanding predecessors to today's Canadian Forces. In 2004, he participated in another major competition for a veterans' monument to be located in the park of the Ontario Provincial Legislature.
In 2005 and 2007, he created new sculptures honouring members of Canadian Special Operations Forces serving in Afghanistan. In 2006, he completed a commission – an 11-ft long stainless steel sword adorning the Wall of Remembrance at the new national headquarters of the Royal Canadian Legion. The sculptor continues to participate in competitions and to create new Works each year.
André Gauthier's art has been the subject of several newspaper articles, TV documentaries and radio interviews and works of his have been exhibited on several occasions including participation in two exhibits at the Canadian War Museum (Ottawa). In 1998, a seven-month exhibit was held at the Mill of Kintail (Almonte, Ont) Museum of R. Tait Mckenzie's sculptures. A large selection of Colonel Gauthier's works is on exhibit at the Military Museum of Canadian Forces Base Petawawa.
Colonel Gauthier is a member of the Canadian Artists' Representation (CARFAC).
Colonel André D. Gauthier, OMM, CD, (CF Ret'd)
Gauthier Sculptures
1216 St Jerome Cres
Orleans, Ont, CANADA
K1C 2A8
Telephone: (613) 837-1592
Facsimile: (613) 837-1817
Email: gautsculpt@aol.com