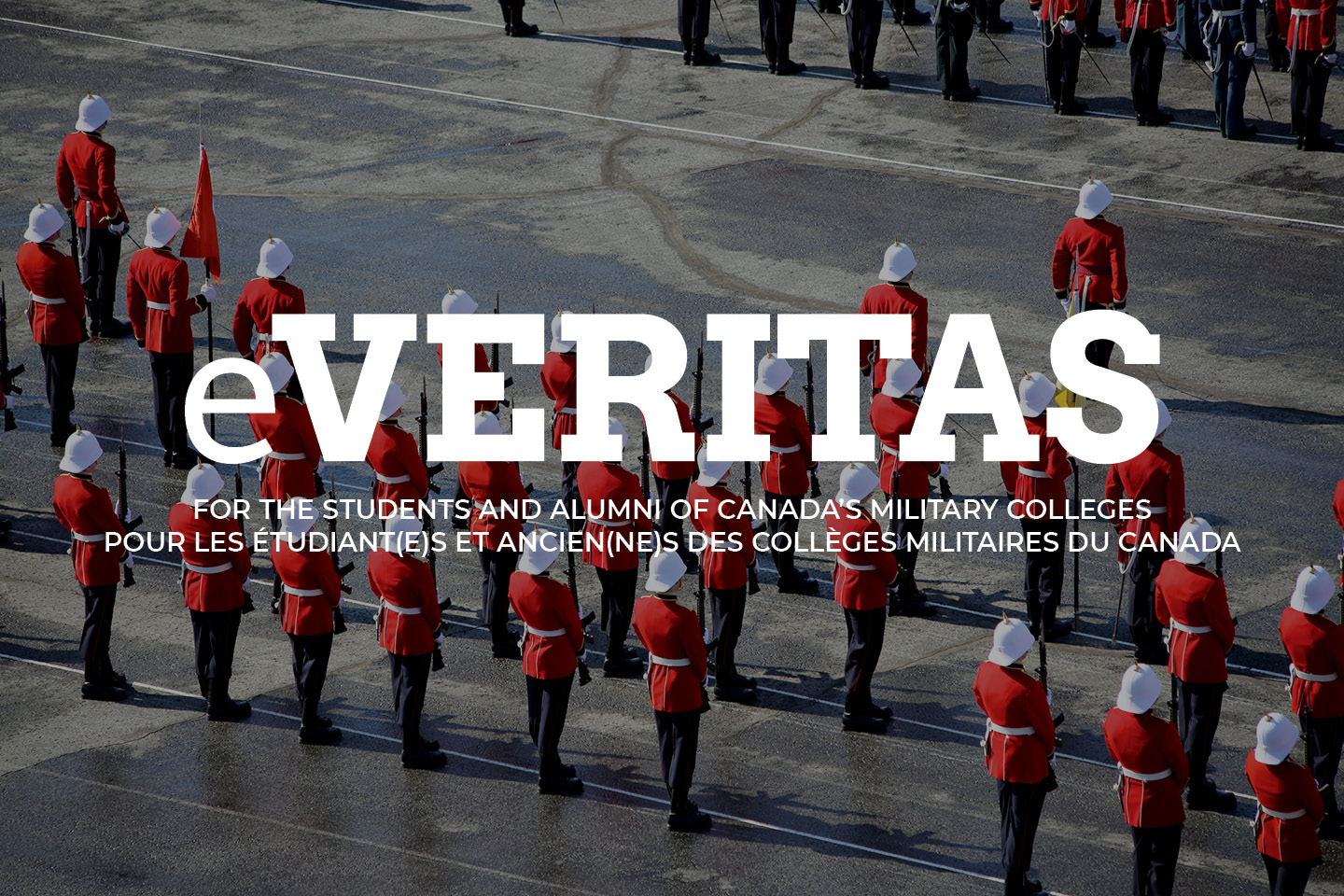 Major Danny McLeod 2007 Recipient – Air Commodore Leonard Birchall Leadership Award
President of the Toronto Branch, 16412 Gordon Clarke (RMC '89) announced at the recent Reunion Weekend Legacy Dinner that S109 Major (ret'd) Danny McLeod is the 2007 ACLBLA Receipient. The Award will be presented at the Leadership Dinner scheduled for Friday 23 November. (See Dinner details elsewhere in this edition under Announcements.)
By coincidence Major McLeod served under A/C Birchall, as Director of Athletics when the Caption: Air Commodore was Commandant at the Royal Military College of Canada from 1963-67. The two remained close friends until the passing of the Air Commodore at age 89 – 9/11/04. More on the life of Air Commodore Leonard Birchall: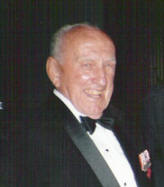 Who is this gentleman – Major Danny McLeod?
Ex cadets from the 1960s and early 1970s require no introduction to Major Danny McLeod as he was and still to this day, fondly referred to as "The Major". He ran the athletic department at RMC for 11 years. His innovative approach to the various programs: Varsity Sports; Physical Education; Intramurals; and Physical Fitness Testing were models that miliatary institutions around the world were later to emulate.
Long before his arrival at RMC and following his days at the Kingston area military college he was a man who always seemed to be making a difference.
"With a good supply of natural gas, Medicine Hat was noted by Rudyard Kipling, as having a hell for a basement". Hence, Danny's fiery spirit, "in your face hockey" and WWII heroism! Chimo"
3625 Arthur C. Wade (RRMC RMC '56)
Top of Page 

WJ "Danny" McLeod was born in Medicine Hat on November 5, 1921. He received his early education in the local area and was very active in sports during his youth. From those early years, he developed the attributes of competitiveness and fairness. Danny's early educators instructed him to reason and be logical. He learned to do well at sports through hard work combined with natural abilities. He also learned that although speed and perseverance were key, teamwork and Esprit de Corp are the main elements to success both in sports and life.
Those leadership skills Major McLeod developed as a youth were put to the test as World War II began in 1939. He enlisted in the South Alberta Regiment of the Canadian Army immediately after Canada declared war on Germany. In the years that followed, he was promoted through the ranks of Lance Corporal, Corporal, Lance Sergeant, Sergeant, and Acting Warrant Officer.
In 1942, he was commissioned as an Officer Cadet and became the first Canadian posted to the Sandhurst Military Academy in the United Kingdom for his officer training. True to his nature, Danny took full advantage of this opportunity and was rewarded with the Belt and Sword of Honour, the traditional reward for the first place student at the Sandhurst Military Academy.
After being presented with this award by Viscount (General) Montgomery, he was given command of the Canadian Army Tank Training Squadron. This unit was responsible for the training of all new recruits and Canadian units converting to the Armour Corps. In addition, the unit also carried out special training on secret weapons for armoured units, which was conducted at the Lulworth and Bovington military facilities.
By the time the invasion of Normandy occurred in June 1944, he was back with the South Alberta Regiment, which participated, in a number of missions from Normandy, through Belgium, Holland and Germany. As a result of a tank engagement, Danny was awarded the Military Cross (MC). After hostilities in Europe ended, he was posted to Vernon and Naniamo, British Columbia to organize the Armoured element for the Canadian Army about to join the USA military force on the Pacific front.
Throughout the years after the War, Major McLeod participated in and organized numerous sporting activities. His genuine love for sports is exemplified in his efforts while stationed at Canadian Army NATO Forces Europe between 1957 and 1960. During this period he organized and carried out the hosting of the Boston Bruins and the New York Rangers during their European tours.
"The Major's dedication, enthusiasm and professional approach to the Department's many responsibilities and challenges were infectious and was reflected in the high morale and camaraderie of his staff of Army, Navy, and Air Force Physical Training Instructors."
Jim Gebhardt, RMC Athletic Department 1962 – 1970
Upon his return from Europe, he was posted to the Royal Military College of Canada. In addition to his outstanding leadership at RMC in establishing modern all round athletic programs, his greatest accomplishments may have been at the national level. Under his leadership, the modern Canadian Interuniversity Athletic Union (CIAU) was constituted in 1961. (Now known as Canadian Interuniversity Sport – CIS)
He was the first CIAU Executive Director, leading it for over ten years from his office at RMC. Major McLeod also took a leading role in creating a national Canadian university hockey championship. His outstanding contributions to university hockey were recognized by the University Cup Most Valuable Player Award being named in his hounour in 2002.
In addition to this work, Major McLeod simultaneously coached the RMC Redmen hockey team, the Kingston Frontenacs of the Ontario Hockey League (OHL), and the Kingston Senior A "Aces" hockey squad. During that period the Kingston Aces represented Canada at the Spangler Cup in Davos, Switzerland, and made two appearances in the Allan Cup play-offs. For his leadership with the Frontenacs, the OHL named him Coach of the Year on two separate occasions. He was one of inaugural members to be inducted into the Kingston and District Sports Hall of Fame.
"Danny: You honoured us by marching off the square with our class in May 1970…."
RMC Class of 1970
In recognition of his outstanding service and contributions to RMC, Danny McLeod was made a honourary member of the graduating Class of 1970 and was awarded an honourary PhD by the College in 2004. He has been a long-time honourary member (number S109) of the Royal Military Colleges Club of Canada.
After retiring from the Canadian Forces in 1971, Major McLeod became a National Hockey Leagues's Supervisor of game officials. A position he held for eight years. According to Scotty Morrison, former NHL referee-in-chief, " Danny quickly established himself as a respected member of the supervisor staff. He worked in the NHL and also in the American Hockey League (AHL) and the Central Hockey League (CHL), working closely with the young officials in those leagues, many of whom attribute their training and skill development to Danny's great coaching ability and dedication."
A highlight for Danny was a year into the job that involved the training of referees and linesmen, including those European officials who took part in the 1972 Summit Series between Canada and the Soviet Union.
Aside from his lifetime commitment to sports, he has been an outstanding leader in the Veteran's community. In this role, he has organized 12 highly successful and interesting tours of Canadian battlefields and War Cemeteries in Europe for veterans and their families. He was also instrumental in the writing of the regimental history of the South Alberta Regiment.
Along side of him for most of these years from the RMC days and on, is his wife Sheila, who as everyone who knows this couple – is a tower of strength. Sheila to put it politely takes care of all the details for the Major.
Major "Danny" McLeod has lived an extraordinary life crowded with extensive contributions in wide-ranging fields. Regardless of the challenge, his approach has always been one of courage, honour and conviction. We are all the beneficiaries of and owe a collective debt of gratitude to this great Canadian who through his life-long service has made our country an immeasurably better place to live.
" A man of tremendous courage, both in war and during the protracted period of peace for which he fought so bravely, whose leadership has served as an example for all. You taught us hockey; more importantly, you taught us life skills…We salute you as a leader – a mentor – a friend."
6014 Fred Sutherland (CMR RMC '65)
Ed: Readers may want to mark 23 November – Toronto Leadership Dinner in their calendars. For those unable to attend but would like to support the Dinner, we are working on a plan to sponsor a number of cadets to attend. Please contact Bill Oliver – 1-888 386-3762 william.oliver@rmc.ca for more details.