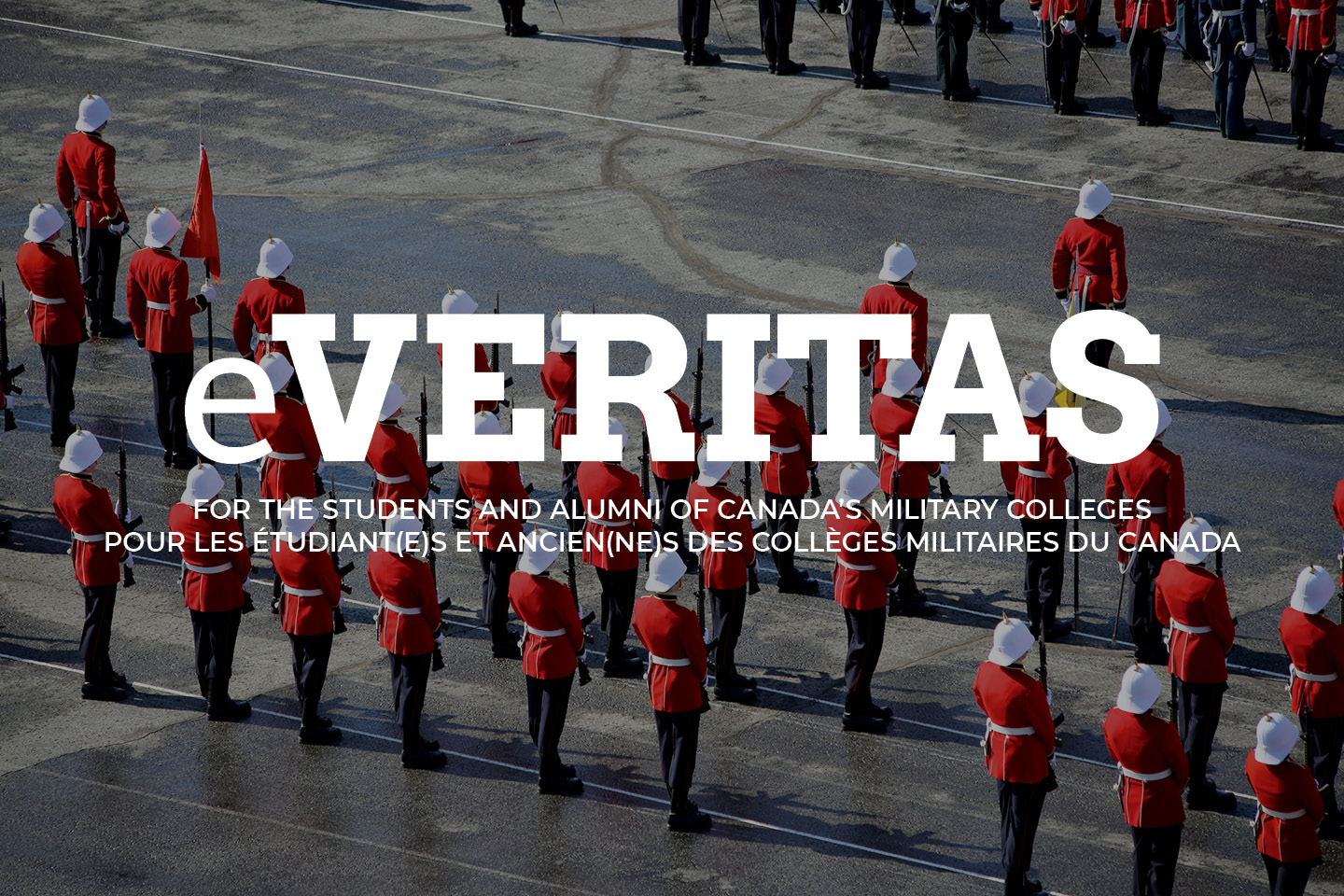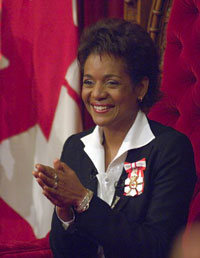 Her Excellency the Right Honourable Michaëlle Jean, recently announced the awarding of 13 Military Valour Decorations (one Star and twelve Medals) to members of the Canadian Forces who displayed gallantry and devotion to duty in combat. She also announced the awarding of 35 Meritorious Service Decorations (Military Division), namely seven Crosses and 28 Medals, to individuals whose specific achievements have brought honour to the Canadian Forces and to Canada. The recipients will be invited to receive their decorations at a presentation ceremony at a later date.  We listed below those we recognized with a Military College connection. We used photos when available.
xx
xx
E1013 Lieutenant-Colonel Darryl Albert Mills was awarded a Meritorious Service Cross (Military Division). While serving as an exchange officer with the United States Army, Lieutenant-Colonel Mills demonstrated outstanding professionalism as deputy chief of staff, 3rd Infantry Division and Multi-National Division, in Iraq. Routinely entrusted with responsibilities far exceeding his rank, Lieutenant-Colonel Mills was recognized for his analytical and decision-making abilities under the most difficult of circumstances. He was a superb ambassador who brought honour to the Canadian Forces and to Canada. He is Commanding Officer, Land Force Central Area Training Centre, CFB Meaford.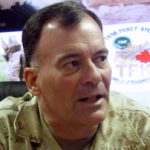 11275 Lieutenant-General Joseph Guy Marc Lessard (CMR 1977) was awarded a Meritorious Service Cross (Military Division). From February to November 2008, Lieutenant-General Lessard, then major-general, was deployed as commander of Regional Command (South). His insight into the complex nature of the battle space, coupled with his exceptional strategic vision and operational foresight, shaped the multinational counter-insurgency campaign in southern Afghanistan, and set the conditions in place for the success of multinational forces. Lieutenant-General Lessard's integrity, statesmanship and dedication ensured the coalition's operational success in Afghanistan's most violent and challenging region.
x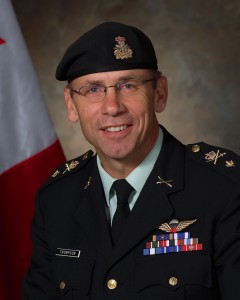 14378 Brigadier-General Denis William Thompson (CMR RMC 1984) was awarded a Meritorious Service Cross (Military Division). Brigadier-General Thompson commanded Joint Task Force Afghanistan from May 2008 to February 2009. Through hands-on leadership and in-depth knowledge of operational realities, he achieved numerous successes in disrupting insurgent activities, enabling a secure environment for development projects, and enhancing the professionalism of the Afghan security forces. His openness and co-operative approach fostered greater coherence between military and broader government efforts, and significantly enhanced Canada's mission objectives in the eyes of Afghan and coalition partners. He was appointed the Director General Land Staff in 2009.
x
x
x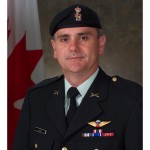 13994 Colonel Jamieson Cade (RRMC 1984) was awarded a Meritorious Service Medal (Military Division). Colonel Cade was deployed as the deputy commander of Joint Task Force Afghanistan, from May 2008 to February 2009. His leadership and unwavering determination greatly enabled the Task Force's success in operations and in establishing constructive relationships with Afghan authorities and coalition partners. Colonel Cade's personal commitment to significantly improving trust, respect, cohesion and understanding among government partners in pursuit of broader mission objectives, enhanced Canada's reputation within the international community. In June 2009, he assumed the appointment of Commandant Canadian Land Force Command and Staff College in Kingston, Ontario. Colonel Cade also holds a secondary appointment as Director of Armour.
E1145 Major Michael Roy Deutsch (RMC 2004) was awarded a Meritorious Service Medal (Military Division). From January to December 2008, Major Deutsch displayed great vision and a strong work ethic in overcoming challenges to bring troops together, procure equipment, and train personnel in order to implement the NOCTUA Unmanned Aerial Vehicle capability for Joint Task Force Afghanistan. Not only were these tasks completed five months after the contract was awarded, but were accomplished while Major Deutsch simultaneously carried out the demanding responsibilities of acting Wing operations officer. He was appointed Air Liaison Officer, Defence Research & Development Canada Atlantic in Halifax.
12702 Commander Steven Paget (RRMC 1980) was awarded a Meritorious Service Medal (Military Division). Commander Paget was deployed as the chief of staff of Task Force Arabian Sea and Combined Task Force 150 aboard Her Majesty's Canadian Ship Iroquois, from April to September 2008. His coordination skills, tireless energy and diplomatic approach ensured situational awareness and operational readiness of all coalition units, which were vital to the success of the Task Force. His initiative and dedication reinforced Canada's international reputation as an effective leader of coalition forces. He was appointed Director, Above Water Battlespace, Canadian Forces Maritime Warfare Center, in Halifax.
M0647 Major Catherine Enid Potts (RMC 1992) was awarded a Meritorious Service Medal (Military Division). Major Potts was deployed to Afghanistan as the officer commanding the Air Capability Activation Team, from June 2008 to January 2009. Through tireless liaison and meticulous planning, she oversaw the introduction of unmanned aerial vehicle detachments, new civilian and military helicopter capabilities, and the establishment of the Joint Task Force Afghanistan Air Wing without compromising ongoing operations at Kandahar Airfield. Major Potts's leadership, knowledge and exemplary dedication ensured the integration of enhanced air capabilities into Task Force operations. She was appointed J4, Canadian Forces Joint Support Group HQ in Kingston.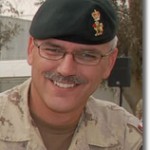 14341 Colonel Jean-François Riffou (CMR 1984) was awarded a Meritorious Service Medal (Military Division). Colonel Riffou was deployed to Afghanistan as the commanding officer of the Operational Mentoring and Liaison Team, from February to September 2008. His outstanding mentorship of the Afghan National Army's 1 Brigade, 205 Corps brought them to the top capability milestone, and empowered the unit and its leadership to independently conduct increasingly complex operations. Colonel Riffou's patience, leadership and commanding presence inspired his subordinates, enhanced Afghan National Army operational effectiveness, and brought great credit to Canada's reputation in theatre. He was appointed Chief of Staff, Canadian Forces College in November 2008.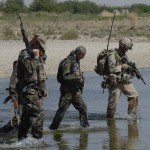 xxxxxx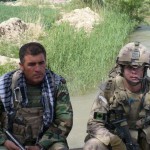 xxxxxx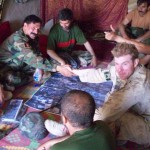 3 Photos which highlight our on-going work with the ANA. 1 and 2 are with the CO of 2/1/205 (ANA), Col  Sheren Shaw. Photo 3 is with the CO (LCol Hussein) and HQ of 3/1/205 (ANA).
21293 Major Robert Tennant Ritchie, M.S.M., C.D. (RMC 1998) pictured in the 3 photos was awarded the Meritorious Service Medal (Military Division). Major Ritchie was deployed to the Zharey district, in Afghanistan, with an operational mentoring and liaison team, from March to September 2008. His interpersonal skills and mentorship abilities culminated in the Afghan Battalion (for which he was responsible) achieving the highest level of recognized proficiency. During operations, his analytical approach, decisive actions and ability to synchronize the management of Afghan and Canadian combat assets saved Afghan lives and successfully disrupted insurgent activities. Major Ritchie's outstanding front line leadership enhanced the capability of Afghan National Army forces in the region. He was subsequently appointed OC A Coy, 3 PPCLI (or Third Battalion, Princess Patricia's Canadian Light Infantry and is currently attending JCSP 36 at Canadian Forces Command and Staff Course.
View the entire GG announcement  here.  We likely missed someone – if we did let us know.
_______________________________________________________
RMC grads, Tim Haig and Kevin Norton -Biodiesel Pioneers BIOX Awarded Entrepreneur of the Year Cleantech Award.
Ontario Ernst & Young Entrepreneur of the Year 2009 Awards Announced
OTTAWA – The Canadian Renewable Fuels Association today congratulated biodiesel pioneers 14971 Timothy Haig (RMC 1985) and 16890 Kevin Norton (RMC 1989) of BIOX Corp on being awarded the 2009 Ontario Ernst & Young Entrepreneur of The Year – .
"BIOX is globally recognized as a biodiesel pioneer, and today's cleantech entrepreneur award for Tim and Kevin is an affirmation of their pioneering efforts," said Gordon Quaiattini, president of the Canadian Renewable Fuels Association. "BIOX is proof of the promise of renewable fuels in Canada. They are reducing harmful greenhouse gas emissions, diversifying the fuel supply and creating new high value jobs."
BIOX designed, built, owns and operates a 60 million litre per annum biodiesel production facility in Hamilton, Ontario. The BIOX biodiesel plant is one of the largest continuous flow biodiesel production facilities in the world.
Founded in 1984, the Canadian Renewable Fuels Association (CRFA) is a non-profit organization with a mission to promote the use of renewable fuels for transportation through consumer awareness and government liaison activities.