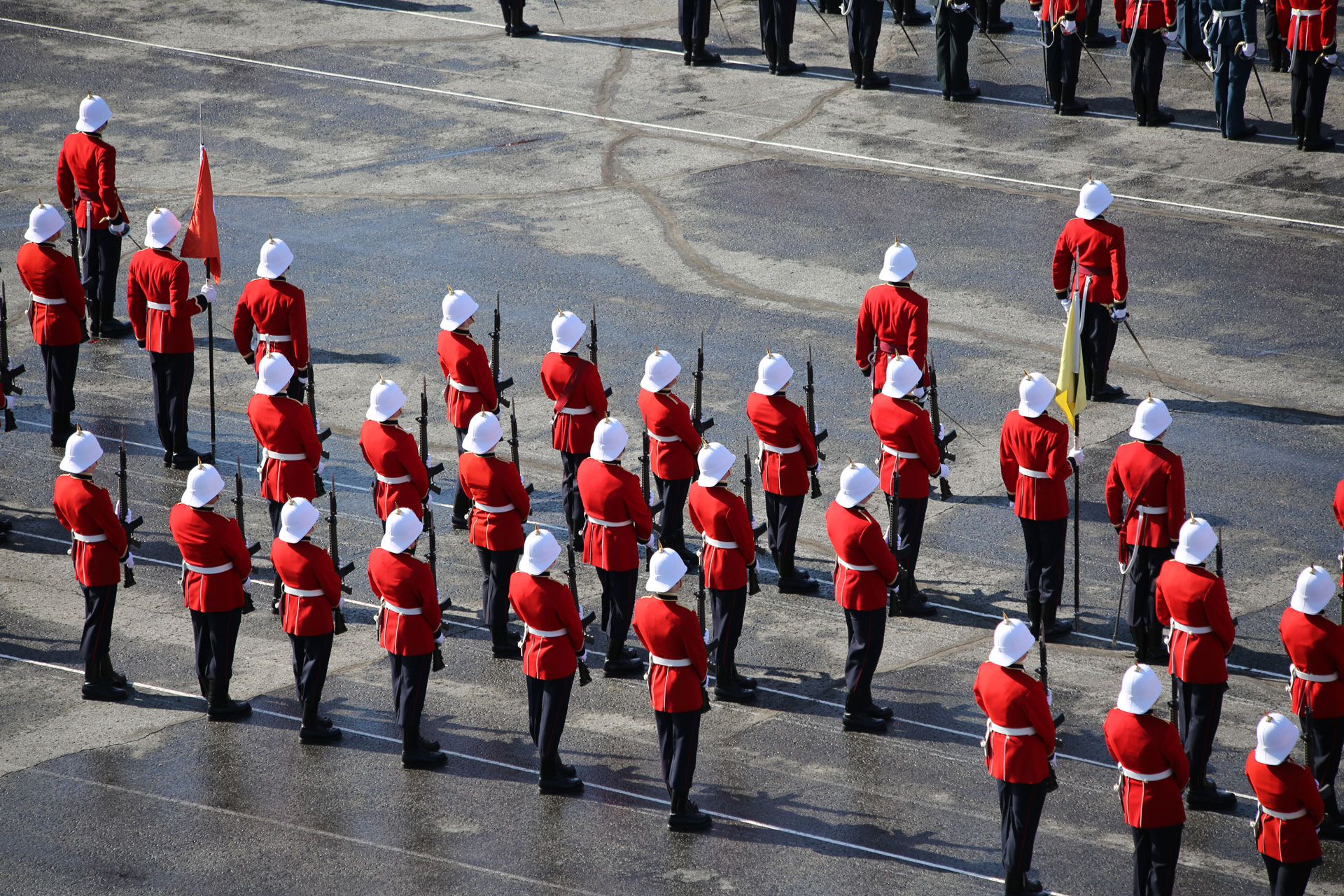 E3161 Victoria Edwards (RMC 2003) connected with 14725 Donald Falardeau (RMC 1985) who served as Cadet Wing Commander in 1985. [donaldfalardeau@videotron.ca]
e-veritas: What are your memories of being CWC?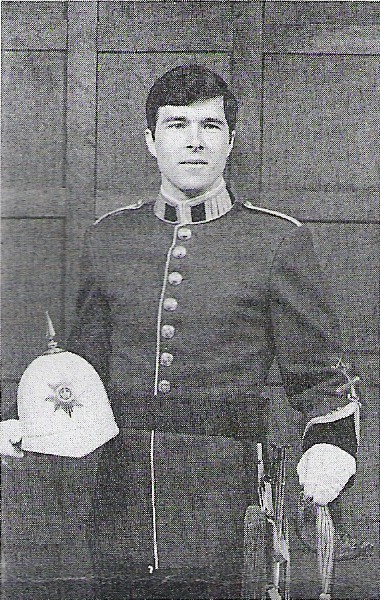 Donald Falardeau: My memories of being CWC are of great privilege and pride. I was fortunate to be bilingual and quite disciplined in all pillars of the college. In short, I loved every facet of college life. The best memories of being CWC must have been the parades we conducted outside the college, such as the opening of the Parliament by the H16929 Right Honourable Jeanne Sauvé, [then Canada's first Governor General and Commander-in-Chief of Canada, (May 14, 1984 until Jan. 29, 1990)].
e-veritas: What are your memories of 15040 Captain (Ret'd) Paul Stanborough (RMC 1985), who was your Deputy Cadet Wing Commander?
Donald Falardeau: 15040 Captain (Ret'd) Paul E. Stanborough (RMC 1985) was the DCWC in 1985. Paul is certainly one of the most intelligent and nicest person I have had the pleasure to meet. [At RMC, Paul Stanborough played varsity rugby and was a member of the varsity judo team. He was elected President of the RMC Debating Society, debating in the Canadian and World Student Debating Championships. In 1983 he won the Governor General's Silver Medal for the highest academic standing in Second Year. In 1985 he was awarded a Rhodes Scholarship which took him to Oxford University where he studied for two years and was awarded his Master of Letters (Modern History). After his return to Canada in 1987, Paul Stanborough became a Platoon Commander with The Royal Canadian Regiment with the rank of Lieutenant. While attached to the RCR his training assignments included postings to Denmark and Norway. In 1989-90 he was a peacekeeper stationed in Cyprus. After being posted back to Canada he served as a Staff Officer with the rank of Captain at Canadian Army Headquarters. For the past 18 years, he has worked for several Financial Services companies in Canada and the US, running call centres and banking operations. ?p=1785]
e-veritas: What are your memories of 3572 BGen (Ret) Frank J. Norman CD (RMC 1956), who was the Commandant of RMC from 1982-5?
Donald Falardeau: BGen (Ret) Frank Norman is a true gentlemen and firm believer in the College system. He always left his door open to discuss on any subject and he also had an opinion on every subject!
e-veritas: Any significant event at RMC in 1985?
Donald Falardeau: Not sure if it was the 100 or 500 days to grad party where RMC got banned from the Polish Hall. If I recall correctly, I remember a lot of happy people, with lots of liquid on the floor, some diving competitions, some broken chairs… tables…As true gentlemen , the guilty owned up to the event and commemorative buttons were made up. I believe the Mil staff had asked to recall these buttons, but I know for a fact that some still exist on the black market! [Gen Frank Norman says he has no memory of the event, but then he only remembers the good bits! Cheers Frank]
e-veritas: What was the process of becoming CWC?
Donald Falardeau: There was no real process. On one morning just before a practice parade leading to the graduation parade in my third year, the Squadron Boss asked me to meet the Director of Cadets in front of the Mackenzie Building. That was it. In terms of what you had to do to be appointed, in my case, nothing outside the norm other than performing in all aspect of college life. I was on the varsity Volleyball team, had excel in academics in my first and second year (slightly less in my third!) staying close to the academic crown, was quite the keener on the military front and maintained good relationships with all of my peers.
e-veritas: What were your responsibilities as CWC?
Donald Falardeau: The main responsibility was I guess to make the cadet wing look professional by leading from example and ensuring others also led by example. It was to take the CWC title seriously and with humility, knowing very well that numerous others could have held the position. Staying true to yourself was key.
e-veritas: Outline your road path while you were in the military.
Donald Falardeau: Once I completed the Aerospace Engineering basic course, I was chosen for one of the top postings, Germany. I was a maintenance officer on one of the newly formed CF-18 Squadrons in Baden-Soellingen. I returned to Canada in a staff position and then came back to RMC to earn a Master of Engineering degree in embedded real time software systems. I spent the remaining 6 years working on the CF-18 Software System and stood up the CF-18 Software Detachment in Mirabel as the Det Commander. I retired in 2000 as a Major and got attached to what I now call my home town, Blainville, Quebec.
e-veritas: What were the lessons learned and experiences obtained that were put to use in later life?
Donald Falardeau: Self confidence is certainly one aspect that got boosted when you are put in front of your peers and also the responsibility to not disappoint. That meant that as CWC you had to earn that respect and credibility.
e-veritas: Any mentors or friends that you have stayed in touch with?
Donald Falardeau: To be honest, I lived quite the normal life after Military College. I stayed in touch with the ex-buds that I worked with throughout the years that followed. I am very proud and happy for those that we see and hear in the news. What is most important is the time you spent in that very formative environment. I am going to the ex cadet weekend this year for my 25 year reunion and looking forward to it.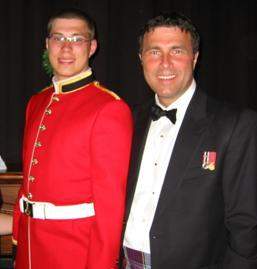 e-veritas: What advice have you given your son 25583 Ocdt Mathieu Falardeau, who is a cadet at RMC?
Donald Falardeau: I was lucky to meet my wife on my first posting in Germany, a French girl from Montreal… what are the odds! I am happily married with three grown children, one of which [25583 Ocdt Mathieu Falardeau] is in second year at RMC. My advice to Mathieu is simply to enjoy the moment and do what you feel is right…but stay on top of your academics!! Again staying true to yourself and respecting others. Now that's a winning combination.
e-veritas: I understand that you work on the Griffon programs at Bell Helicopter in Mirabel Quebec.
Donald Falardeau: I am the Engineering Support Manager at Bell Helicopter in Mirabel Quebec on a service contract for the CH146 Griffon programs The service contract his headed by four ex-cadets: 12912 Benoit Arcand (RMC 82) as the main cheese, 13554 Francois Tremblay (CMR 83), 14373 Pierre-André Taillefer (CMR 84) and myself. What a pleasure it is to work with a bunch of guy you like and respect. We are the prime support contractor for the Griffon Helicopter providing a wide range of services touching aircraft maintenance, engineering design changes and investigation, structural support programs, parts supply, repair and overhaul, publication change management and so on. www.bellhelicopter.textron.com
e-veritas: Explain how the Griffon programs enable the vital capability it provides in Afghanistan.
Donald Falardeau: Last year I lead the team that integrated in record time a new Electro Optic and Infrared system that was urgently needed in support of the Griffon mission in Afghanistan. The team of engineers, technicians, product support, manufacturing support, project office and contract personnel were proud to be part of this fast pace, exciting and meaningful project that turned into a great success.
[Griffon helicopters have proven itself effective in Afghanistan. With Griffons providing aerial escort protection for Chinook medium – to heavy – lift helicopters, ISAF can reduce ground based resupply convoys and reach remote locations in challenging environments more easily, lowering the risk of ambushes, land mines and improvised explosive devices. In addition to aerial helicopter escort, Griffon helicopters may be used for moving troops, intelligence, surveillance and reconnaissance missions.]
e-veritas: Outline the role of ex-cadets at Bell Helicopter.
Donald Falardeau: Careers at Bell Helicopter in management, engineering, and manufacturing attract ex-cadets. There is a significant number of ex-cadets at Bell, who span the entire corporate hierarchy. At the directing staff levels, for example, you find 11589 Marc Bourret (CMR 77) as VP Operations. Ex-cadets are natural leaders who attract and motivate bright minds. Common traits are that they are hard workers, who care for others, are great visionaries and communicate well. I guess the words Truth Duty Valour do stick with you for life!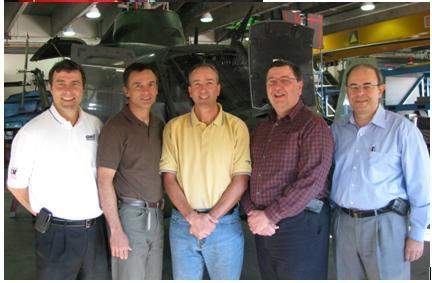 (Ex cadet picture left to right: 14725 Donald Falardeau, 14373 Pierre-Andre Taillefer, 13554 François Tremblay, 12912 Benoit Arcand, 11589 Marc Bourret)