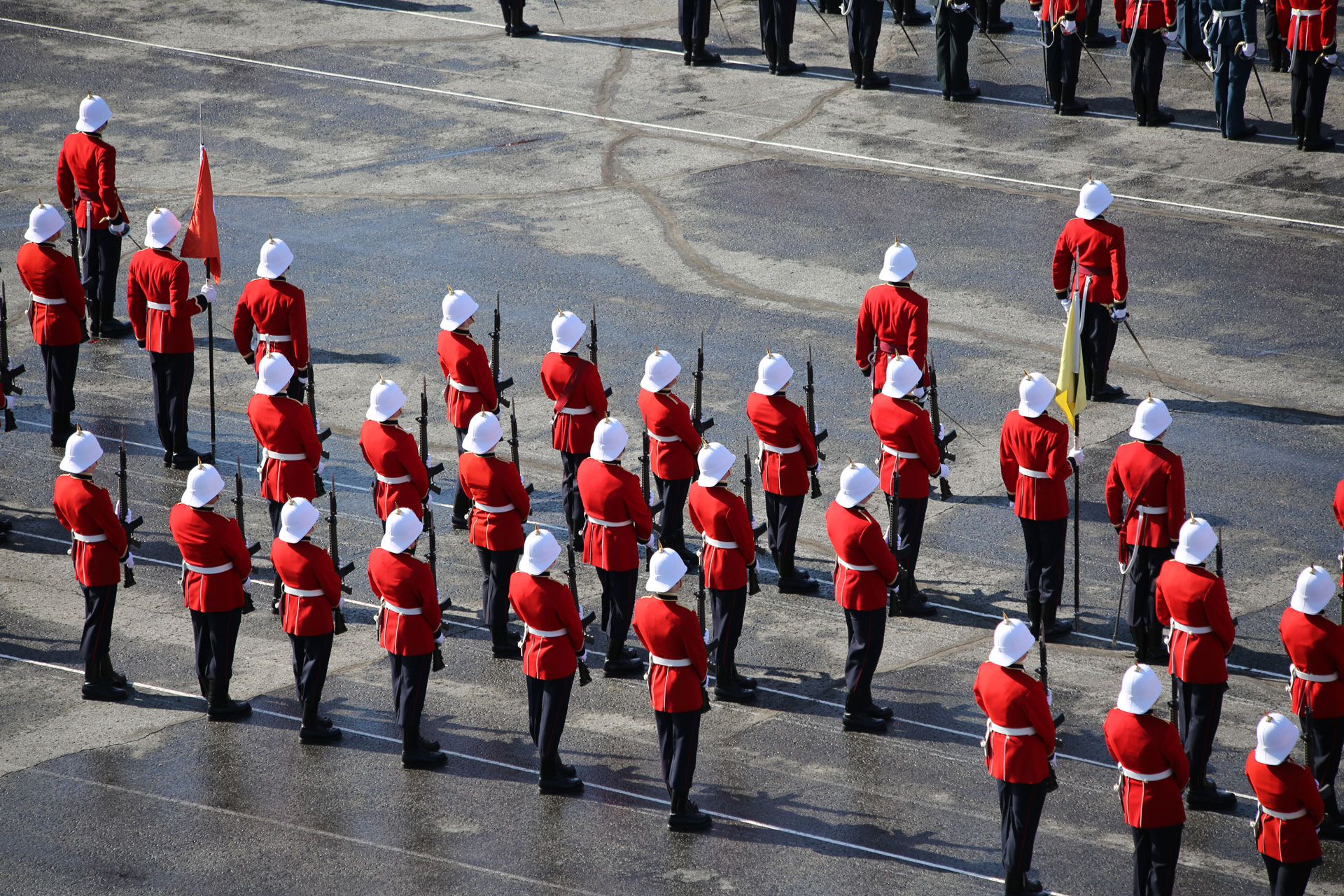 Visite d'étudiants de West Point au CMR Saint-Jean
– un article du Maj Martin Couët
Le Collège militaire royal de Saint-Jean (CMR Saint-Jean) a reçu la visite de 15 étudiants du United States Military Academy de West Point, le vendredi 23 octobre dernier. La visite, organisée et tenue informellement, a pris place dans le cadre d'une fin de semaine de visites des étudiants américains dans la région de Montréal. Ces étudiants, tous membres d'un programme d'immersion française à West Point, sont de différents niveaux d'études, allant de la 1ère à la 4ème année, et se dirigent dans divers métiers de l'armée de terre. À la différence des élèves-officiers des collèges militaires canadiens, les étudiants américains peuvent se joindre à une institution d'enseignement d'un élément particulier, soit la Marine, l'Armée ou l'Aviation.
La visite a permis de jeter un coup d'œil au pavillon De Léry, aux installations sportives, aux dortoirs, au Musée et au Mess Saint-Maurice. Comme prévu, ce sont les dortoirs qui ont le plus suscité la curiosité des élof américains, alors que les modes de vie et les exigences de normes et d'équipement sont toujours des points de comparaison favoris entre les membres de différentes forces militaires. La visite du Musée a aussi été des plus intéressantes et instructives, car cela a permis de démontrer l'interaction entre les forces militaires des Etats-Unis et du Canada au cours des siècles. Ces interactions n'ont pas toujours été amicales, tel que démontré par la guerre de 1812 où les troupes canadiennes ont réussi à repousser l'envahisseur américain.
Les élof de West Point ont été mis en contact avec un groupe d'élof du CMR Saint-Jean lors de la visite du Mess Le Saint-Maurice. Les deux groupes se sont ensuite dirigés vers le pavillon Dextraze où ils ont pu dîner ensemble et discuter de leurs expériences communes au sein de leurs institutions respectives. Les discussions ont certainement été fructueuses, car la période de temps allouée pour le dîner a dû être quelque peu prolongée.
Tant le personnel du CMR Saint-Jean que les visiteurs ont grandement apprécié la visite. Il existait un programme de visites entre le CMR Saint-Jean et West Point avant la fermeture du CMR en 1995. Qui sait, peut-être que l'on verra bientôt le retour de ce genre d'activité au Collège!
Bas de vignette : L'élof Hunt et le Capt Vidal, de l'escadron Tracy, montrent aux visiteurs les procédures en vigueur en ce qui a trait aux normes d'inspection des quartiers.
Crédit photo : Maj Martin Couët
xxxxxxxxxxxxxxxxxxxxxxxxxxxxxxxx
Unites States Military Academy West Point visits RMCSJ
– an article by Maj Martin Couët.
Royal Military College Saint Jean (RMCSJ) hosted 15 students from the United States Military Academy, located in West Point (New York state), on Friday 23 October. The informal visit took place as part of a cultural awareness weekend in the Montreal area by the members of the West Point French immersion club. The 15 students were at various stages of their program at the Academy, and will be joining various trades upon their graduation as officers in the US Army. Unlike Canadian officer-cadets, American cadets have the option of joining a military institution specifically related to a military environment, whether it be Army, Navy or Air Force.
The tour allowed the visitors to take a look at the De Léry building, the sports facilities, the quarters, the Museum and the St-Maurice mess. As expected, the quarters were the highlight of the tour, as the American cadets were very keen to learn more about the living conditions of their Canadian counterparts, as well as see firsthand the equipment and inspection standards that are in effect in Canadian military colleges. The time spent at the Museum was also very interesting, as all were exposed to a part of our past that is very intimately linked to the history of the United States: in the last four centuries, many military endeavors (either friendly or hostile) had a direct impact on each country's military. Probably the best example of that fact is the war of 1812, when Canadian troops were able to repel the American invaders on their way to attack Montreal and its British-led garrison.
The West Point cadets were put in contact with a group of RMCSJ cadets during their tour of the St-Maurice mess. Both groups then made their way to the Dextraze building together for lunch, where they had the opportunity o discuss some more about their common experiences as officer-cadets in their respective military college environment. Those discussions must have been quite entertaining, as the time allocated for lunch had to be extended.
RMCSJ personnel involved in the tour greatly enjoyed the visit, as well as their guests. There used to be an exchange program between both institutions before RMCSJ was closed back in 1995. Who knows, maybe this visit was the first step towards reinstating such a program !
Photo caption: OCdt Hunt and Capt Vidal, from Tracy Squadron, show our guests the room inspection standards that are in effect at CMRSJ.
Photo credit: Maj Martin Couët
__________________________________________________________________________________________________
Le Hockey est de retour au CMR de Saint-Jean
Un article de l'élof 25569 Braden Casper

La Division des élèves-officiers est fière qu'une équipe de Hockey soit de retour au Collège militaire royal de Saint-Jean (CMR Saint-Jean). Portant le même nom qu'en 1995, l'équipe des Remparts est composée d'élèves-officiers qui ont été choisis pour atteindre leur plein potentiel en compétition. Chacun des membres de l'équipe souhaite également se joindre à l'équipe du RMRC à Kingston et pour ce faire, ils doivent parfaire leurs habiletés ici même à Saint-Jean. Cette année, l'objectif que s'est donné l'équipe n'est rien de moins que de gagner le championnat de la ligue. Y parvenir sera tout un défi puisque chaque mardi, les Remparts doivent se mesurer à une équipe de taille.

Les Remparts ont connu un bon début de saison en remportant quatre victoires contre deux défaites. À chaque partie, l'équipe a élevé son niveau de jeux, ce qui a augmenté l'esprit de compétition entre les opposants. La première partie de la saison a été très serrée en première et en deuxième période, mais les Remparts ont réussi à prendre une avance confortable en troisième période, terminant le match 6-3. La jeune équipe a connu un excellent début de deuxième match, mais l'avance de 3-1 qu'avaient les Remparts en début de troisième période n'a pas tenu le coup devant la remontée du PSP/Génie, qui a finalement décroché la victoire 5-3. Au cours du troisième match de la saison disputé contre l'ELRFC 2, le meilleur marqueur des Remparts, l'élof 25660 Richer, a effectué son premier tour du chapeau qui a mené les Remparts à une victoire de 6-3. En octobre, l'équipe a remporté deux des trois matchs disputés. La fiche des Remparts nous indique donc que tous les espoirs sont permis pour la nouvelle équipe.

Les matchs de l'équipe ont lieu chaque mardi soir et les pratiques hebdomadaires du jeudi permettent de développer les stratégies de jeu ainsi que les habiletés individuelles des joueurs. Le 3 décembre prochain, les Remparts auront l'opportunité de recevoir l'entraîneur de l'équipe du CMRC de Kingston, qui dirigera la pratique et aidera les joueurs à atteindre un niveau plus élevé de jeu. Ce sera là une occasion à saisir pour les joueurs puisque plusieurs d'entre eux tenteront de se qualifier à l'épreuve de sélection de l'équipe de Hockey de Kingston l'an prochain. Les Remparts joueront leurs matchs tous les mardis soirs de la saison et de match en match, l'équipe apprécie toujours la présence et les encouragements de ses fans. Au plaisir de vous y voir en grand nombre!
Bas de vignette : L'équipe de hockey représentative est de retour au Collège militaire royal de Saint-Jean. (Photo: 25902 OCdt Niogel Mahon)
Picture : Representative hockey team is back at the Royal Military College of Saint-Jean. (Photo: 25902 OCdt Niogel Mahon)
Hockey is Back at RMC Saint-Jean
The Officer Cadet Division is proud to have a Hockey team back in RMC Saint-Jean. Bearing the same name as it did in 1995, the Remparts team is composed of officer cadets who have been selected to compete to their fullest potential. Each member has a goal to continue playing hockey at RMC Kingston and in order to do so, they must continue to improve their skills in Saint-Jean. This year, the aim of the team is nothing less than to win the championship of the league in which we currently compete. Achieving this will be a challenge, since the competition level every Tuesday night is quite high.
x
So far throughout the season, the Remparts have fared well with four wins and three losses. Each game has been a challenge where the team has had to step up their game in order to compete with their opponent. The first game, the Remparts were in close with the opposing team but managed to pull ahead in the third period, claiming the 6-3 victory. The Remparts came out of the second game on fire going into the third period with a 3-1 lead but they were unable to handle the PSP/Engineering team who managed to put forth a comeback and defeated the Remparts 5-3. In the third game, Remparts' leading scorer, 25660 OCdt Richer, would not be denied scoring a hat trick against the ELRFC 2 team, leading the Remparts to a 6-3 victory. In October, they won two of the three games played and the results obtained indicate that there is no limit to what we can hope for the team.
The Remparts have games every Tuesday night and practices on Thursday, at which they work hard to improve team strategies and individual skills. Coming on Dec 3, 2009, the RMC Kingston coach will lead the practice and help officer cadets reach the next level of their playing ability. This is a great opportunity for the RMC Saint-Jean officer cadets as many will be trying out for RMC Kingston next year. The Remparts will be competing every Tuesday night and continue to look forward to seeing and hearing the support of its fans throughout the games. See you there!
x
Written by 25569 OCdt Braden Casper