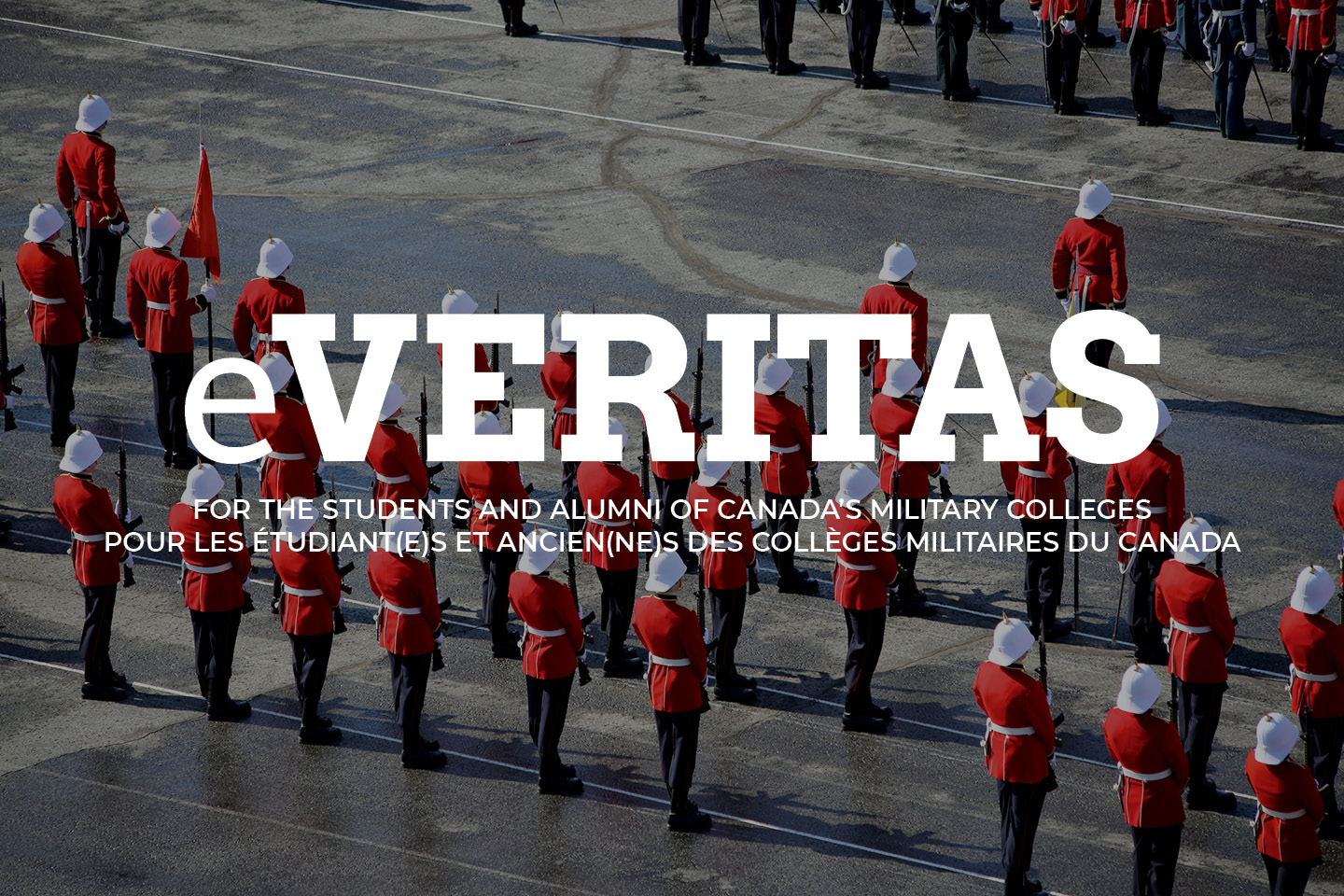 Stratford WINTERFEST
Hi, Bill,
No. 5472 of the Class of '62 here … to share some fun I've been having this last while:
a) For the past three years, since moving from Yarmouth to Stratford, I've designed the Stratford WINTERFEST poster. Such involvement came about purely by accident from my winning a logo competition for the local Active Adults Association, but what a door-opener for both me and Loricoming into this community. Great fun! And once again, I give RMC the nod because it was there, as I believe I've shared before, that I received my first serious encouragement to do what has been since a lifelong joy for me. For this year's festival, I was asked to create a new logo … which appears in the upper right corner of the following photo.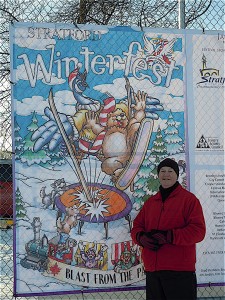 My daughter Pa took this pic for me yesterday at the park where the fun took place. Our youngest grandsons, 8 and 6, were over once again from London to take part.
b) But that's not all. Another totally unexpected delight arrived via e-mail back in September: an invitation to join a choir that was scheduled to travel to London, England at the end of the year to sing at two churches there, one being St. Paul's Cathedral. The choir, The Cathedral Singers of Ontario, a 45 mixed voice group made up of singers from central and southern Ontario, many of whom are veterans of this choir which assembles twice yearly for such trips to the UK. After three intense Saturday practices here in Stratford (one each of October, November, and December) we flew to England December 29th, returning January 9th, the choir having sung a choral eucharist service at the charming and intimate church, St. John Hyde Park on New Years Day followed by four evensong services at St. Paul's the following four days.
Having begun my choir involvement as a boy chorister at seven years of age at both a large Toronto church and at Upper Canada College, to be followed by those delightful years in the RMC Glee Club under Colonel Gelley, and now being involved regularly in three choirs here (the Stratford Men's Choir, the St. James' Anglican Church choir, and the Stratford Concert Choir) after twenty-five years with the Yarmouth Shantymen (under the direction of RMC alumnus Eric Ruff of the Class of '68), this UK adventure was such a high.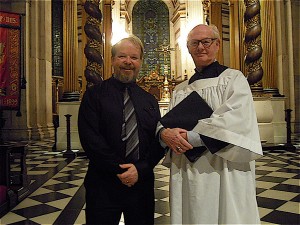 My dear Lori took this pic of Cathedral Singers of Ontario founder and choir director Ian Sadler after our final service at St. Paul's, Bill. Ian is a celebrated organist, much in demand across this continent and in the UK. He himself was trained as a boy chorister at St. Paul's, becoming a preeminent concert performer subsequently. Among other honours, he is a member of the Order of Ontario. He played the organ for our St. Paul's services while a local colleague directed us. Lots to learn each step of the way.
Lori and I are now settling in for the next excitement, the arrival at the end of March or early April of our sixth grandchild, our fifth grandson in Toronto. In two weeks we are to be in Toronto so that we can paint the nursery and Grampi can create a monkey mural the parents have asked him to do.
Trusting this New Year has started well for you. Joy and blessings in abundance.
Sincerely, and with a smile in the heart,
James E .(as I was known to many in my Class of '62)
(519) 271-1142  proffoss@wightman.ca
__________________________________________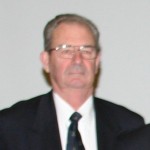 … the picture of Tom Gelley along with his short bio brought back an interesting memory. My dad (2428 Jim Houghton) knew Mr. Gelley from his 5 years at RMC (1934-39), spoke highly of him with great respect, and warned me to be very polite as Mr. Gelley was to be on my selection Board for CMR. Good advice as Mr. Gelley grilled me without any sign of mercy on my absence of a second language through high school. As far as I was concerned there would definitely be no CMR or RMC in my future. To this day, still not sure why I was accepted, but just maybe Mr. Gelley saw something…………………………….. I will be eternally grateful to him.
Best regards, 6475 Michael J. Houghton (photo)
__________________________________________
Thank you for including the blurb on our christening. My dad has received some emails about it from ex-cadets he knows so he was tickled pink. 🙂
Thank you again!
 Sandra Price
__________________________________________
Danny
I was reviewing the most recent RMC newsletter & saw the article in the Medicine Hat News re your induction into the Sports Wall of Fame
Your photo suggests that you are still rolling out of bed & pumping off a few hundred push-ups each morning
Your vigour and enthusiasm is a continuing inspiration to all of us who have tried, unsuccessfully I might say, to keep up with your pace.
Continued regards & admiration
Ken MacAuley
RMC #7675
RMC Redmen: 1965 – 1968