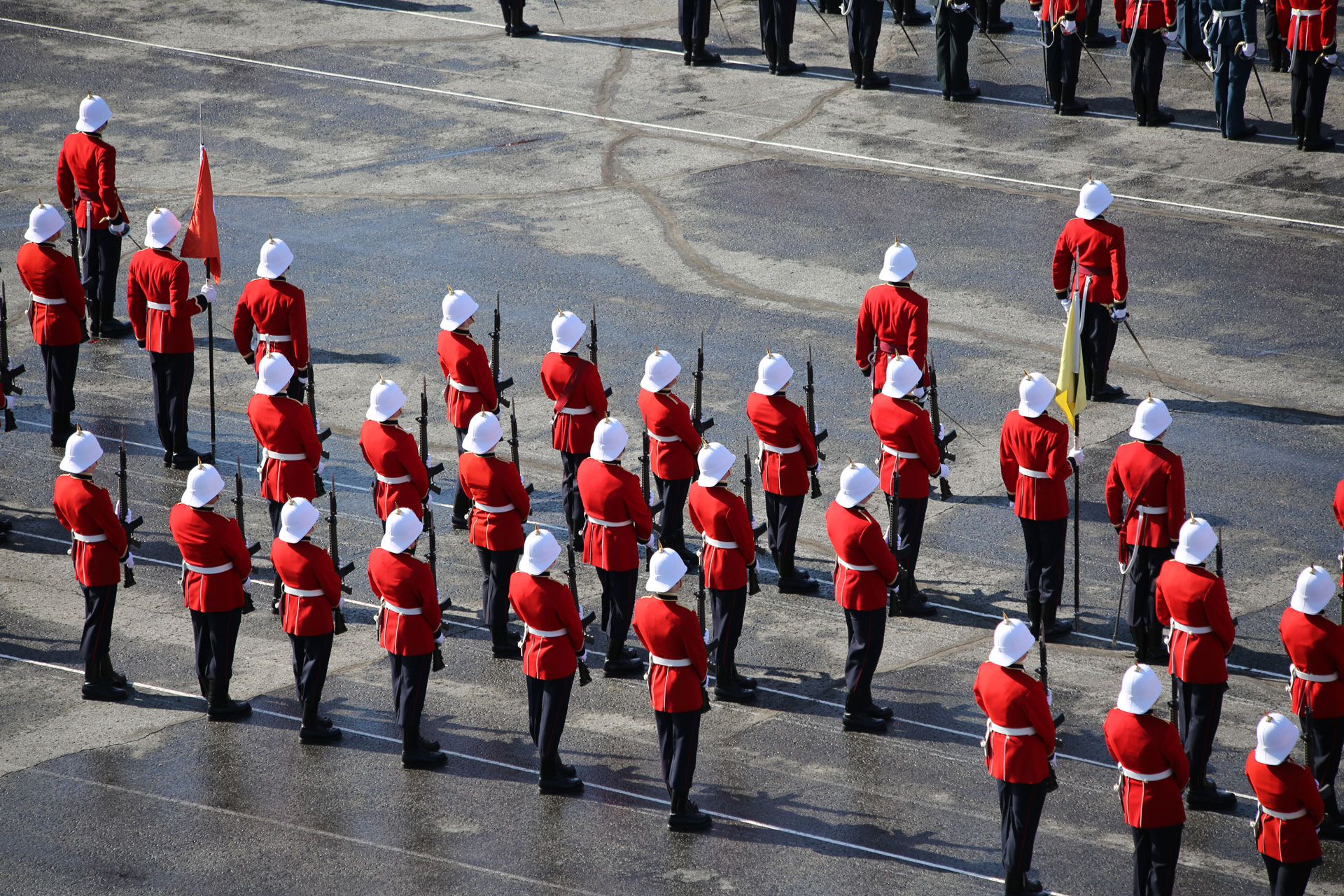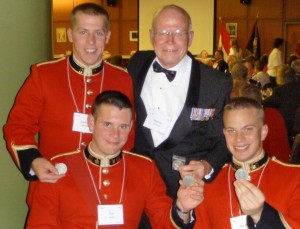 The Coin Challenge
At the start of the Legacy Dinner this year 3550 Murray Johnston employed an age-old Services tradition that is intended to encourage camaraderie among friends relaxing in the mess. He "coined" the six cadets at his table. The challenge was successfully met by the three cadets who had their coins with them and Murray owes each a drink. Each of the three cadets who forgot to bring their coins with them owe Murray a drink.
On balance Murray came out even on the challenge. The three winners, pictured with him, are; (top left) 25076 Andrew Sandfield, (bottom left) 24841 Tom Isnor and (bottom right) 24913 Jeremy Whalen. They know who the losers are and can collect their drinks from them. Overall, however, we were all winners as the coining was an immediate ice breaker at our table and we went on to having an enjoyable, if somewhat noisy evening.
TDV-VDV
Murray Johnston
murraycj@rogers.com
___________________________________________________________
OUTSTANDING issue of E-veritas
I enjoyed articles and photos – lots of great photos
Well done !!!
BRAVO!!!!!!!!!!
Cheers eh !!!
Digger
___________________________________________________________
The waterpolo Ex-Cadets team beat the RMC team on Saturday with a score of 14-12. It was mostly a one-sided affair until the 4th quarter when the cadets made a few old guys sweat as they scored a few unanswered consecutive goals (Could the ex-cadets not be fit enough to play a full game?!)… So the Ex-Cadets remain undefeated in this fall classic and will continue to "own" the Mike Allen Trophy. The Ex-Cadets would like to thank the organizers of this game, Jesse Coville-Primeau (class of 2010) and Tyler Billings (class of 2011), for putting together another smoothly run RMC event! We're already looking forward to next year's game.
A few highlights:
· 25169 Andrew Steel was selected by the ex-cadets as the MVP on the RMC team.
· Thanks to Alain Nicolle and Stephen Paish for volunteering to play nets for the ex-cadets…
· Bruce "Hands" Forrester, Marc Joly, Jean-Philippe Caron and Dave Alexander showed they still could find the back of the net.
· Pierre Tremblay played solidly on defense, stealing balls and creating break-away opportunities for the Ex-Cadets.
· 25103 Tyler Billings did very well containing HMCS Joel Primeau in the hole: does Joel really have 120 lbs on Tyler?
15884 Joel Primeau (CMR RMC 1987)
___________________________________________________________
What an excellent Ex-Cadet Week-end.  Outstanding, thank you to all of you who worked hard to organize it. I had a visit from the Good Idea Fairy last night. It would be nice if there was a webcam on the Club website one could log on to. It might be on the second floor of Panet House for example, and could show a view of the Parade Square. With all the Cadet Tech Wizards on campus, this should not be too hard to set up…maybe.
Anyway, just a thought!
Cheers!
12373 Pierre Langevin (CMR RMC 1979)
___________________________________________________________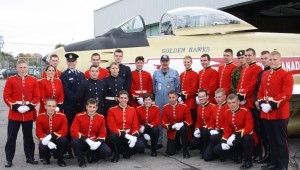 On Sunday October 4th, 24 cadets made their way to the Kingston Flying Club at the Norman Rogers Airport in order to view Hawk One, the Canadian Sabre. After a group photo, cadets were able to interact with the pilot, Lieutenant Colonel (Ret'd) Dan Dempsey, a graduate of RRMC and RMC.Also in attendance was Gerald Haddon, grandson of J.A.D. McCurdy, the pilot of the Silver Dart. It made for a great afternoon as cadets got to sit in the cockpit and put themselves in the shoes of the pilots of the Golden Hawks, Canada's air demonstration team between 1959 and 1964. Hawk one is a tribute to the commemoration of 100 years of powered flight in Canada.
24620 OCdt R.S. Harbottle (RMC 2010)
7 SQN – D/CSL
Flying Club President
___________________________________________________________
Even though I attended the reunion this year (class of 69), I had no idea that Sky King had passed away. I just learned through reading eVeritas! I had a chance to chat with Garry in the mess last November, at Remembrance Day, and I had expectations of seeing him again at the mess. I worked for him when he was the Base Commander at Trenton and I had no idea that he was ill. He was a great guy and will be missed.
8190 Don Timperon (RRMC RMC 1969)
___________________________________________________________
Thank you so much for the lovely e-mail of the Class of 2013 great week-end. I have never in my life seen anything so impressive as the ceremony that RMC has to introduce these young people to the military. I found it very emotional. Your article was wonderful and I am keeping it on my computer to show all our family and friends. Thank you again and of course you can see that you did have the right e-mil address.

Lorraine MacMicken
(Grandmother of Paul Goddard)
___________________________________________________________
Efrosyni, Elena and I are elated to announce the birth of our baby boy, Odysseus Vlachopoulos.
He was born at Kingston General Hospital at 11:17pm on 28 September weighing 7 lbs 3 oz and was 52 cm tall. Both mother and baby are doing very well, after a long but oh-so-worthy labour!
Please visit Odysseus' very own web-site in order to see photos of him:
http://odysseus12345.webs.com/
We look forward to introducing you to our new baby in the near future.
Sending you all our personal best,
Nicholas, Efrosyni, Elena and Odysseus
___________________________________________________________
Hi Bill:
Thank you to the entire staff at Panet House for the work they did on the Ex-Cadet Weekend. I think I can speak for my class (84) when I say that we all enjoyed ourselves, particularly at the College. It made all of us homesick.
I have posted my pictures of the weekend onto Photobucket. The link is:
http://s648.photobucket.com/albums/uu202/stevengable/RMC%20Class%20of%201984%2025%20Year%20Reunion/
Jeff Kearns suggested I forward this to you. If you would like to use any of these in Veritas, please feel free.
Once again, thank you for all your hard work.
Steven W. Gable P.Eng., PE. MBA, rmc
Associate Engineer
Bill and Rolande:
You and your crew are amazing. When I got back to Toronto on Monday, I was able to read about the Reunion Weekend activities and view photos of the events even before my clothes had dried out from Sunday's "march to the Arch". Amazing. Well done!
Aus Cambon
3201 Class of RR52RMC54
___________________________________________________________