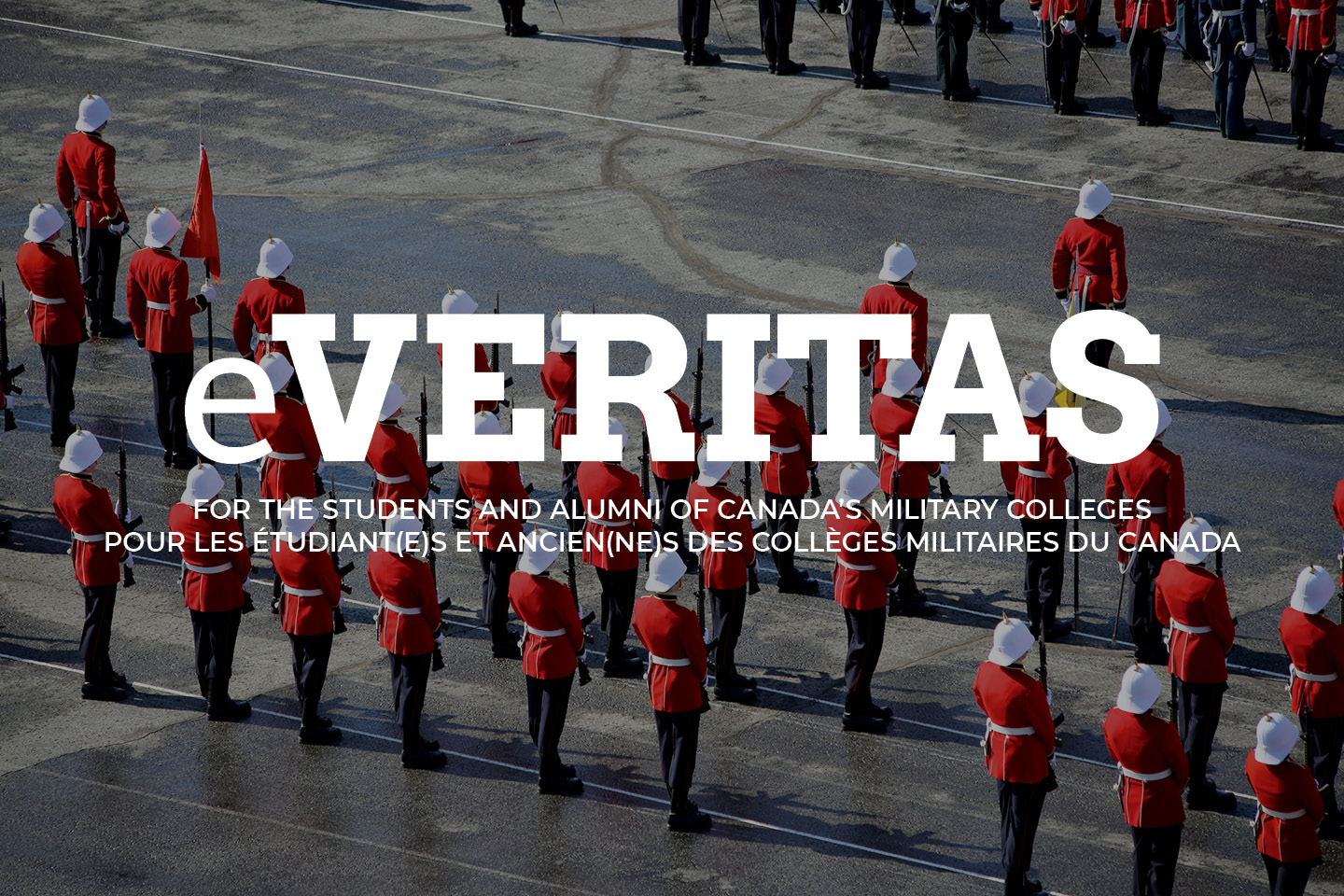 Photos by: 24164 Élof François-Olivier Gauthier (RMC '09)
RMC Nijmegen Team Training
By: Captain Paule Poulin
The RMC Nijmegen Team led by Captain Dany Poulin are hard at work marching around the city to get ready for the actual event. They leave on July 11, 2008 will conduct the official marches from July 15-18, flying the RMC flag, and will be back at RMC on July 21.
Entraînement de l'équipe de Nijmegen du CMR
L'équipe de Nijmegen du CMR menée par le Capitaine Dany Poulin travaillent fort en marchant aux alentours de la ville pour se préparer pour l'évènement lui-même. Ils partent le 11 jullet 2008, feront les marches officielles du 15-18 juillet, hissant le drapeau du CMR, et reviendront le 21 juillet.
Nijmegen March Turns Cadets On!
By: 24164 Élof François-Olivier Gauthier (RMC '09)
The Nijmegen International Four-Days March is held annually in the Netherlands. This major event draws approximately 45,000 marchers from 50 different countries and is witnessed by over one million spectators. The Canadians Forces have participated in this event since 1952.
Depuis quelques années, le Collège militaire royal de Kingston y envoie une équipe au sein du contingent militaire canadien. La marche consiste à parcourir, pendant quatre jours, 40 kilomètres par jour. C'est donc, un peu plus de 160 kilomètres que notre équipe devra marcher entre le 15 et 18 juillet 2008.
Maybe those 40 kilometres a day do not look so hard when you first look at it. But after having accomplished more than 500 kilometres in less than 5 weeks, I can tell you that I never expected it to be so hard mentally, morally and physically. In order to be a member of the team, we had to accumulate 500 kilometres and we had to do two consecutive 40 kilometres marches by the 20th of June.
Après avoir marché 5 jours par semaine, et ce, durant 5 semaines avec un minimum de 10 kilomètres et un maximum de 40 kilomètres par jour, à un pas de 10 minutes le kilomètre l'équipe de Nimège a été sélectionnée. L'équipe Nimègue 2008 du CMR se compose du Capitaine Poulin, commandant de l'escadron 12, et des Élèves-officiers Dukic, Gauthier, Senécal, Wirth-Pothier, Cross, Moulton, Dorion, Beauchamp-Davidson et Gillis.
We will be leaving for the Netherlands on the 11th of July. Until then, we will still be training. If you see us walking in the streets of Kingston, honk at us because it is a great motivation for the whole team.
Last but not least, we would also like to thank the RMC Club Foundation that generously provided $2500 to the team.
_____________________________________________________
Neighbourhood pilots are 'just passing by'
Royal Military College skies have long been the site of impromptu aerial displays
BY IAN ELLIOT WHIG-STANDARD MILITARY REPORTER
The Snowbirds put on a show above Kingston this week, but their air show was merely the most visible and best-publicized flyby of the city.
All year round, the skies above Royal Military College are the scene of impromptu aerial displays by Canadian Forces aircraft. The catch is that they are forbidden by military flight regulations from putting on what is technically known as an air show, so they opt for a Just Passing By.
That's the name given to the tradition at the college, where military aviators – especially graduates of the college – stage an impromptu flyby over the school with whatever they might be behind the stick of at the time.
That ranges from Second World Warera fighters now flown for fun by former military pilots, to the latest Canadian Forces acquisitions, such as the massive CC-177 Globemaster III that circled the college on its way back from its first mission in Afghanistan earlier this year.
"We do it to make the cadets feel connected to the military," said Brig.-Gen. Tom Lawson, commandant of the college. A military pilot from 8 Wing Trenton, Lawson sent out a memo welcoming such visits by passing aircraft – not to mention ships and army vehicles – shortly after arriving here last year.
He noted that while 35 per cent of students have military cadet training and a quarter come from military families, the rest may have had no exposure to the Canadian Forces in their lives. In years past, practically the only time cadets would encounter the regular force was on summer training.
"When I was here, we were kind of left alone by the military, in our own little corner so to speak, and letting the cadets be exposed to the military as much as we can is a tremendous opportunity for them."
The flyovers, unannounced even to the college, aren't just a chance for pilots to burn some government fuel. They are usually part of a training exercise in the area, and pilots flying by visual flight rules find the college and adjacent Fort Henry a prominent landmark.
Rather than choosing a grid point in the middle of Lake Ontario as a turnaround point, they mark a spot above the college on their flight plan and request per mission from Norman Rogers Airport to drop through the lightly travelled skies from above 10,000 feet to as little as 1,000, depending on the size of the aircraft.
It's extra work for the pilot because the aircraft has to descend and cross the college on schedule – "time on target" in military jargon – then resume altitude and its original flight path to carry on its training mission.
Observers will notice the aircraft doing one pass of the college, then a return pass perpendicular to the first in an 'X' pattern. That's because, according to military rules, if an aircraft does a 360-degree turn, it is now performing an air show, and needs prior permission from the chain of command.
"Under the rules, one pass is free," Lawson said.
"That's why the pilots will do a 270-degree turn rather than a full circle, because it still counts as one pass."
An exception was the Globemaster because of the historic nature of its first mission in theatre. Flown by Capt. Jean Maisonneuve, he got permission to do an air show and did three passes, the last one with his landing gear down, known as a "dirty pass" by pilots.
Pilots themselves are some of the keenest upholders of the long tradition.
"It is one of the most satisfying things I've ever done," said Ottawa's Rob Erdos, a 1986 grad who served as an Air Force pilot until 1997 and then went on to be a test pilot for the National Research Council.
"I can remember being on the parade square all those years ago looking up and some part of me hoping that everything I was going through at RMC would get me into the air, and it did."
He recently flew a vintage fighter over RMC graduation, but during his military career, also did JPBs of the college in a Labrador, a Twin Huey and a Tutor.
His wingman was Michael Potter, who served in the Navy and who remembers the alarm clock on the morning of his graduation decades ago was two fighter jets screaming over the campus at low altitude at 7 a. m.
"I thought it was so cool at the time, but things have gotten a lot more limited since then," he said.
"I don't think they'd be allowed to do that today."
Lawson noted that Kingston has always been accepting of the flights – unlike other cities such as Guelph, where a CF-18 flyover in April by a Guelphborn pilot brought a flurry of complaints, followed by an equally boisterous response from people publicly defending the pilot and the military.
"As a pilot, you'll never know how you'll be received when you do one of these," said Lawson, who has crisscrossed the college skies in a Tutor and a military Airbus in his day.
"But I think people in Kingston understand the military and they've always been very friendly towards these displays."
Potter said the flyovers, which usually only last a few minutes in the middle of the day, are a way of showing the colours, especially in a city with a large army presence but no airbase.
"I'm glad to hear that Kingston is still a military town," he said.
"And after all, we're not doing anything crazy, no one's flying under bridges or anything like that." He said he was thinking of that while
piloting his Second World War-era Mustang over the RMC grad parade in May.
"This is a piece of history, especially the [historic] fighters, but even the modern aircraft," he said.
"The only thing that comes to mind for me is that this is the sound of freedom."