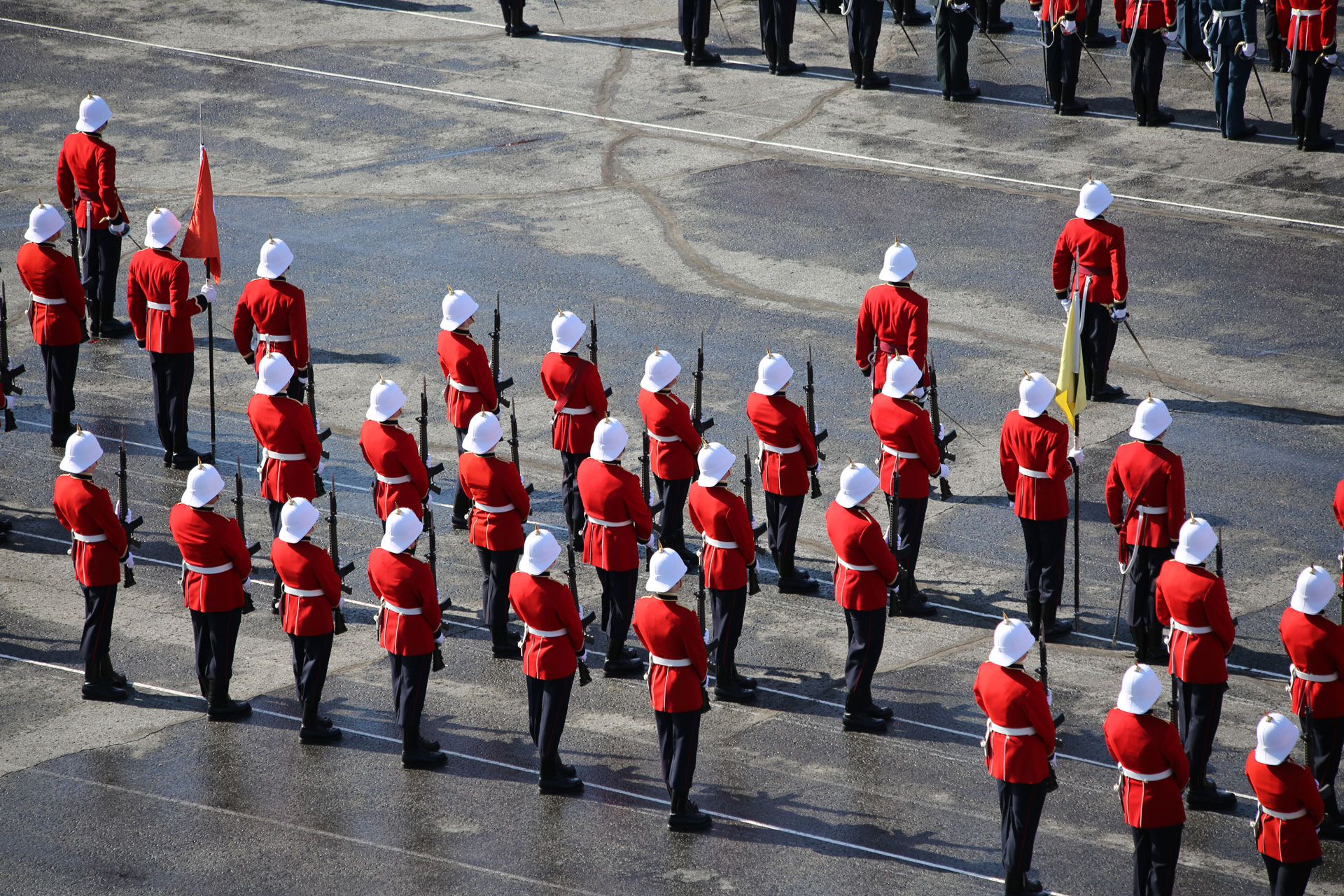 NCdt Young, OCdt Scott Payne, OCdt Caceres Major Brister, OCdt Brzozowski, & OCdt Deshpande
Photo credit to Sgt Steve Chagnon
Five Royal Military College of Canada cadets were chosen as delegates for the annual Conference of Defence Associations and Conference of Defence Associations Institute annual seminars that took place in Ottawa 26-27 February. Two cadets from RMCSJ also attended – no other details available at press time. A variety of topics were raised surrounding the themes of Canadian-US security relations and a new defence strategy for changing times.
Many important lessons emerged from the discussion, including many on leadership in age of uncertainty and new threats. Speakers included the Minister of National Defence, the Honourable Peter McKay; the Chief of Defence Staff, General Walt Natynczyk; General (ret'd) Ray Henault; and many other distinguished military members.
This annual event is very worthwhile and relevant and cadets, if provided the opportunity are highly encouraged to attend future iterations
__________________________________________________________________________________________
Des Élof commémorent au Pays des Baguettes
Article par 24563 Samuel Blanchette
Photos par 24450 Leif Swinamer
24 Février 2009 – Paru dans "Précision", journal au CMRC
Du 14 au 22 février, 30 élèves-officiers et 14 membres du personnel du Collège Militaire Royal de Kingston ont participé au Tour des Champs de Bataille 2009. Ils ont foulé la terre où ont combattu les soldats canadiens lors des deux guerres mondiales en France et en Belgique, pour se commémorer, apprendre et comprendre le coût de la victoire.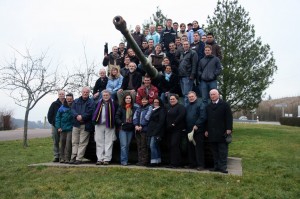 « J'ai vraiment aimé le tour, surtout la visite de Vimy. C'était intéressant de pouvoir voir tous les aspects de la bataille. »
– 24170 Matthew Jokela
« C'est toujours un plaisir de participer dans l'évolution de ce pays. Par leur apprentissage, les élofs grandissent pour devenir des acteurs canadiens de premier plan. Être témoin de ce processus est édifiant. J'aimerais remercier le club des anciens du RMC pour leur générosité. Plus il y a de fonds qui sont mis à notre disposition, plus nous pouvons amener des élofs. »
-Maj. Michael Boire
« Ce fut une excellente expérience pour conceptualiser la matière vue en classe et comprendre ce que les soldats ont vécu. Comprendre les décisions dans leur contexte et en voir les conséquences nous permit de tirer de bonnes leçons de leadership. »
-24618 François Hachez
Merci au dévouement du Maj. Boire, du LCol Delaney, et du Professeur Hennessy et à l'aide de tous ceux qui permirent le bon déroulement ce voyage.
OCdts Commemorating in the Country of Baguettes and Good Wine
Article by 24563 Samuel Blanchette
Photos by 24450 Leif Swinamer
24 February 2009 – First appeared in "Precision", RMCC Journal
From February 14th to 22nd, 30 Officer Cadets accompanied by 14 RMC personnel members participated in the Battlefield Tour 2009. They walked in the steps of Canadians who fought the First and the Second World Wars in France and Belgium to commemorate, learn and understand the cost of victory.
"I really liked it, especially the Vimy part. We could see all the aspects of the battle, and it was very interesting."
-24170 Matthew Jokela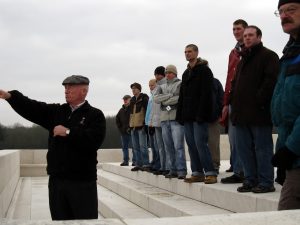 "It's always a pleasure to participate in the evolution of this country. The OCdts learn to become the leaders of tomorrow, and it is edifying to be part of this process. I would like to thank the members of the RMC club for their generosity. The more funds we receive, many can be the OCdts who participate in this tour."
– Maj. Michael Boire
"It was an excellent way to understand the subjects covered in the classroom and visualize the reality lived by the soldiers. Analysing the decisions in their context and seeing the results on the battlefield helped to learn a lot on leadership."
-24618 François Hachez
Many thanks to Maj. Boire, LCol Delaney and Dr. Hennessy, and to all those who helped in the success of the Battlefield Tour 2009.
______________________________________________________________________________________________

__________________________________________________________________________________________
CISM Fencing Follows its Roots to France
The air was cool and brisk, but still warmer than Canada in February, as the CISM Fencing team arrived in the early morning in Paris. On the train ride through the beautiful French countryside you could see trees and flowers beginning to come to life again as spring was descended upon its rural valleys and hills. Athletes from six CF locations: Shilo, Toronto, Trenton, Kingston, Montreal and Valcartier came together for a week of training and team building, at L'École Spèciale Militaire de Saint Cyr Cöetquidan, in picturesque Brittany.
This prestigious military academy, originally founded by Napoleon himself, opened its heart and doors to this small delegation of Canadian coaches and athletes for an unforgettable week.
Maître Marc Bascle, NCM Major (equal to CWO) and PE staff served as host and guide extraordinaire. Not only did he work in the training camp as a guest coach, he was the bus driver, tour guide, history teacher, logistics officer and military liaison to our team. He kindly gave the keys to the salle d'escrime to the Canadian coaches and provided the team with access to all the training amenities the school had to offer, including the 400 metre outdoor track, the lush and historic running trails, and the 50m Olympic pool. This was no ordinary fencing camp; this was a once in a lifetime cultural, military and sport exchange in the heart of Bretagne, France.
This fall CISM Canada officially welcomed the sport of fencing into its ranks. The ultimate goal is to prepare a team of 18 athletes, 3 fencers per weapon event, plus a support staff for the World Military Games, to be held in Rio de Janeiro Brazil, in July 2011. While CF fencers have competing in two military World Championships, Italy 2005 and Romania 2006, it was as a high performance project only. Now CISM Fencing is building and growing its program with the intention to represent Canada and the CF in the international theatre. Building the team from scratch is a challenging task but one that the fencers and staff are determined to do well over the next couple of years.
During the CISM TC each training session had a specific theme. Session #1 of the camp was much like a normal practice but the staff was evaluating the effects of travel and jet lag on motor skills and execution of technical ability under stress. Session #2 focused on team building, including speaking in your second language, fitness testing, and the exchange of training drills. Session #3 was held at Club Sportif de la Garnison de Rennes in the nearby town. Here the fencers followed the direction of Maitre Sylvain Guyomard, former sabre world champion, in directed bouting and a mini tournament. Session #4 took advantage of the beautiful surroundings and included running through the lush cross-country trails of Arthurian legend, to challenge the athlete's aerobic capacity. Session #5 included the military fencers from Saint Cyr, in a fun fencing tournament, followed by a hospitality exchange of local Brittany cider, gallettes Bretonnes and souvenirs. Session #6 began with a sport psych lesson and followed with group and individual technical training with the fencing masters. Session #7 continued from the previous with recovery training in the 50m pool. The final session #8 included outdoor interval training on the 400m track followed by the final technical lessons and feedback with the fencing masters.
The week's itinerary was literally packed to capacity with activities and athletes fell into bed each night seeking rest and recovery from the day's busy schedule. The emphasis was obviously on the two 3-hour training sessions per day, however the staff was also able to add in a tour of the impressive campus, a visit to the military museum at Saint Cyr Cöetquidan to learn about Napoleon and French history, an afternoon at the ancient walled city of Vannes on the Brittany coast, gorgeous desserts at a local crêperie, and a stop at the Stonehenge of France in Morbihan. The epee team departed early from Saint Cyr to travel to Venissieux, a suburb of Lyon, to participate in a Senior National French circuit tournament. This competitive venture was to challenge the epee team and provide them an opportunity to team build and gain international experience against European fencers and to be coached by the CISM epee coach.
Media link http://sports-venissians.over-blog.com/article-28205960.html
France is one of the birthplaces not only of the sport of fencing, but specifically, of CISM Fencing. France has hosted five CISM World Championships and was a member of the first ever CISM event held in Nice in 1948 when five countries came together in peace and "friendship through sport" to forge a bond that would last decades. The CISM Fencing team from Canada most definitely experienced this feeling of "amitié" on their week in beautiful Brittany. We left with a standing invitation to return any time.
As the train from Rennes to Paris raced through the French countryside the somber fencers could be seen daydreaming about their experience. Some eventually slept, some listened to music, but all had a feeling of sadness to leave this incredible place. Arriving at the airport hotel mid-afternoon, their final adventure was a few short hours in the city of lights. Metro passes in hand, the Canadian CISM team sped their way through the subway from famous site to famous site, snapping photos and smiling and laughing together. The final team dinner, a rendez-vous at la tour Eiffel, reunited the epee group with the rest of the delegation and as they toasted their shared experience, of learning and growing together as a team, there was a hint of melancholy that it was all over.
À la prochaine mes amies……..
15566 Major Helga Grodzinski  CISM Team Manager, Maitre A134 Patricia Howes  CISM Head Coach and Maitre David Howes CISM Epee Coach would like to thank RMC, CISM Canada and CISM France for supporting their first official international CISM Fencing Training Camp.
__________________________________________________________________________________________
Two RMC (W) basketball players earn OUA East Division honours
Forward Abby Edmisson (photo L) (Carleton Place, Ont.) of the Royal Military College Paladins is the OUA East Division Rookie of the Year. Edmisson scored 155 points while securing 144 rebounds in her first OUA season. Edmisson's field goal percentage was 37.3 for the season, as she was successful on 66-of-177 shots.
Sharlene Harding was selected to the second OUA East Division All Star team. The 6′-1" Brampton, ON native, Master of Arts – War Studies PG student was in her 5th year of eligibility. She previously played four years at Queen's University. Sharlene racked up pretty impressive offensive and defensive numbers in 20 league games. She had 165 total rebounds – 117 in her own end and compiled 228 points on the scoreboard.
Both ladies with their teammates celebrated RMC's first women's basketball victory in school history in early February, ending a 128-game losing streak. Edmisson is also a member of the East All-Rookie team.
Congratulations to the Women's Basketball team!