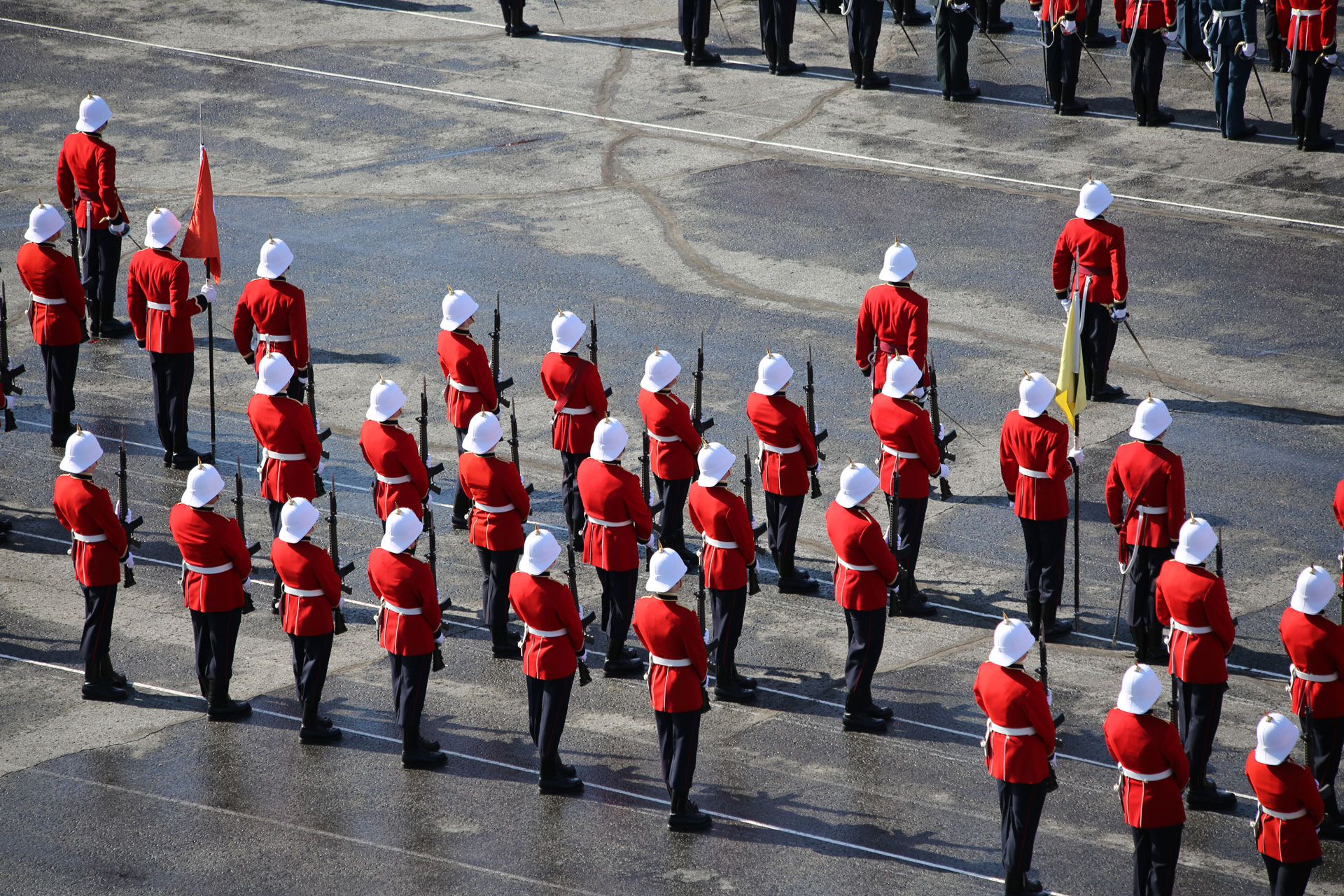 RMC Civil Engineering Wins 2 National Awards
Congratulations to Dr. Richard Bathurst for winning the R.M. Quigley Award for 2008. The R.M. Quigley Award is awarded annually by the Canadian Geotechnical Society (CGS) to an individual or individuals whose paper was judged to be the best paper published in the Canadian Geotechnical Journal during the preceding year. This is the 2nd year in a row and the 3rd time overall Dr. Bathurst has received the award. His winning paper "Development of the K-stiffness method for geosynthetic reinforced soil walls constructed with c-ö soils" authored with Yoshihisa Miyata appeared in the December 2007 issue of the Canadian Geotechnical Journal.
Congratulations also to 2Lts Martin Douglas, Stephen Hinks, and Melanie Ross for winning the CGS's Undergraduate Student Report Award (Group Competition) for 2008. Their report was entitled "The Environmental Clean-Up and Remediation of the FOX-3 DEW Line Site" was completed as part of their 4th year Design Project supervised by Drs. Philippe Lamarche and Greg Siemens.
Dr. Bathurst and 2Lts Martin Douglas and Melanie Ross (in photo) were in Edmonton to receive their awards at the Awards Banquet on 22 September 2008.
_______________________________________
RMC to welcome security conference
"Canada's Security Interests" will be the theme of the 11th annual Conference of Defence Associations Institute when it holds its graduate student symposium Oct. 31 and Nov. 1 at Royal Military College.
Thirty-eight grad students from 15 Canadian and American institutions will gather to present and discuss papers on security, defence and foreign policy.
Mel Cappe, president of the Institute for Research of Public Policy, will speak Friday on the "Defence of Canada -Who Cares?"
On Saturday, Senator Hugh Segal will speak on coming to terms with NATO and the new Russian reality.
Prizes totalling $6,000 will be presented to the top three presenters, and the top five presenters will be hosted by NATO next spring at the NATO summit in Strasbourg-Kehl.
The institute is a non-profit organization dedicated to increasing public awareness of Canada's security, as well as the role played by the Canadian Forces in Canadian society and abroad.
_______________________________________
I Remember When…
By: OCdt Stephen Paish
Passchendaele Screening an Overwhelming success.
This past Wednesday the Military Strategic Studies (MSS) program hosted a screening of the new Paul Gross film "Passchendaele." The new landmark Canadian film. The event was an overwhelming success as over 160 people showed up! The lines were out to the street as person after person appeared. It appeared there was not going to be enough room at first but the crowd fit into the theater. After the film a lengthy discussion period was held at the RCHA Brigade Association in which students and faculty participated.
As the MSS Student Adjutant I would like to say thank you on behalf of the program to all members of the RMC community who showed up in support of the event. The students enjoyed your company and we look forward to seeing you at more MSS events that will take place over the course of the year. Keep your ears to the ground!
_______________________________________
The first recorded hockey game played by RMC occurred in 1886 – about 122 years ago! Over that time there have been many dramatic games. However, to our knowledge never before in the history of RMC hockey has anything been more dramatic than what happened on opening night of the 2008 / 09 Ontario University Athletics (OUA).
Following is an excellent account of this dramatic game which was written by Clint Walker – Kingston Whig Standard:
RMC forward a 'net' asset
Through four games, Landon Lavictoire leads Canadian Interuniversity Sport men's hockey with a 0.00 goals-against average and a perfect 1.000 save percentage.
Those numbers would be the envy of any proud goaltender, but Lavictoire happens to be a first-year winger for the Royal Military College Paladins. Yes, a rookie forward.
Two weeks ago tomorrow, with 8:38 remaining in the third period in a 6-6 game, the Kirkland Lake native found himself between the pipes in his first Canadian Interuniversity Sport contest thanks to a bizarre scenario – one Paladins goalie was injured and the other was ejected.
Lavictoire, 21, stopped three shots through the remainder of regulation and a five-minute overtime period. Then, in a stunning encore, he turned aside all three shooters he faced in the shootout to give RMC a wild 7-6 win over the Ontario Tech Ridgebacks in the season opener.
"I looked down the bench when I realized I had to find someone to put in the net and Landon said, 'I'll do it coach, put me in net,' so I thought why the hell not," Paladins coach Adam
Shell said. "What happened from there is as much fairy-tale as anything else."
After Paladins starter Adam Briggs was ejected (for shooting the puck over the glass after a goal in the third period) and backup Alex Stewart pulled his hamstring, the referee gave the Paladins 15 minutes to find a man willing to tend to the RMC twine. So Lavictoire quickly, and jokingly, offered his services.
"Being the naive first-year [player], I told the coach I'd go in net and it's no big deal," said Lavictoire. "When he actually sent me to the room, I was kind of thinking, 'What did I just get myself into?' "
Inside the dressing room, Lavictoire heard the buzz of the home crowd at RMC building to a fevered pitch.
"As soon as I got on the ice, the first thing I did was almost wipe out flat on my face," recalled Lavictoire. "It was the first time I'd had goalie equipment on since I was five years old and I'd never had goalie skates on. I almost blew a tire, but I made it to the net safely."
But the next obstacle Lavictoire faced truly elevated the surreal proceedings.
"It didn't take long for them to come down and take their first shot," said Lavictoire. "I swear to God, the goal judge behind me could see my legs shaking in the pads I was so nervous. Once I got hit with the puck the first time – I wouldn't call it a save – I settled down a little bit and it went better."
Indeed, with two saves down in regulation and one in overtime, Lavictoire was starting to get the hang of his new gig.
"With 7.4 seconds left in overtime, it was like, 'holy crap, this is going to a shootout,' " said Lavictoire. "All those nerves I had came back again."
Shell admitted he would have been more than happy to take the one point from an overtime or shootout loss. Getting a win seemed flat-out ludicrous.
"I thought we were doomed at that point," said Shell. "Next thing you know, they haven't scored and we get one. It was an unbelievable performance and the guys really rallied around him. He got better and better."
Even Lavictoire was a firm non-believer as he prepared for his first shooter.
"I went to the bench and told the boys I had no idea how it was going to go," said Lavictoire. "I told them I was sorry and I wanted to apologize right then. When I stopped all three, the crowd was going absolutely crazy. The next day at school, everyone knew me and [people] were coming up to me to congratulate me. It was quite the experience."
Lavictoire never had played a competitive game in goal before the season opener, but he always has wanted to give it a shot.
"I didn't want to sit on the bench and be a backup goalie, so that's the only reason I wasn't one," said Lavictoire. "I've always been super-interested, but now I know I definitely don't want to be one. I'll be there in emergency appearances only."
Ironically, the team is 0-3 since Lavictoire delivered the improbable victory.
"It was the most memorable night of my life," said Lavictoire. "I will never ever forget my first CIS game. I got an assist, I got the win in net and I stopped all three shots in a shootout. I couldn't sleep for two nights because I kept replaying everything in my head. I've never felt that way before, I was so happy it was just ridiculous. I can't follow that up."
_______________________________________
Hockey Team Wins @ Home and in Ottawa Over the Weekend
6-3 over Ryerson & 4-3 clutch victory @ Carleton
Luke Pierce took all of twenty six seconds to make his presence felt in his first game of the season.  Pierce earned an assist on the first goal of the game scored by UTPNCM I Year Kirk Sullivan. Rookie Justin Lacey scored four goals and Richard Lim sealed the 6-3 win with an empty net marker at 19:23 of the third period.
RMC 4 Carleton 3 – Team captain, Paul Bradley could not have picked a better time to notch his first goal of the season.  Bradley scored with only 8:46 remaining in regulation time to snap a 3 -3 tie against the number 8th ranked team in the country.
Bradley is the most prolific RMC point getter since the days of  16009 Steve Molaski (RMC 1983 – 88) who had 76 goals and 129 assists during his five seasons of playing at the CIS level (all league games). The Molaski 205 points still ranks him in ninth place in the history of OUAA / OUA men's hockey.
The Bradley game winning marker gives him a lifetime 46 goals with 60 assists early in the start of his fourth year.
Mitch Monette, Landon Lavictoire, and Jeff Oke all added single tallies while Richard Lim chipped in with two assists bringing his point total to 8 for the season – good for a top ten spot with league scoring leaders.  Adam Briggs was big in goal, making 39 saves ensuring RMC  evened their seasons record to 3 and 3.   OUA hockey standings here.
_______________________________________
Fencers Qualify for National Championships
Seven members of the RMC Fencing Teams have qualified for the Senior Canadian National Championships to take place in Calgary, Alberta November 27th to 30th 2008. To qualify, athletes must compete at a series of Open level competitions, from which they gain points, based on their final results. Cumulative points are gained throughout the season and if they are in the top 48 in the country they are invited to the Senior Nationals. Fencers III Ocdt Michael Dubois-Boudazza (24842), Ocdt II Eric Castellani (24934) Tio Raharjo (IO student) Ocdt III Brendan Kilburn (24424), Ocdt III Nicholas Goulet (24198), PG student Sarah Rogers (24052) and PG student Rebecca Walker (War studies).
The National Championships rotate from east to west, on alternative years, and this year it is in Calgary. Head Coach Patricia Howes believes that this is a very positive opportunity for RMC fencers to travel and compete in Western Canada. It provides positive PR for RMC to the western provinces, as well it shows potential recruit athletes and their coaches, that RMC has a strong presence in all three weapons, foil, epee and sabre at the national level. RMC hosted the Canadian National Championships in June of 2003.
The trip to the Nationals will be a self-funded event for the RMC fencers but they will receive some funding support from both the RMC Fencing fund raising efforts through the Cutting Edge Fencing program and children's summer camps. The RMC Athletic Department has also agreed to provide some financial support for this special project, since the fencers will be representing the college, at the National level. RMC Assistant Coach Capt (ret'd) David Howes will accompany the fencers to Calgary for the Championships, while Patricia will remain in Kingston, to continue to run the training for the two varsity teams and the Cutting Edge fencing programs. Good luck to all the members of the team!
Also, congratulations are in order for IO student Tio Raharjo, RMC's top men's foil fencer, who achieved a personal best result this past weekend in Montreal at the Carl Schwende Junior World Cup. Mr. Raharjo finished 6th, his best ever international result to date, beating out many American and foreign fencers! Great job Tio!!!