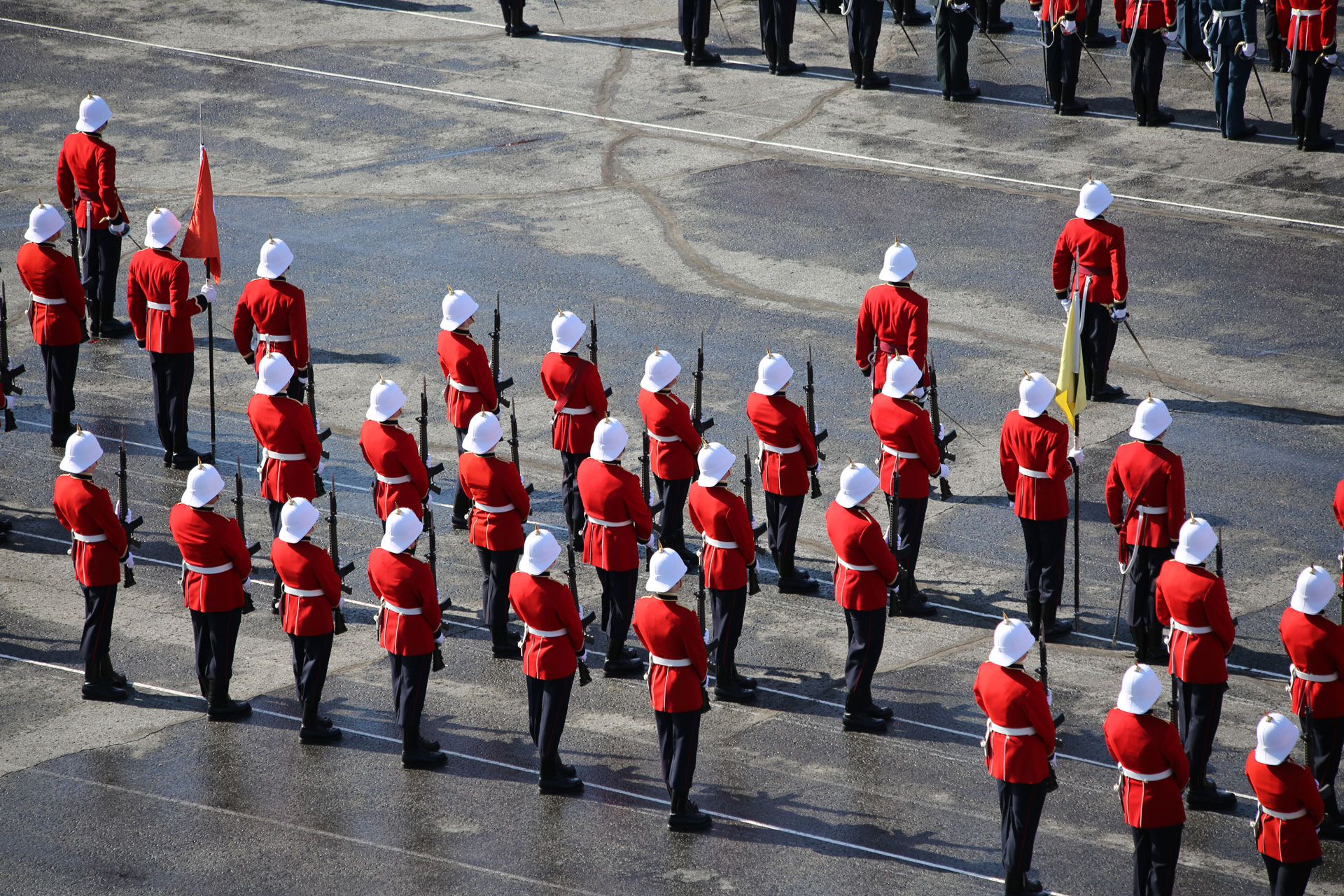 DCdt Proud of Ironman Results!
It is with great pride that I report to you on the outstanding results obtained by RMC cadets at this most recent competition, the Petawawa Ironman. The Petawawa Ironman is a 50km course and requires that each athlete carries a 40 pound ruck sack the entire course, which is as follows:
32 km march;
4 km canoe portage:
8km canoe on the Ottawa River; and,
6 km march.
Held annually by Land Forces Command at CFB Petawawa, this grueling competition is a test of strength, endurance, patience and mental toughness; not for the faint of heart. On Thursday, 18 September 2009, 6 OCdts from RMC toed the line along with a field of 280 CF members to take the challenge. RMC finished 2nd of 8 in the Small Units Category. RMC's team members:
1 5:47:54 Geordie Cheeseman 2 6:18:28 Freddie Richings 3 6:59:06 Samantha Laplante 4 7:59:48 Quenton Baldock 5 (8:22:42) Craig Patton 6 (8:26:22) D.L. Burrows
OCdt *Cheeseman* finished *3rd* overall, of *280* competitors in a time of 5 hours 47 mins; OCdt *Richings* finished *14th* overall with a clocking of 6 hours 18 mins; and, *OCdt Laplante* finished *2nd* place female and *29th* overall in a time of 6 hours 59 mins. OCdt's Baldock, Patton and Burrows rounded out RMC's outstanding efforts in one of the CF's toughest physical and mental challenges.
To these 6 Ironman Athletes: congratulations on a job well done. Your hard work in training has paid off, and your efforts cast a positive light on yourselves and on to RMC. Thank you for stepping up to this challenge, you have my respect.
A.J. O'Keeffe
LCol
Director of Cadets
RMC
___________________________________________________________________________________
Commended for "unrelenting dedication"
By: 24488 Sébastien Delage
On September 18th 2008, RMCC Commandant BGen Tom Lawson recognized the efforts of Sgt Krystyna Burke, a clerk at the College Orderly Room, who "has regularly gone beyond the call of duty (…) to assist cadets and staff".   Sgt. Burke was awarded the Commandant's Coin, an award given by the Commandant to deserving individuals as a means of recognizing services rendered and outstanding efforts.
Sgt. Burke – who admits she was taken by surprise — was quick to point out that the College Orderly Room works as a team, and that while she certainly appreciates the recognition, it is also important to underscore the hard work and dedication her team displays on a daily basis. With a long tradition of "producing leaders for the Canadian Forces and our nation" the Royal Military College of Canada is undoubtedly an officer oriented institution. That being said, it is easy to forget that a large number of civilian personnel and NCMs work behind the scenes, often with little visibility, in order to keep RMCC running on a day-to-day basis.
College Orderly Room Staff – The "A" Team

Commendation
________________________________________________
RMC Runners Impressive in Ottawa!

There was a very impressive RMC turnout for last Sunday's First Annual Army Run in  Ottawa.
The college XC Running Team and a number of other avid runners made quite an impression and were the "talk of the town" for their outstanding group results.
Seventeen members of the team competed and compete they did! In the Female category where 1737 runners were registered – all five RMC ladies finished within the top 90.
Four gentlemen cadets finished in the Top 10 of 1616. Another four ended up in the Top 20 while the remaining four members had creditable Top 42 finishes or better.
Due to some difficulties in registration the RMC runners were not entered officially as a "team" – It seems that if they had, they would have swept "top Male Military team, top Female Military team and top Mixed Military team as well. Not bad for an all-rookie team!
What makes these results even more impressive is that the team have only been in serious training for a few weeks; and had a 0430 hours departure from the college for the 0800 hr Ottawa start.
Tune-Up for OUA competition
The RMC XC Running Team will be competing in the Queen's Invitational October 4th – Fort Henry – Reunion Weekend (Saturday). For more info on the Team and to subscribe to their newsletters contact the Coach Trevor Davies – Trevor.Davies@rmc.ca
Individual Results From the RMC XC Team
Celine Best 18:58 (4th Female); Eve Boyce 19:31 (7th Female);Ashley Galvin 20:17 (12th Female); Mary Sun 22:27 (40th Female) & D.C. Caceres 24:02 (90th Female)
Nicolas St-Amant 16:34 (4th Male); Mike Spears 16:36 (6th Male); John Marshall 16:43 (8th Male); SeanYoung 17:13 (10th Male); Julian Yates 17:16 (11th Male); Jonathan Lemieux 17:34 (16th Male); Ben Wong 17:37 (17th Male); David Bernatchez 17:44 (18th Male); Donald Saul 17:55 (23th Male); Mathieu Walker 18:34 (29th Male); Aaron Bradley 18:50 (35th Male); & Matt Galvin 19:16 (42nd Male)
In total RMC was represented with 186 cadets in the race. RMC Rugby team was well represented with a good cross section from the entire Cadet Wing. 25 members of the RMC band also make the trip and provided lively music along the route.
For complete Race Results Go Here
A special tip of the cap and a very well done to all those involved.
________________________________________________
I Remember When
By: Ocdt Stephen Paish
This past Sunday I had the opportunity to participate with the RMC contingent in the 1st Annual Canada Army run. This was the first year the run was held and RMC decided to send its running teams, rugby team, band, and 10 cadets from each squadron to participate in either a 5 or 21 km course. Even though the departure from RMC took place at 430AM spirits were high. When we arrived in Ottawa I was surprised at the sheer amount of people (I am told the event had over 3,000 people registered in it). It was a lot to take in.
The runs went well as RMC cadets posted some great times in both. What was great to see/experience was people challenging themselves with a situation they had never attempted before: The Half Marathon. It was a tough run but all RMC cadets pulled through and at the end celebrated together at the recovery area. Overall the Army Run experience was a very positive one from an RMC cadet perspective. It reinforced positive attitudes that have been developing at the college as of late. As well many RMC cadets came away from the experience feeling that they had pushed themselves and accomplished something, whether it be the 5 or 21 km race.
The year continues to go well!
________________________________________________
FYOP Marches On…
By: 24488 Sébastien Delage
Reunion Weekend is quickly approaching, with the First Year Orientation Program past the half-way mark, but for the First Years there are many tough challenges remaining before they earn the right to join the Cadet Wing.  Next weekend is the Passing Off the Square, where the cadets will showcase their College knowledge and for the first time be confronted face-to-face and one-on-one by the Top Four: the four most senior cadets at the College who represent the top of the Cadet Wing food chain.  Rest assured, the First Years come well prepared.  College traditions and history have become part of their daily menu and extensive drill lessons have begun to instill some much needed military discipline.  Where before they might have slouched, the stomping of boots and the booming calls of the drill instructors have provided a strong incentive to stand up straight.  Undoubtedly, anticipation is also building for the upcoming obstacle course — their biggest challenge yet —  but sports and other group activities help create a cohesive and competitive spirit which will help them work as a team and overcome any hurdles their seniors might throw at them.
Click HERE to see the First Year cadets practicing drill (Part I).
Click HERE to see the First Year cadets practicing drill (Part II).
Click HERE to see the First Year cadets practicing drill (Part III).
Click HERE to see four cadets having their drill scrutinized.
Click HERE to see a Drill Instructor at work.
Click HERE to see a "present arms" as performed by the new recruits.
Click HERE to see First Years releasing the pressure valve by playing some volleyball.