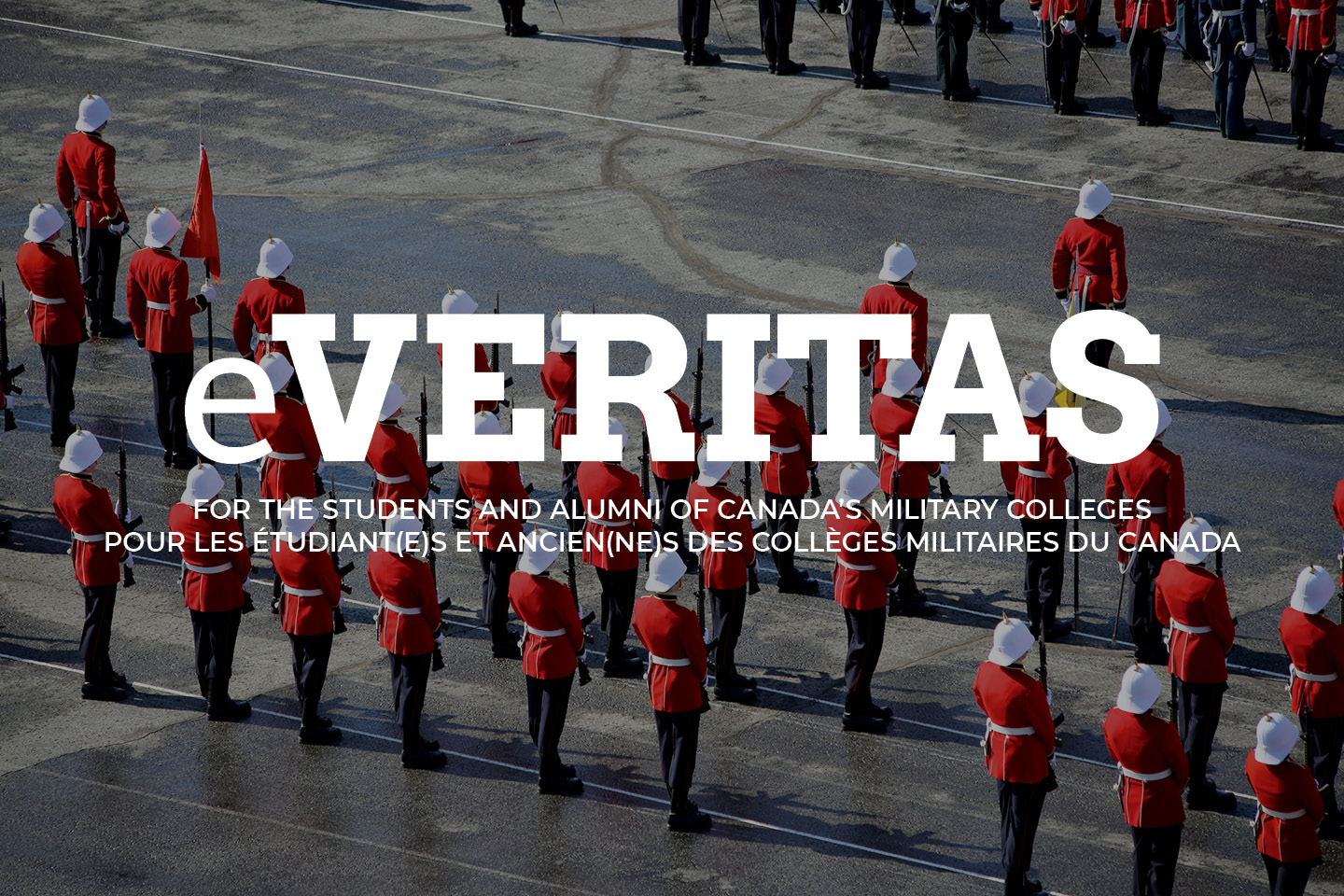 2515 Dr. George Baker (RMC '36); 2878 Dr. Terrence Hoffman (RMC '52); 3221 Jon Jennekens (RMC '54); 3389 Colin Campbell (RRMC RMC '55); 5576 Leonard Lee (RRMC RMC '62); 6018 C. Martin (RMC '64); 10268 John McKay (RRMC RMC '74); 11848 Frank Vagi (RMC '78); 12609 Paul Rogers (RMC '80); 14743 Denis Godcharles (RMC '85); 14801 Louis-Paul Normand (CMR RMC '85); 15130 LCol Martin Kenneally (RRMC RMC '85); 21379 Shannon McEvenue (CMR '94); E2226 Cdr Robert Tremblay (RMC '00); Professor Frank Davey;

2515 Dr. George Baker (RMC '36) received a diploma on
graduation and an honorary doctoral degree from the Royal Military
College. He holds a BASc degree in electrical engineering from the
University of Toronto. He served in the Royal Canadian Corps of
Signals from 1939 until 1946. Mr. Baker's first post-war job, from
1946 to 1947, was with the Canadian General Electric Company. In
1948, he joined the Kentville (Nova Scotia) Publishing Company,
becoming president and serving until 1981. From 1960 until 1981, he
was an engineer with the Kentville Electric Commission and, also in
1960, began an even longer association with the Hiltz & Seamone
Company Ltd. as an electrical consultant. Between] 968 and 1974, he
served as a member and vice-chairman of the Nova Scotia Medical Care
Insurance Commission and as a consultant to it. He was a director of
the Tidal Power Corporation from 197] to 1989 and executive vice-
president from1976. He served as a member of the Tidal Power Review
Board's Engineering and Management Committee from 1972 until 1978. In
1989, Mr. Baker was elected to the Canadian Academy of Engineering,
the same year that he was elected a Fellow of the Engineering
Institute of Canada. He was also a member of the Association of
Professional Engineers of Nova Scotia, the Institute of Electrica1
and Electronic Engineers and the Canadian Society for Electrical
Engineering (now IEEE Canada). Mr. Baker has received honorary
doctoral degrees from the Technical University of Nova Scotia and
Acadia University. He was awarded a Centennial Gold Medal by IEEE,
and became a Member of the Order of the British Empire (MBE).

2878 Dr. Terrence Hoffman (RMC '52) is a Member of the
Canadian Society for Chemical Engineering. He graduated in Chemical
Engineering from the Royal Military College of Canada, obtained an
honours degree and a Masters from Queen's University, and then
completed a PhD in Chemical Engineering from McGill. Following
graduation he joined McMaster University, although by this time quite
experienced in teaching, which had been part of his graduate
program. Dr. Hoffman was a founding member of the Department of
Chemical Engineering, and its very young Chairman. He also made
important contributions to the fields of heat transfer and fluid
dynamics. He then took his talents and ideas to Polysor Ltd in
Sarnia. At the same time he remained a part-time Professor of
Chemical Engineering at McMaster as part of the Corporate Research
Group. A new career step was then imposed on Dr. Hoffman when Nova
Corporation bought control of Polysor, discharging the entire
research group. Dr. Hoffman then joined Dynamic Matrix Control Group
(DMCC) in Houston. He then returned to Sarnia, under contract to
DMCC, to the Suncor refinery. He has earned many honours and awards,
especially from the Canadian Society of Chemical Engineers. These
include the ERCO Award and the Industrial Practice Award and Fellow
of the Engineering Institute of Canada.

3221 Jon Jennekens (RMC '54) retired officially in 1993, but
continued to serve as a technical advisor and consultant. He spent
several years in the military serving as a commissioned officer in
the RCEME and with the UN peacekeeping force in South Korea. Chalk
River Nuclear Laboratories was Jon's first industry posting. From
1962 to 1993 he served in senior positions in the Atomic Energy
Control Board in Ottawa, rising through the ranks to become President
and Chief Executive Officer. Jon also served the worldwide
atomic/nuclear energy community as Deputy Director-General with the
International Atomic Energy Agency in Vienna. He was recognized in
1987 by his appointment as an Officer of the Order of Canada, and by
his election a year later to the Canadian Academy of Engineering. In
1990, he received the Ian F. McRae Award from the Canadian Nuclear
Association. His active participation in the Canadian Society for
Senior Engineers continues to this day through his role as Ontario
Representative on the Board. Jon Jennekens is a Fellow of the
Engineering Institute of Canada.

3389 Colin Campbell (RRMC RMC '55) is a Member of
the Canadian Society for Engineering Management. He graduated from
the Royal Military College (Diploma in Civil Engineering) and then
from McGill University. He is a Fellow of the CSCE and a Fellow of
the EIC. He is currently President of Campbell, Woodall and
Associates, a consulting engineering company in Calgary. He has
authored numerous papers on this general subject. His service to the
profession through the two constituent societies, CSCE and CSEM, and
on the national scene for the Engineering Institute of Canada is
exemplary, and Colin is recognized as one of the pillars of the EIC.
He has been a member of the EIC executive since 1970 at local and
national levels. He became the 105th President in 1992. Since then
he remained on the executive and was Chairman of the Honours & Awards
Committee for the last several years. He was awarded the John
Stirling Medal in (2001).

5576 Leonard Lee (RRMC RMC '62), Lee Valley Tool Chairman,
started Canica Design Inc. in 1999, a surgical tool company in
Almonte, Ontario. Canica's ABRA(R) Surgical Skin Closure System is
used to successfully implement a new surgical regimen called dynamic
wound closure. The procedure applies gentle but continuing tension
uniformly across a wound for a period of a few days to gradually but
completely close it. Skin grafting is eliminated. Results of an
independent clinical study conducted by U.S. Army combat-support
surgeons in Baghdad show that a new medical device used to close a
type of surgical wound more quickly is saving lives and limbs of
soldiers and civilians. Visit www.canica.com to see how Canica closes
wounds or email

6018 C. Martin (RMC '64) joined the Royal Canadian Navy as a naval cadet in 1959, at Collège Militaire Royal. He earned a BSC from RMC in 1964. He retired in 1994 as the Associate Assistant Deputy Minister for Finance and Corporate Services for the Department of National Defence in the rank of Rear Admiral. From 1995 to 2003, Mr. Martin was a management consultant with two small consulting firms in Ottawa. He is currently a board member and the treasurer of the Perley and Rideau Veterans Health
Centre, a member of the board of the Perley and Rideau Veterans Health Centre Foundation, a member of the Audit Committee of the Canadian Forces Personnel Support Agency, Colonel Commandant of the Canadian Forces Logistics Branch, a Warden in St Aidan's Anglican Church, Co-chair of the Anglican Diocese of Ottawa Strategic Planning Task Force and a member of the Diocesan Synod Management Committee. Mr. Martin and his wife, Peggy live in Ottawa, Ontario.

10268 John McKay (RRMC RMC '74), P.Eng., has been
the Mechanical Discipline Coordinator in the Calgary Branch of A. D.
Williams Engineering Inc, a consulting engineering firm, since the
beginning of 2007. He has over 26 years of exceptional mechanical and
energy engineering experience. He has a Bachelor of Science degree
from the Royal Military College and is a registered mechanical
engineer in Alberta and British Columbia. His recent experience has
been with owners of large property portfolios and various large
utility companies as an energy manager and mechanical consultant.
John has worked abroad for Power Smart Inc. and the Federal
Government, Department of External Affairs. He has also been active
in energy technology transfer in Europe, and Western Canada. He is a
member of the Association of Energy Engineers and a Certified
Monitoring and Verification Professional. His specialty is the
integration of mechanical and electrical design and operational
requirements for complex commercial buildings. 403.263.2395

11848 Frank Vagi (RMC '78) is senior process engineering advisor in the central engineering group at the Petro- Canada Edmonton refinery. He earned a degree in Chemical Engineering received from the Royal Military College in Kingston Ontario, 1978. Frank served as a marine systems engineer in the Armed forces until 1982. He attended the U of A commencing in 1982, and obtained a masters in advanced process control. Frank has worked in the oil industry in Alberta ever since, at Syncrude, Shell and Petro-Canada. Frank has been involved in the environmental applications for three bitumen upgraders and the designs for five bitumen upgraders during his career so far. Frank was President of the North Saskatchewan Watershed Alliance (NSWA), which is the designated Watershed Planning and Advisory Council for the North Saskatchewan River in 2006/7.

12609 Paul Rogers (RMC '80) is the President, Managing Director, and Head of US Region at CIBC World Markets. Mr. Rogers was recently given the responsibility of representing CIBC World Markets' European operations as Co-Head, European Region. He joined Wood Gundy's Toronto Investment Banking department in 1981. In 1985, he transferred to Wood Gundy's Tokyo office where he was responsible for both cross-border M&A transactions involving Canadian companies, and the raising of … capital in Japan for Canadian-based issuers.
Mr. Rogers returned to Toronto in 1988 and was responsible for Wood Gundy's Canadian derivatives team. In 1991, he became Head of Global Derivatives and was responsible for the firm's derivatives activities in North America, Europe and the Far East. In 1993, he was named to lead Global Mergers & Acquisitions for CIBC World Markets' Canadian operations and became Head of Canadian Investment Banking in 1996. Two years later, Mr. Rogers was appointed Head of US Investment Banking. He is a member of Carnegie Hall's Corporate Leadership Committee, as well as a member of the Board of Directors for the Securities Industry Association. Mr. Rogers holds a B.Sc. (Honours) in Mathematics and Physics from the Royal Military College of Canada and an MBA (Baker Scholar) from Harvard Business School.

14743 Denis Godcharles (RMC '85) is a Managing Principal at
Interis Consulting Inc. in Ottawa. Interis is a management consulting
firm that offers advisory services in the area of business
transformation; risk and management assurance; and strategic project
management. Prior to founding Interis in 1996, Mr. Godcharles filled
senior roles in high technology companies; including Vice-President of
Consulting Services for an IT and Business Process Services company in
Ottawa, and Industry Partner for a world networking company. Prior to
his private sector work, he spent nine years in the military, in the
area of communications and computer systems. Mr. Godcharles holds a
Bachelor of Engineering degree from the Royal Military College of Canada
and a Masters degree in Engineering Management from the University of
Ottawa. His main areas of expertise include risk management – in
particular operational risk management, strategic planning for large
high technology organizations, public-private partnerships, and the
justification and management of large investments.

14801 Louis-Paul Normand (CMR RMC '85) is a Managing
Principal with Interis Consulting Inc. in Ottawa. He holds a Bachelor of
Engineering degree from the Royal Military College of Canada and a
Master of Applied Science (Electrical Engineering) degree from the
University of Ottawa. Mr. Normand brings extensive project management
and systems engineering expertise which he acquired on large systems
integration projects in Canada, the United States, Europe and Australia.

15130 LCol Martin Kenneally (RRMC RMC '85) is CommandingOfficer of 3rd Battalion of the Princess Patricia`s Canadian Light Infantry in Edmonton. He attended Royal Roads Military College and graduated from The Royal Military College in 1985 with an Honours Degree in History and Political Science. He also has a MA with a focus in Asian Security Studies.
LCol Kenneally is the only Canadian serving or retired currently entitled to wear the modern Korean Service medal following service to the Republic of Korea from 2001-2003. He has been a sport builder of the highly successful Canadian Forces International Military Sports Council (CISM) Tae Kwon Do team since 1987. A fourth degree black belt, he was the 1990 Army Athlete of the Year and 2006 Canadian Forces Official of the Year.
In 2007 he was selected to be among the final 54 international referees for the Olympic Qualification Event in Tae Kwon Do. He was selected for the 2008 Junior World Championships which was held in Izmir Turkey with 83 nations and 1200 participants. Martin is the alternate Canadian Male referee for the 2008 Beijing Olympics.

21379 Shannon McEvenue (CMR '94) is a Research Assistant in the NEXUS Home Care Project at the Nova Scotia Centre on Aging, MSVU.Shannon McEvenue received her Sc in Kinesiology and Health Science from York University in Toronto,Ontario. As a recent graduate of the MA in Family Studies and Gerontology program at Mount Saint Vincent niversity Shannon was the recipient of the 2007 Graduate Student Thesis Award and the University Senate Medal of Distinction. Her thesis work entitled "Palliative Care in Long-Term Care: A Multi Methods Approachto Assessing Quality" focused on hospice palliative care policy and service delivery at facilities contracted by Veterans Affairs Canada. This research was funded by a two-year student research grant from the Nova cotia Health Research Foundation and was presented at the Canadian Association on Gerontology Annual General Meeting in Halifax, NS (October 2005) and at the Old Age in a New Age Conference in Saint John, NB (April 2007). She is currently working at the Nova Scotia Centre on Aging as a research assistant on the NexusHome Care Project and for Dr. Deborah Kiceniuk the Transdisciplinary Primary Care for Caregivers of Patients with Alzheimer Disease project. Prior to coming to the Centre on Aging, Shannon worked as a Research Assistant in the Geriatric Medicine Research Unit at the QEII Health Sciences Centre in Halifax coding qualitative data related to the treatment of Alzheimer Disease.

E2226 Cdr Robert Tremblay (RMC '00) was recently appointed Commanding Officer of Canadian Forces Electronic Warfare Centre (CFEWC), which delivers comprehensive Electronic Warfare support to CF military operations. The organization of the CFEWC consists of Operations, Threat Analysis, Administration, Computer Support, Software Development, Security and Infrastructure.
He is a former Senior Staff Officer in the Directorate of Maritime Policy, Operations and Readiness, Chief of Maritime Staff. Since Cdr Tremblay earned a Bachelor of Military Arts and Sciences from the Royal Military College via distance education graduation was his first opportunity to actually visit the RMC campus. He completed 5 courses over 2 semesters strategically. He minimized distractions, covered the more challenging material while he was fresh in the mornings and saved relatively easy material for evening. As former Commandant of the Fleet School, his favorite course was Oceanography, which focuses on plate tectonics, ocean topography, waves, tides, currents, water masses and ice climatology.

Ex-RRMC professor Frank Davey is the Carl F.
Klinck Prof. Emeritus of Canadian Literature at the University of
Western Ontario. He started to edit an offshoot publication called
Open Letter while teaching at a Royal Roads Military College in
Victoria (1963-1969). He earned a B.A. from UBC in 1961 and an M.A.
in Creative Writing in 1963. He gained his Ph.D. from University of
Southern California in 1968. Davey's has written many books of poetry
and critical studies on prominent Canadians. Frank Davey received a
Writers Choice Award in 1987. His book Mr and Mrs G.G. (ECW Press,
2003) looks at the coupledom of H22982 Adrienne Clarkson and John
Ralston Saul in their Rideau Hall context. He has also been the
editor of Talonbook's New Canadian Criticism Series.