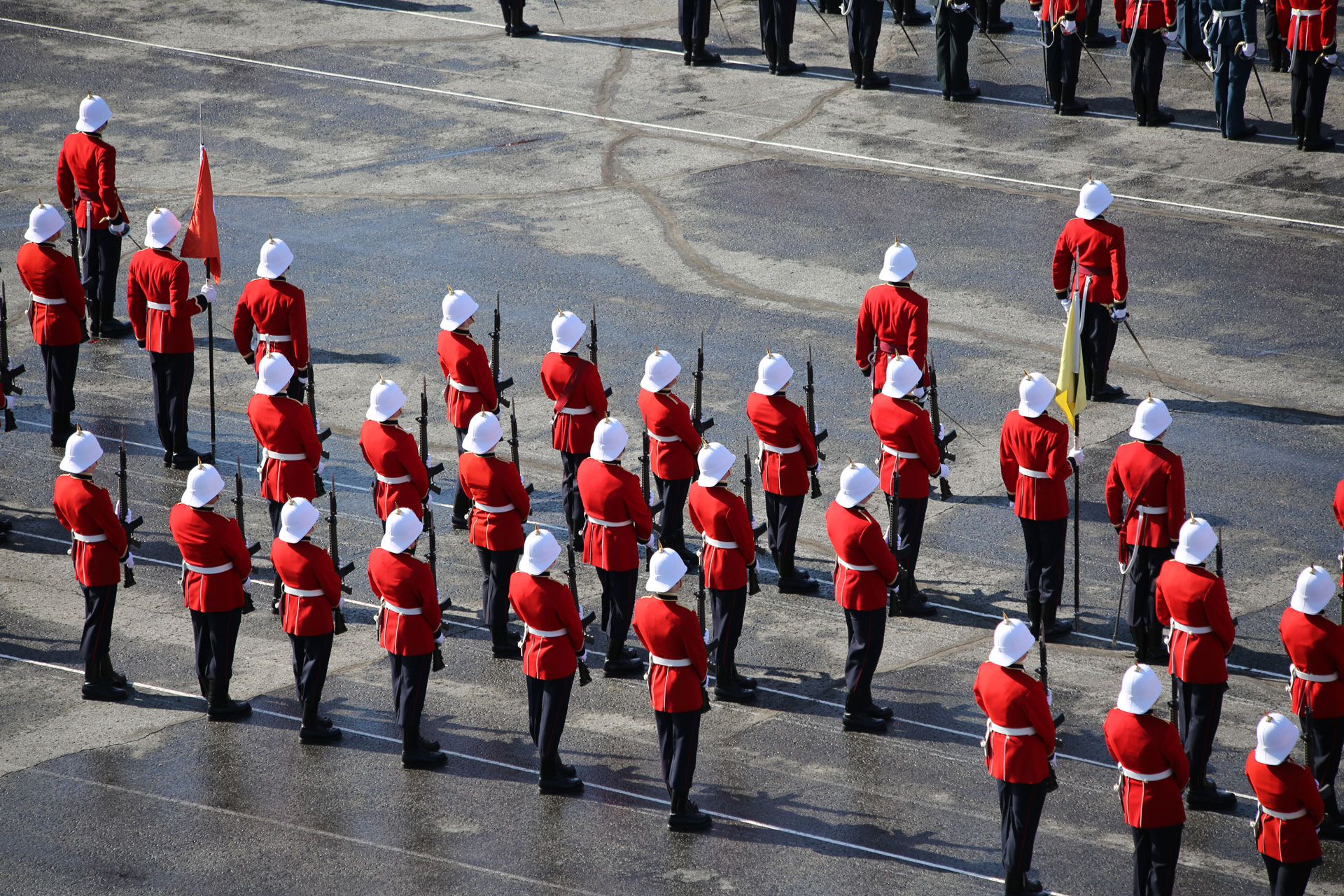 "On Thursday, September 4 1958, that year's Recruit intake entered the CanServCol system. This past September 4th, 50 years to the day-of-the week, four of those Recruits–5480 Gary Ferguson, 5483 Don Gilliland, 5493 Eric Kaiser (all RMC) and 5573 Layne Larsen (RRMC/RMC) gathered at RMC to mark the occasion. After drinks and lunch 8057 Ross McKenzie, Museum Curator, provided a tour of the museum and other college facilities. Unfortunately, Layne had departed before Kelly Lawson, wife of 12192 Tom Lawson, Commandant, happened by and volunteered as group photographer. Left to right: 5493 Eric Kaiser, 5483 Don Gilliland and 5480 Gary Ferguson"
__________________________________________________________
Retired general Rick Hillier to work with TD Bank

S148 Richard Hillier
__________________________________________________________
13495 Colonel Ivy Miezitis CD (CMR RMC '83) is Director Training Doctribe and Lessons Learned. He enrolled in the Canadian Forces in 1978 and subsequently attended the Collège Militare Royal in St-Jean, Quebec and the Royal Military College of Canada in Kingston, Ontario.
Upon promotion to Lieutenant-Colonel in 2000, he was deployed to the Kosovo Force Main Headquarters in Pristina, Kosovo. As the Kosovo Protection Corps Section Chief, he led an international staff charged with the demobilization of the Kosovo Liberation Army and their conversion into the Kosovo Protection Corps, a civilian emergency services organisation.
Colonel Miezitis assumed command of the 1st Regiment Royal Canadian Horse Artillery on 27 June 2003. Later that summer, he became the first Task Force Commander in an aid to civil power operation to combat the forest fires in British Columbia commanding over 450 troops from four different Brigade units. He also oversaw the unit's preparation for a return to combat operations as part of the first Canadian Task Force in Afghanistan. I
n 2005, he was awarded the Chief of the Defence Staff Commendation for dedication
and professionalism for arranging Canadian receptions and services for soldiers killed and injured by friendly fire in Afghanistan on April 17, 2002.
In August 2005, at his current rank, he assumed the duties as Exercise Branch Head, Joint Experimentation, Exercises and Evaluation Division, in the NATO Strategic Command, Allied Command Transformation, where he was responsible for the strategic policy, programming and support to NATO Response Force training and readiness.
In July 2008, Col Miezitis was appointed the Director Strategic Readiness at National Defence Headquarters in Ottawa.
Colonel Miezitis is a graduate of the Combat Team Commander's Course, the Canadian Land Force Command and Staff College and Canadian Forces Command and Staff College. He has completed an Engineering Degree at the Royal Military College of Canada and a Masters of Science Degree at the Royal Military College of Science in Shrivenham, England.
Colonel Miezitis is an avid team sport enthusiast.
__________________________________________________________
14915 David Bakke (RMC '85) has joined the Math & Science department Red River College of Applied Arts Science and Technology, Notre Dame campus in Winnipeg. David earned his Mechanical Engineering degree from the Royal Military College of Canada after
which he served as an aerospace engineer officer in the Air Force for nine years. He went on to become a design engineer at Bristol Aerospace and then a specialist in product liability issues at Standard Aero before accepting his current position as an instructor.
__________________________________________________________
5562 LGen (Ret'd) James JC Gervais (RRMC RMC '62) is Vice President of the Arctic Circle, a non-profit, volunteer organization made up of people who enjoy learning, talking and sharing information about the North.
James Gervais was born in Noranda Quebec. His military experience spanned 35 years in Canada and abroad, during which he spent time training and travelling in the North. A fluently bilingual officer, he held key command and staff assignments in command, personnel and administration culminating with command of the Army in 1991. In 1993 he
was appointed a Deputy Secretary to the Governor General of Canada, responsible , inter alia, for the administration of civilian and military awards including the Order of Canada and Bravery Decorations .
He retired in 1994. He is a graduate of the Royal Military College of Canada ( BSc) and the Royal Military College of Science, UK, as well as the Candian Army Staff College. He was appointed Commander of the Order of Military Merit in 1991 and Commander of the American Legion of Merit in 1992. He is the Honorary Lieutenant- Colonel of the Governor General's Foot Guards of Ottawa and a Director of the Board of the Canadian Corps of Commissionaires.   Source