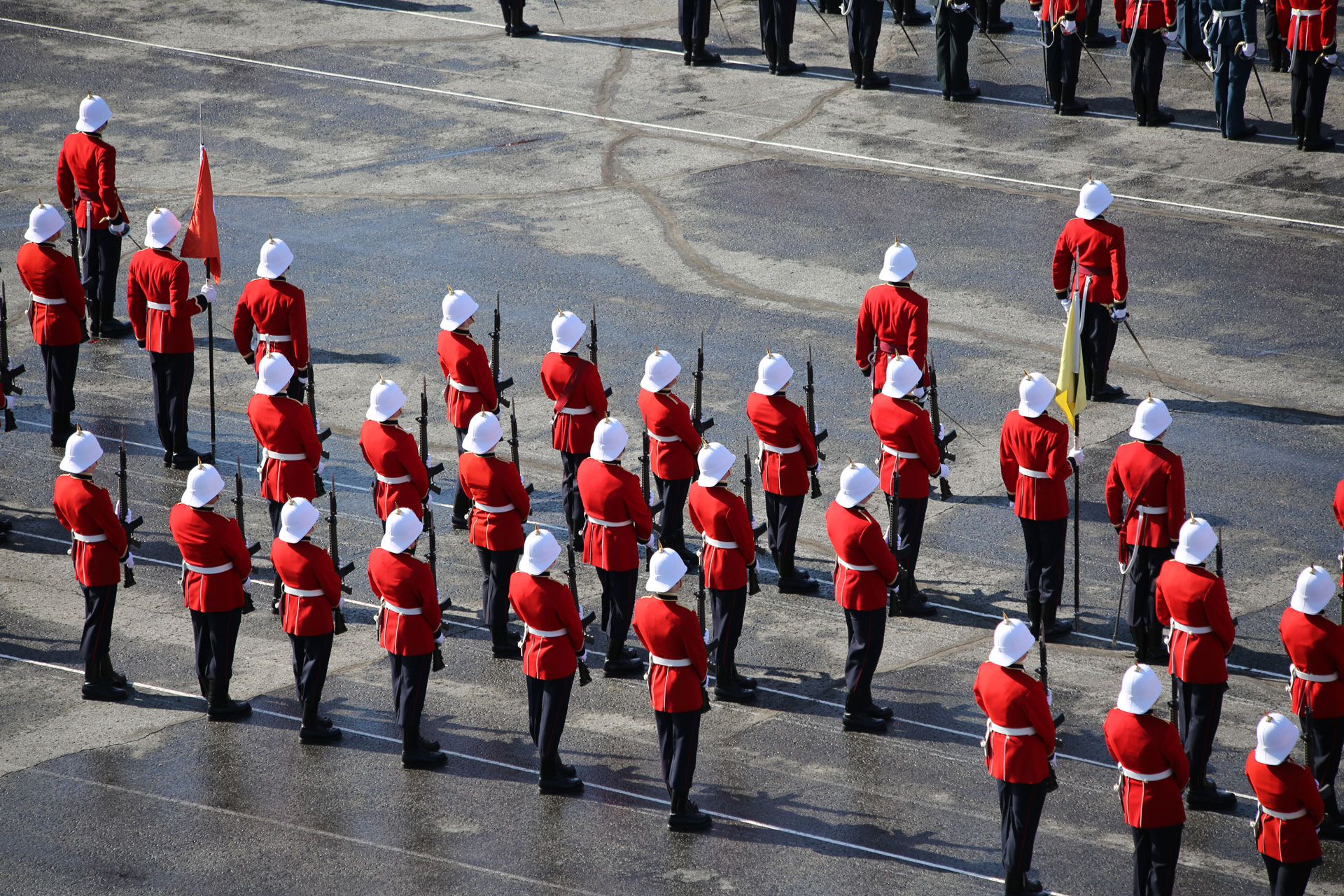 We have contacted numerous ex-cadets from the fifties through to the new millennium and plan to feature them in the coming months to give readers a chance to catch up with names and faces from each of the respective CMCs. If you would like to contribute to this column, please feel free to email me (Ken Eady) at s25247@rmc.ca
x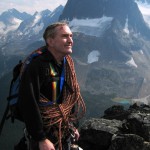 – 8788 Geoff Bennett (RMC 1971)
When my father and his cronies got together to tell stories of RMC in the thirties, the tears rolled down their cheeks and they laughed until they choked. What jolly good fun, I thought. I'll go to RMC too. Well, you know the rest of the story and the brick wall of reality. As we say now, "Everything is easy after RMC." Or at the time, "You'll understand later." Being somewhat unsure of my warrior credentials, I signed up in the Reserve Entry program. This was very good value – low tuition costs, a first-rate education, minimal competition for scholarships, an assured summer job and no serious commitments. I dreamed of designing airplanes and decided to enroll in mechanical engineering. By the time I graduated in 1971 I realized I wasn't much of an engineer. Boeing was laying off workers and the option of joining the newly integrated Air Force as a lieutenant in aerospace engineering was even less appealing. The Vietnam War was consuming our neighbours and, even in Canada, a military career was not cool.
So what to do? An uncle had told me that the world needed seismologists. The scientific world buzzed with the radical new theories of plate tectonics. I applied to UBC for a Masters program in Geophysics. They looked at my modest grades in engineering – and my RMC training – and to my surprise accepted me immediately. Two years later I joined Shell in Calgary as an exploration geophysicist.
Over 35 years later I'm still exploring for oil and gas in some of the most challenging and interesting parts of the world. Shell was a fine company but I soon realized that I had no interest in climbing the corporate ladder. I embarked on a series of adventures with small companies, starting with Sundance Oil in Colorado. The oil business crashed soon afterwards and I found myself on a lonely Denver street with a green card that nobody wanted. An acquaintance offered me a job with Asamera Oil in Jakarta. "Where's that?" I asked.
My dear wife agreed to bring our two young sons to Indonesia, even though she knew that a third was on the way. At the time we had no inkling that we would raise a family and spend the best fifteen years of our lives in such a foreign part of the world. In the jungles of South Sumatra, I got lucky and found several major gas fields. In the mountains south of Jakarta, I took the Boy Scouts camping, climbing, biking and swinging on vines through the jungle. When the Americans launched their satellites during the first Iraq War, I took a new-fangled GPS unit into the countryside, mapped all the trails and bamboo bridges, then published "The Jakarta Hike and Bike Trail Guide."
After witnessing the 1998 Indonesian Revolution, We moved back to Canada and settled in the beautiful city of Victoria. For several years I planted flowers, climbed mountains, kayaked with whales, watched birds and wrote a book, "The Pepper Trader," about the German East Asia Squadron. Then I suffered through the stock market crash and heard again the siren call of the East.
Since 2003 I've been consulting with small companies in Singapore, helping them find and develop oil and gas fields in Southeast Asia. One or two months in, one or two months back home, flying on the world's best airline (Singapore), working with good friends – I'm having a ball. We've been lucky but it's getting harder and harder to find hydrocarbons. Here's an insider tip: you can bet long-term on the price of oil – and the Canadian dollar.
Back in Victoria, I often think of how lucky we are in Canada. I've stayed in the Marriott hotels in Islamabad and Jakarta, seen the Indonesian Army in action, travelled to Myanmar, and shed a tear at Hellfire Pass on the Burma Railroad. Just before the Falklands War, I was sitting in a Buenos Aires bar with an Argentine friend. Alberto scanned the room for eavesdroppers and then asked me, "Do you worry about the army taking power in Canada?" I laughed, "That's ridiculous." He looked me in the eye and asked, "Why? Argentina isn't much different from Canada." I couldn't give him a simple answer.
I enjoy the irreverent camaraderie of the monthly Ex-Cadet luncheons. That RMC camaraderie is clearly evident in the voyageur canoe of the Chasse-Galerie. Three times now, I've paddled with 15 men and women from Ottawa to Kingston, arriving in time for the autumn Reunion Weekend. We've raised over $200,000 for sports at RMC and inaugurated the Danny McLeod Athletics Endowment Fund. This is amusing for someone who can't hit a golf ball and who earned the ring name "Dancing Bear" for his boxing "prowess."
RMC failed to transform me into an athlete, but I did learn to stay in shape. I took up mountaineering and rock climbing and haven't stopped yet, although the peaks are steeper now than I remember… Bugaboo, the Matterhorn, Scottish cliffs, Kinabalu, Indonesia, Bhutan, and my first love, the snowy summits of the Rockies. I'm reluctant to hang up my boots but when I do I'll still be able to watch the birds. It's a civilized pastime – like hunting, but nothing gets killed.
In 1986 I bumped into an RMC professor and fellow bird-watcher, Dr. Martin Davies, on a volcano in Java. I took the opportunity to thank him for his memorable physics lectures and, along with his colleague Dr. Baird, for teaching me a lifelong lesson in the errors of measurement. Sounds dull – until you come up against engineers and their endless decimal points.
In the end it's all about family, friends and adventures. I've enjoyed the love and support of Wendy, my wife of 38 years, and I've delighted in my three sons and three grandchildren. Preceding me at RMC were my father, 2435 Bob Bennett, his brother 2619 Tom, cousin 2073 John Bennett, and my uncle 2927 Frank Underwood. Bob loved the College and was a popular adjutant of the Old Brigade for many years. Tom went missing in action in 1942 and is commemorated with a window and photo in Currie Hall. I'm fortunate in Victoria to see people who remember them. Classmates and fellow Ex-Cadets rank among my best friends. As I grow older and I start to lose them one by one, they become more precious. Finally I understand.
Geoff can be contacted at
________________________________________________________________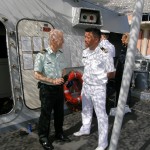 – 10289 Henry Phillips (RRMC, RMC 1974)
I enroled in 1970 in Winnipeg fresh out of air cadets, attended RRMC and RMC graduating in '74 as AERE with B.Eng (Mech). The next 10 years were spent in variety of line and HQ engineering jobs in Shearwater, AETE Cold Lake and Ottawa, including two glorious years on PG at Cranfield UK and receiving my SDO dolphins while in Shearwater (not bad for a prairie kid who could barely swim in 1970). In '84, I was accepted into MMTP, completed my MD in 1988 at the University of Manitoba and subsequently trained as a Flight Surgeon, with stints as Wing Surgeon in 17 Wing Winnipeg and 19 Wing Comox, with a short detour to the Golan Heights. I then retired in 1995, and traded my blues for the greens of the Primary Reserve as RMO for the Princess of Wales' Own Regiment in Kingston, while taking up duties as a senior medical consultant with OHIP and, later, the BC Ministry of Health in Victoria. In Victoria I became the DCO of 11 Field Ambulance and, in 2003 was halfway through JRCSC Toronto when I accepted an offer to return to the Reg Force as an MO in Esquimalt and retiring from the civil service. The past two years has been a blur, with Advanced Diving and Submarine Medicine courses, in between deployment on a CPF to chase Somalie pirates, basking in Key West with CF-18s, camping in Chilcotin with JTFG in preparation for the 2010 Olympics and, as I speak, packing my bags for submarine escape training in Rimouski PQ. On the home front, Karen and I enjoy our empty nest in Victoria and upcoming 35th wedding anniversary, while our kids, Ryan and Kimberly, are happily settled into work and studies in Ottawa. We're now counting down the annual BFT's remaining before my 3nd (and last?) retirement matched by a 3rd rosette on the CD. I look forward to spending more time around the condo tinkering with our Virago and practicing  the bagpipes, though our neighbours probably won't notice the difference.  Karen & I are sorry to have missed the 35th reunion in Kingston for Class of 74, but duty called.
Can be contacted at hdphillips@islandnet.com
________________________________________________________________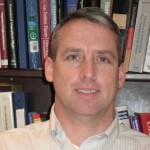 – 17571 Andy Fitzgerald (RMC 1991)
After graduation, Andy served as an Aerospace Engineer on a number of Air Force fleets, including the CC137 Boeing, CC130 Hercules, CH113 Labrador and CF188 Hornet. His postings included eight years on the flight line in Trenton, three years in DGAEPM Ottawa as the F404 Engine Technical Authority, and two years at as an Engineering Manager at the Aerospace and Telecommunications Engineering Support Squadron (ATESS) in Trenton.
Andy's career highlights included various deployed exercises; deployment on OP APOLLO ROTO 2 as the Tactical Air Detachment Maintenance Officer in 2003; involvement as a technical member in accident investigations; and completing his Master of Aerospace Engineering in Propulsion at Carleton University.
In 2006 Andy left the Air Force and is currently the co-founder and President of ACF Associates, an Aerospace Consulting firm in the Kingston area. ACF provides Professional Services to government and industry in the field of Aerospace Program Management, Performance Measures, Maintenance Optimization, Research and Program Evaluation. Andy is also a lecturer at RMC in the Aeronautical Engineering Program where he teaches a 4th year course in Maintenance Management. Andy is married to
Andrea Crossland and they have two children, Kara (7) and Kevin (5).
Can be contacted at afitzgerald.acf@cogeco.ca
________________________________________________________________
Sea King Pilot has seen it all
A/SLt 24498 Noelani Shore (RMC 2009)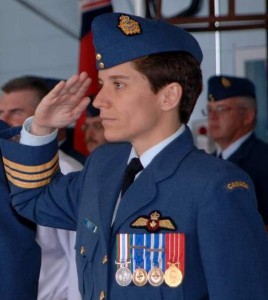 As a Sea King helicopter pilot,  18078 Lieutenant Colonel Lise Bourgon (CMR 1992), Executive Assistant to the Chief of Air Staff, has been in some difficult situations.
One would think landing a helicopter on the back of a moving ship in the middle of the night is tough, but being an EA has its moments.
"There is always a fire to put out. There is always something going on. The action moves so fast, but it's an incredibly interesting job," she said.
While in her last year of high school, LCol Bourgon did some research about which path to take and the military seemed like a good option.
"You could travel the world, get a free education, and learn a second language, so that made my decision easy," she said.
After graduating from CMR in 1992 with a Business Administration degree, LCol Bourgon completed her flight training in Moose Jaw, Sask., and was then posted to 12 Wing in Shearwater.
She did an operational tour with 423 Maritime Helicopter Squadron.
"The fondest memory I have from my posting would be to go to sea. I'm a Sea King pilot, so I've sailed with the Navy throughout the world, and I thought that was a fabulous experience," she said. "I did four deployments with the Navy. We went all over the place."
She had the opportunity to deploy in the Gulf and did two tours with the Standing Naval Maritime Group 1.
Later, in 1998, LCol Bourgon transferred to 406 Maritime Operational Training Squadron, where she was an instructor for three years.
She enjoyed being able to teach aspiring pilots, because the proudest moment in her career was getting her wings.
After her promotion to major in 2001, LCol Bourgon spent time in Ottawa in the Directorate of Air Requirements-Maritime as a Project Director. She graduated from the Canadian Forces College in Toronto in 2007 before be appointed Commanding Officer of 406 (M) OTS in Shearwater.
"I think that was the most challenging but also most interesting time in my career. To increase the number of aircrew in the Air Force, we were given very challenging production goals. As a training unit, we pushed extremely hard and increased the number of graduates by close to 100 percent for the two years I was there. I had an incredible team of pilots, navigators, sensor operator and technicians," she said. "They made my job easy."
Talking about her time in St-Jean, LCol Bourgon commented that she had to return to CMR to give a briefing to the Intermediate Leadership course on the subject of Air Force leadership.
"It was funny because the last time I had been in the CMR auditorium was almost 15 years before as a little officer-cadet starting a brand new career and I was now giving a brief on Command to Senior NCMs… It's just proves that you never know where life will take you."
While graduating from the college and moving on was a positive experience, LCol Bourgon misses the teamwork and camaraderie of CMR, because "you can accomplish anything with teamwork."
"I don't miss the PT test or the drill at 0600 at all though," she laughed.