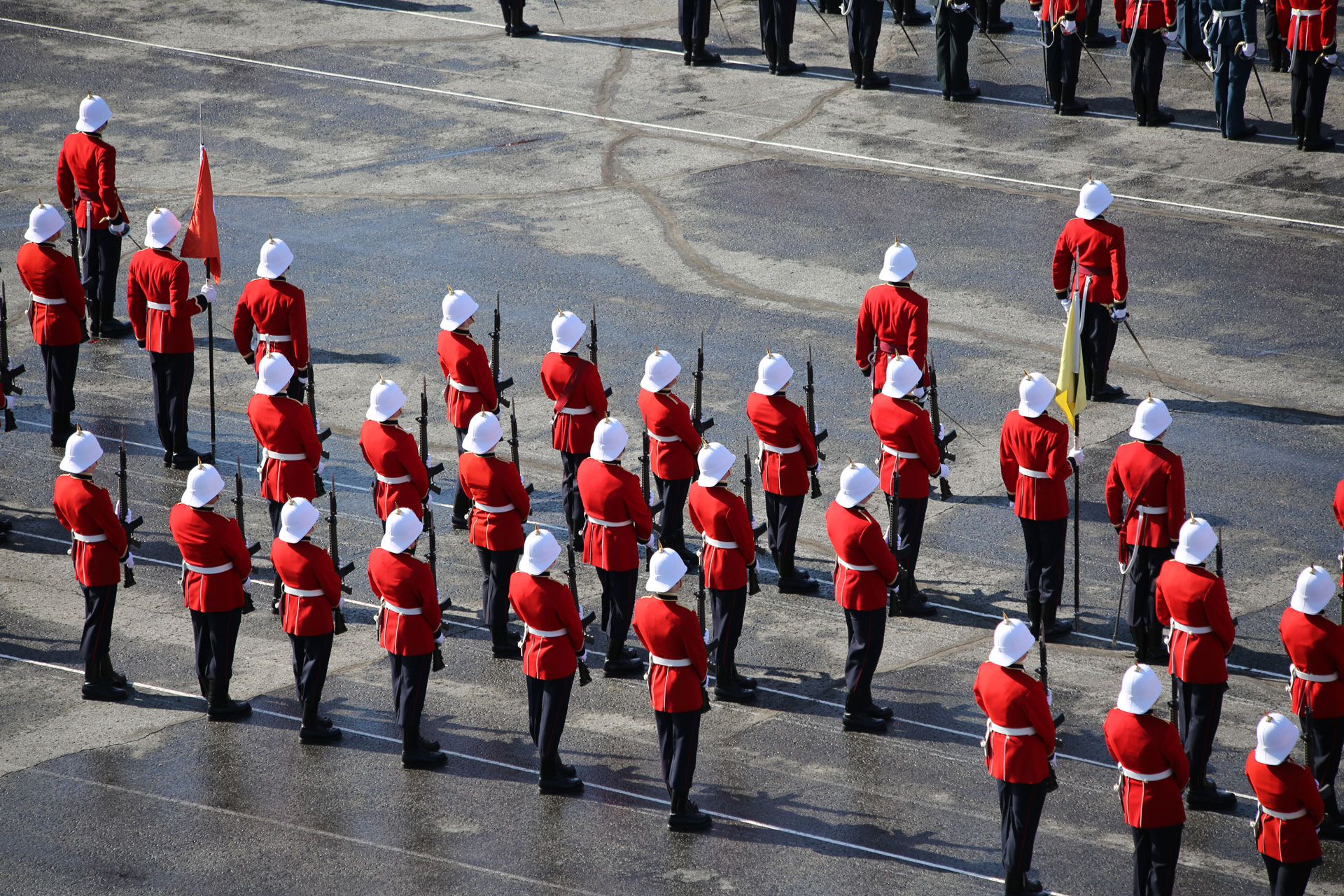 Ex cadets mixing varsity hockey with PG studies
by M0917 Dean Fleet & WJO

22363 Matthew Cossaboom (RMC 2002) , a Sigs Officer, and 22450 Paul Whalen (RMC 2002) an AERE Officer, are both enrolled in a Masters in Applied Science degrees. Matt is in his second year while Paul arrived back on the scene this past summer.
Whalen from Buchans, NFL provides extra offensive punch to a team that struggles to find the back of the net. He first arrived at RMC, as a 17 year old, after first being spotted at Allan Andrews Hockey School in Summerside, PEI the previous summer.
He has always been a highly-skilled, offensively gifted player.
Cossaboom from Quispamsis, NB (near Saint John) was first noticed in 1997-98 when he was a star player for the Saint John team that represented the province of New Brunswick at the Royal Bank Cup (national midget hockey championship). One of his teammates, from that Midget team, and godfather to his son, Riley, was Randy Jones currently playing with the Los Angeles Kings, NHL. Matt is a spark-plug type of player who brings plenty of grit and speed to the team.
Both will play pivotal roles if  RMC makes the play-offs this season – after an absence of nine years.
They were teammates for four years for the Paladins during their undergrads (1998 – 2002), they have again returned to the roster for their last year of OUA eligibility.
While the life of a post-grad student, can be demanding, they find it much easier to fit hockey into their schedules now than they did as an undergrad. As ROTPs it was a challenge to fit everything that the average officer cadet has to do into their schedule, whereas now it is just school and hockey.
The secret to their success has been to treat their studies like they would any full-time job, they have resigned themselves to working 8 – 4 days at the college, whether in class or not, working on their studies. With the exception of the odd seminar, they have been fortunate thus far not to have missed too much practice time with the team. And they are certainly not complaining about drill, inspections, and parades cutting into their freedom either. This relaxed schedule allows them to prepare better for athletics with regard to nutrition, meal planning, and rest periods.
After a six-year hiatus from RMC, much has changed, but in many respects the team has remained the same. While they are both walking into the locker-room as commissioned officers, this has proved to have no bearing inside the locker-room: leaving them just as open to the usual camaraderie, pranks, and banter as their undergrad counterparts.
IV 24662 Jeffrey Oke remains the team captain, and these two C.F. Captains fall under his leadership with regard to the team. Prior to the season, they prepared themselves to assist in any way that coach Adam Shell wished, but in regards to leadership, this has taken on more of mentoring role outside of hockey. This is evidenced in the way that they provide answers to questions regarding life in the CF and their experiences in that regard, as well as assisting with tutoring as required.
The camaraderie has not changed much since their undergrad days, but with cadets living off campus, it has made the team have to work a bit more in order to achieve it. Through regular "get togethers" outside of practice the team has become a tightly knit group, and these two try to attend most of the team functions. Matt will often host other players at his house, and Paul, for the price of a cadet cooking dinner, has teammates over to his apartment to watch hockey games.
Having not played hockey at this level in a few years, Matt and Paul began training early, and as Matt's wife is a PSP staff, it is not likely that he will be slacking off in his fitness regime any time soon! Not wanting fitness to be an obstacle, and feeling the physical differences between 20 and 27 year-olds, these two began training in April in anticipation of playing with the Paladins once again.
They are thankful now that they made the extra effort over the summer, not that they found it made them any faster than their teammates, however, and perhaps more importantly, it prevented them from being slower than the other players, which is good considering the amount of well-intentioned flack they take from the team as it is for being 'old men.' Still, while keeping up is not a challenge, these two have noticed their limitations (and age) when it comes to recuperation time: they are far stiffer come Monday's practice after two weekend games than they once were! Either way, one of their goals this year was to not get hurt, and thus far their training has paid off with reduced injuries.
Paul and Matt remarked about how the game has changed, and gotten faster (or is it just that they have slowed down with age?) They can remember devoting entire practices to picking at opposing players on the ice, but since picking, clutching, and grabbing have been de-emphasized with the adoption of new rules, this is no longer the case. The play has been sped up, and while this hasn't exactly made play easier for them, it can be quite grueling and taxing at times. So well adjusted are they now to this faster game that Paul is currently leading the team in scoring.
While they are satisfied with the team's progress thus far, they admit that a few games got away from them, but with three OT losses, their record of 4-8-3 could just as easily have been different. The team is working to improve their consistency through 60 minutes, and on the days that they do that, they can compete with every team in the OUA..
Just past the half way mark the team is sitting in eight spot (11 pts)  in the ten team East Division. Ottawa is right behind them with 9 pts. Up-to-date OUA standing are here.  Action resumes in II term when RMC pays a visit to the Kingston Memorial Centre – 6 Jan / faceoff at 7:30PM.  Full schedule here.

Their most memorable experiences from playing hockey at RMC were from when they were undergrads. Firstly, they will always take pleasure in reminiscing of the time when they beat Queens, their cross-town rivals, during the playoffs and eventually losing out to UoT in a hard fought 2 out of 3 series and a berth into the OUA Final Four.  They both experienced four West Point games. Winning two of them – 3-0 in 2000 and a dramatic 3-2 overtime win in 2002 in front of over 3,000 fans at the Kingston Memorial Centre.
Click, click on photo for better viewing.
What Coach Adam Shell has to say: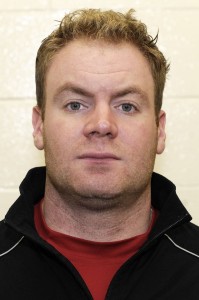 "Paul and Matt are fabulous people and leaders, having coached with Matt the last two seasons and got to know Paul last year I knew they would be a tremendous help to our squad.
I could never have imagined though how much they have enhanced the team with their leadership, poise and commitment. We are very lucky to have them and the boys are extremely appreciative."
Team Captain Jeff Oke:
On Matt:
"Cossie", "Boomer", and "Old Man" are some of the endearing nicknames that my fellow teammates and I refer to Matt Cossaboom. We playfully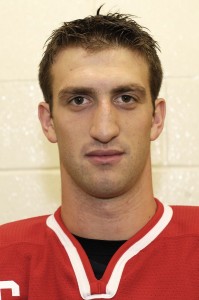 tease him about his age as he is one of the oldest players on our team (reminding us of this by bringing his son, Riley to practice).
Regardless of his paternal habits, he is still one of the most physically fit players we have on our team. This coupled with his consistent, quiet leadership helps push my fellow teammates and I to achieve a higher standard."
On Paul:
"What he lacks in stature he more then makes up in heart and desire and that is displayed on a daily basis. A characteristic of Whales is that he is always happy and willing to give it all in every situation. He has taken on the role as "Uncle Whalen,"for not only his age and wisdom that he brings to the team, but also his dress style that he brings into the dressing room."
____________________________________________
Ex cadets in the news…
"When I was deployed, he was supportive," 22658  Captain Ryan Gregg (RMC 2003) told The Lindsay Post. He left for Afghanistan in April and returned to where he is stationed in Moncton, N.B., in mid-November. Source
____________________________________________
"We're focused this time at getting a lot of boots on the ground," said Canadian 12632 Major-General Mike Ward (RMC 1980), deputy commander of the new NATO mission. "We've got a long way to go in terms of police development."  Source
____________________________________________
"Gino always had a smile on his face. He worked really hard, whether it was school activities, extracurricular, his family or for the community. He never made an excuse about being too busy. He was just a hard worker,"  Gino Bruni – Source