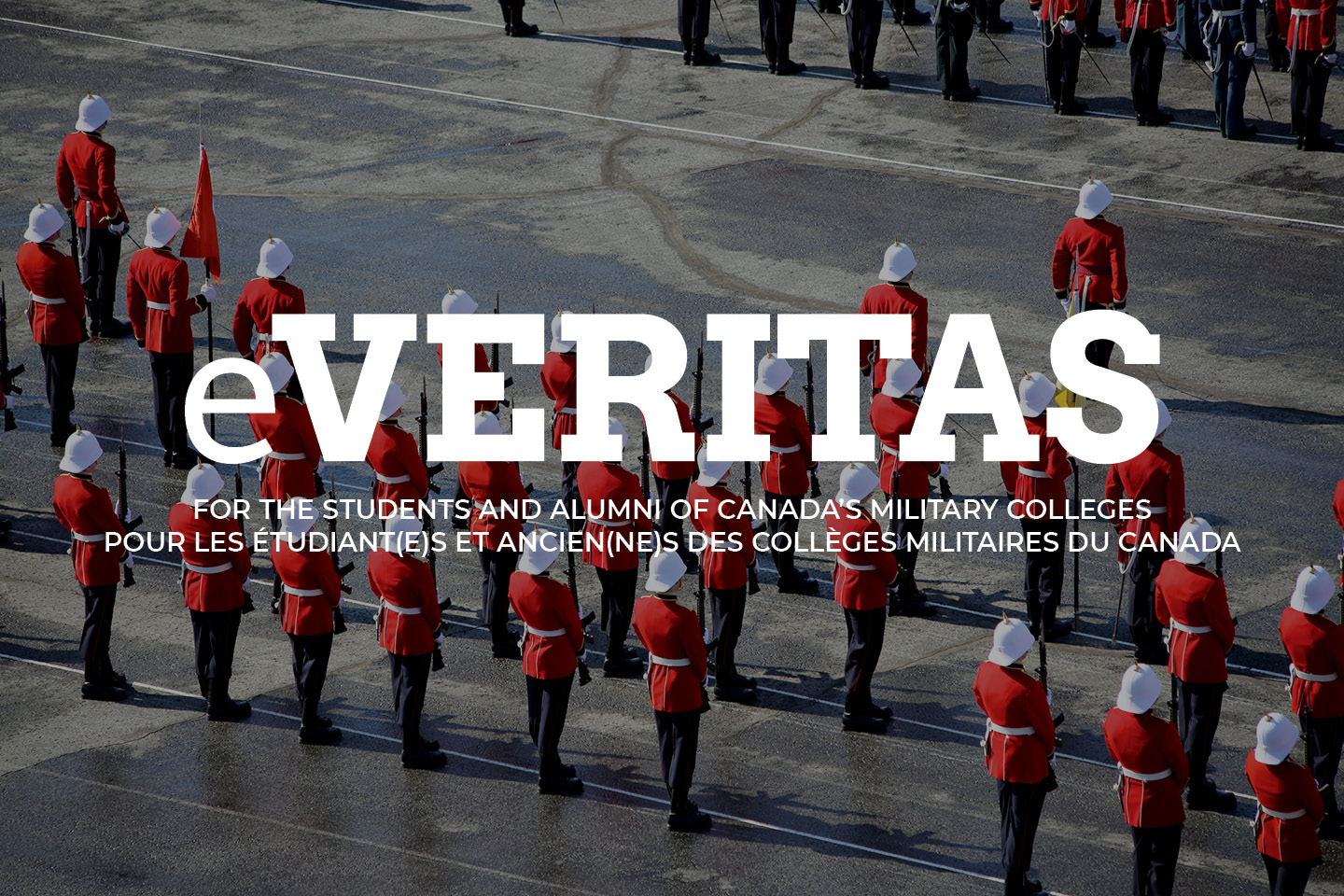 SKATING OUTDOORS, GENES AND HOCKEY
Late in January I skated at noontime on the outdoor 400-meter Gaetan Boucher oval in Saint-Foy on a sunny winter's day just perfect for the sport. On my first circuit I noticed a stretch of ice on the outside of one of the curves that was untouched by skate grooves, the other skaters having apparently veered away from it to cut the corner short. This patch of fresh ice gleamed and reflected the sunlight in such a way that it triggered in my mind long-forgotten images and events associated with outdoor skating and hockey, both of them important in my life. I thought of little else until reaching home and attempting to write some of them down.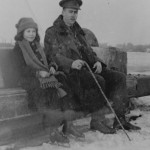 Where did the skating genes come from? There is a revealing photo of my father, 1272 Kelso Roberts, taken at Christmastime 1918 in Belleville, Ontario just after he had arrived home following eight months of miserable incarceration as a prisoner of war in Germany. Still in full military uniform, he is seated with his nine-year old sister on the edge of a wharf beside the frozen Bay of Quinte, both with their skates on and obviously very content. My father had played on the 1916 First Hockey Team at Upper Canada College in Toronto (there is a picture of him on the wall where such teams are shown – farther down the hall I appear on the 1953 team).
The first picture of me on skates dates from February 1938 when I was about three-and-a-half years old. My maternal grandfather (not on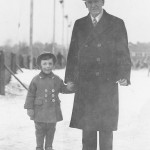 skates) is holding my hand as I balance on a sturdy pair of double runners strapped over my boots at Toronto's Forest Hill Village School outdoor rink; actually it was an irregular shaped ice surface surrounding a hockey rink in the middle. (Click on photos for better viewing)
As a youngster I spent endless winter hours there with my best friend Bill (later 3532 William McMurtry) playing shinny on the open ice outside of the hockey rink in which the bigger boys enjoyed themselves. This had its advantages. Because there were no boards, we had to keep the puck on our sticks through skillful stick handing and accurate passing. Otherwise it disappeared into the snow banks that had built up during clearing of the ice surfaces. This was also more fun, being completely unstructured. We learned well over the years and both of us went on to play on senior teams at the high school and college levels. Before that, however, I played on many lower level teams where most practices and games were out of doors.
When I arrived at the Royal Military College at Kingston, Ontario in the fall of 1953, there were only 354 cadets in all, so anyone who had a modicum of hockey talent was much in demand for College teams. Another recruit and I played on both the Junior and Senior hockey teams that first year. 3824 Len Pitura (who would captain the Senior Team in our final year) had honed his hockey skills on the frozen sloughs of rural Manitoba. We lived in the Stone Frigate, located on the edge of Navy Bay beside a large wharf. One cold winter's night we quietly slipped out of our rooms and ran to the end of the wharf where we quickly donned our skates before clambering down onto the frozen surface of the bay. Then, under the light of a near full moon, we skated out into the middle of the St Lawrence River towards Wolfe Island. What an experience: there was no snow and the ice was fast, but it made a cracking sound in reaction to the gentle motion of the river flow below that harmonized with the swishing sound of our skates. There were no other sounds, just lights winking on the distant shores. We reveled in that surrealistic world for about a half an hour before returning.
During the 1990s I worked as a part-time consultant in Le Gardeur, just east of Montreal Island on the north shore. I was regularly away from home in Quebec City for several days at a time. During the first couple of winters I skated indoors (good exercise, but not much fun), before discovering a school with a frozen outdoor 400-meter oval. Late in the evening there was rarely anyone there, so I had it to myself. Like Navy Bay so many years before, there was only stillness and the stars all around. Afterwards, I arrived at the boardinghouse where I stayed a little weary but always exhilarated and ready for a relaxing supper.
Now, as I advance in age, I am left to vicariously relive those long ago moments as I move less rapidly round the curves of the Gaetan Boucher course – not to mention remembering former battles for the puck in the countless corners of rinks where that wonderful game of ours is played.
3918 Al Roberts
_______________________
Where are they now?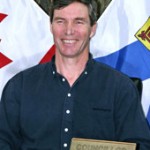 8270 Sherman Embree has served as the Municipal Warden in the Shelbourn, Nova Scotia since April 2008 and has been a Councilor since November 2004. He spent more than 32 years in the Navy as an engineering officer and senior manager. He is a graduate of the Royal Military College and National Defence College. He now operates a woodlot and Christmas tree farm in East Sable River, enjoys sports and the outdoor life, and is active in the community. Sherm is married to Cindy (Pierce) Embree from the local area. They have three adult children: Sean, Renée and Lana. Source
xxx
xx_______________________
16699 Phil Gothe joined the BC Safety Authority as Vice President, Stakeholder Engagement in January 2009 and was appointed to Vice President, Technical Programs in July 2011. Specializing in Business and Organizational Development, he has led development and execution of business strategy in forest products, helicopter and heavy equipment industries. Phil began his career in naval operations with the Department of National Defense. He graduated from the Royal Military College of Canada, has an MBA from the Richard Ivey School of Business at the University of Western Ontario, and obtained a Chartered Director designation from The Directors College. Source
18037 Markus Schnorbus joined Pacific Climate Impacts Consortium (PCIC), a regional climate service centre at the University of Victoria, in April 2009 and became Lead Hydrologist in July 2010. Prior to joining PCIC Markus was a Hydrologic Modelling Scientist and Forecaster with the BC Ministry of Environment, River Forecast Centre. He holds a BEng Mechanical, Royal Military College of Canada and a MASc Forest Hydrology, University of British Columbia. Source
_______________________
23988 Gino Bruni (photo below, in uniform) is Captain of the Oxford Blues, the University of Oxford's Varsity Ice Hockey Team. He will be leading the team in their upcoming alumni game vs long time rivals Cambridge University, which is set for 3 March 2012. The rivalry between the Oxford Dark Blues and the Cambridge Light Blues is one of the oldest in the world, with the first game believed to have been played in 1885. Click for the team home page.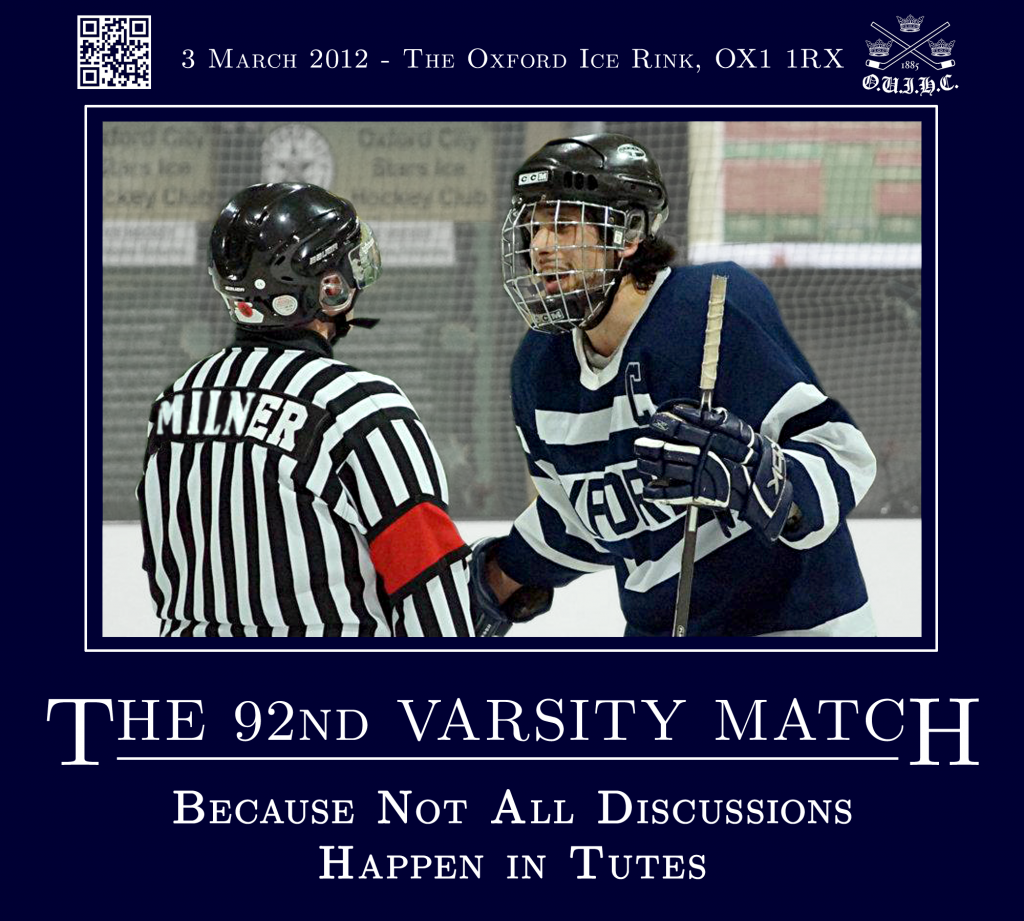 Queen's Diamond Jubilee Award: Ottawa & Gatineau
Eleven people from Ottawa and Gatineau were among the 60 Canadians honoured Monday at Rideau Hall with the Queen Elizabeth Diamond Jubilee Award. e-Veritas recognized two with a Canadian Military College connection. If we missed someone, please let us know. Source.
4106 Dr. Peter Meincke
23350 Capt Simon Mailloux
If you are aware of someone from the military colleges who has received the QDJA please let us know with the source.
_____________________________________
 A Renewed Rivalry
Bill –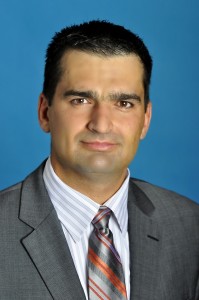 It was with great interest that I tracked the West Point Game from afar this year. As much as anything, I was interested to see what (if any) level of camaraderie would emerge from the game.
As you are well aware, the rivalry had become very bitter and very distrusting in recent years. I admit to being in the midst of that distrust (and even to helping foster it).
I also vividly recall being a part of the 2005 team that was ordered to attend a "social event" that turned out be cold pizza in an empty hall with nobody other than the RMC team attending the "social". Meanwhile, the West Point team dined comfortably with the Athletic Directors in attendance. It is hard to imagine feeling more like a second-class citizen than being treated like that.
So I am delighted that the tone of the West Point Game has changed. It had to.
I certainly hope that this is the beginning of a new, long-standing, friendly rivalry.
Cheers
Keri
20771 Keri L. Kettle, CD, BA, MBA, PhD
Assistant Professor of Marketing
School of Business Administration
University of Miami
(305)284-6849
_____________________________________
Retired Lt-Gen Bill Leach Named As New Chairman of Canadian Museum of Civilization Corporation Board of Trustees
6454 Bill Leach  Article
Victoria couples find love in uniform
22614 Isabelle Filion and her husband 22281 Bruno Farrugia Article