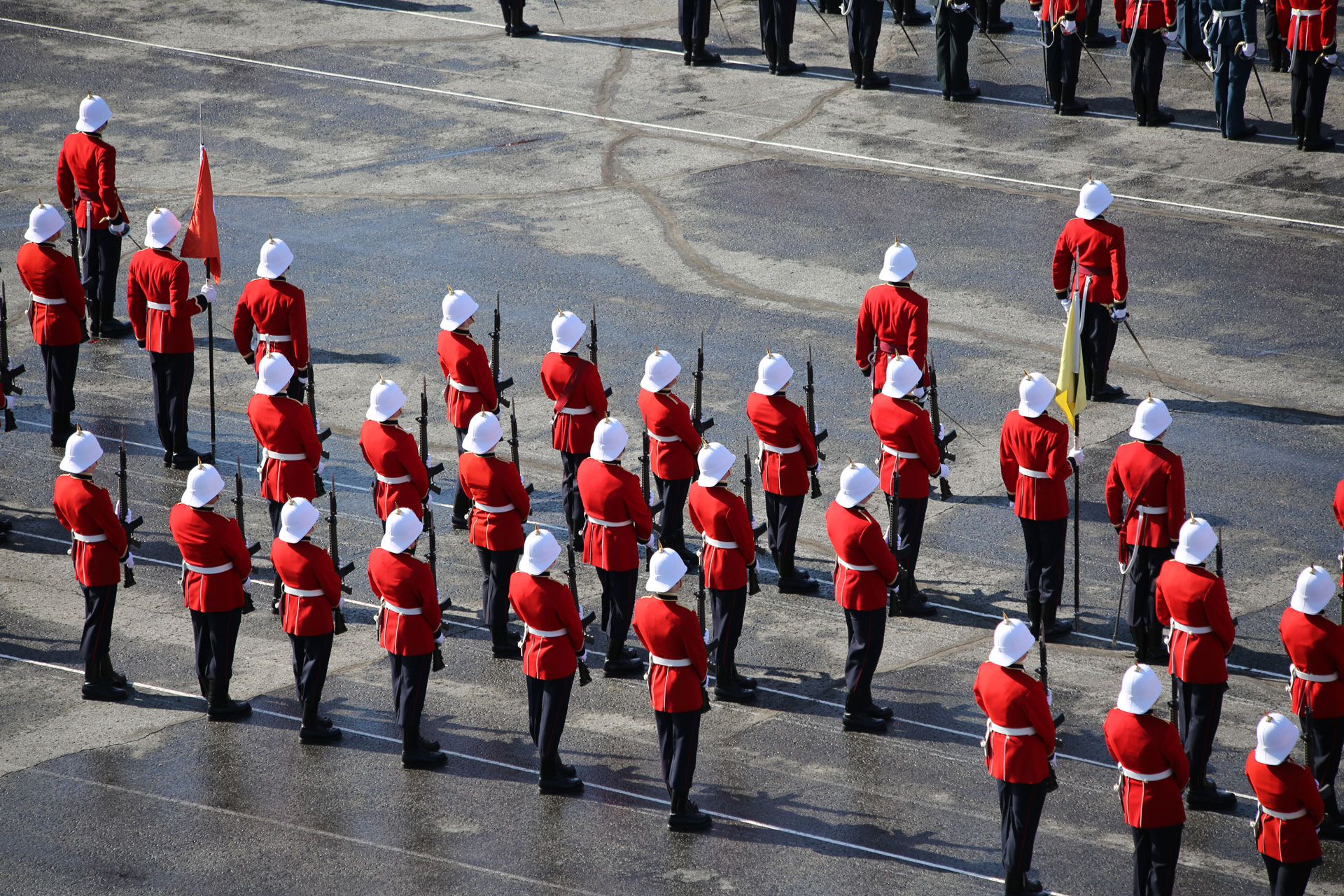 Who am I?
By E3161 Victoria Edwards (RMC '03)
I was born in Halifax on June 23, 1911. My father, a physician and member of the militia, died when I was five years old. I remember the Halifax Explosion of 1917. My mother and I were blown off our feet at a distance of three miles from the site of the blast.
I came to Victoria in 1919 where my mother married an Ordnance Corps officer (later Maj.-Gen.). We lived at Work Point Barracks. I later attended schools in Calgary and Toronto.
I entered the Royal Military College in 1929. I found the academics and discipline at the College to be tough. The heavy sports schedule, with a student body of only two hundred, produced very good results at the intercollegiate intermediate level, particularly in hockey and football.
Due to academic problems, I spent five years at R.M.C., graduating in 1934.
I was granted a permanent commission in the army and joined B Battery, R.C.H.A. in Kingston. At the time, the pay for a lieutenant was $108 dollars per month out of which, during the first year, one month's salary was deducted as an initiation fee in the officers' mess. Other deductions included a per diem charge for extra messing and the total of a bar bill, limited in the case of subalterns, to thirteen dollars per month. A formal mess where officers dressed for dinner was held four nights a week. I was later posted to Winnipeg where the garrison mess was less formal with mess kit worn only one night a week.
In fall 1938, I returned to Kingston and very shortly thereafter was chosen to be a two-year exchange officer in England. I was posted to the 9th Field Regiment, Royal Artillery, at Larkhill. On Sept. 16, 1939 I found himself in France with the British army. In June 1940, I was to be one of only two Canadian officers to be evacuated from Dunkirk. I was promoted to captain by the British. At the time, a lieutenant had to follow a procedure to obtain permission to marry.
In France, I participated in many large-scale exercises during the ""phony war"". In May 1940 the regiment moved into Belgium and into action which did not stop until we were evacuated. During the evacuation, the supply system broke down, we had no sleep, since we were in action all day, we moved at night. At the end our guns were destroyed by the engineers while we destroyed our vehicles. On the night of May 31/June 1, we marched thirty-four miles.
I returned to England dead tired aboard a minesweeper. Nevertheless, morale remained high. The reception in England was great!
In May 1940 my pay problems with the Canadian army were finally resolved when the British paid the Canadian government the difference of pay when they promoted me to captain. I received instructions to join 1st Field Regiment, R.C.H.A., then was promoted to major and to command a battery of 2nd Field Regiment, R.C.A. I was posted to Canada as chief instructor at the Artillery Training Centre at Winnipeg, then as a staff officer at Petawawa. I was at Staff College at Kingston for four months.
I was posted overseas as brigade major (artillery) with 5th Canadian Armoured Division. In March 1943 commanded 3rd Field Regiment, R.C.A. (1st Canadian Infantry Division). I attended training in Scotland for the invasion of Sicily. I lost one battery at sea due to enemy action. For a short time we used a battery of captured horsedrawn Italian guns, but soon discarded them due to their short range.
I was awarded D.S.O. I was promoted Brigadier in Dec. 1944 and commander of 5th Armoured Division artillery. I moved to Belgium and Holland. I reverted to the rank of colonel in the Interim Force and became Director of Artillery. I regained the rank of Brigadier in 1959. I commanded the Alberta area, then eastern Ontario.
I retired in Apr. 1966. I died on March 1, 1989.
a) 2073 BGen (Ret'd) John AW Bennett (RMC 1929)
b) 2082 BGen (Ret'd) Bud Drury (RMC 1929)
c) 2098 BGen (Ret'd) Walter C. Leggat (RMC 1929)
d) 2116 BGen (Ret'd) John Stuart Ross (RMC 1929)
e) 2131 BGen (Ret'd) George JH Wattsford (RMC 1929)
Answer: d) 2116 BGen (Ret'd) John Stuart Ross D.S.O., C.D., (RMC 1929)
Click HERE to listen to "My Army recollections"; audio interview with BGen JS Ross