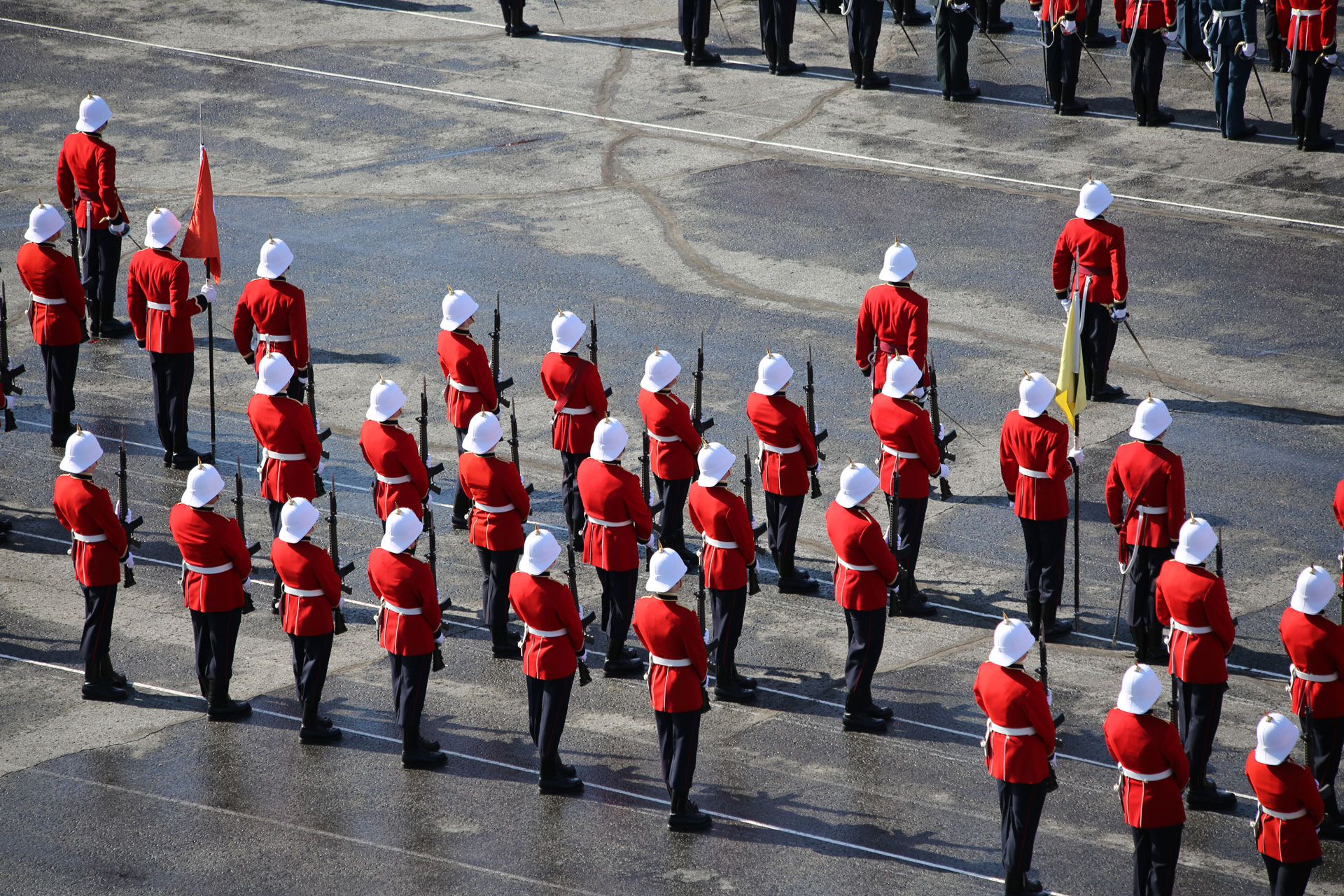 Who am I?
Researched by E3161 Victoria Edwards (RMC 2003)
* I was born on a farm on 14 April 1876 near Winchester, Ontario. My mother Mary was a teacher before her marriage while my father, George known as "Squire" for many years a magistrate, justice of the peace and reeve of the township of Dundas County. I came of fighting stock, my father and grandfather having been on active service of Canada, one at Windmill Point and the other at Chrysler's Farm.
* After attending Winchester School and Morrisburg High School, I worked as a teacher at a school at Navan, Ontario. At over six feet in height, I was a fearless rider and a crack shot.
* Following an interview with a recruiting officer, I was accepted to serve. On 28 December 1899. I was sent to Halifax for training. I transferred from the Princess Louise Dragoon Guards to the 1st Battalion Canadian Mounted Rifles. I left Halifax on the Milwaukee on 21 February 1900 and arrived in Cape Town thirty-one days later. I proceeded with my regiment to Bloemfontein and was involved as a Trooper in the fighting during the Boer War (1899-1902) at Kronstadt, Johannesburg, Pretoria, and Diamond Hill.
* On 12 July 1900 British and colonial troops carried out a general advance against the Boers over a range of hills called Witpoort, Koffyspruit, and Oliphantsfontein. The Canadians attacked under heavy fire, and rushed forward to secure the top of the ridge. The Boers called on them to surrender, but the five plucky Canadians refused to surrender, and kept the Boers at bay. The engagement at Witpoort, South Africa became famous in Canada, not only because of the bravery of the soldiers, but because of the death of Lieutenant Borden, the only son of the Minister of Militia.
* Although initial reports suggested that I was shot in the head and had died on the battlefield of my wounds, I was blinded in both eyes and injured the upper part of my nose. My letter to my family explained, "I have not experienced even the faintest sensation of light since that shot was fired. My left eye is totally destroyed and my right one is so badly injured that it is like a man halting between life and death undecided to advance or retreat."
* I was enrolled in the Royal Normal School for the Blind at Norwood.
* When I was presented to Queen Victoria "Her Majesty's womanly heart was so touched that she cried openly at the sight of the stalwart young Canadian who had the bright prospects of his young life shattered through his loyalty to her service."
* I received a Mention in Despatches and a Distinguished Conduct Medal for my service in South Africa.
* My speech in response to the Lord Mayor of Liverpool's address to a group of injured soldiers at a luncheon on 30 November 1900 at the Liverpool Cotton exchange was quoted throughout Canada and the British Empire "I am not a regular soldier. A year ago I was a student studying in the university and ought now to be in the university out there. But when Canada was called upon to send out men she did not send out her 'corner-boys' but the best she had to give… I have no regrets for the past. I think if a man decides that a course is right and has followed that course out, he has no regret afterwards whatever the consequences may be. Of course, it looks unfortunate to see one's hopes, aims and aspirations all cut down at a swoop, sudden and irreparable, but there are conditions which alter circumstances to a certain extent, and I believe that the truly brave man and soldier will accept with fortitude vicissitudes of fortune – and will not be overwhelmed by any circumstances, but will still with a calm heart and serene mind go bravely forward."
* Although I drew a paltry pension of eighteen dollars a month from the British government, I was determined to be independent despite my disability. "It is not necessarily the disabled soldier who is to be pitied," he said. "Not the man who lost an arm or a leg, or perhaps his sight. It is rather the man who comes back in sound health and strength, and in full possession of all his faculties, who has a piece of shrapnel lodged in his moral backbone. It is the lad who has the grit and gumption to stick it out during the period of transition and makes good. Remember the three most important things are self-mastery, self-reliance and purposeful self-direction."
* After returning home in December 1900 to my farm at Winchester, Ont, I took a course in the arts faculty at Queen's graduating with an honors degree in Philosophy and Political Economy in 1906. I managed to go through my studies with remarkable success, getting over the difficulties entailed by the lack of eyesight by having others read my work over with me and also by the use of raised type. My writing was all done on a typewriting machine.
* In 1907, I sailed on the Conthinian to take up three years postgraduate work at the Balliol College, University of Oxford. I also earned a position on the Freshman Rowing Team. A portion of the balance still remaining of the Canadian patriotic fund, which was raised to aid persons who were injured in the Boer war, was applied towards defraying the cost of the three-years post graduate course. When I was studying political science, history and Jurisprudence in England, I formed an acquaintance and friendship with my second cousin Miss Jean Munroe, who had studied at the Boston Conservatory of Music and spent twelve years in Italy before returning to the United States to sing soprano with the Metropolitan Opera.
* After graduating in 1910, I became a member of the organizing council and secretary of the in the Imperial Pioneers and the Tariff Reform Council. I declined offers of the Unionist nomination in several English constituencies and returned to Canada.
* I began a successful career as a professor of Military History and Strategy at the Royal Military College, Kingston.
* On 4 March 1911, I married Jean Munro, the daughter of Seattle millionaire Silas Munro in Montreal and honeymooned in Kingston and Ottawa before returning to England. My wife wrote a march dedicated to Canadian Soldiers as a tribute.
* During the First World War, I served as a Recruiting Officer for the National Service League. I helped to raise a battalion in a few weeks in the District of Temiskaming in northern Ontario. I became involved in several important political issues including conscription, relations between  Quebec and the rest of Canada, and fair treatment of returning and disabled soldiers.
* After the First World War, my wife and I bought a stone house named "the Maples" by the St. Lawrence River near Iroquois, Ontario.
* On deciding to study law, I received special permission to take the three-year course in one year. In 1920 I articled with barrister Arthur Flynn of Morrisburg and was called to the Bar on 22 November 1923. My colleague from the war John Godfrey and I practiced in criminal and corporation law.
* Active in local municipal affairs, I was opposed to hydroelectric development along the St. Lawrence River. I promoted various progressive projects including the development of a public park along the St. Lawrence River, pasteurization of the local milk supply, the introduction of an  electric meter system, the remodeling of the high school, and the paving of streets and highways in Iroquois.
* Active in athletics and recreation, I rode my horse regularly along country roads, sailed in the strongest of gales, played golf, and had musical evenings with my wife and friends. I had a strong interest lacrosse and hockey, and served as President of the St. Lawrence Senior Hockey League, Vice-President of the St. Lawrence Junior Hockey League, and Vice President of the St. Lawrence Box Lacrosse League. From 1930 to 1932 he was manager of both the Iroquois senior and junior hockey teams.
* On 20 February 1932 I presented the championship trophy to the Iroquois Junior Hockey Club. The next day I suffered a heart attack and died. My wife died two years later and was buried with me.
* The house was demolished to make way for the flooding of the new Seaway in 1957. Our original grave site was relocated to Iroquois Point, where it is marked by a memorial stone.
Who am I?
a) Col (Ret`d) Lorne Winfield Redmond Mulloy, R.C.D.
b) Brigadier-General Frederick Maurice Watson Harvey VC, MC,
c) Captain John Moreau Grant CBE.
a) Col (Ret`d) Lorne Winfield Redmond Mulloy, R.C.D.