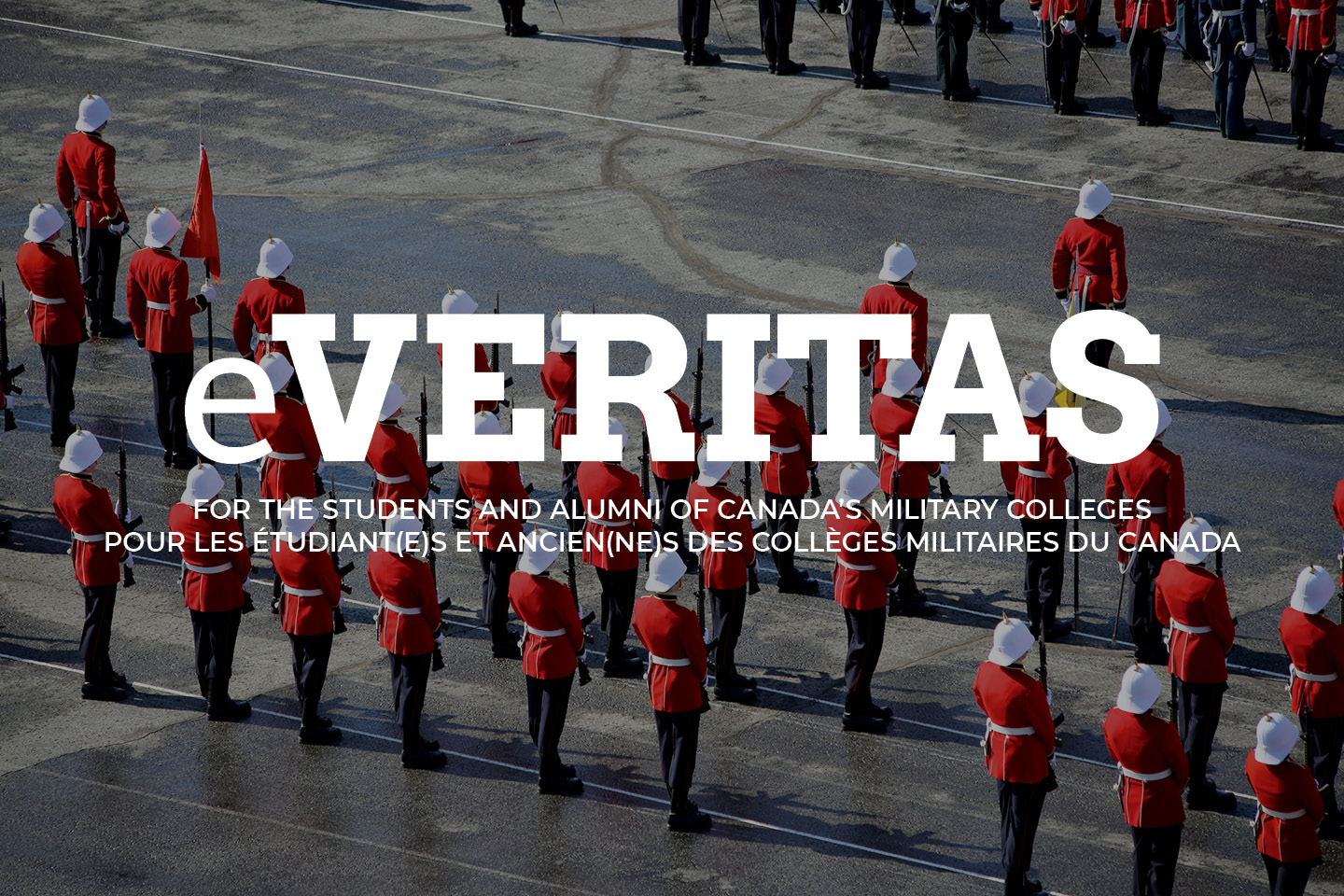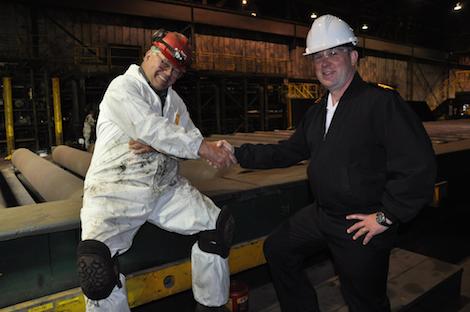 Caption: (PHOTO: Commander Jason Armstrong, Commanding Officer HMCS Toronto, and native of Sault Ste Marie, chats with John Korell, a 27-year veteran of Essar Steel Algoma, while visiting the plant on 1 June 2015. 22063 Maj. L. Angell, NDPAO)
Soo's Canadian navy connection hard as steel
NOTE: SooToday received the following accounts of Sault native Commander Jason Armstrong's visit to his hometown.
The first account comes from 22063 Major Lena Angell, manager of the Department of National Defence's Ontario public affairs office, while the second comes to us from Lieutenant Robert Pihlaja, of the Royal Canadian Sea Cadet Corps Royal Sovereign.
Commander Jason Armstrong, a native of Sault Ste Marie (The Soo), was back in his hometown after spending seven months at sea in the Mediterranean promoting security and stability in Central and Eastern Europe.
The Soo is not only the home of Cdr Armstrong, but it's also the birthplace of Her Majesty's Canadian Ship (HMCS) Toronto, the warship he commanded while deployed July 2014 – January 2015, as part of Operation REASSURANCE, Canada's contribution to NATO assurance measures.
HMCS Toronto's mission was to monitor shipping to help detect, deter and protect against terrorist activity.
The two-day visit (May 31 – June 1, 2015) was part of an outreach program to connect with the local community, which had a profound positive effect on Cdr Armstrong while growing up.
MORE…
Being heavily involved in sports and volunteerism, Cdr Armstrong is a strong believer in active living and giving back to the community.
He comes from a strong military background: his father was a heavy equipment driver in the Canadian Army; during the Second World War, his grandfather was wounded in Normandy fighting with the Canadian Army; his grandmother operated balloons and drove trucks for the Royal Air Force; and, four great-uncles served in the Royal Canadian Navy.
In the Great War, Cdr Armstrong's great grandfather served with the Royal Navy, and great great-grandfather died at the Somme while fighting with the British Army.
During his brief stay in The Soo, Cdr Armstrong participated as the Reviewing Officer for the 46 Royal Canadian Sea Cadet Corp who celebrated its 95th year.
He also had a sit-down interview with Elaine Della-Mattia of The Sault Star, was introduced to His Worship, Mayor Christian Provenzano, and toured the Essar Steel Algoma plant, where his grandfather and an uncle once worked.
"When you see huge swells coming up over the ship, you think to yourself…hmmm I sure hope those steel workers got it right," smiled Cdr Armstrong as he recalled his time out in the Black Sea to Essar employees who chuckled at the comment.
HMCS Toronto was built in 1993 from steel made at the Essar Steel Algoma, Canada's second largest steel producer, which opened its doors more than 100 years ago in 1901.
The ship, equipped with a crew of 257, is a formidable feat of engineering able to come to a complete stop from full speed in 180 yards – equal to approximately the ship's length-and-a-half.
A warship's critical success factors are protection, speed and maneuverability, with steel acutely integral to balancing the three.
Greater protection usually means thicker steel, less flexibility and thus reduced agility.
"I just want to say thank you for protecting our ships and crews, and to let you know that what you do really does matter," said Cdr Armstrong to the steel workers.
Later he presented Harold McElwain Jr a 40-year veteran of Essar Steel Algoma with an official Commander's ballcap.
Having deployed three times in the past two years, HMCS Toronto is currently in Halifax undergoing a mid-life refit which will keep the ship in dry dock for the next year.
*************************
Sunday May 31, 2015 was an exciting day for the cadets and staff at Royal Canadian Sea Cadet Corps Royal Sovereign.
Thirty cadets were on parade demonstrating spectacular drill, impeccable dress, and outstanding deportment, as part of their 95th Annual Ceremonial Review at the Sault Ste. Marie Armoury.
This event signified the end of another successful training year and provided the ideal setting to recognize the many cadets who demonstrated the highest caliber skills, dedication, leadership, commitment, and citizenship throughout the past year of training.
The Reviewing Officer was Commander Jason Armstrong, Commanding Officer of HMCS TORONTO who returned to his hometown to inspect the local sea cadet corps. He presented a ship's plaque from HMCS Toronto to commemorate this memorable event.
"This was my first time as a Reviewing Officer for a cadet corps. I was very impressed with the drill and deportment shown by these young men and women.
Their training displays were very professional and their marching displays (band and drill team) were quite impressive! "
Petty Officer Second Class (PO2) Devon Neveau was awarded the Royal Canadian Legion Medal of Excellence for outstanding citizenship and contribution to the community. He also received the corps' Most Dedicated Cadet Award. The Newman Foundation Community Service Award was presented to PO2 Venessa Tookenay.
Top Awards went to Chief Petty Officer First Class (CPO1) Andrew Glew for Band; Chief Petty Officer Second Class (CPO2) Roger Moss for Guard; CPO2 Shiloh Outinen and Leading Seaman (LS) Angelica Lanthier for Marksmanship; and CPO2 Shiloh Outinen, PO2 Derek Rouleau and Master Seaman (MS) Kenneth Gignac for Sailing. CPO1 Andrew Glew also received the Officer's Proficiency Award which is for the Top Cadet in the Corps.
Most Improved Awards were presented to: LS Anita Ansley for First Year Cadet; PO2 Venessa Tookenay for Band; LS Kenneth Gignac for Guard and PO2 Matthew Dale for Overall.
Rounding out the award presentations were: Best Navy League Transfer for LS Makenzy Vachon; Most Proficient First Year Bandsman to LS Tyler Neveau; and the Espirit de Corps Award to CPO2 Roger Moss.
Five commemorative coins were awarded to cadets for finishing top in their training levels: LS Makenzy Vachon for Phase 1; MS Kenneth Gignac for Phase 2; PO2 Derek Rouleau for Phase 3; PO2 Ria Wilson for Phase 4; and CPO1 Andrew Glew for Top Instructor.
Commander Armstrong also presented special HMCS TORONTO Challenge Coins to Ordinary Seaman (OS) Delaney Holgate, LS Makenzy Vachon and PO2 Ria Wilson for being hard-working cadets as recognized by staff.
Lieutenant (Navy) Patricia Pihlaja, the Commanding Officer of the corps, had this to say to her cadets:  "You have worked hard all year and today, you can enjoy your achievements.  I am proud of all your hard work.  I hope that you will also continue to set your goals high as the achievement is then so much more rewarding."
The Cadet Program offers a variety of dynamic training and experiential opportunities to local youth between the ages of 12 and 18, developing in them transferable, career-enhancing skills that will last them a lifetime.