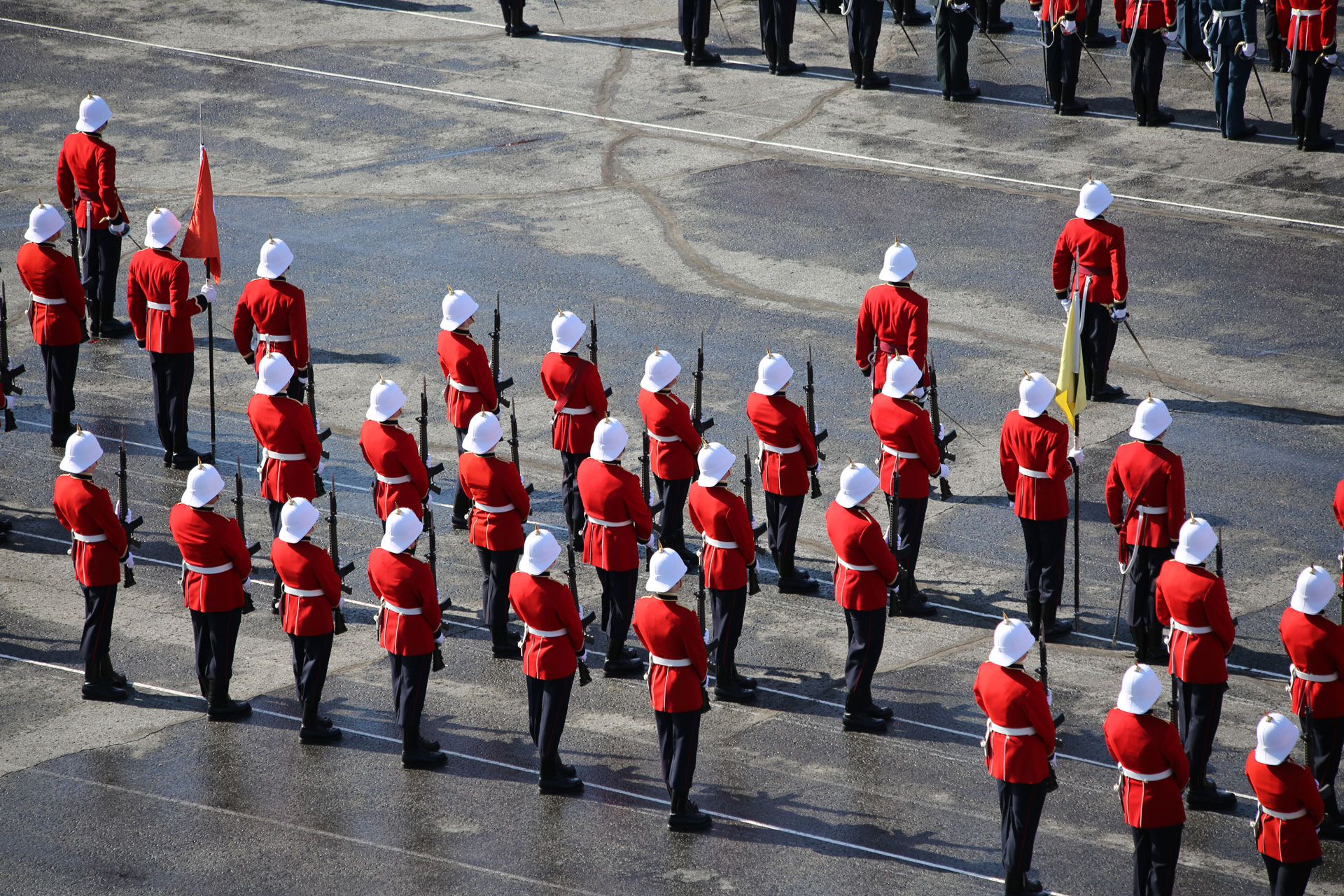 E3161 Victoria Edwards (RMC 2003) is at it again! This time Victoria has started a process to contact a number of former Cadet Wing Commanders – which is no easy chore. First up is 4800 Col (Ret`d) R. Bruce Morris (RMC 1960).
This is the first in what we hope to be a number of articles on former Cadet Wing Commanders at CMR, RRMC and RMC. (Click on photo for better quality)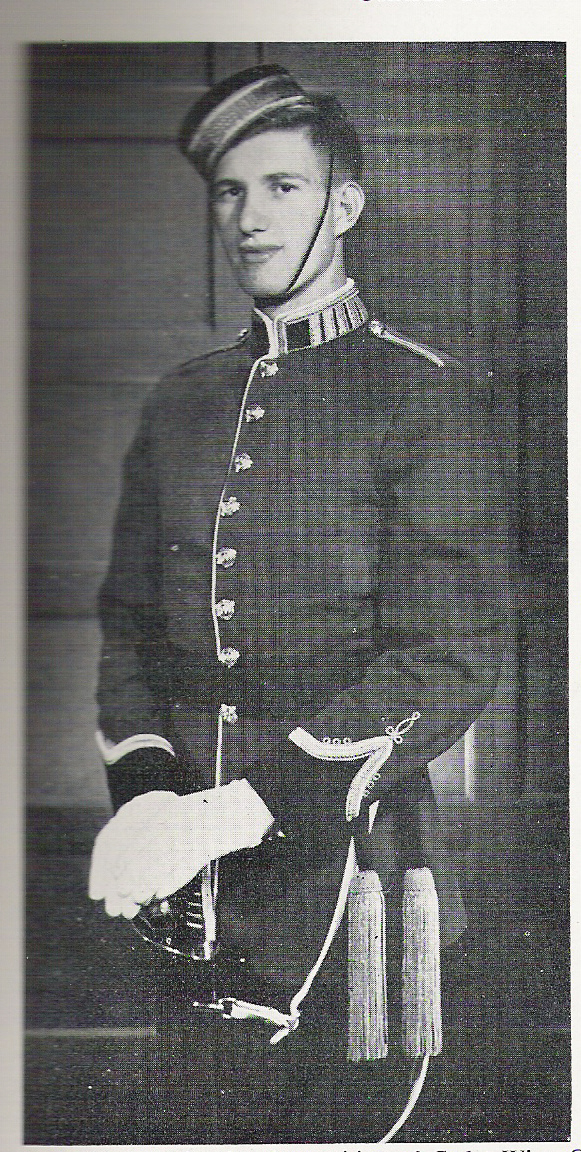 1. What are your memories of being CWC?
My main memories relate to the challenges of commanding a reorganized Cadet Wing into one squadron of first and second year cadets in the Stone Frigate, five squadrons of third year cadets, and two squadrons of fourth year cadets, each squadron with the usual cadre of cadet officers. This was an attempt to provide an improved basis for the second year cadets to experience an environment more similar to that of their fellow cadets at CMR and RRMC. Thankfully, I was supported by a very competent group of Cadet Wing HQ staff and Cadet Squadron Leaders with their respective support staff. I recall the honour and privilege of accompanying Colonel (Retired) Reg Sawyer, Director of Studies, by train to and from Montreal to participate in the Montreal Ex-Cadet Club Branch dinner. The informal discussions were most enlightening with this outstanding renowned Canadian military and academic performer.
I also recall the many opportunities where I was honoured and privileged to meet a significant number of very important persons throughout the academic year. Some notable VIPs were HRH Queen Elizabeth and HRH Prince Phillip (Summer 1959 Guard of Honour), Viscount (Field Marshall) Montgomery (Apr 60), General Charles Foulkes CDS (Fall '59), Governor-General Georges Vanier (Royal Winter Fair, Nov 59), Doctor Robert Oppenheimer (Feb 60), and Rear-Admiral (Retired) Walter Hose (Graduation, May 60). I was also honoured to have participated in the many social activities arranged for the Cadets by Mrs. Piers.
I also recall a memorable trip, via RCAF piston-engine North Star to and from RRMC for the annual CANSERVCOL Tournament. There was a great deal of excitement surrounding the tournament and related activities, despite the fact of RMC not being triumphant over the RRMC and CMR teams.
So too, were the fabulous formal balls celebrated throughout the year, especially since my partner (eventual wife) Ginny and I were privileged to form part of the reception line for each gala evening, replete with its fantastic gourmet buffet dinners. It was such an honour and privilege to have shared the receiving lines for each of these galas with both the RMC senior leaders and all of the cadet wing who (with their respective partners) were able to enjoy such extraordinary social experiences.
2. Who was your Deputy Wing Commander?
My D/CWC was General (Retired) John de Chastelain, who was an honours history candidate for one of the first degrees to be granted by RMC. John worked tirelessly, with great effectiveness, in assisting me with the many new challenges implicit in the reorganized cadet wing. His remarkable ability to handle a wide variety and number of academic, military, sport, and support activities so well was a precursor to his eventual distinguished successful military and post-retirement career.
3. What are your memories of 2184 Commodore Desmond Piers DSC, CD, who was the Commandant of RMC from 1957-60?
Rear-Admiral (Retired) Piers was, in my view, a great commandant, in the sense that he, together with his remarkable wife Janet, focused so extensively and effectively on the cadets and their all-around welfare. He was very much into extensive personal involvement with the lives of the cadets and their "partners" throughout the year. Based on the revised organization of the Cadet Wing, he practised his dedication to improving the environment for first and second year cadets, during their early formative years. I recall vividly that the Commandant and his wife invariably attended most athletic activities involving RMC teams. Finally, I was so grateful to then Commodore Piers for his parting gift to me on graduation of my set of scarlets, though without the gold-embellished waist-sash!
4. Comment on the key issues at RMC in 1959/60 e.g. opening of Constantine hockey arena (1960) in honour of 621 Major-General Charles Francis Constantine, former commandant, hockey player and coach; RMC became a degree-granting institution in 1959; and, the Queen Elizabeth and Prince Philip visit in 1959.
The opening of the Constantine Hockey Arena was an auspicious occasion, because of not only the famous graduate after whom the facility was named, but also the reality that the RMC hockey teams were finally able to play their home games in their own facility, an obvious, if not much-needed, advantage. However, The RMC-West Point games were, somewhat regrettably, still played in the Kingston Memorial Centre, because of the need for more seating capacity than the Constantine Rink could provide. The availability of the on-campus facility was obviously a great boon to all ice-based sports activities for the College, and, indeed for the greater military community of Kingston.
During the summer of 1959, I was fortunate to be posted to the Royal Canadian School of Signals in Kingston, from where I could easily return to the College to prepare to command an Honour Guard for the Queen's arrival at RMC, and also for her departure from the RMC pier in HMS Britannia. Although the exposure was rather short, it was a most memorable opportunity, with all involved blessed with wonderful hot sunny weather.
The milestone of becoming a degree-granting institution was a very significant one, albeit for the limited scope of only arts-based degrees to start. Desmond Morton was the first of many highly distinguished graduates to be awarded his degree (Honours History). Engineering degrees were only granted staring in 1962. In all fairness, we engineers certainly did not begrudge the extra year at a civilian university of our respective choice to obtain our degrees, a privilege which ended with the Class of 1961.
5. What was the process of becoming CWC?
The process, as I understand it, was headed by the Commandant, with an advisory staff comprising a blend of military, including senior Cadet Wing leaders, and senior academic staff. I can only presume that the mix of my military and academic achievements during my three years, but with the necessary focus on my third year performance, was such that I was deemed to provide the best potential to do the job. I do acknowledge, however, the fact of some very highly qualified key contenders for the position from among my classmates.
6. What were your responsibilities?
My responsibilities to the Cadet Wing and to the Commandant and the RMC military, academic and support staffs were to exercise the leadership and management to permit the cadets and College staff to fulfill their various responsibilities to achieve their respective objectives, and to do so most successfully. I was grateful to have been the CWC during the time when the positions were permanent for the full year, and the "commander" in the title entailed some true leadership responsibilities and the associated opportunities to learn and perform. I was so fortunate to have been supported by such a truly great competent cadre of cadet wing officers, with whom the principles of teamwork could be so effectively executed.
7. Led by their (cadet) wing commander, cadets learn to effectively operate and manage a wing while living in a student environment attending college. What kind of leadership did you favour? Anything you would do differently today?
Having been associated with the Canadian Army (including high school Cadets and Militia) for some eight years prior to being appointed CWC, I was influenced by the leadership principles espoused by the Army. Because of the blend of military and academic requirements, the leadership style required recognition of the sometimes opposing means required to meet the separate objectives of each environment. Also, given the learning environment, since cadets were still not commissioned officers, there was a need to recognize the human fallibility of us cadets. The Commandant and the military and academic staff showed great confidence in delegating the leadership and management to the Cadet Wing officers. The fact of two squadrons of senior fourth year cadets provided some significant challenges in handling a group of fellow fourth year cadets. My approach was to delegate whatever seemed appropriate to the Cadet Squadron Leaders and the Cadet Wing Headquarters staff. This approach, within a solid framework of well executed teamwork, provided a high degree of satisfaction and success to all involved.
Given the somewhat unique organizational situation, I would not do anything differently in a similar situation. However, given the significantly changed environment at RMC today, I cannot say how I would handle the CWC position any differently.
8. What were the lessons learned and experiences obtained that were put to use in later life?
The principal lessons that I learned from my experience as CWC involved mainly the appreciation of how tremendously challenging any leadership position can be. Because of my approach to delegate responsibilities whenever possible and reasonable, I learned that well-placed confidence and faith in the chain of command, within the context of teamwork, are keys to success. I was able to practise the essence of the College's motto "Truth, Duty, Valour" throughout both my military career of 38 years (Royal Canadian Corps of Signals, and, Communications-Electronic Branch) and my post-retirement employment and leisure times. I also learned that the friendships developed and nurtured during the RMC years provided a solid foundation for life-long successful relationships, in both my military and non-military experiences. While the current four pillars of "academic, military, athletics, and bilingualism" were not explicit during my time at RMC, certainly the organizations and processes were guided by the spirit inherent in those pillars. My experiences at RMC provided a solid foundation for my contributions to community work, including Chief Umpire of the Carlingwood Little League, Referee-in-Chief of both the Bel Air Minor Hockey Association and the Ottawa Women's Hockey Association, a key Director on the Executive of the Ottawa Valley Outaouais Chapter of the Project Management Institute, and as a Director of the Canadian Club of Kingston.
9. Any mentors or friends that you have stayed in touch with?
My associations with the military, academic, and support staff at RMC during my four years as a cadet, assisted me greatly when I was posted in 1964 to RMC as an instructor in the Electrical Engineering Department, and selected as the first graduate student in that department. Given the many years that I have spent in Kingston, during both my military career and post-retirement, I remain closely involved with many Ex-Cadets in the area, as well as with many of the current members of the RMC staff, and the RMC Club. Given then Lieutenant (N) John Plant's role as a fellow electrical engineering staff member during my post-graduate studies at RMC, I followed closely his illustrious career as the long-standing Principal of the College throughout the high rate of changes to both the military and academic environments of RMC. As Secretary of the RMC 60 class for over 45 years, I have remained closely associated with many of my classmates, with many of whom I maintain cherished bonds. I remain highly impressed with the amazing quality of my classmates as they performed so effectively throughout the various realms of the military, education, public, and private sectors in both Canada and abroad. They have well and truly exercised the best of the principles inherent in the motto "Truth, Duty, Valour".
10. What are you up to today?
I am currently fully retired, engaging in many volunteer activities with the Canadian Club of Kingston, the Seniors Association Kingston Region, and my RMC 60 class as Assistant Secretary. I play bridge and golf, and spend considerable time travelling to visit our grand-daughter in Ottawa, and our daughter in Tofino, BC. My wife Ginny and I are fortunate to spend many winters in Florida. Overall, to date, "there has been no life like it", given, in such very large part, to my experiences at RMC, and the amazing foundation provided through the association with my classmates, the College staff, and the overall environment of the City of Kingston!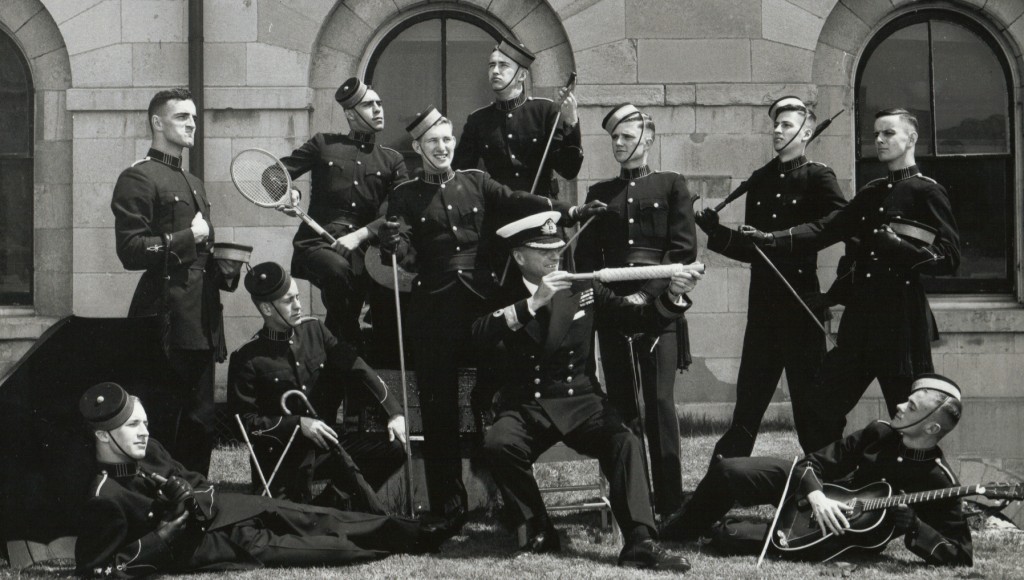 Class of 1960, cadet wing leadership with commandant – L to R: CWO Jack Treddenick, CWTO Jean DeGrasse, CWO Stu McGowan, CWA Len Kubas, CWC Bruce Morris, CSL Pete Rosewarn, Commodore "Debby" Piers, CSL Barry Hunt, CSL Neil Johnstone, DCWC John de Chastelain, CWO Dick Cobbold