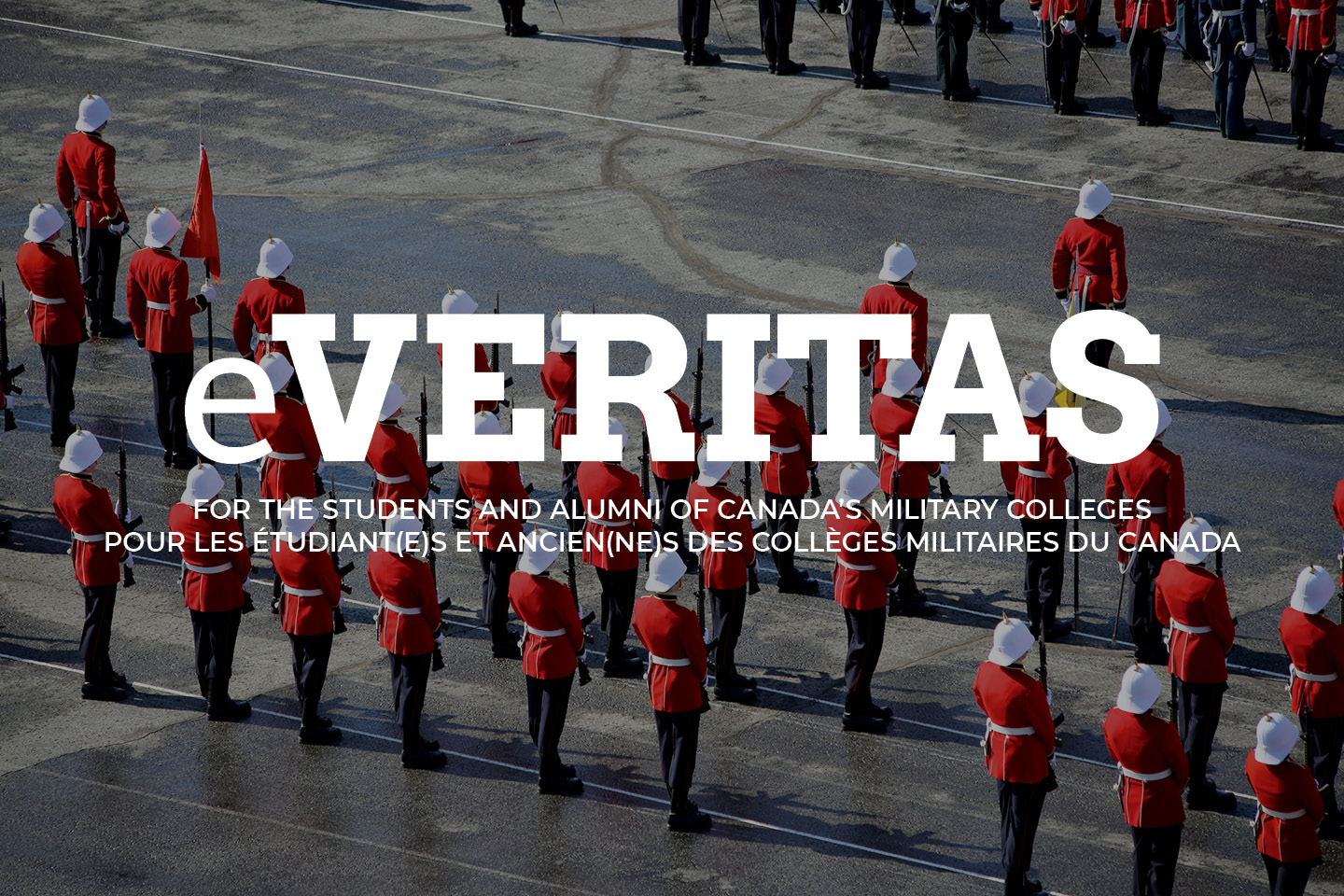 Naval Bandsmen Coronation Day 1953
I've got to start this vignette by recalling a story that I studied, in French, in my first year at Royal Roads Military College in Victoria B.C. in 1952. It was entitled "La conversation avec le soldat Brome." Briefly it was about a slack French soldier who wanted to stay in bed on Sunday mornings by saying that he was no longer a 'believer' and should not be obliged to attend Mass. His CO enthusiastically agreed and set him scrubbing corridors, in lieu of church, while many of his fellow soldiers dozed in church.
The same sort of thing happened to me during my first summer (between 1st and 2nd year) in the navy at Royal Roads while we were studying navigation as executive officers under RCN instruction. A classmate convince me to join the Naval Cadet Band which he suggested would give us a lot of time off because we would be excused from many of our usual orderly type duties. Capital idea! I agreed. The only problem was I couldn't play any instruments.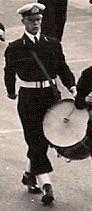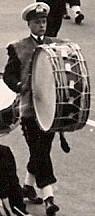 My pal and classmate was a great drummer and quickly instructed me how to beat and "twirl" the sticks of a base drum. My friend and classmate was Peter Simpson (photo left) and he had learned his drumming skills as a student at St Andrews College in Aurora Ontario. It was surprisingly easy to get to a basic level of proficiency and initially our selfish plan started to pay dividends. We were excused a few duties…at least for a while!
Then the axe fell. We were advised that the cadet band would become a major element in the 1953 Coronation Day Parade for our new Queen Elizabeth II and we would parade through Victoria, British Columbia in front of thousands of spectators and the Admiral wanted us to be "the best in the show" as it were!
To reach this "best in the show" status we were drilled long hours playing our few march tunes as we paraded around the college grounds for hours and hours, long after our classmates had been turned loose to go ashore. I was sort of "le Soldat Brome" all over again. Good lesson, but as I look back it was really a lot of fun and I'm forced to recall and admit that I actually enjoyed it. Unfortunately, we didn't discover any young lady groupies who were interested in "bandsmen." I guess groupies didn't hit the scene for another forty or fifty years.
Pictured above is how the entire Cadet Band, Royal Canadian Navy presented itself on the day that Canada welcomed Queen Elizabeth II as our Sovereign.
Poor lady, little did she know about the Base Drummer.
Incidentally, the tall Band Leader (with the Mace) is 3560 Jeremy Brown also a member of our '54 Royal Roads Class. He is also retired and lives in Gananoque. Incidentally and unfortunately, our class has lost contact with Peter Simpson. If anyone knows where he is call me, please.  don.dene@hotmail.com
A reminiscence by 3667 MGen (ret) Don Gray.
A post note from Don Gray…
You might wonder about an ex-naval person using the rank of Major-General vice Rear Admiral. I was in the RCN from my RMC graduation in 1956 until I retired in 1987, I was sailing merrily thru the RCN ranks up to 1969 or so to Lieutenant-Commander RCN when integration came into force and as one of about six navy civil engineers we were unceremoniously un-coupled from the RCN and became military engineers in the CF (then mostly RCE and Tech CE RCAF).
My environment remains S (Sea) to this day so I suppose I could (in a pinch, use RAdm) but in those distant days it would have looked very odd to be a sailor commanding an RCE Field Squadron (which I did in 1969-71) so I started using the CF rank instead of my old navy rank. A mistake? Who knows. One way or the other I was lucky as can be.
 3667 Don