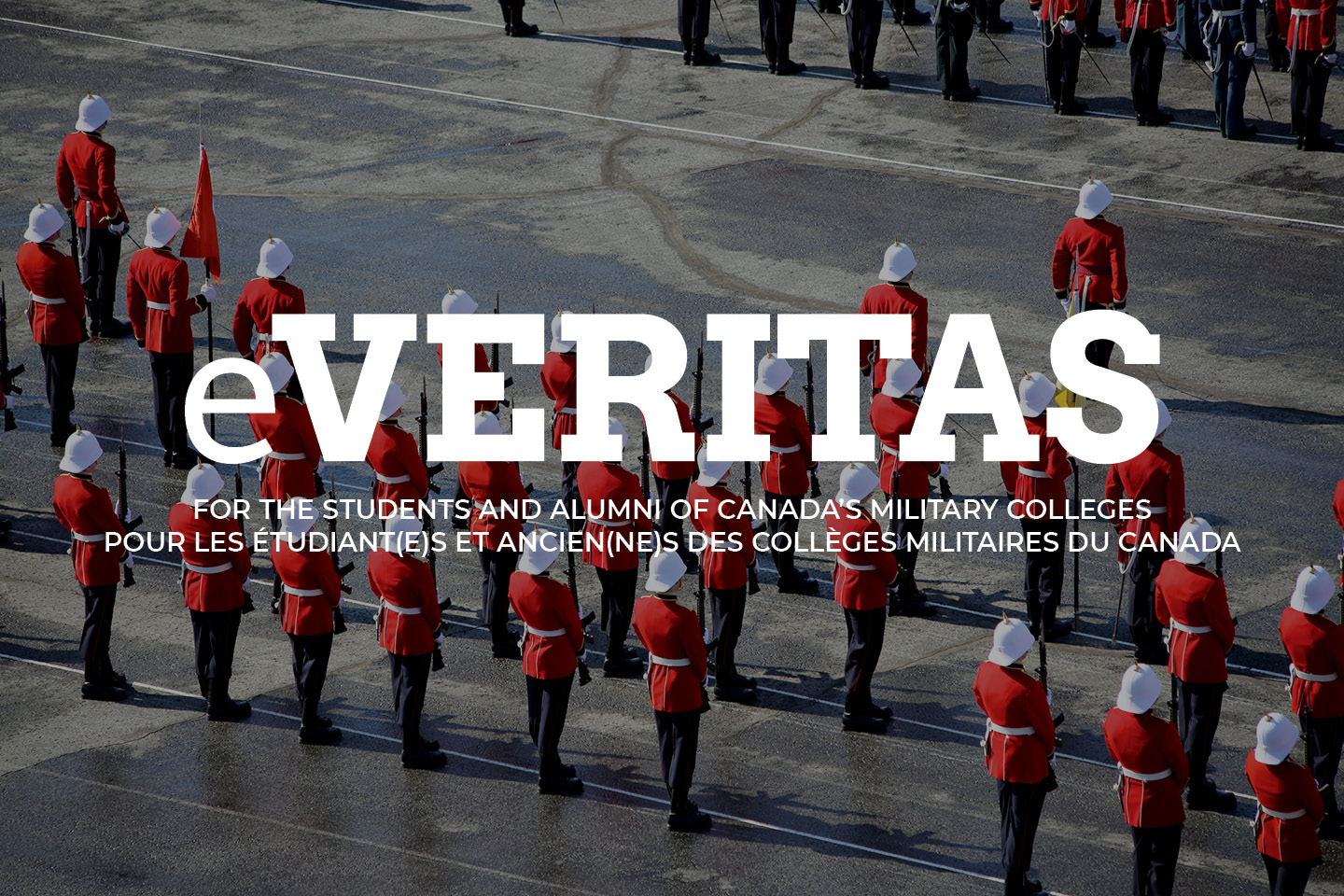 Commandant Recognizes Accomplishments, Speaks to Staff Concerns
Article and Photos by 25366 Mike Shewfelt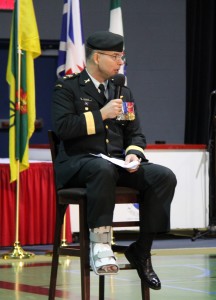 This past Wednesday morning, the College took time out of its busy end of semester schedule to recognize the accomplishments of deserving Cadets, military staff, and faculty. BGen Eric Tremblay, College Commandant, presented awards, medals (including many Queen's Diamond Jubilee Medals), promotions, commendations, and Commandant's Coins to individuals from all throughout the College who had stood out in some manner over the past year.
The Commandant also took the time to speak to the current state of the College and any concerns that Cadets, military staff, or faculty may have had. "Why do we do this…? Take time to recognize deserving individuals…?" he asked. "We're building pride in who we are. From the Cadets to the cleaners and the dish washers and the French professors, the academic faculty, and military staff, we are all here for the same reason: to produce officers, well educated."
BGen Tremblay went on to describe the current state of the Work Force Adjustment process. "We accomplished what we were asked to do over the last year. The individuals affected by it have been notified," he said. "However, we had originally planned to eliminate vacant positions. Unfortunately, we have now been asked for full-time employees. There are a total of 21 positions, some in the support staff and some in the faculty, that we have been asked to cut in order to make up the $1 million that we have been asked to cut further." That process, the Commandant said, is only just beginning, and will be spread out over the next several fiscal years. "Twelve will be affected by fiscal year 12-13, and 25 by fiscal year 14-15," he explained. The faculty and staff of the College are to receive more information over the coming weeks.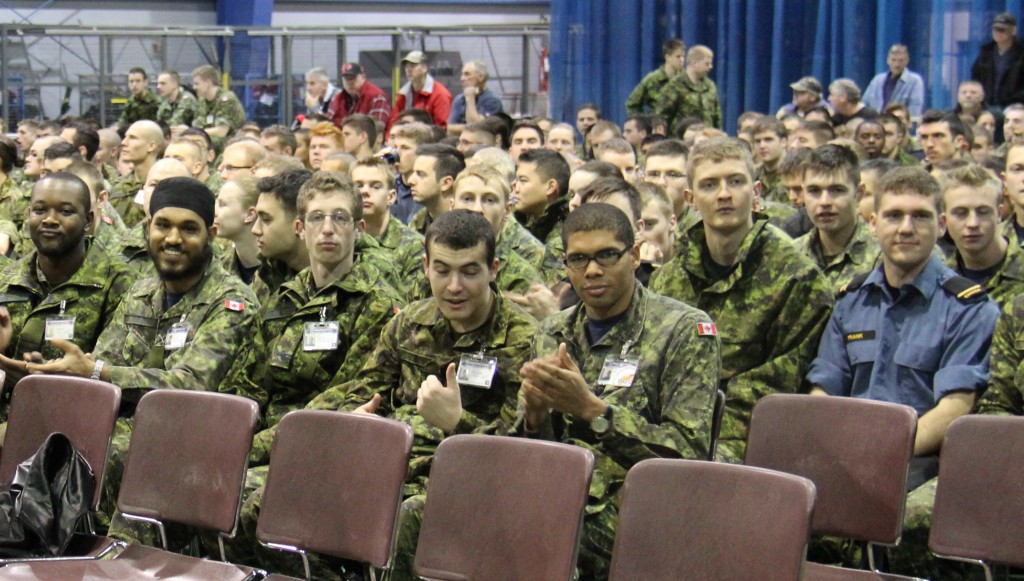 The following individuals received the Operational Service Medal – Expedition, at the Town Hall:
The following individuals were promoted to Major, effect 1 Dec 2012:
6604 Capt(N) (ret) James Carruthers, Class of '65 -pictured (below) with the Commandant, was personally on hand to make individual presentations of $5,000 each to four 2012 RETP recipients. The James Carruthers RETP scholarships are valued at $20,000 and handed out annually to help RETP Cadets with their financial needs.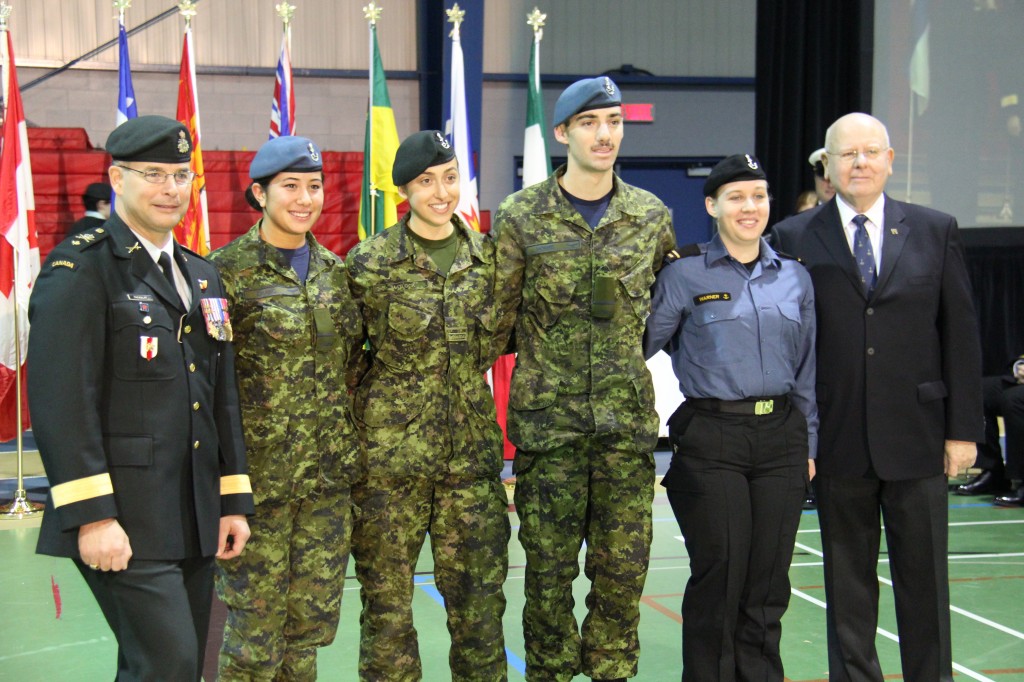 Among the very special presentations was the Commandant's coin. In addition to some very hard work military and civilian staff members receiving this recognition were six Cadets who stepped up throughout the past year and made a mark around the college:
25781 OCdt James Courtney, the Cadet Wing FYOP Commander, and 25766 OCdt Robert Cohoe, the Cadet Wing FYOP Training Officer for their outstanding performance in the planning and execution of FYOP 2012. Through their efforts and leadership FYOP 2012 was the most successful and disciplined FYOP RMCC has conducted.
25892 NCdt Meghan Thompson, for her commitment to excellence in the Cadet Wing. She has risen above expectations in her dedication to the RMCC program through the organization of numerous Training Wing activities. Her extraordinary devotion to the College and her peers is an example for all OCdts to follow.
25763 OCdt Jason Wonchala, for committing a notable act of selflessness during the summer training period. OCdt Wonchala demonstrated a great amount of courage and personal integrity in standing up to his peers in the face of questionable acts. His strong moral compass and actions are a testament to his commitment to excellence and the RMCC Community.
25827 OCdt Nicholas Lauwers, for his exemplary success in all four pillars of the RMCC program. In addition to being top in his program, holding several notable leadership positions, and being a member of last year's winning colour party, OCdt Lauwers has taken it upon himself to organize fundraising initiatives to recognize injured soldiers and assist their families. Both his performance and conduct are most definitely worthy of this recognition.
25366 NCdt Michael Shewfelt, for his outstanding work with eVeritas as both a photographer and journalist. His untiring enthusiasm and dedication to quality work in ensuring the right message is delivered on behalf of the Royal Military College of Canada has been exemplary.
For the full list of award and medal recipients,
Continue:
Queens Diamond Jubilee / Médailles du jublilé de la reine Elizabeth IILCdr Hampton MA

Maj Duggan M.J.

Capt Gourd RM

Capt Hawes FW

Capt Lacroix TA

Capt Larocque K

Capt Longley JJCapt Robbins JN

Capt McMullen TCLt Roy SE

MWO Yoshida J

MWO Daigle S

WO Cote C

WO Hill LR

Sgt Benelhour M

M1078 OCdt (I) M.C.A. Gagnon

M1022 OCdt (III) J. De Boer

M1035 OCdt (II) P. Laberge-Leblanc

M1038 OCdt (II) G.B. Laxamana

Canadian Forces Decoration / Décoration des Forces Canadiennes

CPO1 Davidson K CD 2 / DC 2

Maj Brister BJ CD 2 / DC 2

Lt(N) Donohue SM CD 1 / DC 1

WO Lupton B CD 1 / DC 1

Capt Lozier KJF CD / DC

Capt Morrissette M CD / DC

Capt Roberge RV CD / DC

Capt Vigeant PMG CD / DC

Commedations / Mentions Elogieuses

Capt Robbins JN, Command Commendation

WO Highfield B, Command Commendation

Warrant / BrevetCPO1 Grégoire GA CPO1 Warrant / PM1 Brevet

Cowan ALOY RETP Scholarship

25093 NCdt NMI Shingoose

Commandants Commendation / Mention élogieuse du commandant

Dr Bouchard Derrick

Ms Lupton Kelly

Lt Shurdha B, SOC

Sgt Perry MJA, SO

CWO Haggett J

Sgt Burke KDM

Commandant's Coins / Médaillon du Commandant

Dr Alakas B

Dr Ward-King J

Mr Koroluk O

Ms St-Jean G

Ms Lausch Linda

Mr Lessard A

Mr Ridley Joel

Mr Ival S

Mr Wiles Daniel

Capt Gourd RM

Capt Hamilton P

Capt Vallieres GM

WO Forster R

25781 OCdt (IV) J.R. Courtney

25766 OCdt  (IV) R.K.C. Cohoe

25892 NCdt (IV) M.B. Thompson

25763 OCdt (IV) J.C. Wonchala

25827 OCdt (IV) N.S. Lauwers

25366 NCdt Shewfelt M

RMCC Security Team