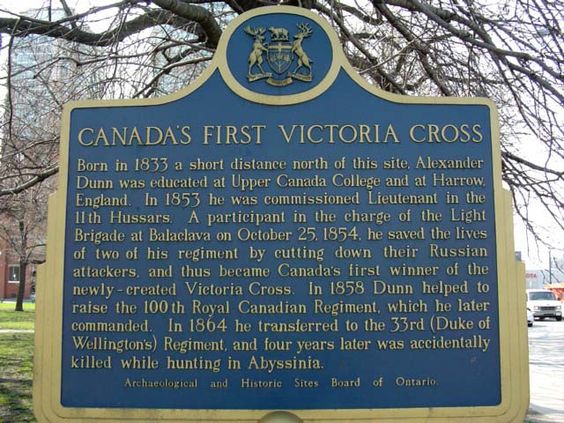 Article submitted by Captain Dr Lionel Boxer CD 12506
In the Senior Staff Mess at RMC is "The Leinster Plate", which was presented to the Government of Canada following disbandment of the Prince of Wales's Leinster Regiment (Royal Canadians.)  The disbandment occurred following the Partition of Ireland and establishment of the Irish Free State in 1922.  It is not clear why "The Leinster Plate" was placed at RMC in 1923 by the Canadian government, but there is a connection with Canada's first Victoria Cross (VC), Colonel Alexander Roberts Dunn VC.  Although Dunn has no connection with RMC, there is an indirect connection.
One of the antecedent regiments of the Leinster Regiment was the 100th (Prince of Wales's Royal Canadian) Regiment of Foot, which was raised in 1858 in part by then Major Alexander Roberts Dunn VC.
Alexander Roberts Dunn, born 15 September 1833 in York (Toronto) near Clarence Square, where there is a memorial plaque.  He was the first son of JH Dunn, then receiver General for Upper Canada.  Dunn attended Upper Canada College and then Harrow, one of England's famous schools. Dunn joined the 11th (Prince Albert's Own) Hussars in March 1852.
During the Charge of the Light Brigade on 25 October 1854, then Lieutenant Alexander Roberts Dunn engaged in such heroism that he was awarded the VC.  He was the first Canadian-born to receive the VC.  A replica of Dunn's VC is on display at Upper Canada College (UCC) and the original medals are on permanent load to the Canadian War Memorial.
Colonel Alexander Roberts Dunn VC became the first Canadian to command a regiment of the British Army, when he was appointed CO of the 33rd Regiment of Foot in 1864.  At 31 he was apparently the youngest Colonel in the British Army.  On 25 January 1868 Colonel Alexander Roberts Dunn VC was killed while on a hunting expedition.
Sergeant Kel Hancock told me that he was in Eritrea on UN service, when his Royal Canadian Regiment colleagues were brought to the grave of Colonel Alexander Roberts Dunn VC by children after they saw "CANADA" on the shoulders.  Lieutenant Earl Mayer organized Canadian Sappers from Gagetown to restore the gravesite.
Colonel Alexander Roberts Dunn VC coincidentally has a Toronto connection with General Sir William Dillon Otter (the namesake of RMC's Otter Squadron) and several ex-cadets including the author.
References:
https://en.wikipedia.org/wiki/100th_(Prince_of_Wales%27s_Royal_Canadian)_Regiment_of_Foot
https://en.wikipedia.org/wiki/Prince_of_Wales%27s_Leinster_Regiment_(Royal_Canadians)
https://sites.google.com/site/ionic025/notable-members/dunn
https://www.thecanadianencyclopedia.ca/en/article/alexander-roberts-dunn
https://www.wikiwand.com/en/Alexander_Roberts_Dunn
https://www.hamiltonvalleyscottishrite.com/Towers/Blogs/November-2017/Alexander-Roberts-Dunn-VC
http://royallodgeoffriendship.org/Alexander_Roberts_Dunn.pdf
https://sites.google.com/site/ionic025/notable-members/dunn