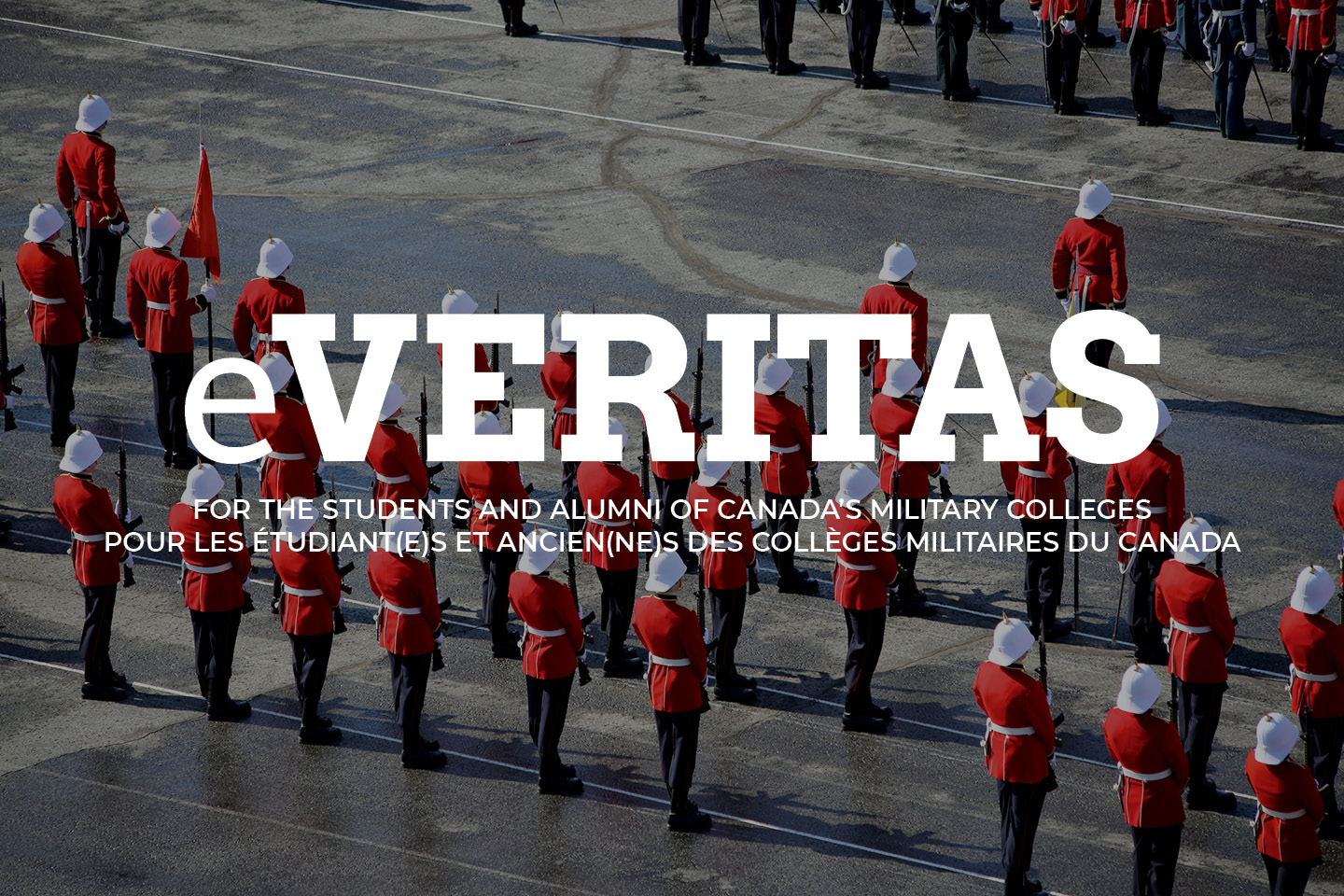 Cold Weather Can't Deter Competitive Spirit
Article by 26659 OCdt (I) Danielle Andela
Photos by 26346 OCdt (II) Dan Ryan & 25366 Mike Shewfelt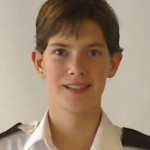 It was a clear Saturday morning. Kingston slept in, and looked relaxing over the crisp, calm landscape… Or perhaps not, as Cadets at the Royal Military College of Canada were reared up and ready to start a full day of sports. With the intent of increasing squadron morale and esprit-de-corps, and joined by the friendly American West Point Cadets on exchange, the RMC Annual Winter Sports Day began at 8 o'clock on the parade square with the thirteen squadrons (including Otter Squadron) formed up and prepared to bring on the competition. After an address by the Cadet Wing Commander, 25888 NCdt (IV) Joseph Martin, the teams split up and headed off to the competition ground.
The sports for the day included flag football, tug-of-war, ball hockey and dodge ball. While one might think the -11 degree weather might deter the young military men and women, the spirits were high and the competition was fierce. Every squadron sported their respective colours and mascots. This year's event took approximately two months of planning, with the leadership of Cadet Wing Squadron Recreational Officer, Alida Stockermans, assisted by Cadet Wing Intramurals Officer, Luke Morrison, the twelve Cadet Squadron Sports Officers and the expertise of the Athletics Department Intramurals Coordinator, Ryan Thompson.
The day's games consisted of half-hour matches until approximately 2 o'clock pm, when there was a Chain of Command Relay Race. It consisted of partnered Cadets dragging each other in sleds, switching halfway. From this event, the Stone Frigate Military Academy (1 Squadron) emerged victorious. The day then came to a close with each sports' final rounds.
Overall, the day was a huge success and ended with everyone rosy-cheeked and breathing heavy. Officer Cadets left the playing field with their hearts beating and their throats sore from laughing and cheering. While it was nice for a shower and warmth after a hard day of sports and spirit, the only question remaining is: "When is the next one!?"
For more information about Recreation and Intramural activities at RMCC please visit the following Facebook page: https://www.facebook.com/pages/RMCC-Recreation-and-Intramurals-Loisirs-et-Sports-Intra-muros-CMRC/451329538247187
The totals and scores are as follows:
Dodge Ball – 9 Squadron; Ball Hockey – 4 Squadron
Football – 7 Squadron; Tug of War – Otter Squadron
Chain of Command Relay – 1 Squadron; Overall Champion for the Day – 7 Squadron
Highlights from the day (click to enlarge):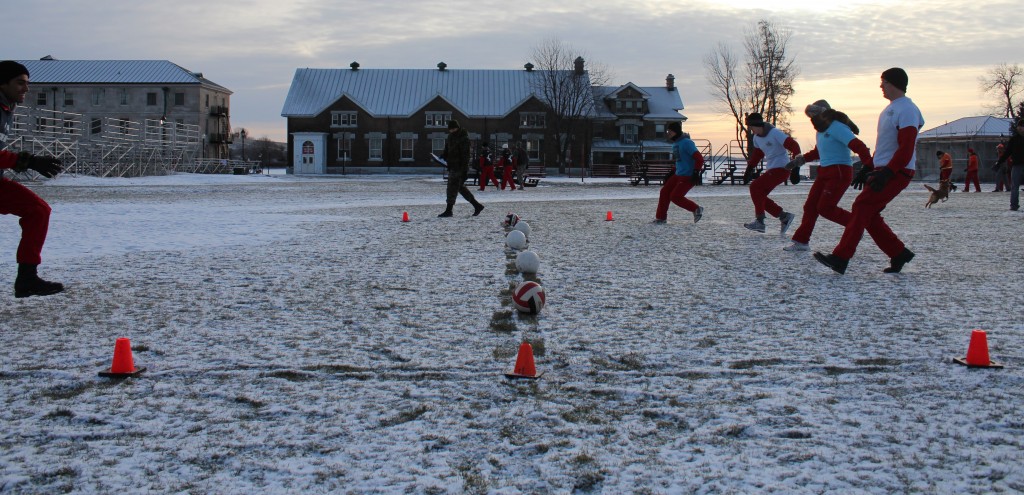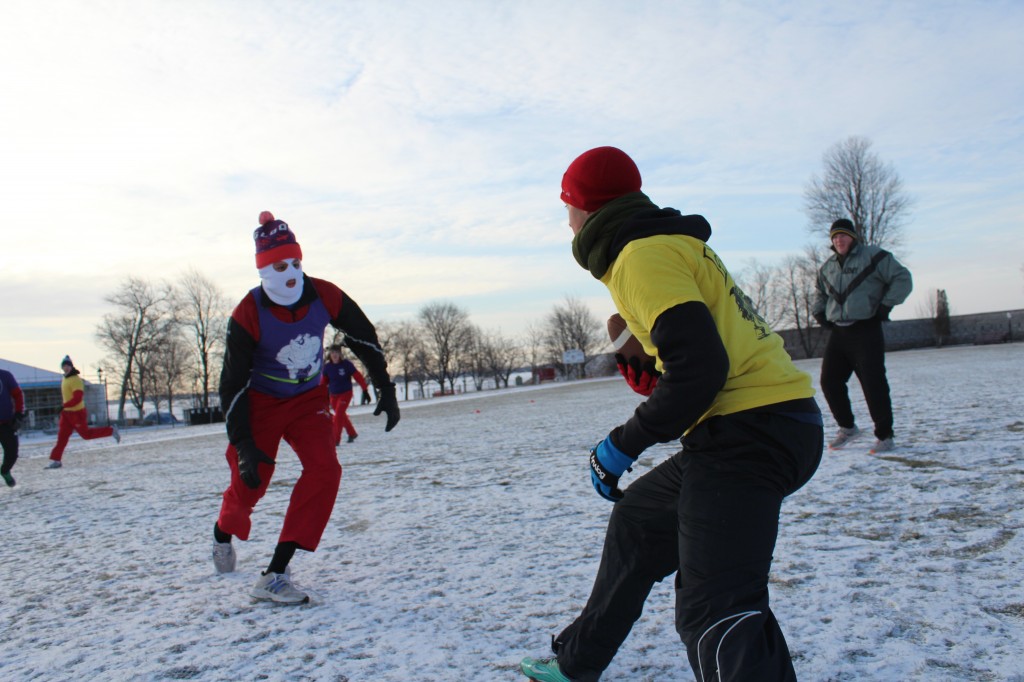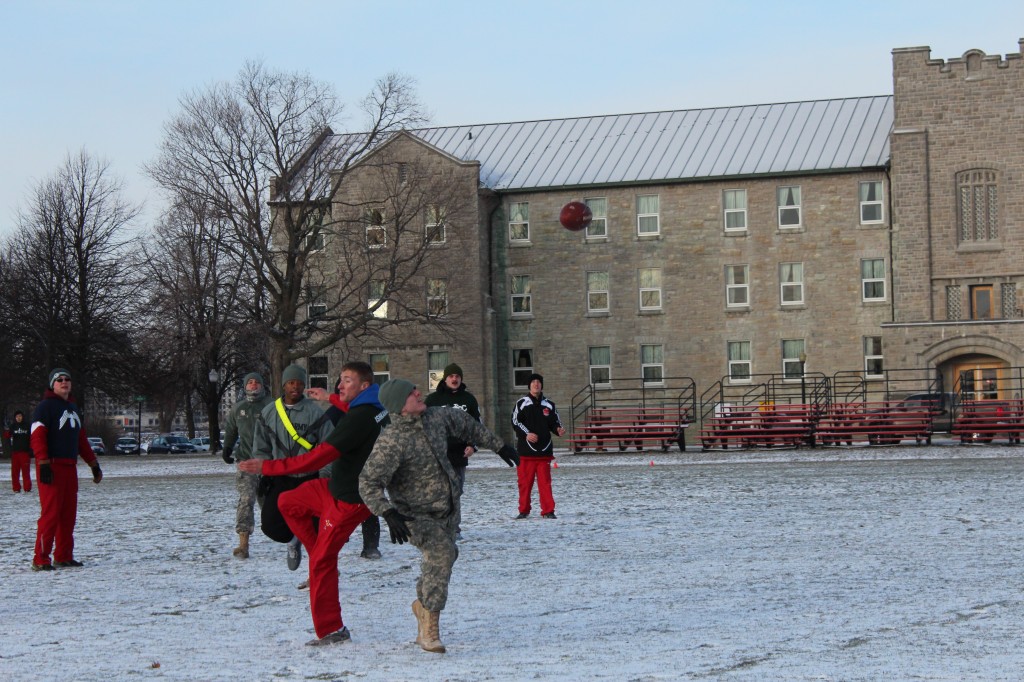 Click for more photos.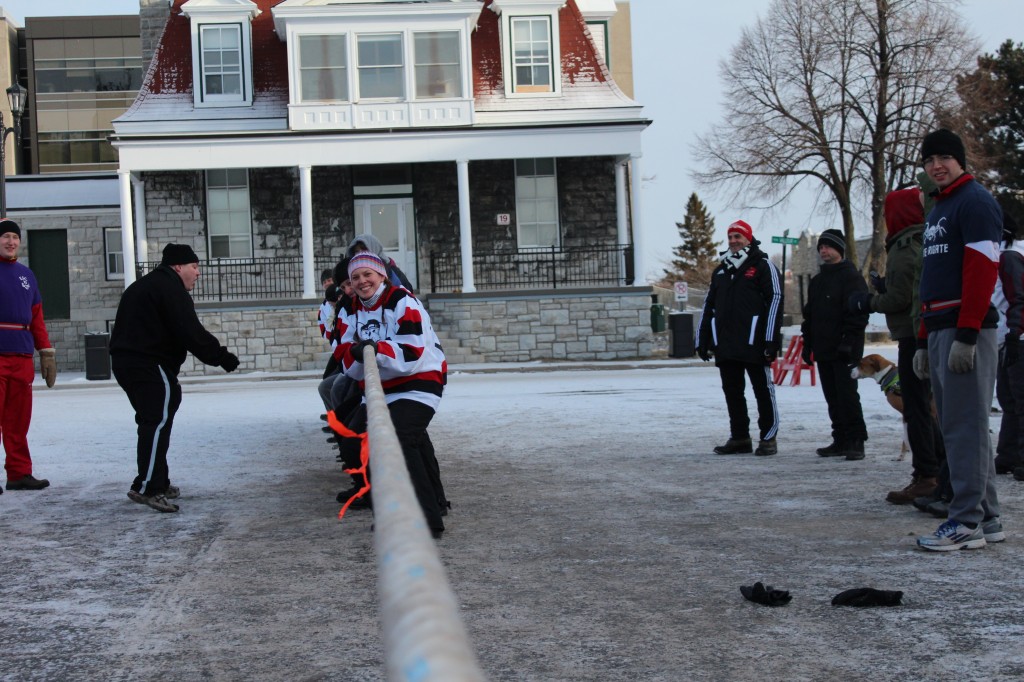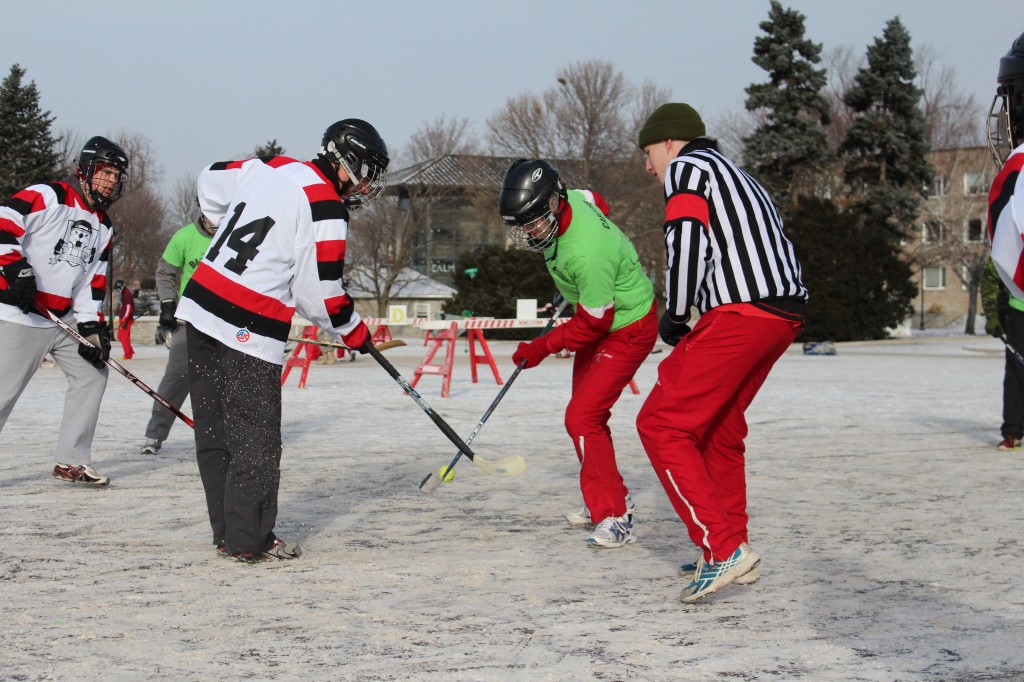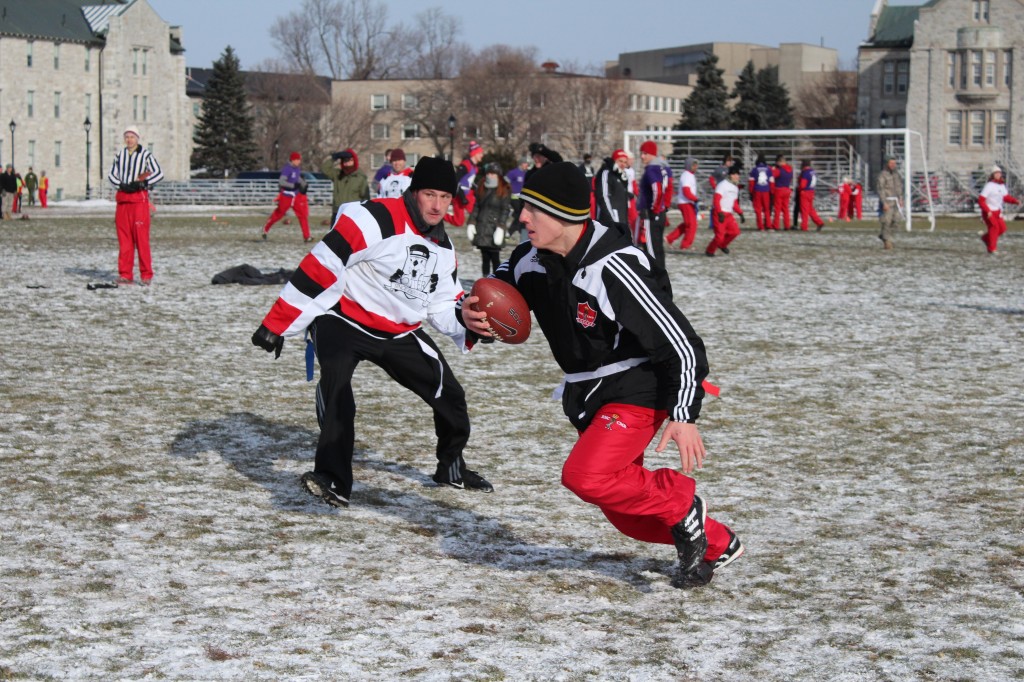 Un petit bonheur chaud dans l'hiver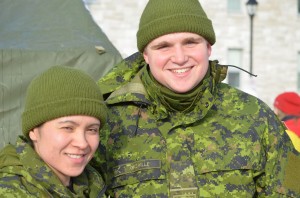 En pleine journée sportive d'hiver, par un froid glacial, GAP, le groupe d'assistance aux paires du CMRC était là pour supporter les troupes dans cet affrontement sportif. Comme par les années passées, le GAP a pris l'initiative de fournir du chocolat chaud gratuitement pour tous, aussi bien pour réchauffer le cœur des sportifs que leur corps. Cette petite attention de la part de GAP a été très bien reçue par les étudiants qui en ont profité massivement afin de se réchauffer un peu et de faire le plein de sucre. Au cours de la journée, GAP a mis à la disposition des participants pas moins de 150L de chocolat chaud! Le travail remarquable de Wendy Gracias et de Francis Gazaille est à noter dans l'événement, eux qui avaient la responsabilité de cette boisson remonte-morale.
Il faut aussi souligner la participation active de tous les membres du GAP qui s'impliquent durant toute l'année, en apportant support à leurs paires, en suivant des formations pour parfaire leurs connaissances en la matière et en organisant des activités remonte-morale comme celle-ci ou comme la soirée toujours mémorable de la pizza pour hausser le moral mais aussi pour laisser l'escadre savoir que le GAP est là si besoin.
Frecnch article by OCdt Francis Gazaille (II);translated into English by OCdt Aaron Jacques (III)
A warm happy feeling in the middle of winter
In the middle of the Winter Sports Day, braving an icy wind, PAG, the Peer Assistance Group of RMC was there to support the troops. As in past years, PAG took the initiative, and provided free hot chocolate to all, warming their spirits as well as their bodies. This extra little effort on PAG's part was very well received by the students, who took advantage of it as often as they could to grab a little heat and a lot of sugar. During the day, PAG offered up no less than 150L of hot chocolate! We can thank Wendy Gracias and Francis Gazaille for this remarkable event, since responsibility for this morale boost was in their hands.
We should also recognize the active participation of all PAG members, who are involved throughout the year, bringing support to their peers, receiving formation to perfect their knowledge in the matter, and organizing morale-boosting activities like this or like the omnipresent pizza night, which do as much for the college's mood as they do to remind us that PAG will always be there if we need it.