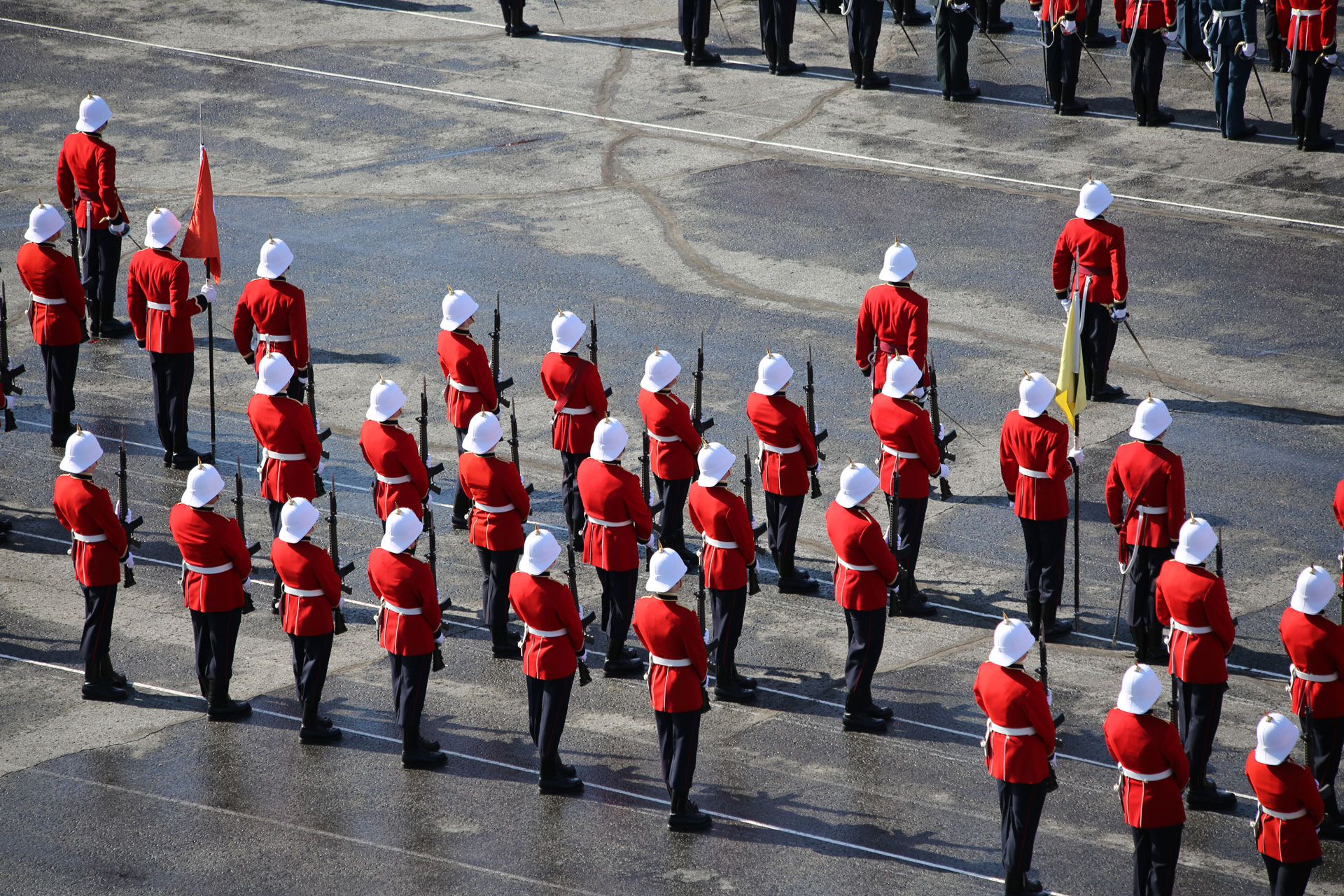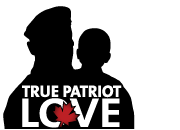 True Patriot Love Foundation raises over $2 million in support of military families
Prime Minister and Premiers Unite in Support of Largest Fundraiser for Military Families
TORONTO, Nov. 10 /CNW/ – Chair Shaun Francis tonight announced at the True Patriot Love Foundation inaugural gala that the Foundation has raised over $2 million in support of Canadian military families.
"Tonight, we have most of our country's leaders assembled, but we are not here as Conservative, Liberal, NDP or Green. We are here as fathers, mothers, brothers, sisters, sons, daughters and friends, and most importantly as citizens of this great country," said Francis.
This is the largest fundraiser for military families in Canadian history and the money raised will be donated to the Military Families Fund. The purpose of the Fund is to quickly step in to assist military families faced with unforeseen and often urgent needs that have resulted from conditions of service, including rehabilitation after an injury, educational support for children with special needs on remote bases, financial assistance in the case of injury or death, and urgent and extraordinary financial demands where the ability to provide family necessities is at risk.
"I am in awe by the overwhelming support to the Canadian Forces and their families shown here tonight," said Master Corporal Jody Mitic, who was recognized by Prime Minister Harper. "Such outward visible support is a huge morale boost to the troops."
Over 1,700 guests attended the dinner at the Metro Toronto Convention Centre, including military families (including Captain Trevor Greene, and Master Corporal Jody Mitic), The Right Honourable Prime Minister Harper, The Honourable David C. Onley, Premier McGuinty, Right Honourable Paul Martin, M.P. Michael Ignatieff, M.P. Jack Layton, Elizabeth May, Chief William Blair, Chief Sharon Stinson Henry, Don Cherry and Sam Reid.
General Natynczyk delivered the keynote address, General (Ret'd) Rick Hillier was the Honourary Chair, and CTV's Lisa LaFlamme and the Honourable Bill Davis were the Masters of Ceremony. Entertainment for the evening included the Canadian Tenors, Leahy and Natalie MacMaster, Dennis Leclair, Beverley Mahood and The Fern Hill School Choir. Telus was the lead sponsor for the evening.
"Tonight we recognize the outstanding service to Canada by our men and women in uniform. We appreciate the love, care and support by their families," said General Walt Natynczyk, Chief of the Defence Staff. "And especially in this week of remembrance, we celebrate our Veterans – those who trained us, who showed us the way, who showed us what right looks like. Those who went overseas and made the supreme sacrifice so that we could live in peace."
"Canadians do a tremendous job of recognizing the sacrifices made by our parents, grandparents and greatgrandparents," said Francis. "But it's equally important that Veterans Week includes recognizing the sacrifices that our men and women in uniform and their families are making today. That is the mission of the True Patriot Love Foundation."
The True Patriot Love Foundation, founded by corporate and community leaders, is dedicated to raising funds for programs to improve the well being of members of the Canadian military and their families, and to celebrate their selfless service. The Foundation strives to help meet the needs of Canadian heroes serving at home and abroad, as well as the needs of the families who support them.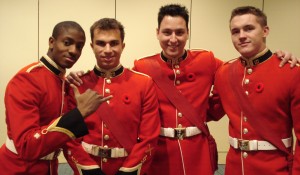 Pictures were not allowed during the TPL Foundation Gala presentations, but this one was taken before the gala.  Left to Right NCdt Keita, OCdt Sandner, OCdt Calnan, OCdt Whittaker.
Cadet Perspective…
Commandant proud of Cadets  at major fund-raising gala
By: OCdt(IV) Mark Sandner 24840
Tuesday last week, the day before Remembrance Day, 27 Officer Cadets from RMC traveled to Toronto to attend and help out with the True Patriot Love Foundation Gala.
"Looking tremendous in their scarlet's, the Cadets played a very important role in running the many silent auctions and escorting VIPs", stated a very proud Commodore Bill Truelove. He went on to add, "With the "who's who' of Government, Industry and Entertainment present along with the CDS and others, the Cadets got to participate in an historic evening during which about 2.4 million dollars was presented to the Military Family Fund."
The night featured various special presentations including a video speech from Prince Charles, a performance from The Canadian Tenors, and a very emotional speech from Captain Trevor Greene who, from his wheelchair, made a promise to Gen. Natynczyk that he would follow the General's orders and 'get well'. Captain Greene suffered head trauma in Afghanistan, and during his speech, a pin drop could have been heard throughout the Toronto Metro Convention Center. Captain Greene is a true testament to the word courage.
The Foundation's goal was to raise money for military families who need financial support due to medical conditions and injuries.
The entire evening had an energy that was felt by all. The Cadets from RMC who were in attendance are very thankful for being given the opportunity to witness such an event.
_________________________________________________________
Cadets Enjoy Another Unique Brunch Experience

This past Sunday the skillets were back in gear at the RMC peninsula "B&B" residence as a large number of cadets joined the Truelove family in an enjoyable Brunch. Mrs T (Brenda) now has the residence decorated inside and out for Xmas and from all reports the Cadets enjoyed a great home cooked meal and friendship by the Xmas Trees.

Always special for the Cadets and the hosts, this latest Brunch, was also a chance to wish their Exchange Daughter, Tina, from Germany, a Happy 17th Birthday.  This is the third Sunday "brunch" this first term hosted at the residence of the commandant and his family.  To date 10% of the cadet wing population has enjoyed this very special unique social opportunity.

The photo top right will attest that the family dog, Bailey, is clearly 'stressed' by all the activity at the residence!! Rugby players do not faze him either!
WHAT THE CADETS HAD TO SAY…
I had a really good time today at the Cmdt's Brunch. It was really relaxed, and the atmosphere was very casual and pleasant. The food was excellent, much better than the regular CDH special, especially the pancakes and bacon. The Cmdt definitely made everyone feel welcome in his home, offering us to use the bowling pins he had set up for everyone to enjoy. I had the opportunity to speak to him casually about everyday life, and it was enjoyable. Overall, the brunch was a great way to start my Sunday, and I think it is a tradition that should be carried forward in the future. I really enjoyed it because it lets us as cadets know that we are not simply college numbers.
Ocdt Steve Burry 24868
After a week of intensive academic and military duty, few things could be more rewarding for the typical RMC cadet than to retreat to their homes for a home cooked meal with friends. For many of us, this is nearly impossible. Brenda, the Cmdt and the rest of the team (happy birthday Tina) opened their house and welcomed us with exactly that. For the lucky people who attended, it was a perfect opportunity to chat with other years, visit the house, eat some good food and get to know the Truelove family at a more personal level. The experience was very appreciated and highly recommended to anyone who may want to take up the offer!
Thank you very much to the team.
Ocdt Nick Bouchard 24410
À chaque jour, les élèves officiers du CMRC longent une maison monumentale qui pique notre curiosité à chaque fois. Cette semaine, le Commodore Truelove a donné la chance de montrer sous son vrai jour le trésor historique qu'est la maison du Commandant à quelques étudiants par escadron. Étant accueillis par son aide-de-camp IV Deschenes, nous avons eu la chance de rencontrer le Commodore Truelove et sa famille dans un environnement décontracté et intime. Bien que ce dîner ne fût pas la première occasion que j'ai eu de découvrir ce bijou notoire, l'atmosphère crée par le Commodore, ainsi que sa famille, a brisé certaines barrières et a permis aux élèves officiers présents de voir leur maison comme la nôtre. Cette expérience fera sa place parmi les autres expériences mémorables que j'ai eues au CMRC.
Élof Michelle Guertin 24823
When I stepped into the Commandant's Residence, I knew I was in for a real treat. Walking through the Commandant's House was like going back in time; seeing pictures of the RMC campus pre-dating the 1950s, the military mementos displayed on the walls and tables, as well as reading his old yearbooks from his college years. After the group photo was taken, we had a delicious brunch prepared by his lovely wife Brenda.
Once everyone was well fed, we listened to the Commandant's stories regarding his time at Royal Roads Military College, and shared a few laughs about the skylarks that were conducted back then. Overall, I had an excellent time today, and I would recommend everyone in the Cadet Wing to get the opportunity to join Commodore Truelove and his wonderful family at the Commandant's Brunch.
Ocdt Daniel Bortolin 25004
It was a very pleasant experience to be able to have the chance to have brunch with the Commandant. I was always curious to see what the house of the Commandant was like. Not only that, but it was a fantastic opportunity to have a relaxed, informal occasion to be able to converse with the Cmdt as well as my peers. I would recommend this occasion for anyone at the college to take.
Ocdt Murray McClafferty 24656
With the end of the semester a short three weeks away, many cadets are beginning to feel the stress of the final push towards Christmas vacation. However, this weekend many of us had a chance to relax and enjoy the warm hospitality of the Commandant and the Truelove family.
We had the chance to wander the halls and see the rich history stored within the house while enjoying the delicious meal cooked up by our hosts. We also listened to the Commandant reminisce about his career and how quickly the transition from cadet to Commandant seems to have occured. It made me realize that all too soon it may be one of my classmates occupying that house. All in all, we had great company, great food and excellent hosts; what more could a cadet ask for on a Sunday afternoon?
Ocdt Jeremy Whalen 24912