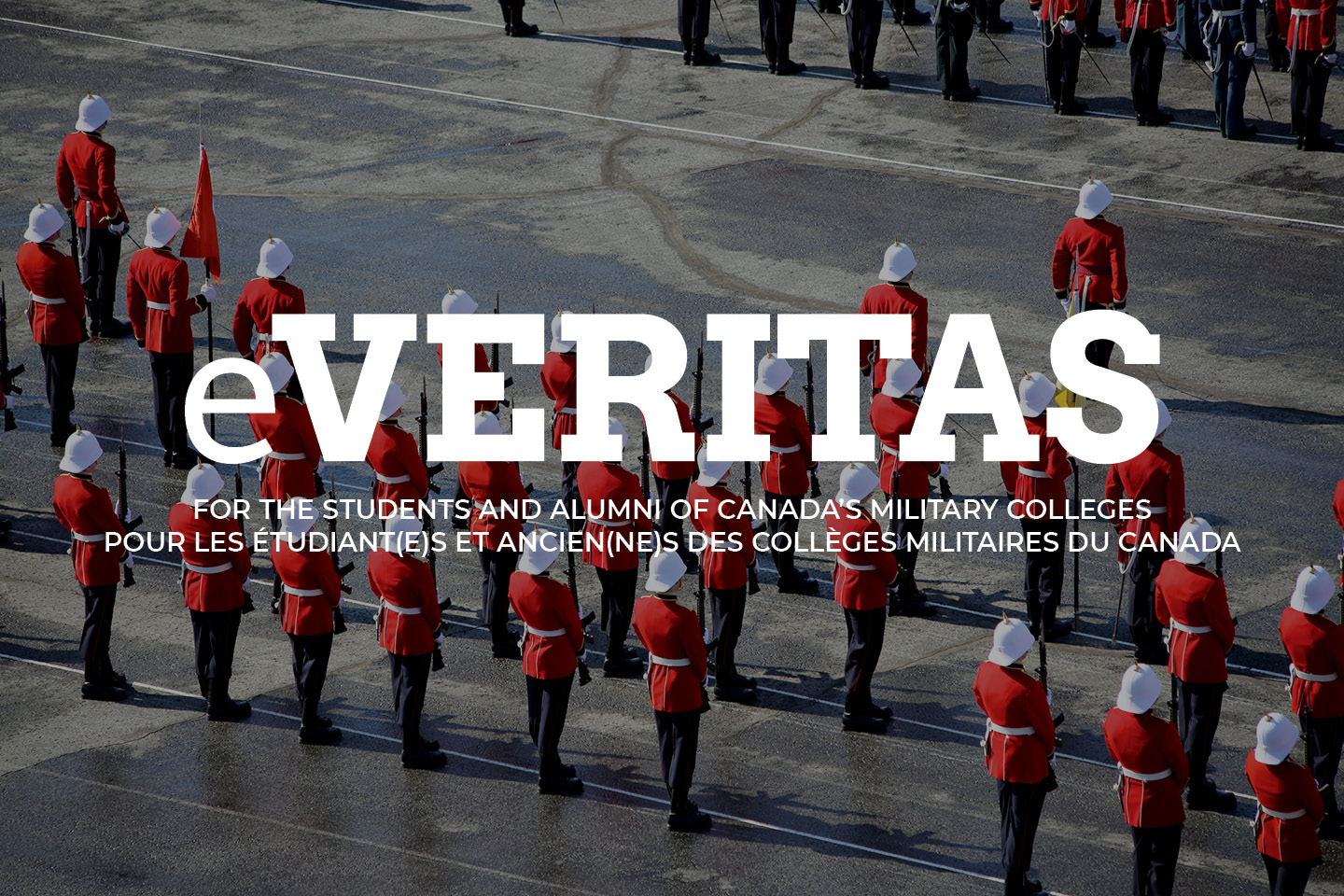 M0952 NCdt Sean Stadnisky and M0916 OCdt Greg Fleming from Otter Sqn speak with H7543 Senator Joseph Day (CMR / RMC '68) in the VIP Lounge before the Toronto Leadership Dinner.
Toronto Leadership Dinner
By: M0916 OCdt Greg Fleming
The Annual Leadership Dinner is always eagerly anticipated by the Cadets at RMC. This year was no different as members of the Drum Line and other select cadets boarded the bus for the first leg of the trip. Ably led by Commander Rich, we headed off to HMCS York were we could change into our Sunday best before attending the dinner. This step was done so we could travel in relative comfort which would in turn allow us to be more open to Commander Rich's professional development efforts as we travelled (which was done, by the way, through examining the different leadership styles present in the excellent film "Zulu!" the 1964 film with Michael Caine and Stanley Baker).
After our quick stop at HMCS York, we were back on the road to the Fairmont Royal York where the Leadership dinner was being held. Many of us were eager to get there. We were all well aware that a number of distinguished guests would be in attendance including Mr. Coach's Corner himself, Don Cherry and Maj (Ret'd) Danny MacLeod, a name known by many associated with RMC. Even the slightly older (perhaps more jaded) UTPNCM Cadets were excited about the prospect of meeting many of the people that were to be in attendance. I especially was eager to speak with Maj. MacLeod again as it was he that presented the 1st Year Otter Sqn members joining the college with their RMC Coins during Reunion Weekend. Upon arriving at the Royal York, we proceeded to unload the Drum Line's equipment and make our way to the Concert Room where the dinner was being held and the Drum Line would later perform. Once everyone found their way, that pre-dinner tradition started, mingling. A few lucky Cadets were fortunate enough to meet up with a familiar face and were able to make their way into the VIP Lounge for pre-dinner drinks and to meet some RMC friends and distinguished guests. Two of the highlights of the evening (as far as I am concerned) was speaking at length with Senator Joseph Day (# H7543, Class of '68) and meeting Mrs. Kay Birchall, Air Commodore Birchall's wife. Mrs. Birchall was there to help present the Birchall Award to Maj Danny MacLeod.Also guests at the Leadership Dinner were many members of 32 Brigade. Many of these Reservists had done tours overseas and there attendance was greatly appreciated. It was interesting speaking with them as the night went on. Many of them are students as well, so it was fun to compare notes on how we manage to balance family, school, and the CF.
The speeches given at the type of events are one of the main reasons people come. With the CDS, Don Cherry, Mrs. Birchall, Christie Blatchford and Maj MacLeod speaking, it was sure to be an interesting evening. The CDS presenting Mr. Cherry with an Arid CADPAT Suit that he proudly wore on Coach's Corner that Saturday during "Hockey Night in Canada." Not to be outdone by the CDS, the Cadets of RMC also presented Mr. Cherry with a gift; an RMC scarf. Mr. Cherry did not seem to mind that the Arid CADPAT blazer and distinctive red and white scarf clashed a little; he wore them both with his distinctive style. Don Cherry was not the only star to shine that night. "The Maj," Maj Danny MacLeod received the Birchall Award, presented by Mrs. Birchall herself, for his outstanding contributions over the years. His accomplishments literally span decades and he has had a lasting effect not only on RMC, but on Canada itself. Maj MacLeod exemplifies all that we as Cadets at RMC should strive for in our professional and personal lives and it is a well deserved honour for him to receive this award.An excellent evening with new friends was capped off with a spectacular black-light show by the RMC Drum Line. These Cadets work very hard in order to perform at such a high level. This is done in addition to all their normal duties and academic work at RMC and their motivation shone through their black lights and glowing drum sticks. The long ride back to RMC was fairly quiet on the bus. Some napped, some watched the on-board movie: many spoke at length and compared notes of great evening. Many pictures were taken with new friends so we could have some level of bragging rights back at RMC, but more importantly, we came away with memories and experiences from meeting certain people, some famous and well known, others not so, that will no doubt have a lasting affect on our careers and lives.

Contributors to the fall 2007 Dispatch, the newsletter of the Canadian Defence and Foreign Affairs Institute (CDFAI) include:
• H5105 Doctor Jack JL Granatstein (CMR RMC 1961), who co-authored
the CDFAI Major Research Paper, "A Threatened Future: Canada's Future
Strategic Environment and Its Security Implications."
• 16392 Doctor Elinor E.C. Sloan (RMC 1988), the new Canadian Defence
Foreign Affairs Institute Advisory Council Member, who wrote "NATO
and Energy Security"
• 9127 Mr Eric E.J. Lerhe (CMR RMC 1972) "Countering Terrorism
And "Connecting The Dots"
• S145 David Pratt "Can Canada Have a Grand Strategy?"
• S144 LGen (Ret'd) Mike Jeffrey, "Does the Military Institution
Learn?"

The future of the CP-140 Aurora
http://www.forces.gc.ca/site/newsroom/view_news_e.asp?id=2532
Snowbirds Schedule 2008
http://www.snowbirds.forces.gc.ca/site/airshows/schedule_e.asp
JTF-2 Plans move to Trenton           



 
http://www.canada.com/components/print.aspx?id=2d74453d-1d25-4fcb-a1df-bca8f602b180
http://www.forces.gc.ca/site/newsroom/view_news_e.asp?id=2518
Une commission recommanderait la prolongation de la mission afghane



http://www.cyberpresse.ca/article/20080121/CPSOLEIL/80121163/6787/CPSOLEIL





Le terrorisme reste le principal défi de l'Afghanistan, estime Karzaï




http://www.cyberpresse.ca/article/20080121/CPMONDE/80121038/5024/CPDMINUTE







Afghanistan

: pas d'école pour 300 000 élèves à cause des talibans 

http://www.cyberpresse.ca/article/20080121/CPMONDE/80121073/5024/CPDMINUTEWantabe Cadet: Of Manley and Afghanistan



My Dad was a proud Armed Forces man, and – in my case – I wanted to attend Royal Military College. As a teenager, I even travelled across the country to apply at RMC – but they made clear to me that they wanted engineers-to-be, not lawyers-to-be. (Given what was to come, it made sense, I suppose.) http://network.nationalpost.com/np/blogs/fullcomment/archive/2008/01/23/warren-kinsella-of-manley-and-afghanistan.aspx

 

Gaels pound Paladins in women's basketball

 http://www.thewhig.com/ArticleDisplay.aspx?e=877459
Paladins fencers dominate meet

http://www.thewhig.com/ArticleDisplay.aspx?e=878819

For full OUA varsity news:  www.oua.ca


Ineligible player costs Spartans – Former RMC player




http://www.canada.com/vancouversun/news/sports/story.html?id=d9437a5d-9aef-4036-a0bd-d4f9075cb948