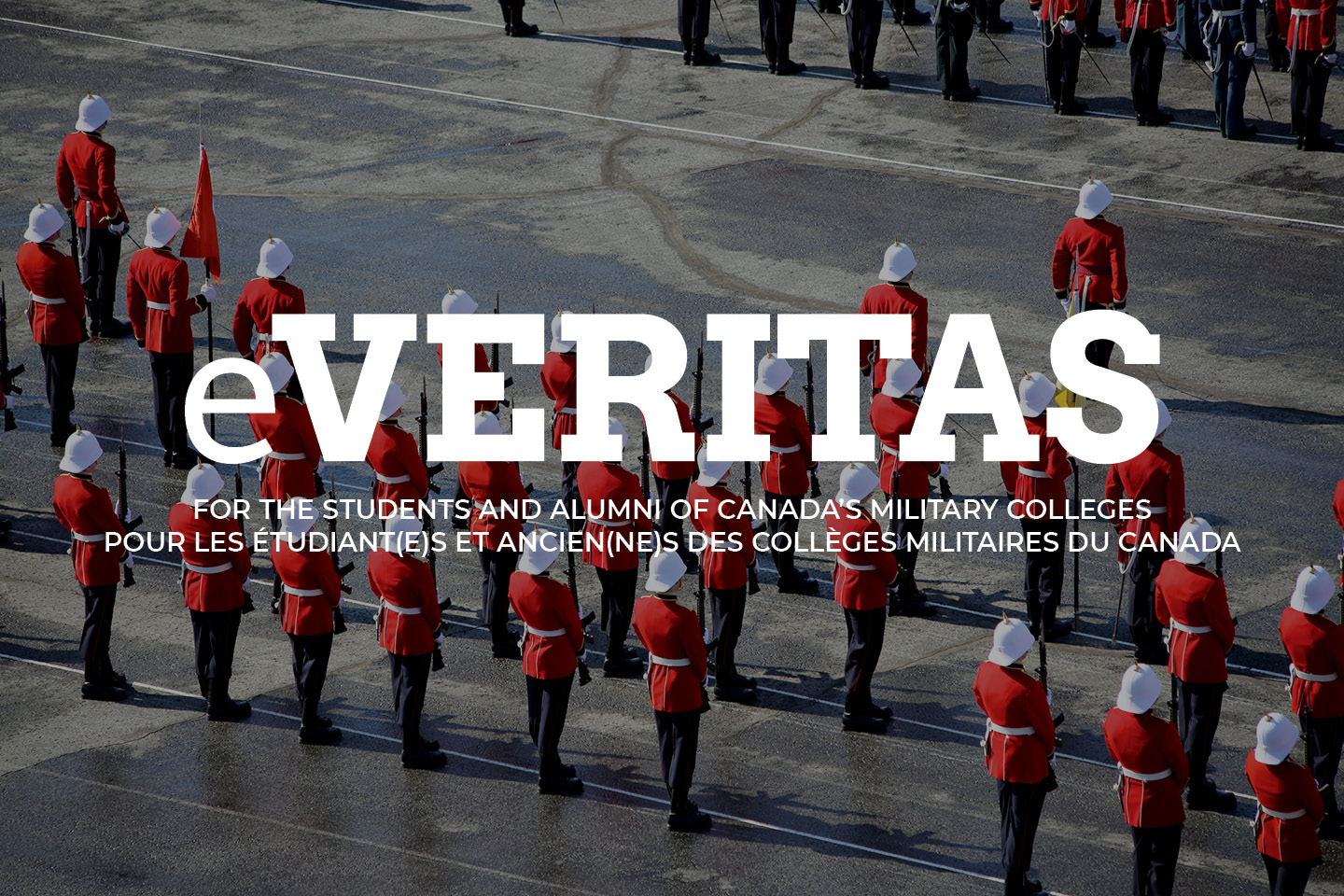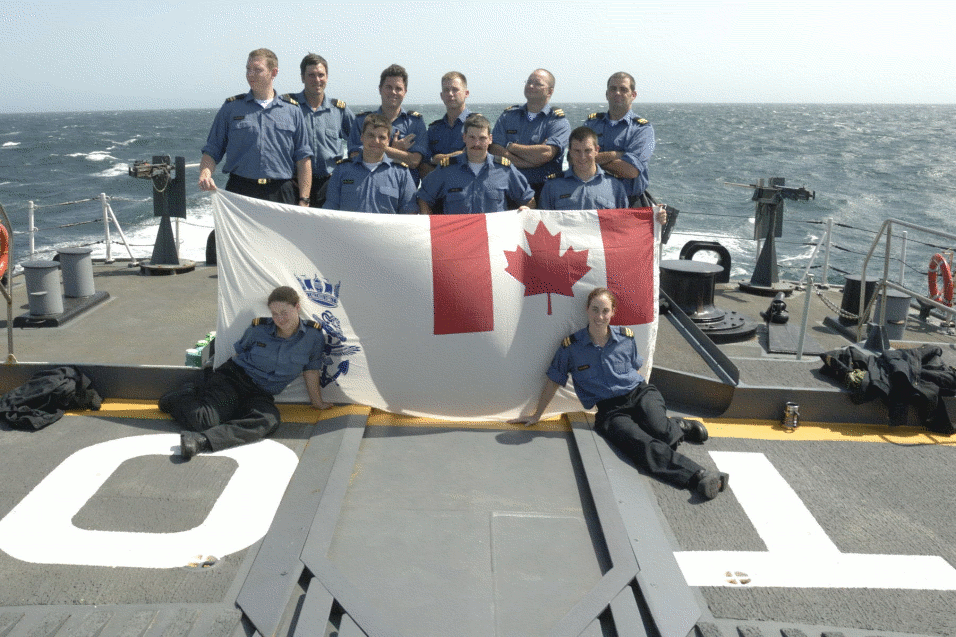 (Ex Cadets on HMCS Toronto)
Photo by: Cpl Darcy Lefebvre;
Formation Imaging Services Halifax, Nova Scotia
LCdr 19420 Angus Topshee (RMC '94) – Executive Officer; Lt(N) 20454 Steve Archer; (RRMC/RMC 96) – Operations Officer; Lt(N) 20552 Owen Brine (RMC '97) – Combat Officer;Lt(N) 22687 Mark Willis (RMC '03) – Shipborne Air Control Officer; Lt(N)22383 Ben Seaby (RMC '02) – Navigation Officer and Diving Officer; Lt(N) 22916 Stephen Parker (RMC' 04) – Assistant Combat Systems Engineering Officer; Lt(N) 22757 Jesleine Baker (RMC '04) – Assistant Marine Systems Engineering Officer;SLt 23158 Kristina Gray (RMC '05) – Bridge Watchkeeper and Boarding Officer; SLt 23076 Felix Rancourt (RMC'05) – Bridge Watchkeeper and Boarding Officer; SLt 23499 Bill McEwen (RMC '06) – Combat Systems Engineer; SLt 23417 Mike Bathurst (RMC '06) – Combat Systems Engineer.
HMCS Toronto rescues soldier
Survivor of volcanic eruption plucked from Red Sea more…


H 3948 Doctor John BJ Plant (RMC '57) has been elected chair of St. Lawrence College's board of governors. More…
In the latest issue of Engineering Dimensions, the magazine of Professional Engineers Ontario, there was an article mentioning that 8833 John Leggat (RMC '71), former RMC Club President 1999 – 2000 will be receiving the Engineering Medal (Management category), from the Association at a gala event on Saturday 10 November in Toronto. Congratulations, John!

Pengrowth Announces Executive Appointment – 11640 Jim Donihee (CMR '78) More…
The cream of the crop…
19576 Craig Gunn (RRMC / RMC '94)
Gunn's life on dairy farm inspires paintings of cows, landscapes that reflect human condition
By ELISSA BARNARD Arts Reporter
The Halifax Chronicle Herald first appeared Thursday September 27th Growing up on a dairy farm has left its mark on artist Craig Gunn.
For his first solo exhibit, at Argyle Fine Art to Sunday, he revisits the landscape of his boyhood for imaginary paintings that use nature as a metaphor for the human condition.
Land, Sea & Beast includes images of cows in spare pastoral landscapes of green and blue or as melancholy individuals in portraits against shadowy brown backgrounds.
Cows are "gentle, peaceful and somehow strangely tragic at the same time," says Gunn, who grew up in Scotsburn near Pictou.
Unlike cats and dogs, the cow was "domesticated only for what it did supply as a commodity, milk or beef." Gunn also feels that it's tragic that the small family dairy farm can't sustain itself anymore economically. "In order to survive you have to go really big which I find tragic for the animal. You've got to get big with farming or diversify." (Gunn's parents did diversify and today operate the Stonehame Lodge and Chalets on top of Fitzpatrick Mountain.)
Gunn uses both cows and an oft-repeated motif of a single tree struggling to survive on a rocky outcrop to reflect on the human condition. His landscapes are purposely minimalist. "The balance I enjoy in nature exists in these simple compositions."
The artist is adept at using light from the translucent "clear crisp blues" he likes to pinky Eastern Shore sunsets to the dramatic light and dark effect of chiaroscuro present in the small dark portraits of single cows directly inspired by Rembrandt.
Breugel's Herd is an intense small painting, all in browns, of a herd of cows in a devastated landscape that looks war-torn. It's "a kind of apocalyptic landscape and I think that is influenced by the state of the environment now," says Gunn. He admires Pieter Breugel. "He painted the four seasons and was a fantastic, earthy painter but there is an edge to it and I've always found that fascinating in his work."
Gunn started painting later in life. His first dream was to be an actor but he went to Royal Military College at 18 "because it seemed a more sensible choice."
After he graduated as a second lieutenant, he served for three years and then he went to Dalhousie theatre school to study acting. After graduating, he worked locally in theatre including with the Irondale Ensemble and in film with Brain Freeze Productions, a company with whom he still works.
Gunn started painting six years ago. "Theatre is a tough, tough business and I wanted more control. With painting you are the producer, the director, you're the artist."
Living in Scotsburn, where he and his wife have a two-year-old daughter, he works at a day job in Pictou as a financial advisor for Freedom 55 Financial and paints whenever he can.
"I've got a great balance now," he says. "I have the time and energy for my art and I really enjoy working with people and helping people. This job keeps me connected to people.
"I am fairly disciplined; maybe the military has done that!"