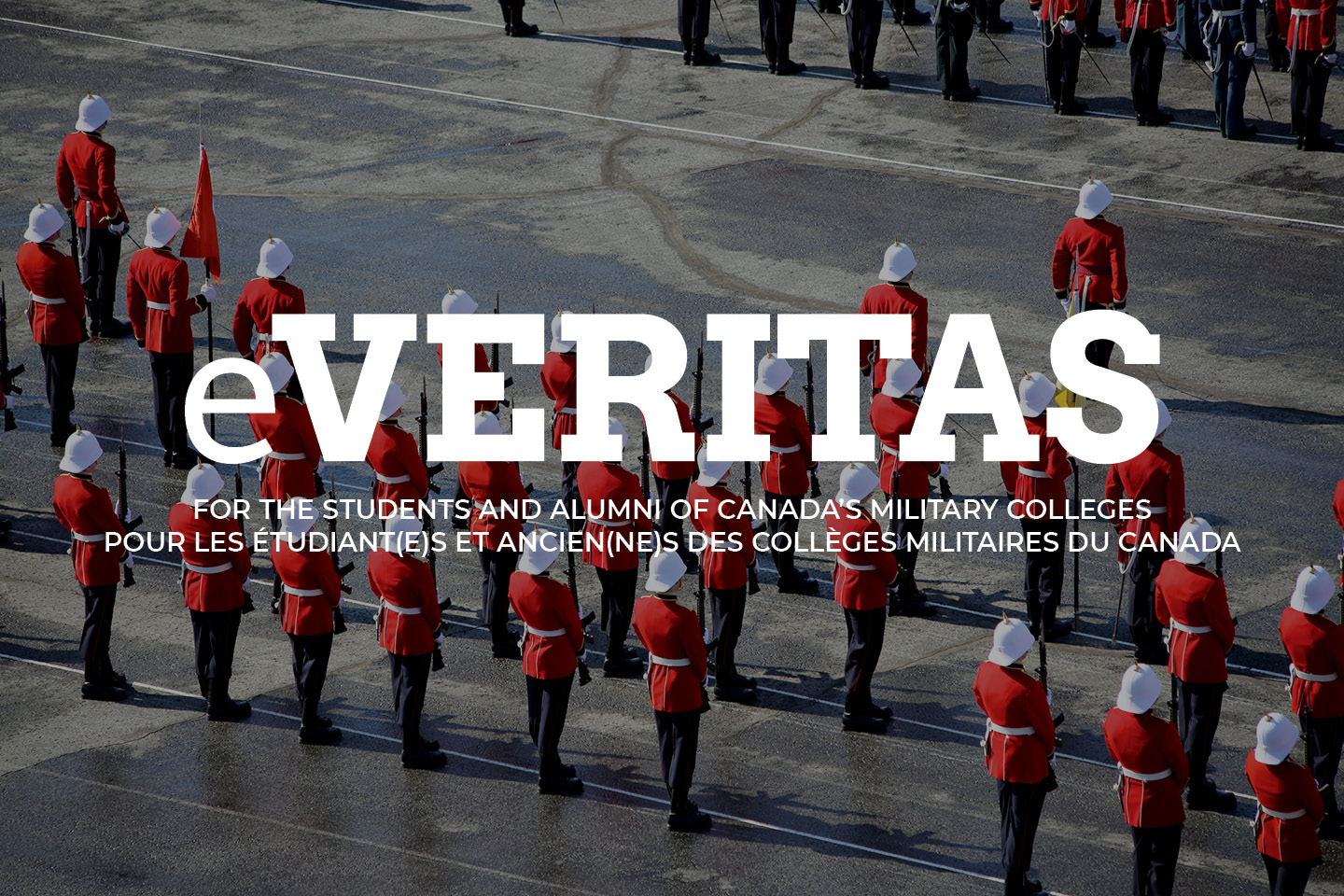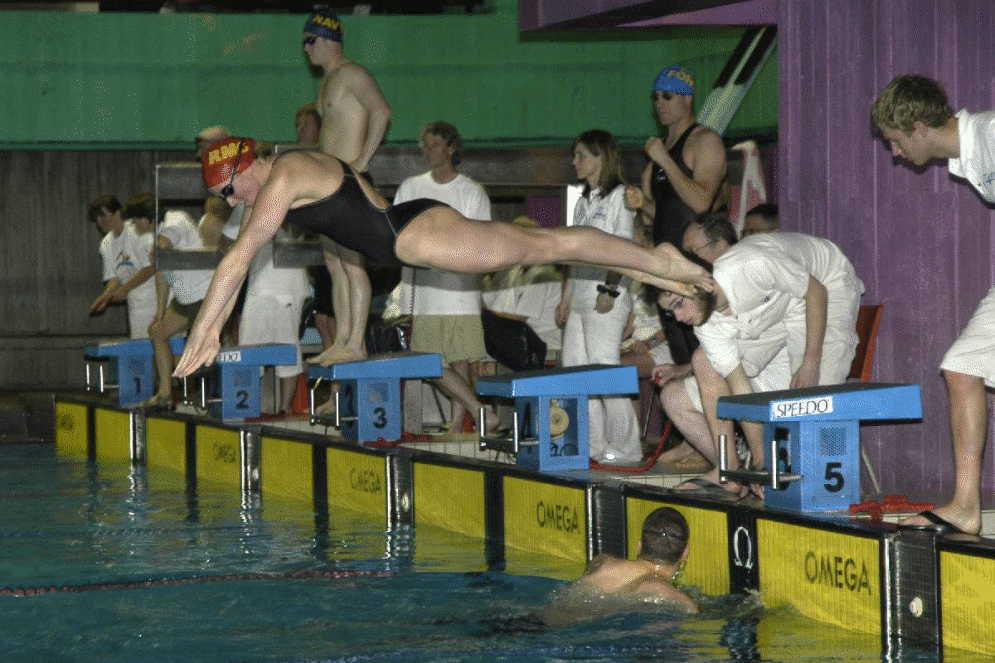 Mixed Relay Swimming
Caption: Pictured is, IV Year, Stephanie Bigelow one of three cadets taking part in the World Military Games Swimming Championship in a relay takeover at Canadian Master's Nationals in Winnipeg – May 2007.
Three RMC cadets slated to compete in swimming events at IV Military World Games in India.
The selection competition for the IV MWG was held in May 2007 in Winnipeg, Manitoba. Earning spots on the Canadian CISM Swim team were: OCdts IV Year, Stephanie Bigelow; I Year, Serena Palmer and II Year, Richard Desaulniers.
At press time we did not have full profiles on all three of the cadets but was able to track down some info on Stephanie Bigelow.
Stephanie competed at this meet winning several events including the Women's 50, 100, and 200m Butterfly, the 800 and 1500m Freestyle and the 200 and 400m Individual Medley. From her outstanding performances at this competition, she was selected to compete in India in the following events: 50, 100, and 200m Butterfly and the 200m Individual Medley. She will also be competing in two relays.
The training required for this competition is based around 15 hours plus a week for swimming and 5-10 hours a week of weight training and other cross training. Over the summer, she was posted to CFB Comox where she had to train on her own and maintain a high level of self-discipline in order to be prepared for India.
The last CISM competition that Ocdt Bigelow competed in was the Military World Swimming Championships held in the summer of 2006 in Bulgaria. There, she earned a silver medal in the Women's 200m Individual Medley even against some of the best competition in the world. Many olympic athletes were in attendance and this competition was truly a powerful experience!
Stephanie and her other two cadetteam-mates look forward to competing in India and relish the oppourtunity to represent the Royal Military College, the Canadian Forces, and Canada.


Excerpt from RMC Sports Roundup – Courtesy Guy Dube, Varsity Sports Manager
Shortly, a number of RMC athletes will be heading to India to compete in the 4th World Military CISM Games from October 14-21, 2007. These games include fourteen different sports and the athletes will be competing against representatives from 91 other countries from around the world. Like the Olympics, the selected RMC athletes will not only be representing RMC, but also the Canadian Forces and Canada. Also, the main difference is that all of the athletes are also military personnel. Similarly the world military games are only held every four years, with the next games being held in Brazil in 2011. This year's motto for the games is "friendship through sport", which is very fitting as I am sure that the athletes will have a great experience and make lifelong friends through this amazing opportunity.
Good luck to all of the following RMC athletes:
Stuart Ireson – men's soccer
Emmanuelle Gratton – women's volleyball
Stephanie Bigelow – swimming
Richard Desaulniers – swimming
Serena Palmer – swimming
For more information about the competition check out
http://mwg2007.org/index.jsp or
http://www.cism-milsport.org/eng/d_world_game/hyderabad/pages/000-main.html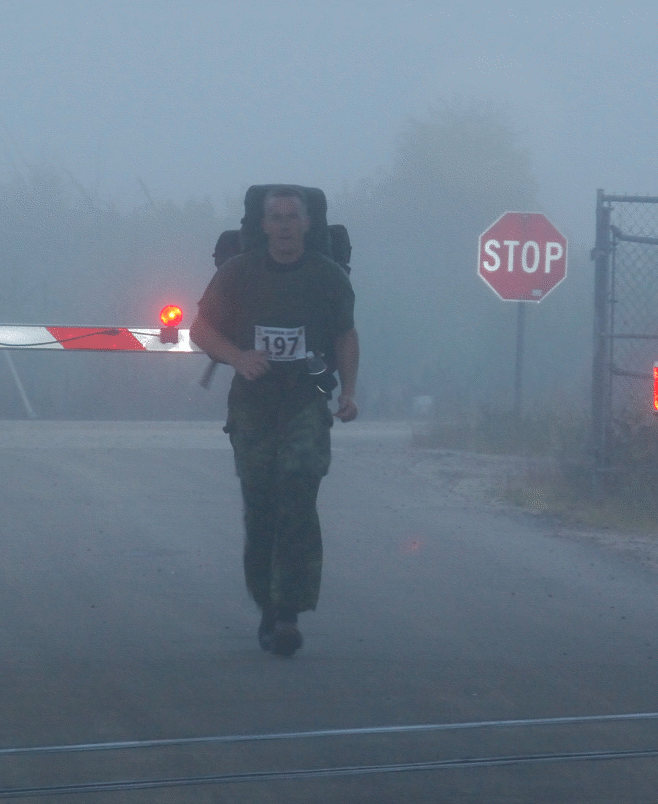 Two II Year RMC Cadets – M0929, Geordie Cheeseman Otter Squadron & 24531 Cameron Whitehead, 9 Squadron – Compete at Petawawa Ironman!
By: M0929, Geordie Cheeseman – Otter Squadron
A Howitzer marked the start of the 2007 2CMBG Ironman competition in Petawawa on the 21st of September. Foggy and dark at 0430 hrs, over 200 competitors left the parking lot at Dundonald Hall carrying a 40 lb rucksack over a 50 km route. The race consisted of a 32 km rucksack march, a 4 km portage, an 8km canoe, and a 6 km rucksack march to the finish. This year there were two of us from RMC; OCdt Whitehead and OCdt Cheeseman.
Once we left the streetlights of the camp and entered the training area, only the glowsticks that were secured to the back of our rucksacks could be seen. Running in the dark was surreal. On the gravel road you could hear the dragging of others' boots to your front and behind but your only judge of distance between was the line of bobbing lights that danced in the black of the predawn. Though surrounded by the competition, we ran alone.
Daylight slowly filtered across the sky around 0600 hrs. Through the fog you could discern the shuffling shapes of one or two competitors cresting a hill in front of you. Before long the sun shone through the trees and you could see the line of competitors spaced unequally down the road. Finally, after 32 km, you reached the canoes.
Heaving the boat over your head, you began the 4km march to the water. The trail was winding and the sand was soft in the last 800 meters before reaching the shore and along the path low hanging branches could be heard as they trailed along the bottom of the canoe. Shoulders sore and tired, we reached the water.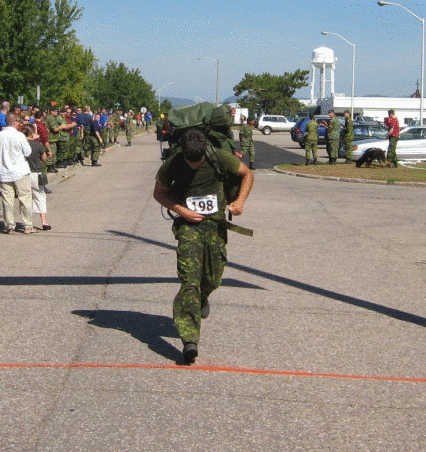 Launching the canoe proved difficult as the water was shallow and the canoe bit into the sand. Once free there was a headwind off of the Ottawa River that hindered progress and you could see other canoeists off in the distance 2 km away. Rescue boats patrolled the water in the event of capsize.
Reaching the shore, the body was tired but the will and determination to finish was stronger. The final 6km that wove around the golf course and the base PMQs seemed long and around every corner our eyes strained to see the finish line at Dundonald Hall.
The euphoria of finishing a race cannot be described to others who have not competed. Pride, accomplishment, relief. All of these feelings mixed in a pot that you sculpted in months of training. The finish line is the product of the time, sweat, and blisters you willingly accepted to train and complete this competition. The thrill is addictive, which is why so many competitors return to test themselves in subsequent years.
We did well in Petawawa, and in the following years RMC will do even better and with more competitors.
Ed: Ocdt Geordie Cheeseman has completed 11 of these races over the years. Well done!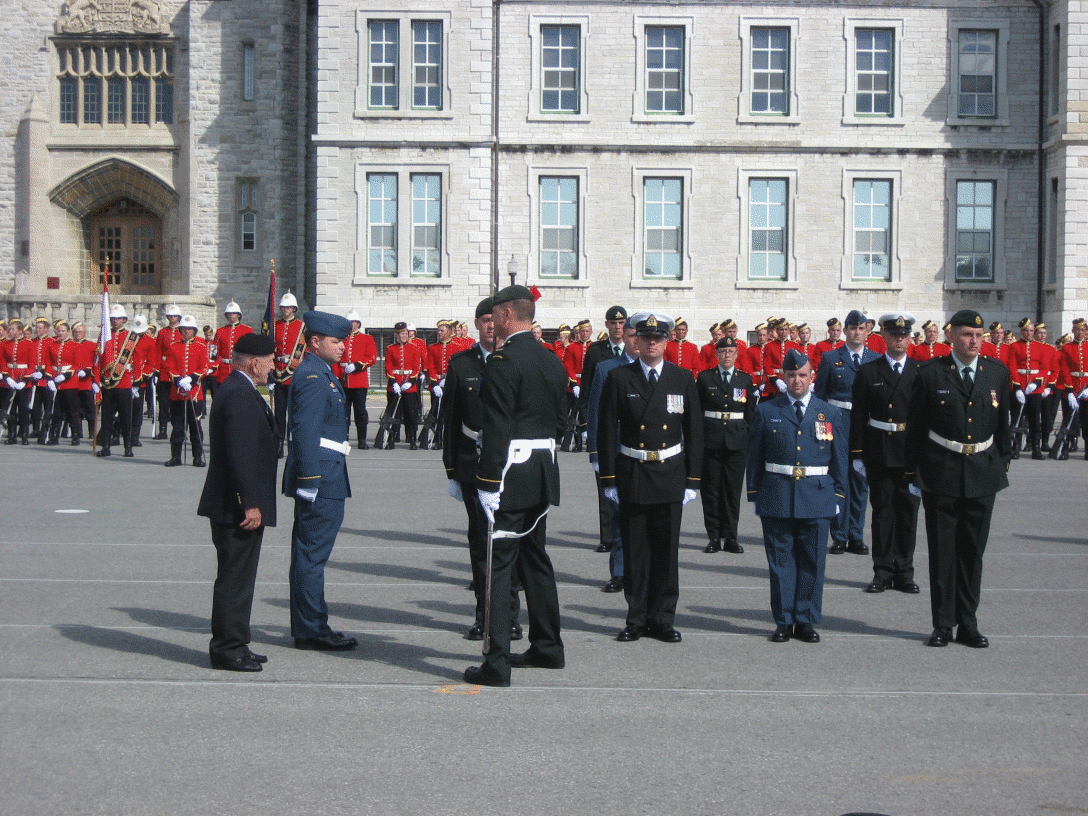 Major Danny McLeod presenting RMC "coins" to Otter Saquadron, I Years, in lieu of the RMC Hat Badge which is presented to RO / RETP cadets on the First Year Badging Parade.Otter Squadron Making A Mark!
By: Dean Fleet (m0917)
One could hardly have picked a better day for the Badging Parade this past Reunion Weekend. The sun was shining and the wind was light, ensuring a marvellous experience for the numerous family, friends, and ex-cadets in attendance. Some of those on parade finished the day with light sunburns, but all agreed that after so much time having been put into practicing for the parade, it was good to be able to pull it off in fine form with the cooperation of Mother Nature.
This year, as every year, saw numerous cadets called out to receive awards for excelling in academics or military training over the previous year. While the majority of them came from the scarlet ranks of the ROTP cadets, at the far end of the sea of scarlets stood Otter Squadron, in their CFs with medals shining. They, too, saw some of their number called out as the recipient of an award. Second year student Dan Turgeon (m0945) received the Howard B. Ripstein Award of Excellence for the Navy for demonstrating excellence in all four pillars at RMC. Fellow second year student, Geordie Cheeseman (m0929), received the UTPNCM Drill and Physical Education Prize for achieving the highest standard in drill and physical education over the course of the year.
Other notable mentions for prizes, which were not given out on parade, were third year students James Black (m0912), Rob Curtis (m0925), and Dean Fleet (m0917). Each won prizes for being the top students after second year in their respective programs of Politics, Business Administration, and History.

GoENG Girl event 13 Oct 07/Évènement GÉNIal, les filles le 13 oct 07
A special event for girls will showcase the diversity and opportunity of an engineering career, hosted by 15 Ontario Universities on Saturday, October 13, 2007. Called "Go ENG Girl" these free Ontario-wide events are open to girls in grades 7 to 10 and a parent. The Kingston event, co-hosted by RMC and Queen's, will be held at Currie Hall from 0900-1200h.
Attendees will meet women engineers and those currently studying engineering, and learn about some of the amazing things women engineers are doing. Girls will participate in cool hands-on activities. This year's activities will focus on engineering in natural disaster situations.
Participants will also learn about engineering-related activities and opportunities outside of the classroom from the female engineering student volunteers from both RMC and Queen's.
The registration form and more information can be found at the following link: http://www.ospe.on.ca/goenggirl
Any questions about the event can be directed to Professor Marie-Anne Erki at 613-541-6000 local 6602.
Un évènement spécialement réservé aux filles va mettre en valeur la diversité et les opportunités d'une carrière en génie, tenu sur les campus de 15 universités ontariennes le samedi, 13 octobre, 2007. Appelé "GÉNIal, les filles", ces évènements gratuits dans toute la province ontarienne sont ouverts aux filles de la 7e à la 10e année et un parent. L'évènement de Kingston, organisé par le CMR et Queen's, aura lieu à Currie Hall de 9 h 00 à 12 h 00.
Les participantes rencontreront des femmes ingénieurs et des femmes qui étudient présentement en génie, et vont entendre des exemples impressionants de ce que les femmes ingénieurs font. Les filles participeront à des activités pratiques géniales. Les activités de cette année mettront l'emphase sur le génie dans des situations de catastrophes naturelles.
Les participantes vont aussi entendre parler d'activités reliées au génie et d'oppotunités hors du contexte scolaire de la part d'étudiantes volontaires du CMR et Queen's.
Le formulaire d'inscription et plus d'information peuvent être obtenus au lien suivant: http://www.ospe.on.ca/goenggirl/registration_form_fr_2007.asp
Les questions concernant cet évènement peuvent être dirigées au Professeur Marie-Anne Erki au numéro 613 541-6000 x6602.