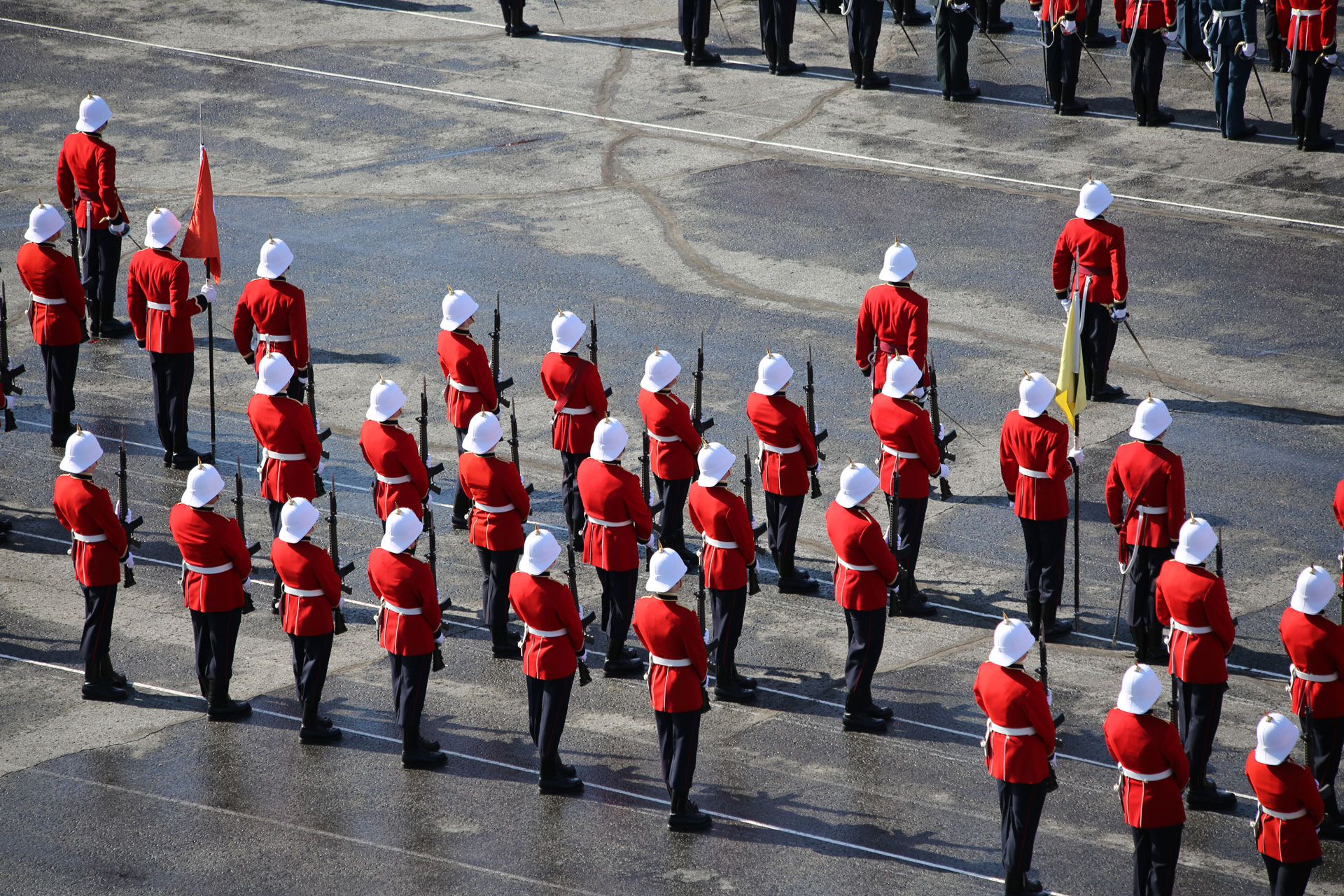 Caption: Major JPF Lépine, CD, PhD, Assistant Professor – Political and Economic Science Department recdeivng medal from Lieutenant Colonel Kuhlin, German Air Force.  Photos by:  25497 OCdt (III) Andrew Sheahan
Within the German honours system, there are five decorations awarded for valour, outstanding achievements or meritorious service. In order of precedence and with the corresponding Canadian equivalent these are:
German Armed Forces Cross of Honour for Bravery/Valour (awarded for valour beyond the call of duty and would be the equivalent of the Victoria Cross)
German Armed Forces Gold Cross of Honour (awarded for exemplary achievements or outstanding deeds at the risk of one's life – Canadian equivalent CMM or SMV)
German Armed Forces Silver Cross of Honour (awarded for exemplary service or outstanding deeds and extraordinary achievements – Canadian equivalent OMM)
German Armed Forces Bronze Cross of Honour (awarded for exemplary and meritorious achievements – Canadian equivalent MMM)
German Armed Forces Medal of Honour (awarded for exemplary achievements – Canadian equivalent CD)
To our knowledge, Major Lépine is the first Canadian officer to be awarded this decoration. One other CF member, LCol Stefan Kostner currently has this decoration, however he was awarded it when he was a member of the German Air Force (Luftwaffe) and he later joined the CF.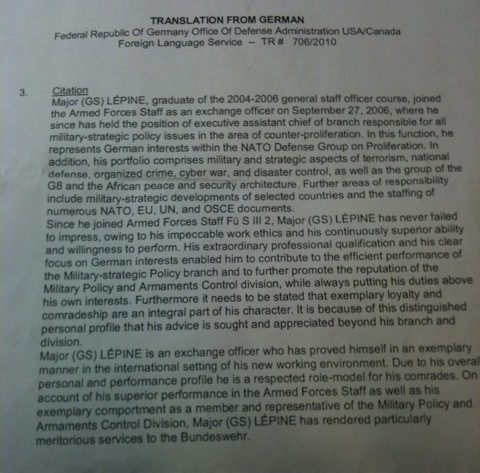 Note: The abbreviation (GS) stands for General Staff and indicates that someone has completed the German General Staff course and is assigned to the German General Staff. Only 3% of all German officers are ever admitted to the General Staff which is a separate career field in the German Armed Forces.
Bio – Major JPF Lépine, CD, PhD, Assistant Professor – Political and Economic Science Department
Major Pierre Lépine enrolled in the Canadian Forces in October 1972 in Québec. Selected for the Reserve Officer University Training Plan, he was commissioned in 1974 as an Artillery Officer. During the period 1972 to 1983, he served in various regimental, command and staff postings with 6e Régiment d'artillerie de campagne, 30th Field Regiment, 2nd Regiment, Royal Canadian Horse Artillery, Artillery Section Force Mobile Command Headquarters, Lanark and Renfrew Scottish Regiment, Division Artillery Section of FMC Division as well as serving as the senior mobilization planner in the Directorate of Recruiting and Selection at National Defence Headquarters in Ottawa.
Following three years serving in various regimental and command positions in Valcartier including with 5e Régiment d'Artillerie Légere du Canada and the Ecole de Combat R22eR, Major Lépine attended the year long Instructor-in-Gunnery (Air Defence) course at the Air Defence Artillery School in Chatham, NB. On graduation, he remained with the School in various instructional and staff positions until 1990. During this period, he also completed the Canadian Land Forces Command and Staff course in Kingston.
Returning to Ottawa in 1990, he was once again posted to NDHQ as a Project Director in the Directorate of Land Requirements, where he oversaw the purchase and introduction into service of the Javelin missile system. After three years in DLR, he was posted to the position of Staff Officer – Director General Military Personnel where he remained until 1997. During that period, he was selected and assigned for a six month tour as the Adjutant for the Canadian Contingent – United Nations Disengagement Observer Force located in Israeli occupied Syria. Having completed the United Nations Staff Officer`s Course at the German General Staff College in Hamburg in 1996, Major Lépine was once again selected for UN duties in 1997. He initially served as a senior Military Observer with the United Nations Truce Supervisory Organization in the Syrian controlled Golan region. Transferring to Lebanon in 1998, he commanded an international team of 14 UN Military Observers for 9 months and was then employed as a senior staff officer in Headquarters Observer Group Lebanon. Returning to Canada in 1999, Major Lépine spent 6 months developing a new accommodation policy in the Quality of Life Project Management Office, before assuming command of 20th Air Defence Battery in Lethbridge. 18 months later, Major Lépine assumed command of 18th Air Defence Regiment and remained as CO until 2003.
Selected to attend the two year German General Command and Staff College in Hamburg, Major Lépine first completed one year of German language training at the Canadian Forces Language School in Gatineau before moving to Germany in 2004. Following graduation from the Staff College and having been assigned to the German General Staff, he was posted in 2006 to the Ministry of Defence in Berlin. There he served for four years as a senior assistant Branch Chief in the Strategy and Policy Branch. During this period, he was assigned responsibilities as the German Head of Delegation to NATO`s Senior Defence Group on Proliferation, as well as the Ministry of Defence`s representative on African issues, officer responsible for terrorism analysis and strategies and German national representative to both the NATO Centre of Excellence – Defence against Terrorism in Ankara, Turkey as well as to the G8. Of the five foreign officers working at the German Ministry of Defence, Major Lépine was the only allied Exchange Officer so honoured by the German General Staff to be assigned the responsibility as a Head of a German national delegation, responsible for enunciating and representing the German position in various international meetings.
A graduate of the Université d`Ottawa and the University of Manitoba, Major Lépine completed his MA at the Royal Military College and his PhD at the University of Calgary. He was posted to RMC in 2010 and is currently an Assistant Professor in the Department of Politics and Economics.