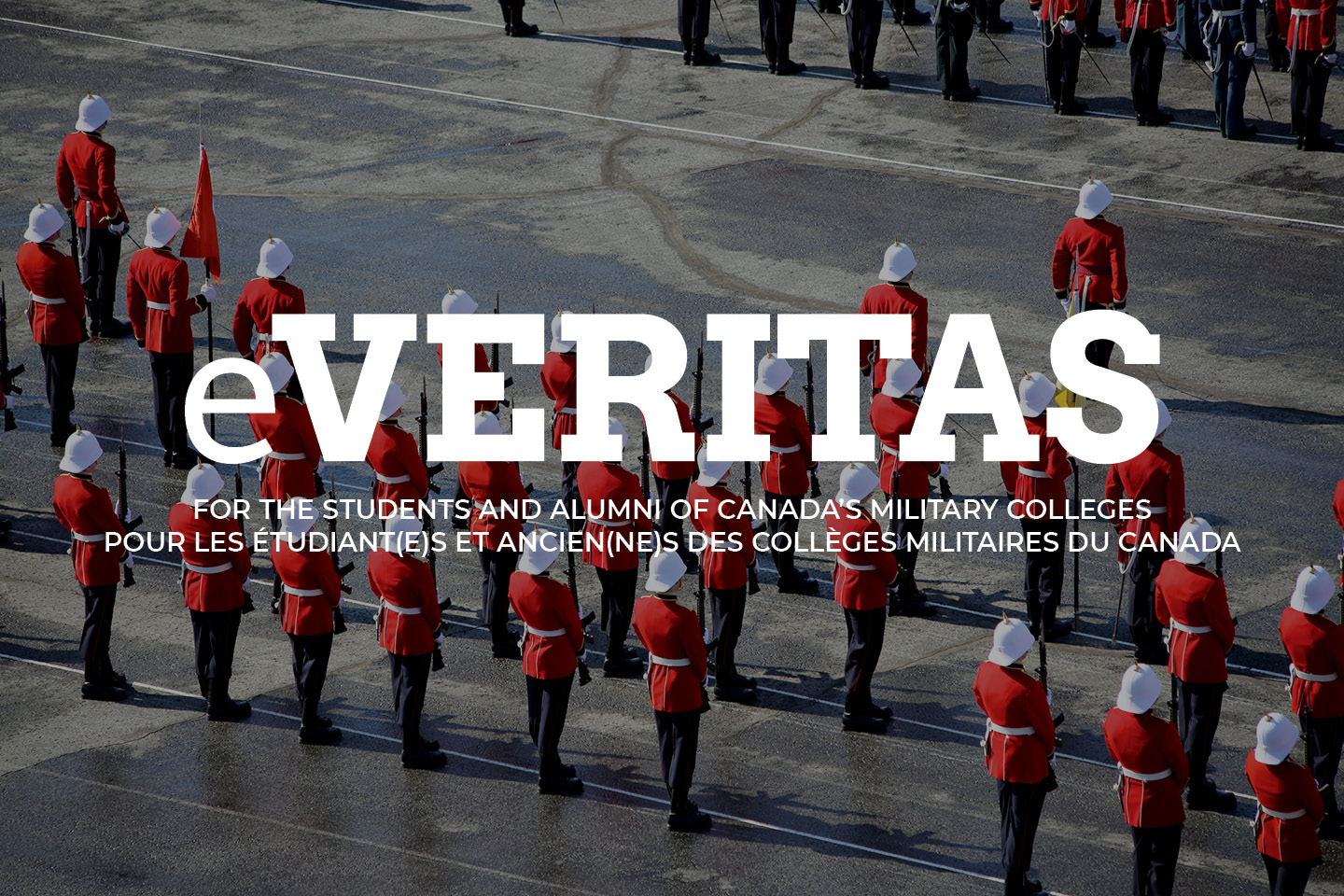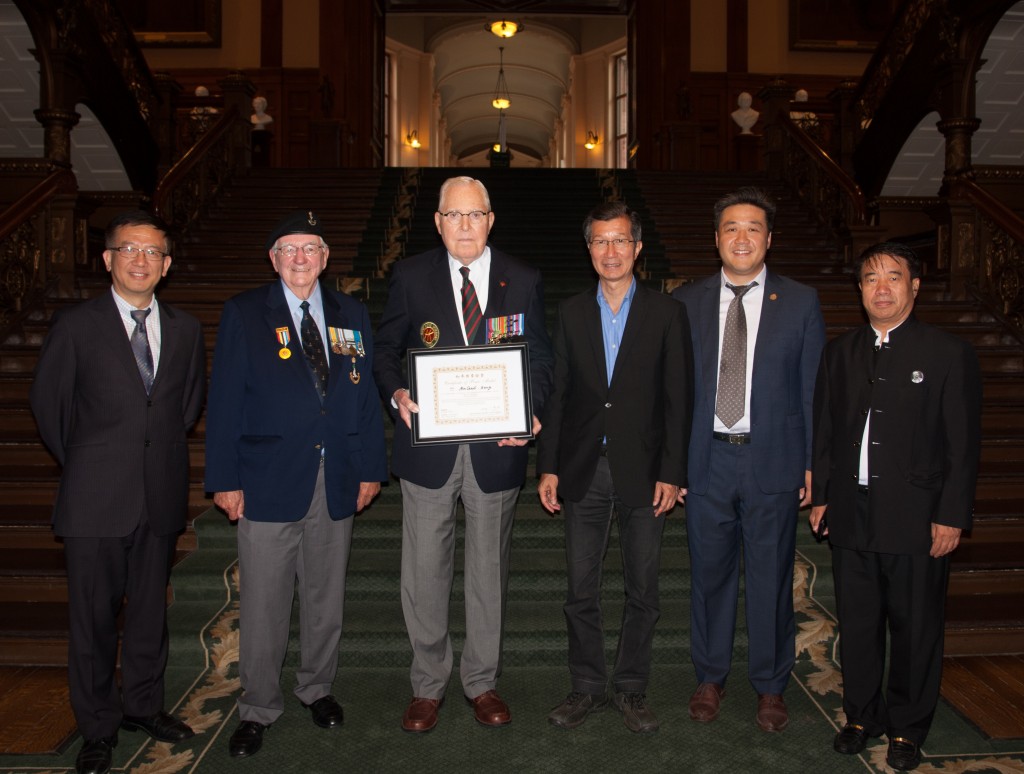 Caption: L to R: Dr. Wang Ti, 3201 Austen (Aus) Cambon, Sergeant Major George S. MacDonnell, Hon. Michael Chan, Minister of Citizenship, Immigration and International Trade, Hon. Han Dong MPP, Wang Jiaming, Chairman of Commemorative Ceremonies, Victory over Japan.
***
CHINA PEACE MEDAL AWARDED TO BATTLE OF HONG KONG VETERAN & BOOK AUTHOR
A CHRONICLE OF THE REGIMENTAL MASCOT'S EXTRAORDINARY GALLANTRY IN BATTLE
Submitted by 3201 Austen (Aus) Cambon, Class of RR52 / RMC54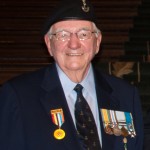 One week after representing the Hong Kong Veterans Commemorative Association HKVCA at a Chinese Community celebration of the end of World War II in Toronto (E-veritas Issue 34 …..), I was invited back to Queen's Park in order to again represent the HKVCA at the formal presentation of a China Peace Medal to a most worthy veteran of "The Battle of Hong Kong", December 8-25, 1941.
The recipient on this occasion was Sergeant Major GEORGE S. MacDONNELL. The presenter was Ontario's Minister of Citizenship, Immigration and International Trade, the Honourable Michael Chan  who was joined by a group of other government and organizing committee officials for the ceremony.
MORE…
George served with the Royal Rifles of Canada from Quebec City, as did my brother, Ken.  He, too, survived the Battle of Hong Kong and the almost four years in Japanese P.O.W. camps that followed.  When he returned to Canada, George graduated from the University of Toronto and went on to be a CEO-level business executive and a Deputy Minister in the Government of Ontario.
I enjoyed a long chat with George at a Royal Canadian Legion luncheon event a year or so ago when George was the guest speaker.  His captivating address was about one of his battle comrades, the battalion's four-legged "soldier", a now world-famous Newfoundland dog named "Gander".  This magnificent Newfoundland dog was given to the Royal Rifles as a puppy at the beginning of World War II when the Regiment was on duty in his birthplace, Gander, Newfoundland.  Gander became the Royal Rifles' mascot and more.
Gander grew up to believe he was a soldier, not a dog. He sailed overseas to Asia with his comrades.  He had become as disciplined as the other soldiers in the battalion.  Gander followed orders when leading the Royal Rifles' parades, including when the troops of "C" Force marched along Nathan Road upon their arrival in Kowloon, Hong Kong, on November 16, 1941.
Gander was eventually promoted to "Sergeant" for his devotion to duty.  He wore his stripes on his harness.  Although offered a "super dog house" built for him, he snubbed it and insisted on residing in the barracks with his comrades.
I have found it impossible to satisfactorily encapsulate Gander's gallantry in battle in this brief account, but George MacDonnell does so superbly in his book entitled  "A Dog Named GANDER"*.  The many wonderful photos and the easy-to-read text makes this 40-page book a great gift, not only for dog-lovers but for anyone, of any age.
Suffice for me to mention that Gander demonstrated gallantry in battle on several occasions and, in a final act of heroism, he saved a number of his wounded comrades by removing a live Japanese grenade that had fallen among them and then ran with it toward the Japanese attackers and to his death. In October, 2000, Gander was awarded the "Dicken Medal", often deemed to be the "Animal Victoria Cross", for his bravery on the battlefield. He was the first Canadian canine recipient of this prestigious medal.
In his book, George also describes the respect shown for Gander at the impressive medal award ceremony, held at the British Embassy in Ottawa, once the home of Sir John A. Macdonald. Thirty of the Battle of Hong Kong veterans formed a guard of honour.  Gander was represented by another Newfoundland dog, "Rimshot", that looked just like him who accepted the medal on Gander's behalf.
Gander's name is also inscribed on the Hong Kong Memorial Wall in Ottawa, a very fine monument that pays tribute to the nearly 2,000 soldiers of the Royal Rifles of Canada and the Winnipeg Grenadiers who fought together at Hong Kong.  Gander's name on the monument includes an asterisk designating that he was "Killed in Action".  He is also remembered by the people of Newfoundland in a memorial statue in Gander NL.  Gander is shown standing proudly alongside a Canadian soldier in battle dress.
This is a wonderful, heart-warming story of the bravery demonstrated on the battlefield by a magnificent animal, a dog who was as brave as the comrades with whom he served and for whom he died.
Short quotations from George's book could serve as a summary:  "After hearing about the medal ceremony someone was heard to say: 'After all, he was only a dog'."
"Some dog, eh, Gander?"
TDV
3201 Austen (Aus) Cambon, Class of RR52 / RMC54       
"A Dog Named GANDER", Sergeant Major George S. MacDonnell & Sue Beard,
ISBN10: 0986609930, ISBN13: 9780986609930 is available in English, French, and Chinese.
Order on-line at  www.ADogNamedGANDER.com