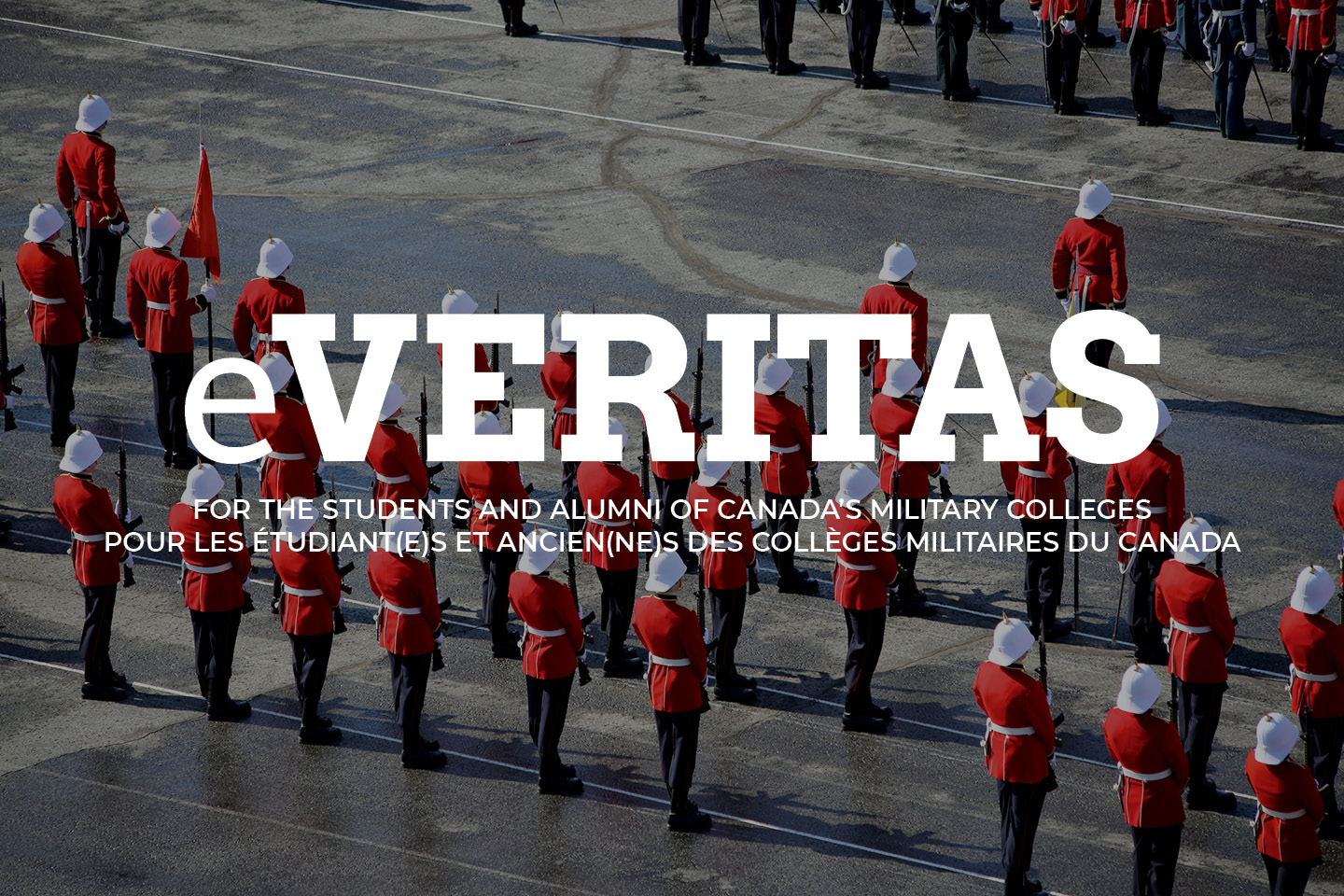 We are always on the lookout for ex-Cadets to add to our Class Notes section. If you are or if you know of an Ex Cadet with something interesting going on, we want to hear about it! Whether it's career related or more related to personal/family life, we would like to know what's going on with you and / or them.
Just send a short write up, and, if you want, a recent JPEG appropriate photo, to: everitas.classnotes@gmail.com.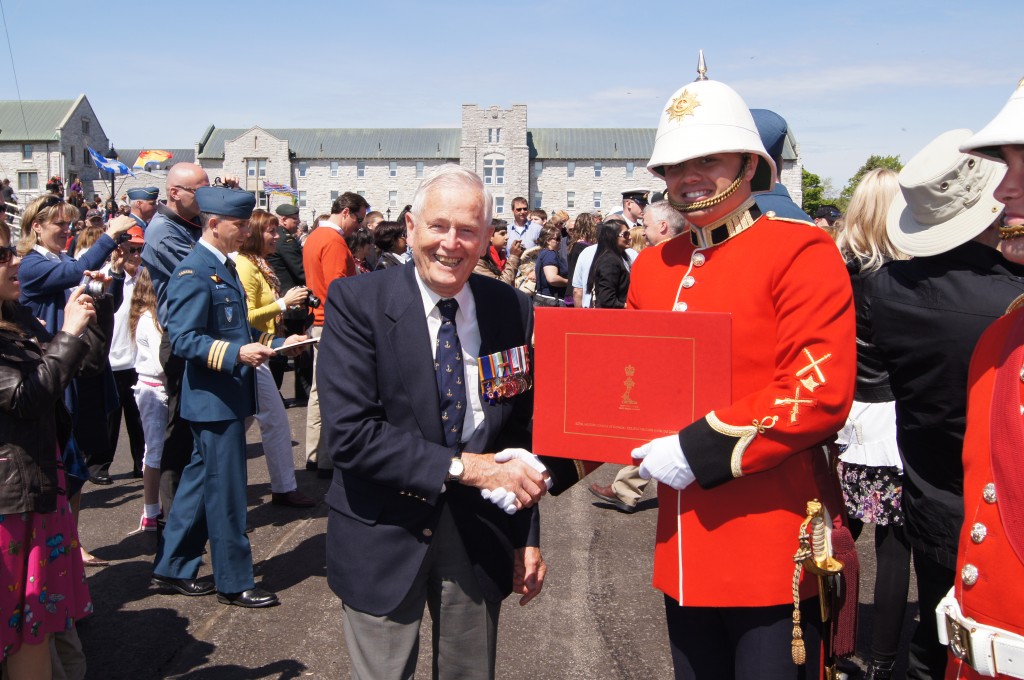 RCNC 16 Christopher G. Pratt, Royal Roads 1942-43, Retired from the Navy in 1978 with the rank of Captain. He is living by the sea not far from Royal Roads University, where at a recent meeting of the Vancouver Island Branch of the Ex Cadet Club, he was elected their Honorary President.
He is Chair of The Metchosin Foundation and a Patron of the nearby Lester B. Pearson College of the Pacific, in which he takes an active interest. He's also a Younger Brother of Trinity House, one of the two Canadians who hold that distinction.
He enjoys kayaking in the summer and yoga all year round, as well as travel and family visits to Nova Scotia and Ontario. Last May 25459 OCdt Christopher W. Pratt, graduated from RMC, and Chris was honoured to present his grandson with his commission.
Chris has lost contact with his classmates, except for RCNC 15, John L. Nicol, who lives in Vancouver. He'd like to hear from any others who may read this. cgpratt@shaw.ca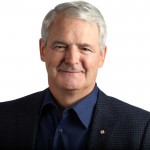 8276 Marc Garneau, Class of '70, and former astronaut, is again striving to take Canada to new heights, this time as a candidate for the leadership of the Liberal Party of Canada. As well as all his other accomplishments, Marc is obviously very proud of being a graduate of RMC and proud of his service in the Navy. He will be visiting all parts of Canada over the next couple of months, giving many of his ex-Cadet friends an opportunity to meet with him. As well, many will undoubtedly watch Marc on TV during the five televised debates across the country. Marc was recently in Kingston, and has two more visits planned on 11 and 15 February. All of Marc's RMC friends wish him all the best in his further service to Canada. His campaign website is at: http://marcgarneau.ca/.
9143 Bruce McAlpine, Class of '72, President of Fulcrum Search Science Inc., saw his company grow 48% in 2012. He attributes his success to staying true to their core values while broadening their reach, and by focusing on relationships built through meaningful and consistent communication.
10120 Peter Hoes, Class of '74 – After 35 years in the uniform Peter retired in Sep 2005 with classmate Roger Westwood in a '2-for-1 special' that made several officers in the Navy's MARE occupation very happy. Peter then worked as a Class 'B' Reservist at the Navy's request in two different positions until Apr 07 when he joined ThyssenKrupp Marine Systems Canada (TKMSC), which is pursuing contracts related to the Joint Support Ship (JSS) project to replace the Navy's PROTECTEUR- class supply ships, VICTORIA-class submarine in-service support, JSS and Arctic Offshore Patrol Ship in-service support and the Canadian Surface Combatant ship project. He will mark 6 years with TKMSC soon and enjoys his three-day work weeks (and four-day weekends!).
Peter and his wife Trish (a Director in Health Canada's First Nations and Inuit Health branch) are currently owned by their 4th and 5th Shetland Sheepdogs who are 'rescues' (from non-abusive circumstances) in need of a new home. In his spare time, Peter enjoys walking the aforementioned dogs, home computing, home improvement, and Broadway shows and Pops Series concerts at the National Arts Centre. He and Trish also take Ballroom and Latin dance classes but find progress slow in an activity that is more difficult than it looks. They have recently discovered the wonderful world of cruise ships and have two cruises booked in 2013 and at least one in 2014. Still wondering where time went, Peter hopes to see as many classmates as possible at the 40th reunion in 2014.
12855 Robert Perron, Class of '81 – After 36 years of service which included assignments as Director of Cadets and Junior Canadian Rangers, the Canadian Defence Attache in Abu Dhabi, UEA, and the Director of Foreign Liaison, Robert Perron retired on 1 Oct 2012 and now enjoys the winter slopes as a ski instructor in St-Donat, QC. Summer will be spent volonteering at the local sailing club. He also has the priviledge of being the personal taster for the Pastry Chef at a local resort, his wife Sylvie.