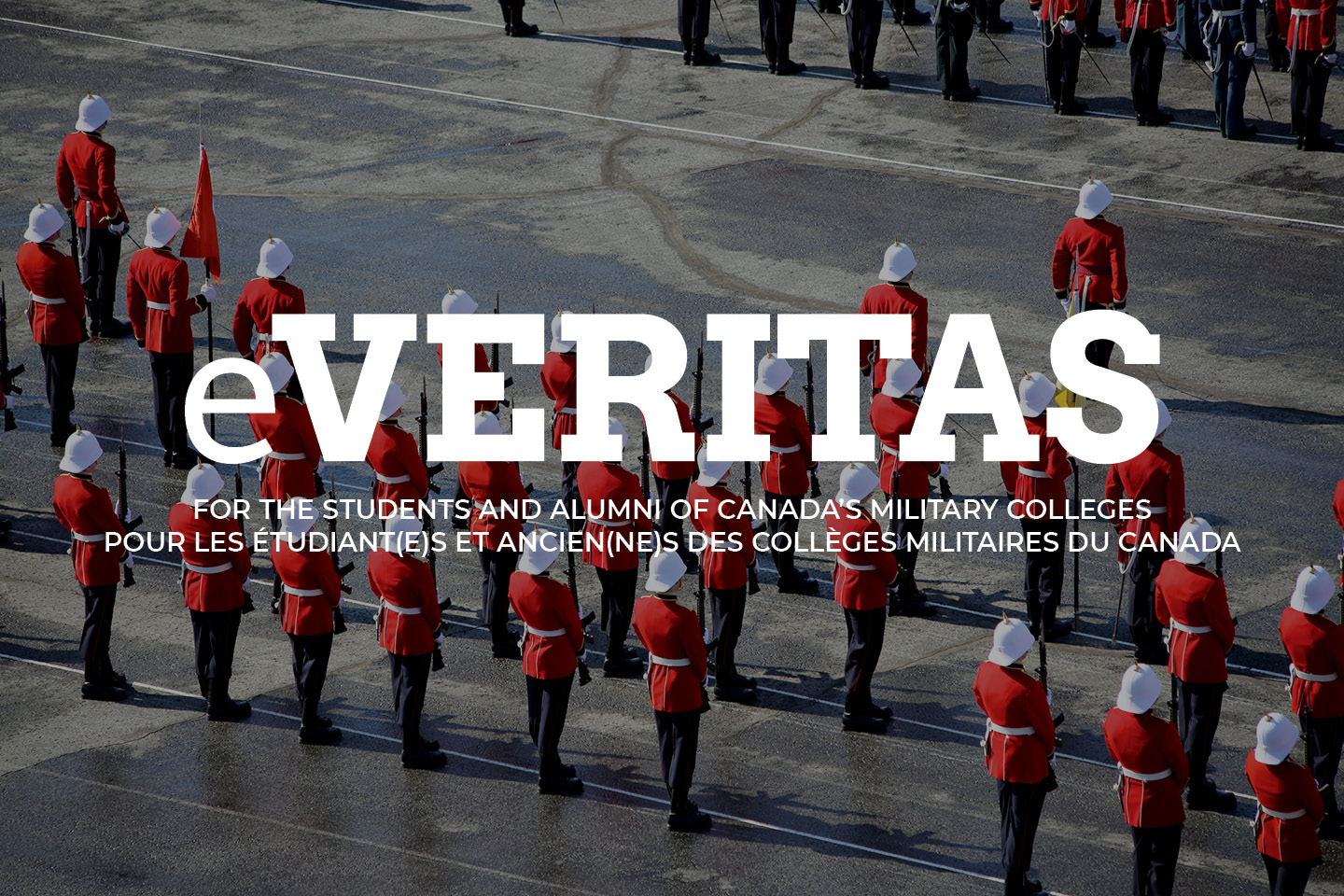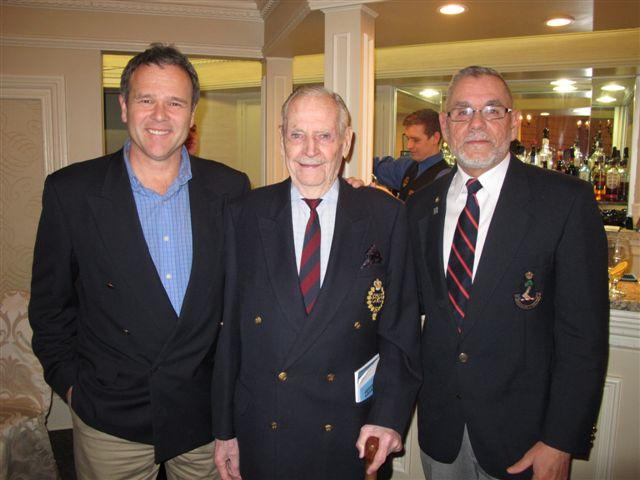 The night before he turned 90 years young, a number of friends of 2745 Don Clevland (centre) met up at the Halifax Club to help celebrate the special occasion. Included in the large group were fellow RMC graduates – 11837 Dale Robertson (left) and 8120 Bill Gard (right).
Mayor of Halifax, Mike Savage also attended and made a special presentation to Don which marked the special occasion.
We are always on the lookout for ex-Cadets to add to our Class Notes section. If you are or if you know of an Ex Cadet with something interesting going on, we want to hear about it! Whether it's career related or more related to personal/family life, we would like to know what's going on with you and / or them.
Just send a short write up, and, if you want, a recent JPEG appropriate photo, to: everitas.classnotes@gmail.com.
The Role of the Militia in Today's Canadian Forces:
5557 Lt. Col.-Dr. John A. English, Class of '62 retired from the Canadian army in 1993 with 37 years service in the King's Own Calgary Regiment, the Queen's Own Rifles, and Princess Patricia's Canadian Light Infantry. Educated at Royal Roads and the Royal Military College, he went on leave without pay to attain an MA in history from Duke University in 1964. He graduated from Canadian Forces Staff College in 1972, attained an MA in war studies from RMC in 1980, and a Ph.D. from Queen's University in 1989. During his career he served as a NATO war plans officer, Chief of Tactics of the Combat Training Centre, instructor at the Canadian Land Forces Command and Staff College, and curriculum director of the National Defence College. He is the author of A Perspective on Infantry republished in paperback as On Infantry (Praeger, 1984), The Canadian Army and the Normandy Campaign: A Study of Failure in High Command (Praeger, 1991), Marching through Chaos: The Descent of Armies in Theory and Practice (Praeger, 1996), Lament for an Army: The Decline of Canadian Military Professionalism (Irwin, 1998), Patton's Peers: The Forgotten Allied Field Army Commanders of the Western Front 1944-45 (Stackpole, 2009), and Surrender Invites Death: Fighting the Waffen SS in Normandy (Stackpole, 2011). He is also co-author of On Infantry: Revised Edition (Praeger, 1994)[translated into Chinese] and principal editor of The Mechanized Battlefield: A Tactical Analysis (Pergamon, 1984). In 1992 he received a Social Sciences and Humanities Research Council fellowship and a professorship at Queen's University. In 1994 he was awarded a SSHRC research grant and between 1997 and 2002 served as a Professor of Strategy with the US Naval War College. Source: http://www.termpaperwarehouse.com/essay-on/Role-Of-The-Militia/138841
16169 Andrew Anderson, Class of '88 – Andy, Heidi and son Daniel (10) live in Seattle, WA. For the most part Heidi and Andy spend their time getting Daniel to and from various hockey rinks in the Pacific North West and Lower Mainland BC. To finance these efforts, Andy does, however, have to go to work. He is Vice President of Hayward Baker – a geotechnical services specialty contracting company. He oversees the work they do in the Pacific North West, USA and Western Canada. Please don't hesitate to look him up if travels bring you through Seattle.
16257 Mario Gagne, Class of '88, is married to Helene Gilbert and has 3 sons (14 and 9 year old twins). He lives in Sept-Îles, in the northern part of Quebec. It is a mining region and has one of the biggest Aluminium smelter in America. Mario has been working for ArcelorMittal Mines Canada since 1995 and he is actually working as the Engineering and Construction manager for their Expansion plan in Port Cartier (Québec), the largest mining project in Canada. This project consists essentially of going from 16M tons to 24M tons of iron ore concentrate production a year.
Mario has lived in Sept-Îles since 1991 after completing his Mechanical engineering degree at Université du Québec à Chicoutimi. He is also involved in his community participating in a Salmon river conservation committee. He has also been involved in the local downhill ski resort since 1996.