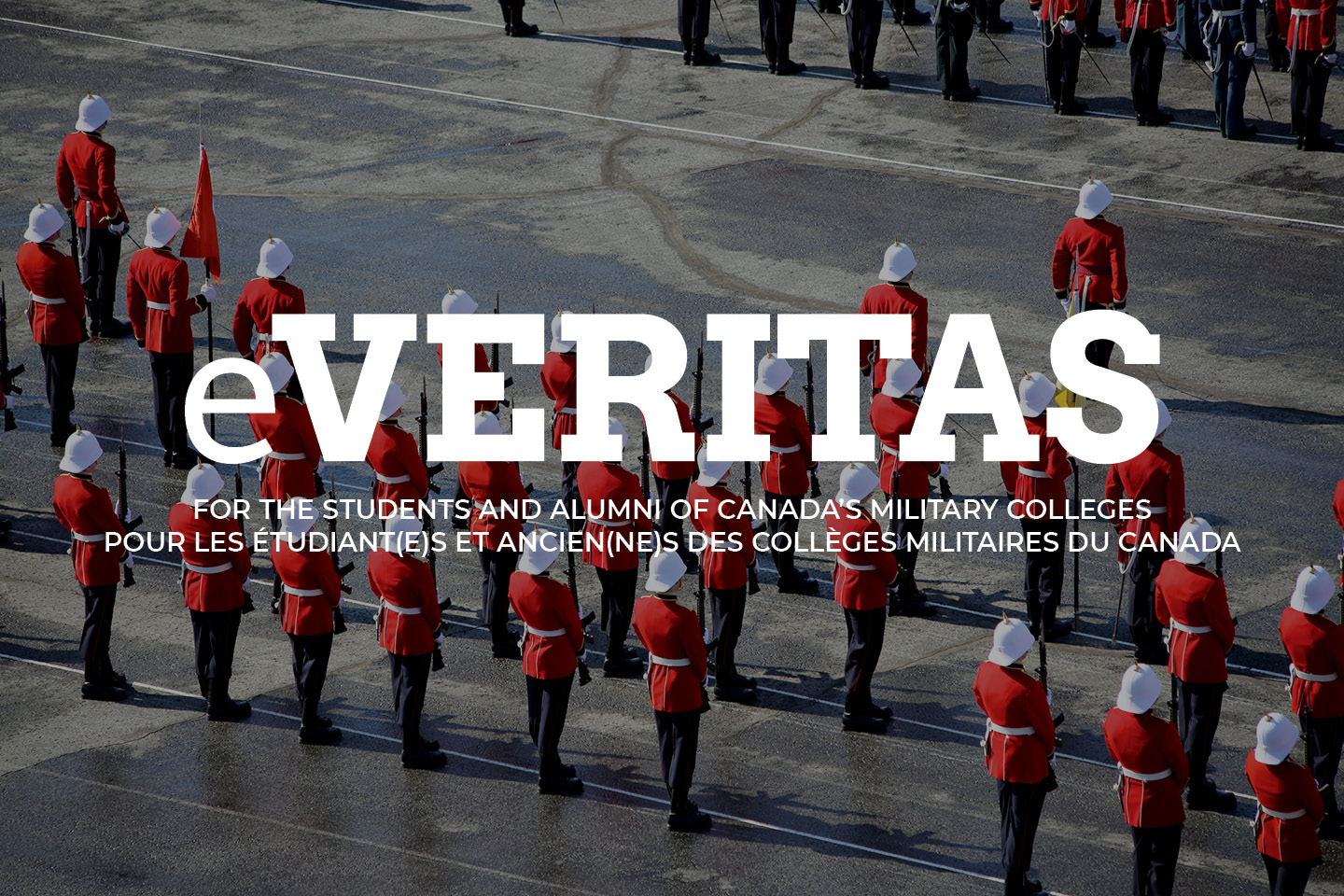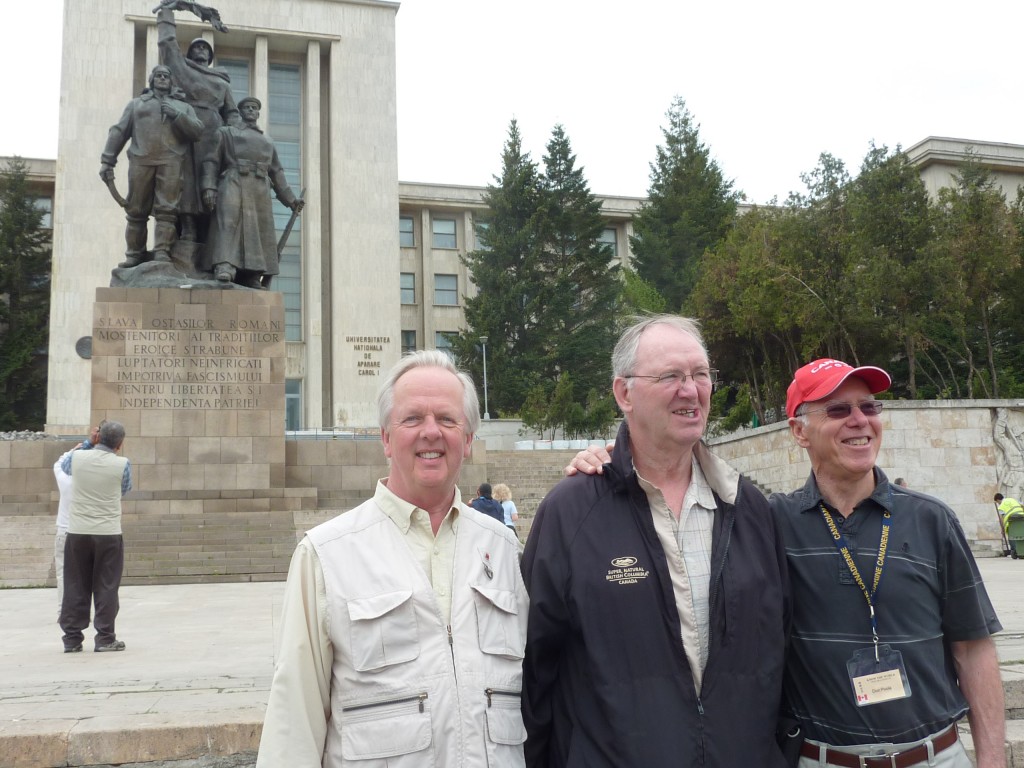 Three members of the Class of '63 recently visited Bulgaria as part of a Know the World tour through the Balkans – 5758 Michael Morres, 5949 Joe Slater, and 5937 Don Poole recently visited the Bulgarian Military Academy in Sofia, as part of the Know the World Tour. The BMA is a tri-service academy, just as RMCC is. Know the World Tours is currently planning a tour for the RMC Club (and friends) in 2013 through Bulgaria and Romania, with a cruise up the Danube to Budapest. Details and a brochure will be included in an upcoming issue of VERITAS.
3581 John P MacGowan, '56, attended Queens and received his degree in Civil Engineering in 1957. He spent 9 years in the Royal Canadian Engineers and had a number of postings including the Royal Canadian School of Engineering at Chiliwack, The Northwest Highway System in Whitehorse, Civil Engineering Department at RMC, UN Emergency Force in Rafah Egypt and The Canadian Army Staff College in Kingston. He left the Canadian Forces in 1966 and moved to Ottawa where he took up employment with the Public Service, initially with the Department of Northern Affairs and later with Supply and Services, Treasury Board Secretariat and then back to Indian and Northern Affairs. He retired in 1986. Subsequently he attended Algonquin College where he obtained a Diploma in Computer Programming, worked for two years and then retired a second time. In 2005 he moved west to Sidney on Vancouver Island to enjoy snow free winters and ice free roads.
5717 Doug Sinclair '63 retired in Jan 2010 after 51 years in the workforce (if you can consider college a part of the workforce). He spends his time working on his cottage and his golf game in the summer and skiing and Gilbert & Sullivan operettas in the winter. He just finished a very successful run in The Mikado in Ottawa and will let everyone know about next year's production as soon as it is decided!
5834 Gus Pokotylo, '63 relocated to Victoria eight years ago after 33 years in the federal public service at Ottawa, mostly with Transport Canada. He and Eleanor enjoy being close to their children and grandchildren and take full advantage of the city's rich cultural life: opera, symphony and seemingly innumerable choral groups. Victoria and the Gulf Islands are magnificent; however, having owned a cottage in the 1000 Islands for many years, their hearts remain in the 1000 Islands. They look forward to their periodic summer visits to Gananoque along with summer heat, boating, fishing and warm water swimming.
6071 Mervyn Lougher-Goodey '64 was re-elected to Town of Sidney BC Council for another three years in November 2011. He was elected chair of the Capital Regional District Regional Water Supply Commission (Victoria BC) covering 13 municipalities. He continues to volunteer with the local community organization and filed 80 tax returns for the less fortunate. Merv remains in reasonably good health as he approaches into his 70s playing tennis 2-3 times per week and enjoying being a grandfather for the first time.
10746 Ronald HJ (Dutch) Ruiters '75 retired from the Canadian Army after 40 years regular service in the Infantry (PPCLI) and the Intelligence Branch. Service included five NATO tours (Turkey, Germany (twice) and Belgium (twice) as well as two UN tours Bosnia (92/93) and Cyprus (78). He is currently a Private Contractor with Calien. He resides with spouse Ulla in Gananogue on the water; looking forward to his second ever Reunion Weekend.
11104 Doug Konkin '76 is President at CollegeMobile. He is an experienced leader of technology start-ups. Prior to CollegeMobile, Doug held senior positions at several technology companies including nine years with PMC-Sierra. While with PMC-Sierra he managed the Saskatoon design center and was responsible for North American software teams developing advanced consumer networking products. Doug received a M.Sc. degree in Computer Science from the University of Saskatchewan, and a B.Sc. degree in Engineering Physics from RMC. Between receiving his degrees he served as a Signals Officer in the Canadian Army.
 M132 Jim Hutton '79, moved from Director of College Services and Business Operations at Seneca College in Toronto, to Vice President, Finance and Administration at Cambrian College, Sudbury, ON in September, 2009. His experience includes: over 20 years as a Canadian Naval Engineer specializing in Information Technology and control systems. Prior to joining Seneca College in 2006, Hutton held a number of positions, including Director of Facilities at Royal Roads University in Victoria, British Columbia, General Manager – Senior Early Dispute Resolution Facilitator for the Province of British Columbia, Director of West Coast Operations with the Canadian Patrol Frigate in Victoria, and Director of Engineering with the Second Canadian Destroyer Squadron in Victoria.
15270 LCol Richard Comtois, '86 will retire from the Canadian Forces in Aug 2012 after more than 31 years of loyal and dedicated service. He joined the Canadian Forces in 1981 attending both military colleges in St-Jean and Kingston and graduated with a Bachelor of Mechanical Engineering in 1986. From 1987 to 1990, he served as aircraft maintenance and armament officer at CFB Bagotville and 425 tactical fighter squadron supporting both search and rescue helicopter and the cf-188 fighter. After Bagotville he was posted to 438 tactical helicopter squadron as the squadron aircraft maintenance officer for the ch-136 Kiowa helicopter until 1992. He was then transferred to 204 CFTSD to support CF-18 depot maintenance activities at the bombardier contractor site in Mirabel, Quebec. In 1994, he went back to school to complete a Master of Science degree in explosive ordinance engineering at Canfield University in Shrivenham, United-Kingdom. Upon his return to Canada, he was assigned to the director of aerospace and engineering program (fighter and trainer) at NDHQ, Ottawa. After 1 year as cf-18 technical support officer, he was appointed cf-18 aircraft engineering officer. In July 2000, he was posted to the naval aviation depot in San Diego, California, to work with the US Navy as a liaison engineer for the CF-18 program. In 2003, he was assigned as the commanding officer of 10 field technical training squadron at 4 Wing Cold Lake. Upon completion of this tour, he completed the joint command and staff programme at Canadian Staff College in Toronto where he earned a Masters Degree in Military Studies. Promoted to LCol in June 2007, he served as commanding officer of the 3rd aircraft maintenance squadron, 3 Wing Bagotville. He is currently the system engineering manager for the medium-heavy lift helicopter project in Ottawa. He and his wife Lyne Beausoleil have a son Frederick and a daughter Lily-Rose. He has accepted a position with l3-MAS as the chief program for the CF-18 weapon system support organization embedded within the CF-18 WSM at DGAEPM. He is looking forward to spending time with his family on the water piloting his new boat. A depart with dignity luncheon will be held at the NCR wsm in Ottawa from 1130 to 1530 hrs on Thursday 24 May 2012.
15664 Dave McMahon, '86 –  the two activities that consume Dave's life these days are global cyber-security issue and extreme sports. He is the senior scientist, engineer and manager of complex security programs for Bell business markets. Dave is also a former National Biathlon champion and currently races professionally as a XC skier, and runner. He also operates a award winning independent film company and a outdoor sports coaching business with his wife.
16521 Anton Boegman, '88 has recently been appointed as the Deputy Chief Electoral Officer (Electoral Operations) for British Columbia. He is still lucky to call Victoria home with Susan, Sidney (daughter – 13), and Alec (son – 9).
17367 Gary McMullen '90 co-founded the Muskoka Cottage Brewery in Bracebridge, ON in 1996. He has been big supporter and a solid partner with the RMC Club for a number of years. Over the past 16 years the brewery has been operating, Ontario residents have been able to drink the likes of a Weissbier, Cream Ale, Dark Ale, and a Premium Lager, all of which continue to bring in medals at the annual Canadian Brewing Awards.  On top of running his brewery, Gary also serves as the Chair of the Ontario Craft Brewers.
18498 Natalie Marchesan '92 is the Director, Technology Strategy Network Operations Capital Management at TELUS. Following military college she became a Canadian Air Force officer navigating Hercules aircraft in search and rescue, as well as peace-keeping missions.  But Natalie came back down to earth when she returned to school at Queen's. After graduating in 2001 with an MBA, she shifted gears and joined a strategy consulting firm and quickly expanded her business skills.
18902 Paula Skinner-Gaul, 93 was a strategy consultant with the Boston Consulting Group, working in Sydney, Australia and a former officer in the Canadian army. Paula grew up in London, Ont. After she left the military to do an MBA at the University of Western Ontario, she went sailing in the South Pacific for about six months, and ended up in Sydney to get a job.  She and her husband left Sydney and settled in Rossland, B.C., where they bought the Red Shutter Inn in 2003 and started to build Big Red Cats, a cat-skiing business.
19297 Zauher Abdullah '94 is an intern within the Department of High Energy Astrophysics at the Institute of Space & Astronautical Science (ISAS) which is part of the Japan Aerospace Exploration Agency (JAXA). He is conducting research on X-ray Astrophysics from the Suzaku mission.
21216 Shane Daniels, '98 is working in the Charlotte, North Carolina area as a Senior Sales Engineer for Splunk. His work experiences over the past 14 years include: Software Engineer at Hummingbird; Sr. Technical Solution Consultant PeopleSoft (formerly J.D. Edwards); Systems Engineer Mercury (acquired by HP); Saas Business Consultant HP Software; and Director WW Solution Consulting, AccelOps.
More Thank Yous
& More Help Required

Once again, thanks to our our readers we have been able to make an other dent  on our list. Any help readers can provide is still much appreciated.
The RMC Club recently had an independent audit completed. One of the findings from this audit was the observation a number of potential members who were making pay allotments for a Life membership overpaid. Most of the people involved have been notified and have been reimbursed, some (who we will list in a future e-Veritas) directed that their refund be used for e-Veritas O&M – which we very much appreciate.
We are still trying to contact the following people. If you know how to reach them would you ask them to contact Bill Oliver – william.oliver@rmc.ca
Class of 2002
22311 Mitch Rivest; 22473 Todd Johnson
Class of 2003
22637 Jonathan Simard-Mercier;
22954 Matthew Fullerton

Class of 2004
22733 Geneviève Bertrand –

Class of 2005
23163 Melissa Haggart
Class of 2010
24658 Laura Duvall
Class of 2012
25291 Ewan Canning; 25338 Daniel Mantai;25381 Ryan Zorn; 25318 Jean-Michel Genest; 25410 Armaan Khan