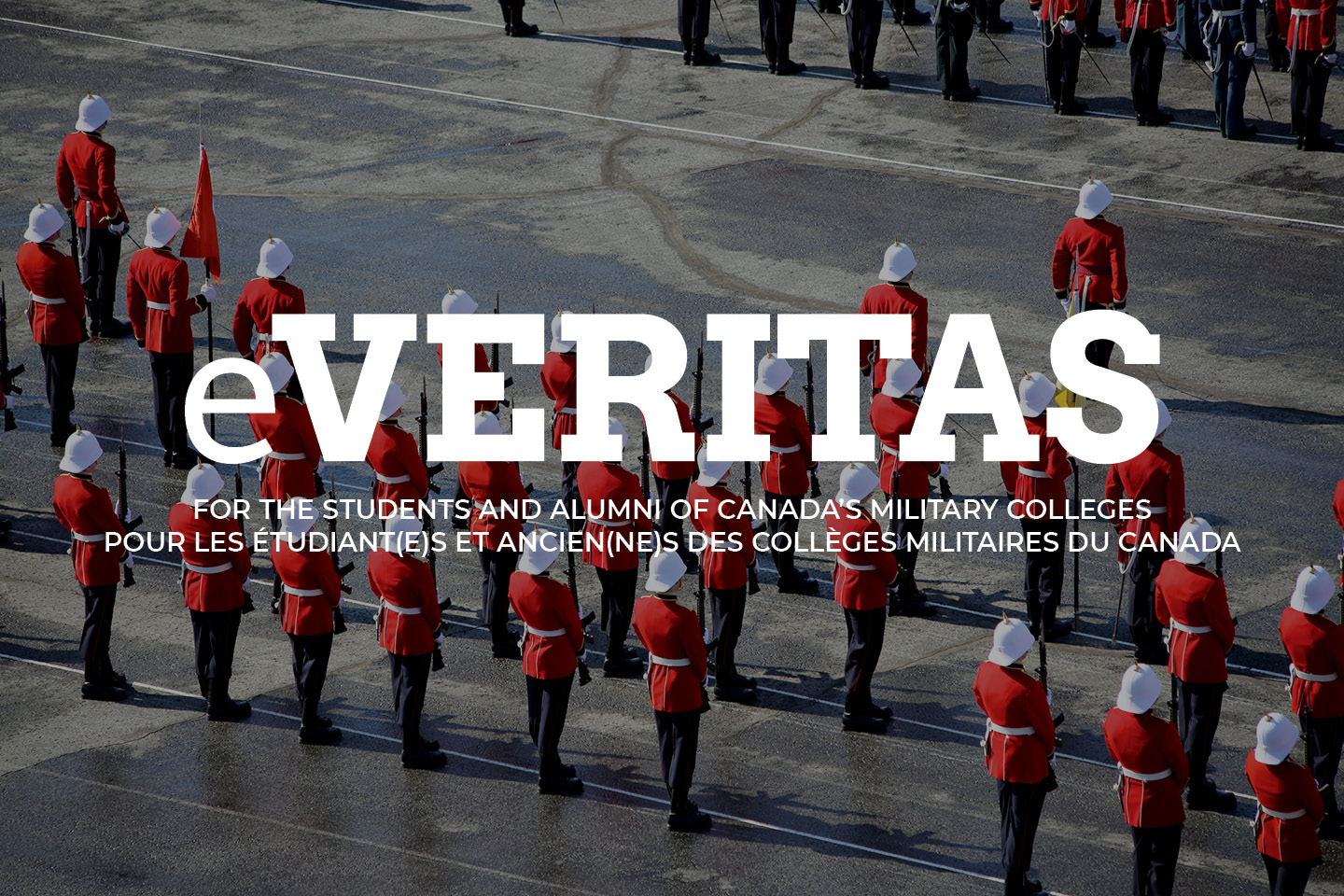 We are always on the lookout for ex-Cadets to add to our Class Notes section. If you are or if you know of an Ex Cadet with something interesting going on, or you just want to put yourself out there for old friends to find, we want to hear from you! Whether it's career related news or something more related to personal/family life, we would like to know what's going on with you and give you a chance to reconnect with former classmates.
Just send a short write up, and, if you want, a recent JPEG appropriate photo,to: everitas.classnotes@gmail.com.
THIS EDITION:
8391 Larry Cade, Class of '70;
15598 James Bachynsky

, Class of '86; 19874 Brian Macdonald, Class of '95; and

24078 Morgan Oliviero, Class of '08
March to Honour NB's 104th Regiment
Article by Brian Conoley, Media Contact brianconoley@gmail.com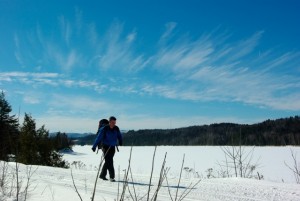 Fredericton, NB, 18 Feb 2013—New Brunswick MLA, retired Canadian Forces captain and Chief Scout award recipient 19874 Brian Macdonald, Class of '95, today began his solo march to re-trace the New Brunswick portion of the epic mid-winter trek of the 104th (New Brunswick) Regiment of Foot from the War of 1812.
Premier David Alward said "My thanks and congratulations to MLA Brian Macdonald for his dedication to our rich military history. With this march and his distinguished career in Canada's armed forces, Brian continues to shine. His continuing support and encouragement of our young people by raising funds for the Scouting movement is commendable. I wish Brian good luck and good weather for his journey. I, along with his colleagues and all New Brunswickers, will be following his march."
For over 300 kilometres, Macdonald will snowshoe and walk in the footsteps of the famed NB 104th over the snow-bound route to Cabano, Quebec. Macdonald said, "I want to honour the spirit of New Brunswickers that overcame weather and fatigue to save Upper Canada. As a former Scout, I want to raise money for Scouting in New Brunswick. Plus, I like a challenge!" The entire journey will likely take three weeks.
New Brunswick Scouts have organized a fund-raising and recruitment campaign tied to Macdonald's march. "This is a great way to start Scout and Guide Week" said Peter Kent, Scouts Canada Council Commissioner for New Brunswick. "The funds raised from Brian's efforts will help children in need join our activities. Scouting helps connect youth with the outdoors and teaches them citizenship, values understood well by NB's 104th." Donations can be made online at www.marchnb.ca
Commenting on the announcement of Macdonald's march, Tourism, Heritage and Culture Minister Trevor Holder said, "I congratulate Brian for embarking on this personal trek linking a great historical achievement with Scouting in New Brunswick. I wish him a safe and successful journey every step of the way."
"Brian's trek on the Trans Canada Trail reminds us of a courageous military manouvre in our country's development,"said Deborah Apps, president & CEO of the Trans Canada Trail."We hope that his trek will help raise awareness of this and many other historic events that happened along our trail in Canada and wish him great success in his support of Scouts Canada – our future explorers and trail builders!"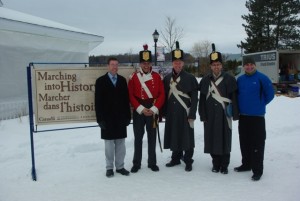 Macdonald's route, mostly along the Saint John River, includes Woodstock, Florenceville-Bristol, Perth-Andover, Grand Falls, Edmundston and Cabano, QC, where community re-enactments organized by the St. John River Society to celebrate the original march will be held. In Cabano, Macdonald will hand over to the Volitgeurs de Quebec, who will continue the spirit of the march to Ontario using snowmobiles.
A shadow team of volunteers will monitor Macdonald's progress and keep in touch with him for safety and health reasons. The volunteers include:
– Brian Conoley (The Radical Edge): route planner/logistics
– Keenan Cook (Maritime Cycle Tours): route planner/logistics
– Sentier NB Trails: support crew (various)
During his time on the route Macdonald will be in regular touch with his legislature and constituency offices. Brian Macdonald is also chair of the War of 1812 Commemoration Committee, and Legislative Secretary to the Premier responsible for Intergovernmental and Military Affairs.
A complete schedule of the trek including overnight stopovers, media interview opportunities and re-enactment events en route is available online at www.marchnb.ca.
200 years ago, the 104th (New Brunswick) Regiment of Foot marched over 1,100 km in 55 days from Fredericton to Kingston, Ontario, to defend against American invasion in the War of 1812.
_____________________________________
8391 Larry Cade, Class of '70, is a past president of the Vancouver Island ex-Cadet Club, and is currently hanging in there in the twentieth year of his second career with the Ministry of Justice. His usual response to the question of why he's still working is that he's "enjoying himself". The major change in his life is the added "title" of grandfather (or Papa), to a 28 month old granddaughter and a 6 week old grandson, who are without question the joy of his, and his wife Jackie's, lives.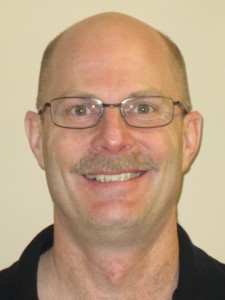 15598 James Bachynsky, Class of '86 – During his time with the Royal Canadian Artillery, he won the Canadian service pistol championship and was the top foreign competitor at the US Skill at Arms matches, where he also received the Commander of the Army commendation. James shot target pistol in Conseil International du Sport Militaire (CISM) competitions and represented Canada in Sweden, Turkey and the US.
In 2001, James retired from the military and opened a successful indoor shooting range and gun store. Over the years he has gained a reputation as an expert in small arms, ammunition and shooting. He is now an owner of the Calgary Shooting Centre in Calgary, Alberta.
24078 Morgan Oliviero, Class of '08, is currently an instructor teaching the Basic Military Officer Qualification course (BMOQ) at the Canadian Forces Leadership and Recruit School. This summer, he is likely posted to CFB Gagetown, after instructing 2 Direct Entry BMOQs, an RMC BMOQ, and a Condensed Health Services BMOQ. He still occasionally helps out with CMR's fencing team, and probably knows more about Montreal's night life than is healthy.