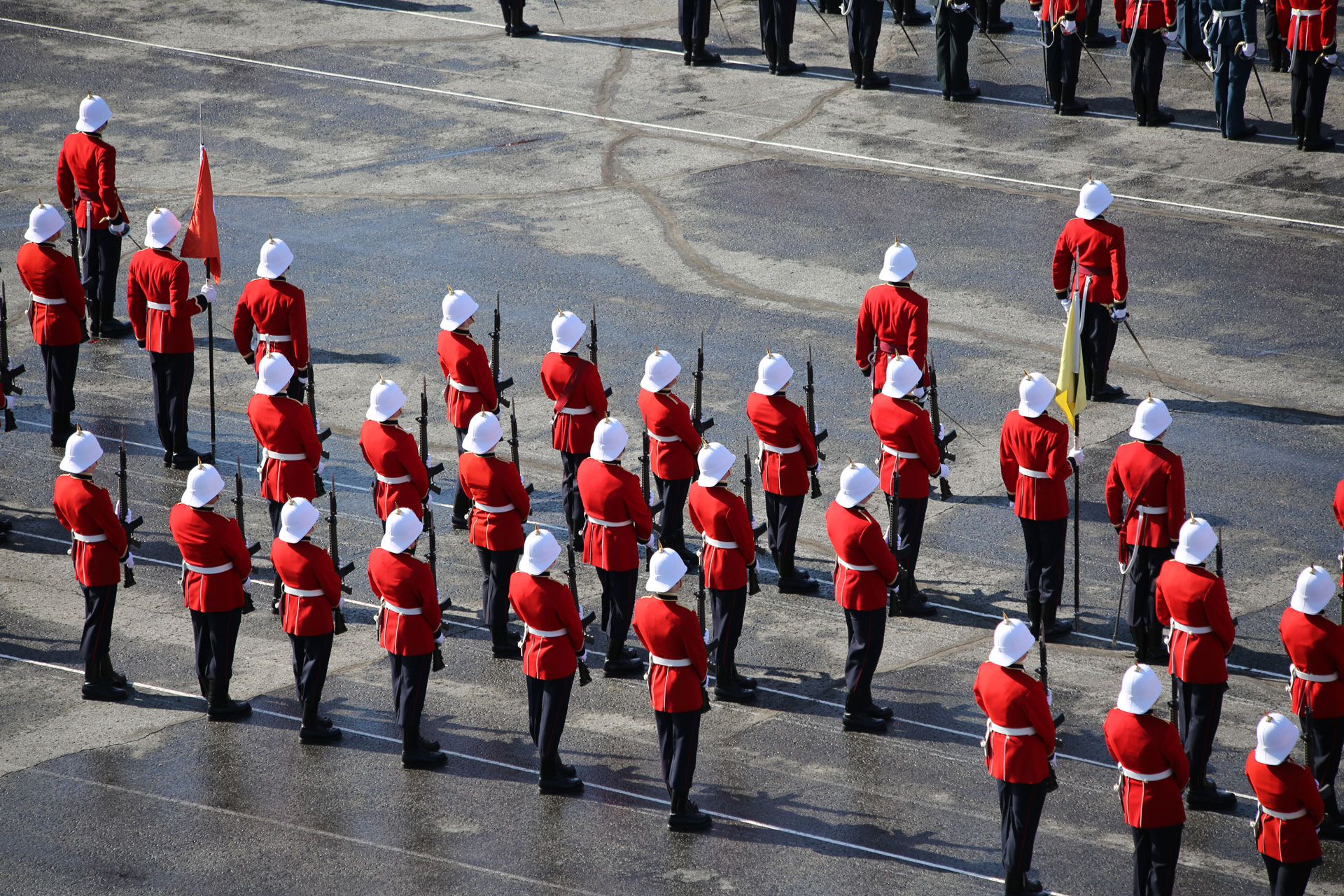 La Fin de Semaine de Réunion à CMR SJ
Le Collège militaire royal de Saint-Jean a tenu sa fin de semaine des Anciens du 11 au 13 septembre. L'événement, le second depuis la réouverture du Collège en mai 2008 fut un énorme succès. L'horaire très chargée du weekend consistait en une soirée rencontre le vendredi au Vieux Mess; l'assemblée générale annuelle le samedi matin; des compétitions sportives élof contre Anciens l'après-midi, suivies de la présentation des trophées au nouveau mess des élofs – le Saint-Maurice; du dîner dansant le samedi soir; et finalement d'une visite guidée du beau musée du Fort Saint-Jean et des environs suivis d'un lunch au pavillon Dextraze le dimanche matin.
Nous avons mis tous les détails, et beaucoup de photos sur notre site web. Pour arriver là, visitez www.rmcclub.ca, choisissez anglais ou français, et cliquez sur le bouton pour « Réunion à St-Jean »
Merci encore à tous les anciens (nes) qui sont venus, à l'équipe qui a travaillée assez fort, et au Commandant du CMR SJ qui nous a accueillis au collège!
Reunion Weekend at RMC SJ
What a weekend! The ex-Cadets gathered at the Vieux Mess to start the festivities with a Happy Hour / Meet and Greet on Friday and continued the celebration through the Annual General Meeting Saturday morning; sports competitions against the Officer Cadets, a dinner dance and finally a tour of our beloved Fort St Jean Museum and lunch at the Dextraze Pavillion on Sunday morning.
We have posted all the details along with lots of photos on our website. To check it out, go to www.rmcclub.ca, choose french or english, and click on the blue button marked St-Jean Reunion.
Thanks again to all the ex-Cadets who came home for the weekend, the team that worked so hard to make the reunion a success and to the Commandant who welcomed us all back to RMC SJ!
__________________________________________________
Une équipe du Collège militaire royal de Saint-Jean participe à la Course de l'armée à Ottawa
– par Élève-officier Neppel


Le dimanche 20 septembre 2009, le Collège Militaire Royal de Saint-Jean (CMR Saint-Jean) a envoyé une équipe de 18 élèves-officiers pour représenter le Collège à la Course de l'Armée à Ottawa. La deuxième édition de cet évènement a rassemblé plus de 10 500 personnes. Membres des Forces canadiennes et civils ont marché côte à côte le long du canal Rideau en soutien à une collecte de fonds pancanadienne pour Soldat en mouvement et pour le Fond d'aide aux familles militaires, deux organismes qui soutiennent les membres des Forces canadiennes et leur famille. L'an dernier, l'évènement a permis d'amasser près de 60 000$.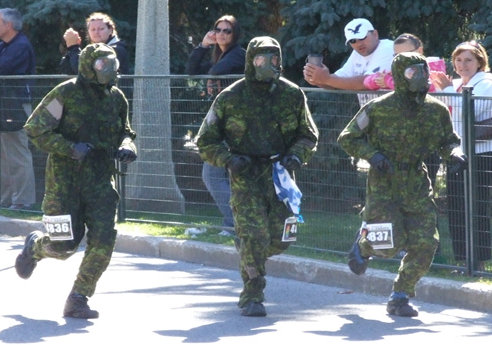 Des 18 membres qui composaient l'équipe du CMR Saint-Jean, neuf ont participé à la course de 5 km et les 9 autres ont couru les 21 km du demi-marathon. La participation des élèves-officiers est un franc succès : l'équipe a enregistré des temps respectables dans toutes les catégories. Chaque membre de l'équipe du CMR Saint-Jean a relevé le défi de dépasser ses propres limites, tant physiques que mentales, et tous ont donné leur 100%. Ces élèves-officiers sont fiers de ce qu'ils ont accompli.
Trois membres de l'équipe du CMR Saint-Jean ont entrepris de relever un défi supplémentaire en courant le demi-marathon muni d'un masque chimique, biologique, radiologique et nucléaire (CBRN). Les trois élèves-officiers qui ont fait montre d'une grande détermination ont traversé la ligne d'arrivée avec un temps de 2h 22min 17s. En relevant ce défi supplémentaire, ils ont fait preuve de force de caractère, d'endurance et de persévérance.

Les élèves-officiers de l'équipe du CMR Saint-Jean étaient tous très fiers d'avoir été choisis pour représenter le Collège à un évènement d'une telle envergure. Courir aux cotés de membres des Forces canadiennes et de civils provenant de partout au Canada leur a permis de vivre l'esprit de corps des Forces canadiennes, mais aussi de voir la camaraderie qui unissait les militaires et les civils. The Royal Military College Saint-Jean team at the 2009 Army Run in Ottawa
The Royal Military College Saint-Jean team at the 2009 Army Run in Ottawa
– Officer Cadet Neppel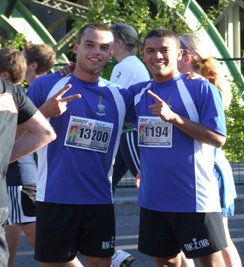 On Sunday, September 20th 2009, Royal Military College Saint-Jean (RMC Saint-Jean) sent a team of 18 officer cadets to participate in the Army Run in Ottawa. The second edition of this event gathered more than 10,500 military members and civilians for runs along the Rideau Canal. The Canada Army Run is a unique running event in which civilians and military members join in support of a fundraising activity for CF Soldier On and Military Families Fund, which assist Canadian Forces personnel and their families. Last year's event raised close to $60,000.
Of the 18 members of RMC Saint-Jean team, nine participated in the five-kilometre run and nine in the half-marathon, a 21 km event. The officer cadets were very successful with some great times being set in all categories. Every member of the RMC Saint-Jean team challenged themselves to push their limits of physical and mental endurance, giving their 100%. These officer cadets are proud of what they accomplished.
Three officer cadets from RMC Saint-Jean took on the extra challenge of running the half-marathon with the chemical, biological, radiological, and nuclear (CBRN) mask. They displayed great physical and mental endurance as well as strong determination and crossed the finish line with a time of 2:22:17. This additional challenge was a way for these officer cadets to show their strength of mind, stamina and perseverance.
The officer cadets of the RMC Saint-Jean team were all very proud to have been given the opportunity to represent the College at such an important and meaningful event. Running alongside the military members and civilians from across Canada made them experience the Canadian Forces' esprit de corps and the comradeship between civilians and military members.