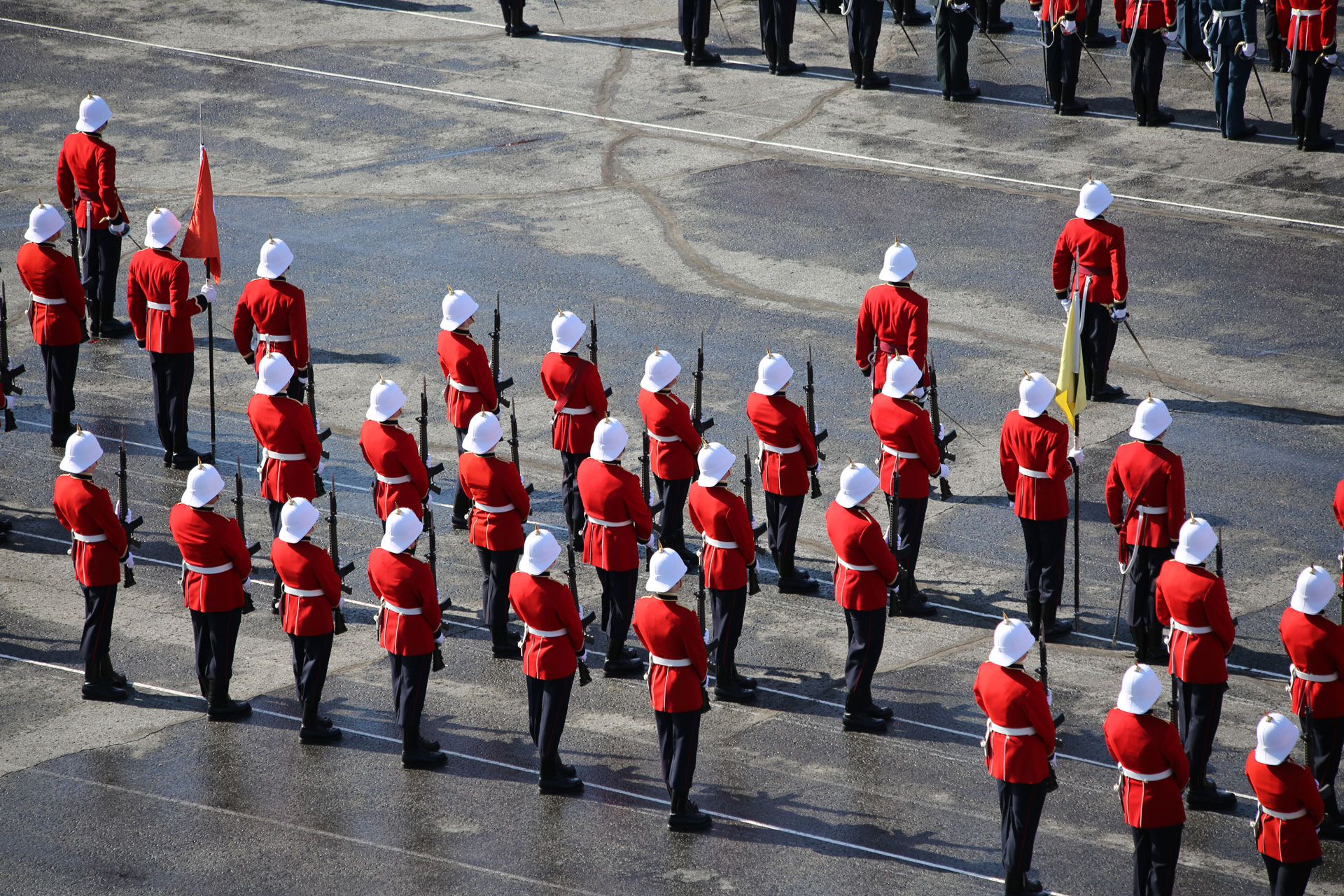 X
X
X

X

X

X

X

X

X

X

X

X

X

X

X

X
x
Constantine Rink – 50 Years Old – 23 Jan
UoT  vs RMC 12 Feb – 7:30
Plans are currently underway to commerate the official opening of the Constantine Rink, 12 Feb 2010.   The particular date was chosen due to the availability of  the Constantine family.
College dignitaries led by the Commandant, Commoddore William Truelove and a number of Maj.-Gen. C.F. Constantine decendants are expected to attend a pre-game ceremony to honour this very special event in the history of RMCC.  In addition, efforts are being made to have some members of the RMC team who played in that first game attend and take part in the 50 year celebration.
University of Toronto Blues will provide the opposition to the RMC Paladins in what promises to be an exciting weekend of hockey.  The friday night game is the second last game of the regular schedule – both teams will meet again the following evening.  Undoubtedly, both games will have have huge play-off implications.
Excerpts from an article published in "THE MARKER' – The Unofficial Newspaper of the Gentlemen Cadets of the Royal Military college of Canada dated, 6 Feb 1960 by I Year – 5817 David Johnston:
"In a pre-game ceremony to officially open the building, RMC commandant, Commodore DW Piers, and the widow, Mrs C.F. Constantine both spoke briefly on the career of the man who the new rink was being named.
Mrs Constantine dropped the puck between the sticks of RMC and Loyola College centres for the ceremonial face-off inaugurating the new rink.
In the game that followed, RMC was not up to Loyola's standard in careful passing, speed, or tight defence, and lost by the score of 11 – 2. Charlie Vrana scored one goal on a penalty shot and assisted Gagnon on the other. The team did show off well in the second period though, and with further development of the fine recruits on the team, should do better in the future.
The hockey game was preceded by a buffet supper, and followed by an informal dance to the music of the RCS of S orchestra. At the rink, music was provided by the Royal Canadian Signals Band."
Members of the RMC team that year were:
Jean DeGrasse, Don Woodside, Mel Brown , Joe Langlois, Edwin Couves, Yvon Paquette, Len Rouillier, JR Lawless (Manager), JG Blanchette, Roger Noury, Jacques Charest, Kent Foster, Chuck Vrana, SM Clarke, David Edgecombe (Manager), Camille Blaise, Louis Gagnon, Wallace Steiner, Keith Lyne (Manager) Jim Watson, Georges Bernier, JC Scoffield.
Available photos from the official opening 23 Jan 1960.
xxxxxx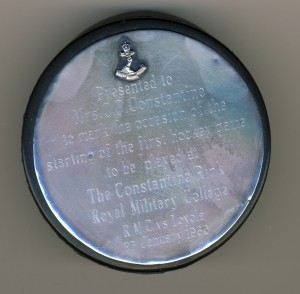 The commandant of the day, Commodore DW Piers had the "official puck" plated and engraved:
Presesnted to:
Mrs C.F. Constantine
to mark the occasion of the first hockey game to be played at
The Constantine Rink
Royal Military College
R.M.C. vs Loyola
23 January 1960
________________________________________________________
We invite readers who have a memory or two regarding their experience(s) to share them with us by leaving a "reply" following this article.